Le Turtle
French-style food at Le Turtle—a new-ish addition to the Lower East Side by restaurant veterans Taavo Somer (Freemans Restaurant) and Carlos Quirarte (The Smile)—is unanimously some of the best in NYC. From the outside it's unassuming, but the tiny 55-seater restaurant opens out onto a mirrored room and grey marble bar that's packed by 8pm. French wine (what else?) and a vegetable-focused menu, with heartier options like Wagyu and braised oxtail, have turned it into one the hottest places to eat in the city this summer. Iona Goulder.
177 Chrystie St leturtle.fr
Sel Rrose
Set on a corner of Bowery and Delancey in the Lower East Side, you will find an unassuming cocktail bar that serves some of the best oysters in New York City and manages to make distressed interiors feel sexy and contemporary again. Their happy hour offers bivalve lovers the option of half a dozen oyster varieties for $1 each. Get there early, because these oysters move fast and are worth making the downtown voyage for. Come when the bar opens if you want to snag a highly coveted table to enjoy some sweet sea jewels. A glass of wine and 4-5 dozen oysters is a pretty perfect start to the evening. Claire Handleman.
1 Delancey St selrrose.com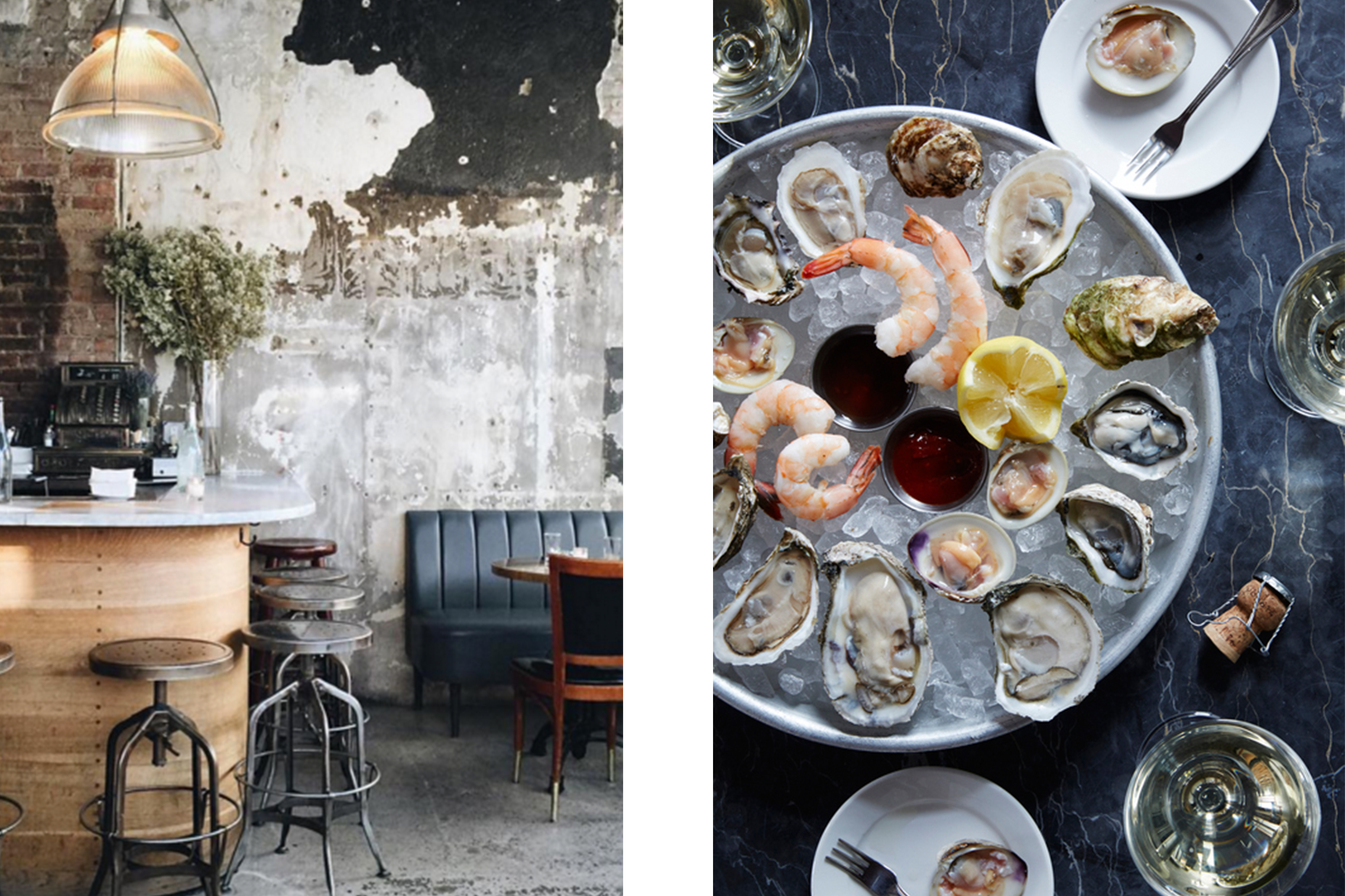 Hot Kitchen
Though New York has some of the best fine dining and Modern American cuisine, the city lacks in equal quantity stellar Asian cuisine. There are still a few gems worth seeking out though. One of the best Sichuan restaurants, Hot Kitchen, serves up ma la (numbing and spicy) dishes, which are worth enduring the often noisy dining room for. Cold chicken in numbing chilli oil is not only delicious, but addictive.
Fried Chongqing chicken requires a bit of search and rescue, as the chicken pieces are buried under a mound of fried chillies, and the fish fillet in spicy sauce (chilli oil and broth) is hearty and exciting. The fish is nestled amidst bean sprouts and noodles, and it's worth pushing the peppercorns off to the side so you can enjoy the fish without the sensation that your mouth is attached to a battery (Sichuan peppercorns are considered numbing, but actually make your mouth feeling tingly). There's a wide range for adventurous eaters (frog, pig intestine, tripe) and picky eaters (marinated cucumbers, chicken, stir-fried veggies) alike. But take note: almost every dish will have a bit of zing to it. CH.
104 Second Ave (between 6th and 7th St) hotkitchenny.com
Pig & Khao
Pig & Khao inhabits a classic tiny, store-fronted space in the Lower East Side, the kind of place you'd never believe they whip up some of the best Southeast Asian food in NYC. The kitchen, run by Leah Cohen, is influenced by Thai and Filipino food and the name hints at the amount of pork used in the dishes. Take a tasting menu that starts with Brussels sprouts and pork, which will banish any British people's bad memories of dreary Sunday dinner sides. This was followed by chicken curry and mango relish, mung bean curry and perhaps most satisfyingly of all, sizzling pork and raw egg over rice. Old school stir-fry vibes, but made contemporary.
Beyond these, the menu temptations were pork belly adobo, crispy pata and pickled mango salad grilled pork neck and watermelon salad with chilli, lime, fish sauce, shallots, chicaron, herbs and toasted rice. Wash it all down with cheap tinned beer or master cocktails. Stuart Brumfitt.
68 Clinton St. pigandkhao.com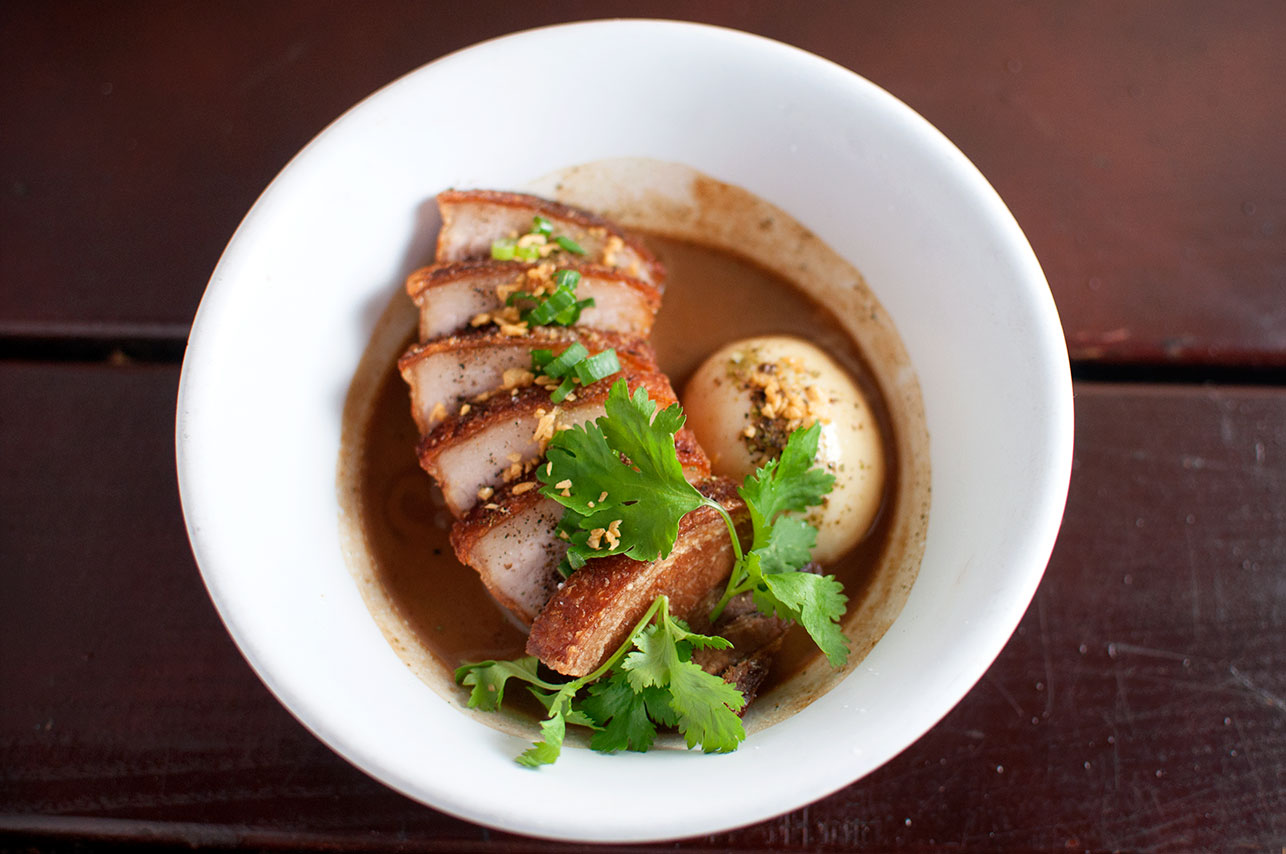 Speedy Romeo
First off, make sure you know which branch of Speedy Romeo you booked into. Not only is there the Bed-Stuy restaurant in the 100-year-old former liquor store, but there's also the new Lower East Side location. For authenticity and the excuse to head to this less-travelled part of NYC, head to the Bed-Stuy branch. In the summer, the place is a literal oven with its open fire cooking the pizzas to perfection. Perhaps too hot on a peak sunny day, but ideal in those harsh New York winters.
The chargrilled pizzas are the calling card and The Oldbonezjones with its salsa verde, black olives, capers, fontina cheese, garlic and rocket was certainly on point. The KC Royale is the talking point here, with clams, pancetta, kale, fontina, bechamel, and lemon. But don't neglect the other dishes, like steaks, chops, whole fish and, in particular, a grilled octopus with hazelnut Romesco sauce, crispy potato and celery. SB.
376 Classon Ave, Brooklyn speedyromeo.com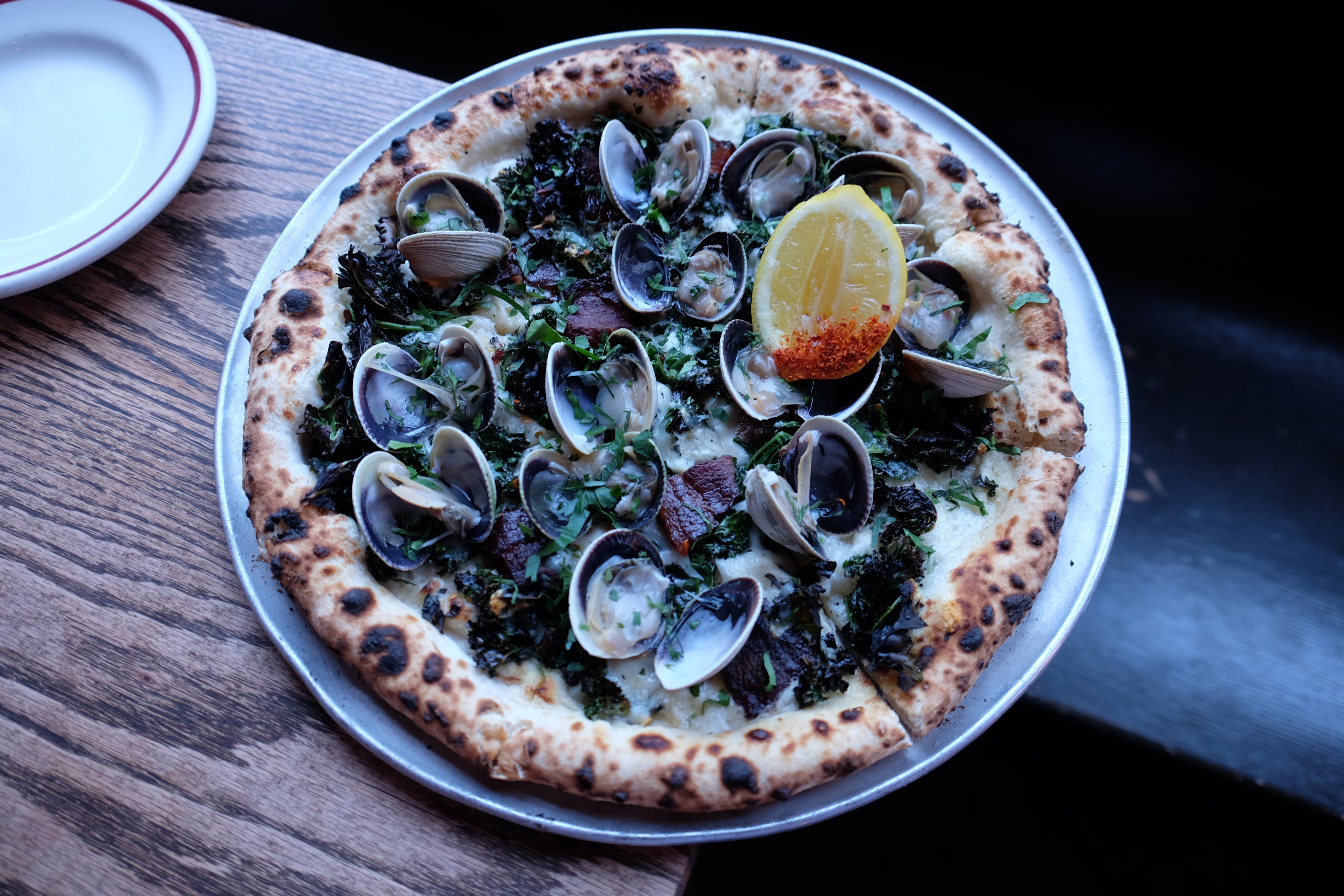 Le Bernadin
Le Bernadin is hands down one of the best restaurants in New York. Though it has held four stars from the New York Times for 30 years, you only need your mouth to tell that you're eating somewhere world class. The menu is 95% seafood with only two or three options for those staunch meat eaters. The pleasures of coming to eat at this restaurant lie in the chefs' ability to coax and accent the essence of each particular fish, mollusc, urchin and roe.
Some dishes are lightly dressed and delicate, like the Hamachi in a light and tart yuzu vinaigrette, while other dishes tip the scale on luxurious, such as the King Fish-Osetra Caviar with a smoked crème fraîche emulsion. The evening is worth the splurge if eating the best fish in New York (and most certainly the United States) is of interest. CH.
787 Seventh Ave le-bernardin.com
Salt + Charcoal
Bedford Avenue in Williamsburg may feel too well-trodden these days, but if you head towards Grand and the South streets beyond, you can still find some special places to stop, including Japanese restaurant Salt + Charcoal (shout out to Bozu and 1 Or 8 for great Japanese food in the area too).
Come for the lunchtime set menu, which is an unreal $14 and you get your pick of Jidori chicken karaage, grilled yellow tail collar, grilled eel, sashimi or a Wagyu burger, plus rice, mixed greens, Japanese pickles, a small appetizer and miso soup. Switch up the miso for cold soba noodles that will send you into a frenzy. SB.
171 Grand St, Brooklyn saltandcharcoal.com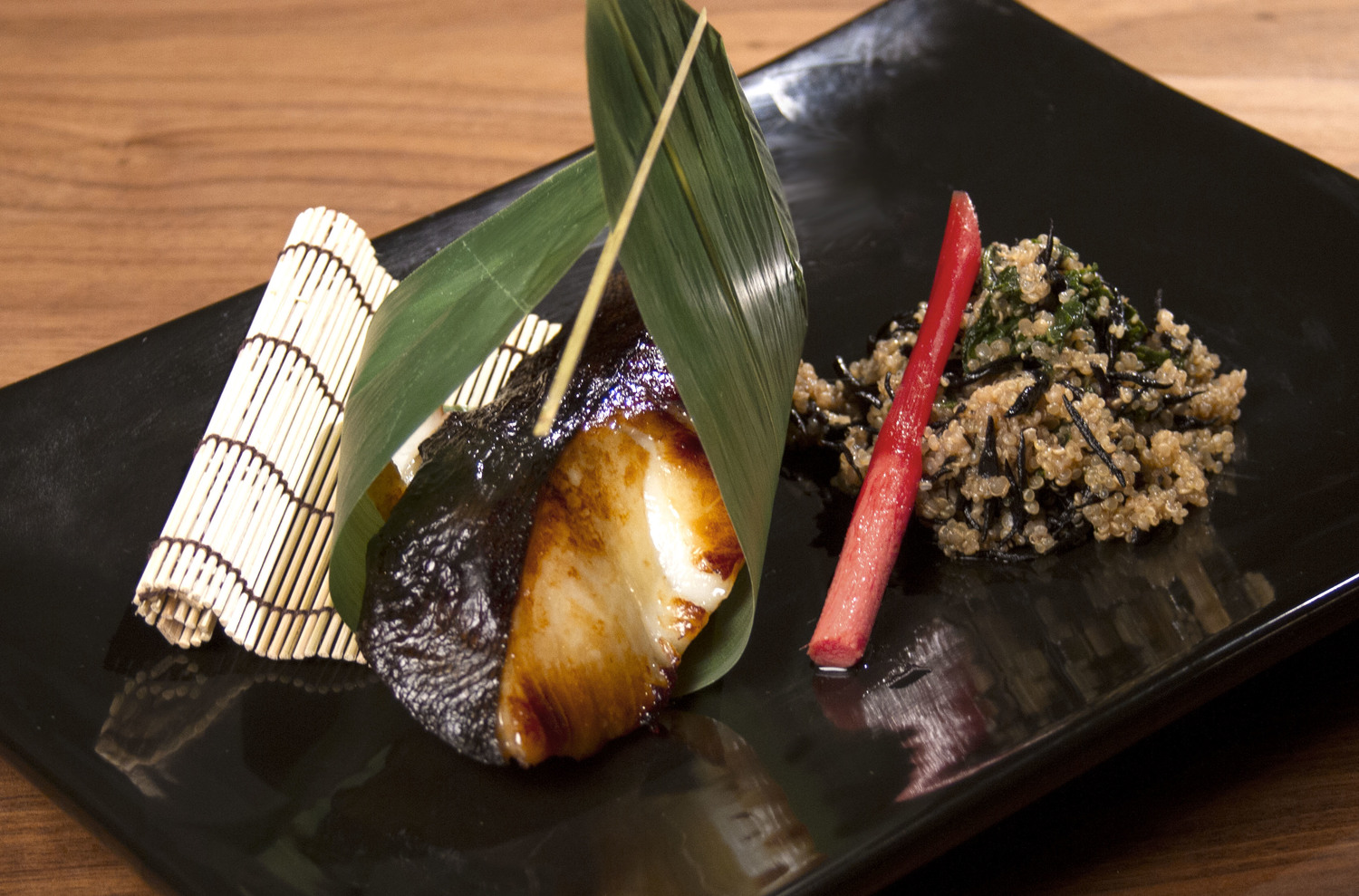 Lighthouse
You can see why Lighthouse chose its name, isolated as it is on the corner of Borinquen Place on the outskirts of Williamsburg by the Brooklyn Queens Expressway. By day, this place is beautifully bright and perfect for a Bloody Mary brunch, iced coffee and debrief of a party the night before. In summer, the windows are cast open and the vibe is light. The fresh, healthy, bold-flavoured food will fill and nourish you and the professional, but laid-back staff make you feel like you're hanging at your buddy's house.
The menu is seasonal, the meat free-range, the fish responsibly caught and the veg local and sustainable. And you can feel it in the food. The ceviche with avocado, jalapeno, jicama, corn, scallion and tortilla chips is pure satisfaction, but also try the chilequiles or the trout and eggs. For dinner, there are oysters, pickles and cured meats to start, then small plates include sugar snap peas with smoked labneh, harissa and mint, baby octopus with fava beans and salsa verde and a classic flat iron steak with potato, puntarelle and guindilla peppers. SB.
145 Borinquen Place, Brooklyn lighthousebk.com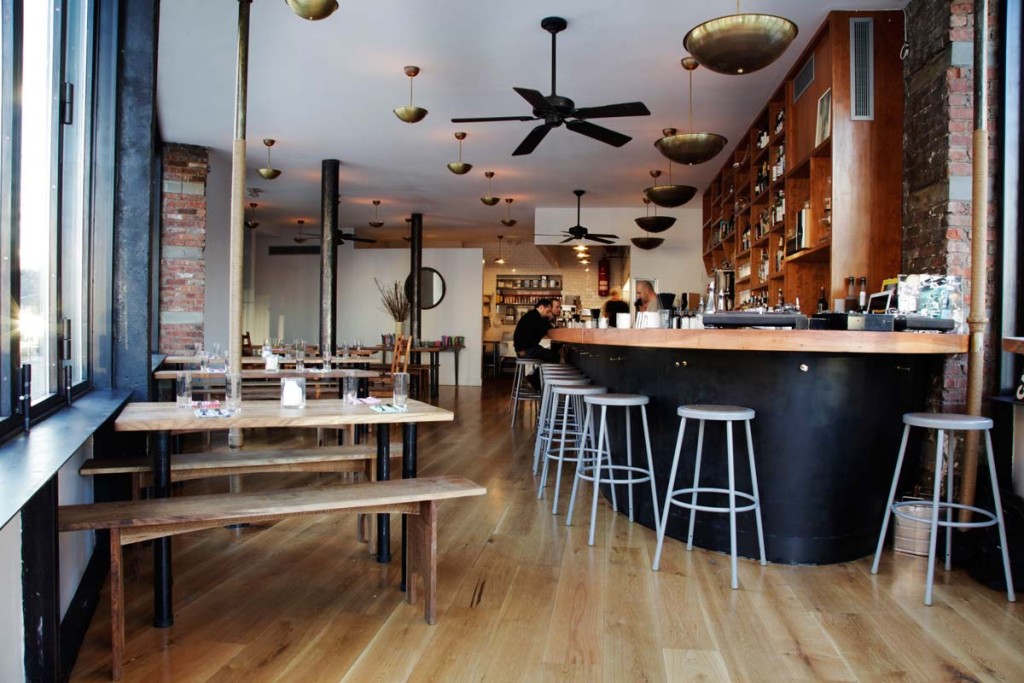 Prune
Gabrielle Hamilton's charming restaurant in the East Village is the perfect spot for brunch. The Bloody Mary cocktail menu includes 10 variations on the classic drink, supplementing horseradish in one version, beef bouillon in another, one with clam juice, one version with gin…and the list goes on. It's a fiesta of savoury tomato drinks, each worth sampling. The brunch food is also top notch. It's best to begin the day with an order of carbonara. Cheesy pasta with treasures of crisped pork belly may not be a traditional appetizer, but it should be. Split this dish with the table, then move on to either sweet or savoury mains.
The fish platter has a sampling of smoked and cured fishes served with dense black breads that would make any Jewish deli proud. Dutch-style pancakes and eggs play to the more traditional cravings, but one thing is for certain, all dishes are cooked impeccably. The wait for brunch can be a bit long, as it is a brunch institution, so comfort yourself knowing you'll soon be enjoying a "healthy" breakfast cocktail with a side of indulgent porky carbs. CH.
54 East 1st St prunerestaurant.com                
Root & Bone
If you want a taste of Southern, small-town America when you're in the big smoke, then Root & Bone in Alphabet City could be the one. Chicken N Waffles, Shrimp N Grits and Braised Short Rib Meatloaf are the big hearty core of the menu, but there are also more delicate, palate-freshening dishes, like an heirloom tomato and cucumber salad, peaches and burrata and a fresh summer succotash of sweetcorn, English peas, little tomatoes and petite greens. you'll definitely want to save space for the individual Key Lime pies and the homely S'mores, a milk chocolate pudding with roasted vanilla and a homemade Graham cookie. SB.
200 E. 3rd St rootnbone.com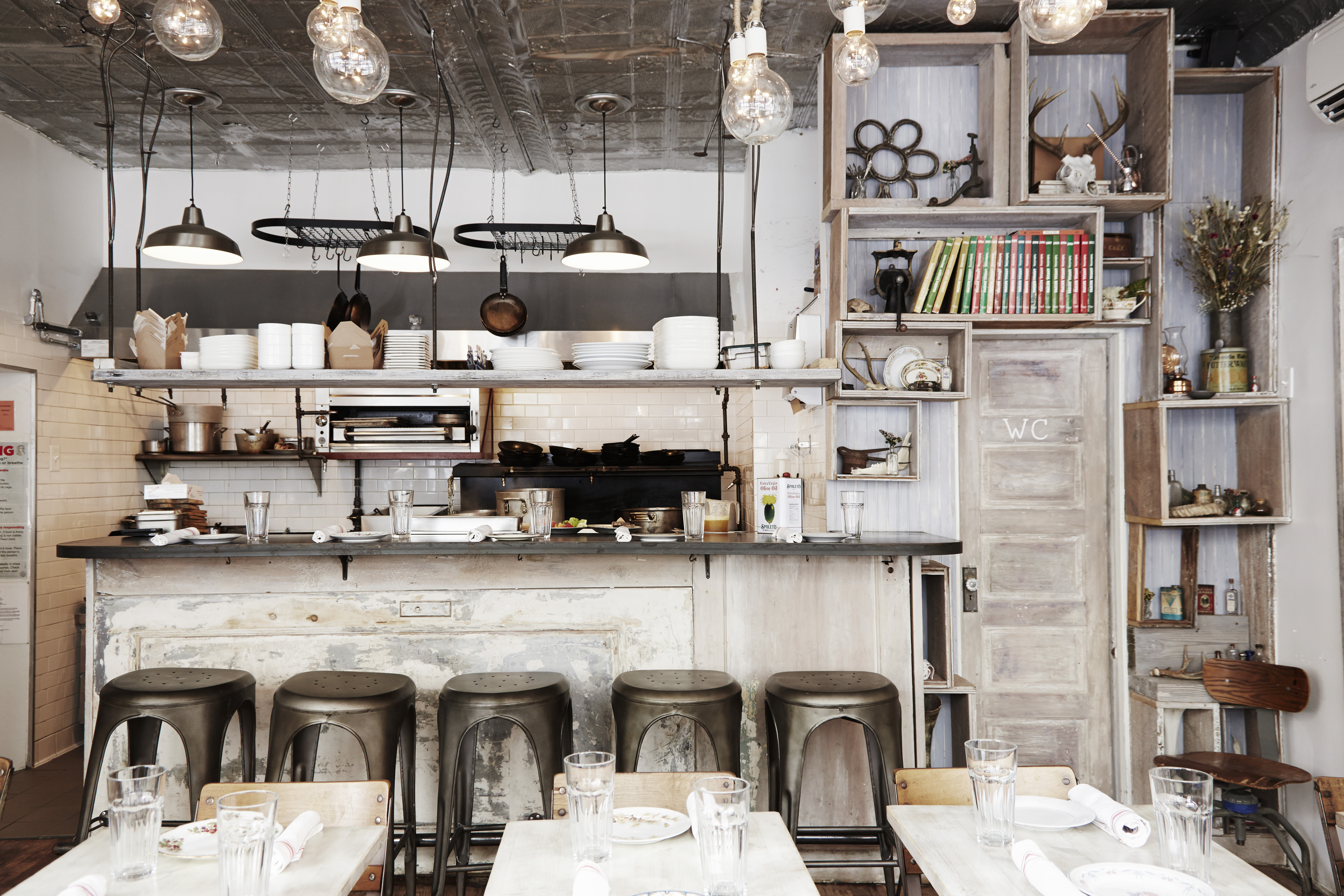 Wildair
This small restaurant in the Lower East Side has a wine list three times as long as the food menu. Natural and biodynamic wine is the speciality at Wildair, who always have a long, rotating list of seasonal wines by the glass. The menu is also packed full of fresh, tasty dishes all of which are great for sharing; like the persimmon, butternut squash and burrata, or the black bass with pineapple and spicy nduja. The radishes with seaweed butter are the perfect pre-dinner snack. Booking is pretty essential—the line crawls onto the street even on Mondays and Tuesdays. IG.
142 Orchard St wildair.nyc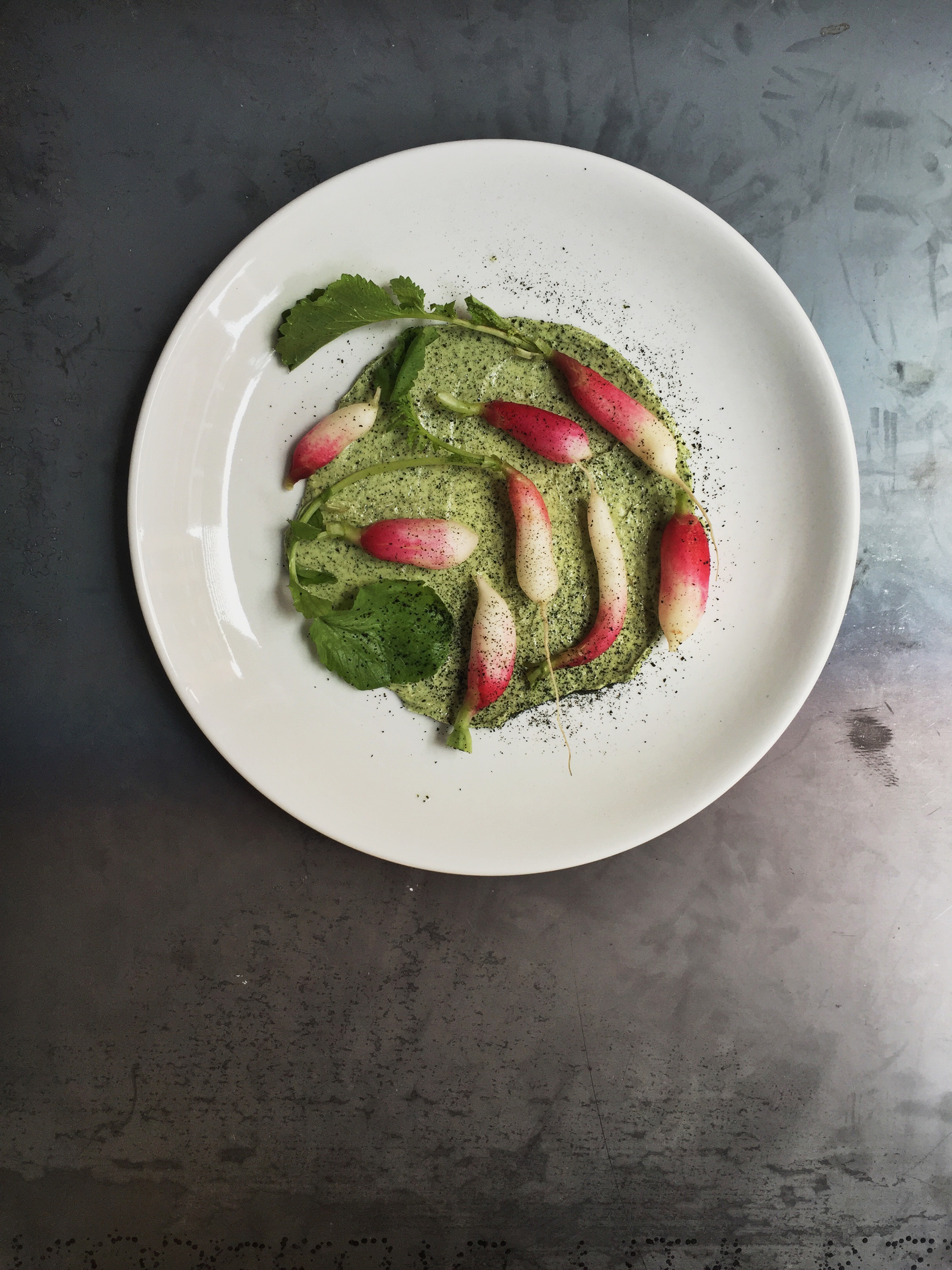 Narcissa
On the ground floor at The Standard on Bowery, Narcissa is the brainchild of André Balazs and Michelin-stared chef, John Fraser. Using produce grown at Balazs farm, Locusts on Hudson, Narcissa has a menu packed with healthy American food. The rotisserie-crisped beets are basically one huge beetroot with bulgur salad and thinly sliced apple – and they're amazing. Steamed black sea bass with spring vichyssoise is also not to be skipped. At Narcissa fresh and organic produce is cooked with Fraser's rotisserie or slow cooking technique – ideal for long lunches in the sun. IG.
25 Cooper Sq. narcissarestaurant.com
Blue Hill at Stone Barns
This restaurant may be a 45-minute drive from the city, but it's worth skipping town for. Blue Hill is located on a working four-seasons farm funded by the Rockefellers. The dining room is spectacular, set in an 80-year-old barn with views looking out on to property. You can see the roaming chickens and the foraging chefs, both searching for ingredients for their next meal. Dinner will take up an entire evening, but it is unlike any food or dining experience you've ever had.
Freshly plucked veggies from the greenhouse are presented on wood boards on nails, showcasing the absolute perfection of produce straight from soil to plate. Each course highlights ingredients and proteins from the farm and diners are taken on a journey of the land through their plates. Each diner also has an experiential dish, whether it's being taken outside to have a beer at sunset or enjoy a sausage straight off the grill on the patio. Blue Hill at Stone Barns ensures the diners will be wowed not only by the food, but by the gorgeous settings. CH.
630 Bedford Rd., Pocantico Hills, NY bluehillfarm.com