Artusi
The daily menu at this classy little spot in Peckham is full of unfussy and perfectly executed Italian food. A fresh pasta dish is always on offer, alongside hearty seasonal dishes like cod with chard and olives, or lamb with courgettes and runner beans. An entire afternoon can be whiled away here feasting on the set three-course menu on offer on Sundays.
Larger groups can get servings to share, or platters of tender veal and suckling pig with a few bottles of red Chianti or clear Venetian rosé.
Yosma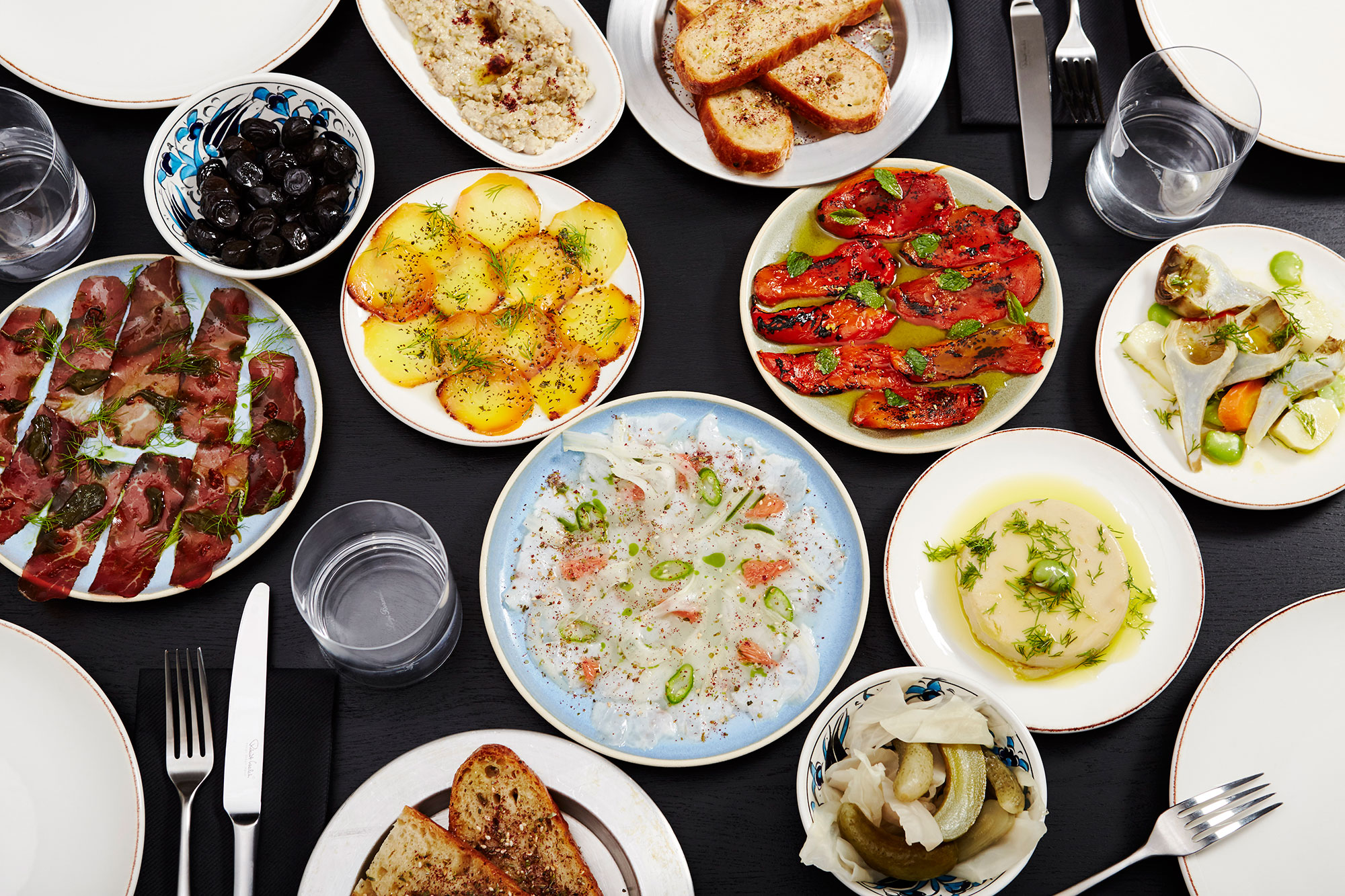 Mangal in Marylebone – Yosma's kitchen is fronted by a former Jamie Oliver protégé, serving tantalising Turkish food alongside Raki-based cocktails. For those who have never lost their mind to this Middle Eastern spirit, this is a good place to try. Start with a couple of cold meze dishes (coal roasted aubergine pulp with lemon and garlic; marinated sea bass with grapefruit, lime and green chilli; roasted beetroot with dill) and follow with a few hot ones (Turkish dumplings with lamb neck and yogurt; spicy beef sausage with sumas and tomato; crispy whole mullet with olive oil and lemon).
Try the mangal lamb chop with lemon and mint, the barbecued lamb breast with squash, hazelnut and spicy chopped salad, or the chicken breast dressed in charred corn and tahini from the clay oven.
Ducksoup
This is the kind of place you pop in to for a glass of wine and end up staying for dinner – and the rest of the bottle. People here sip biodynamic wine, slurp on oysters and share small plates from the daily-changing menu. Clare Lattin and Tom Hill were some of the first pioneers of natural wine in London.
The food is European and seasonal, from light dishes like smoked anchovies, shaved watermelon and feta to warming venison pappardelle with smoked pancetta, or charred veal with grilled radicchio, capers and a soft duck's egg. The desserts are always impossible to pass up, as is that second bottle of frosty orange wine.
Clipstone
Fitzrovia probably isn't the first place you'd turn to when searching for cutting edge food in a relaxed setting. But Clipstone offers an alternative to the slightly starchy surroundings. Set in a bright, polished dining on the corner of Clipstone Street, this neighbourhood spot serves seasonal British small plates along with affordable, carefully-selected wines on tap.
This autumn, the food is comforting and creative: pumpkin, apricot and crème fraiche; scallops, brown butter and dill; partridge with wild mushrooms, apple and chestnut; Hebridean lamb with artichokes, parsley root and shiso; buttermilk pudding with frozen pear and buttery French biscuits. The cocktails are as perfect with the Saturday brunch and lunch dishes as they are with dinner.
The Palomar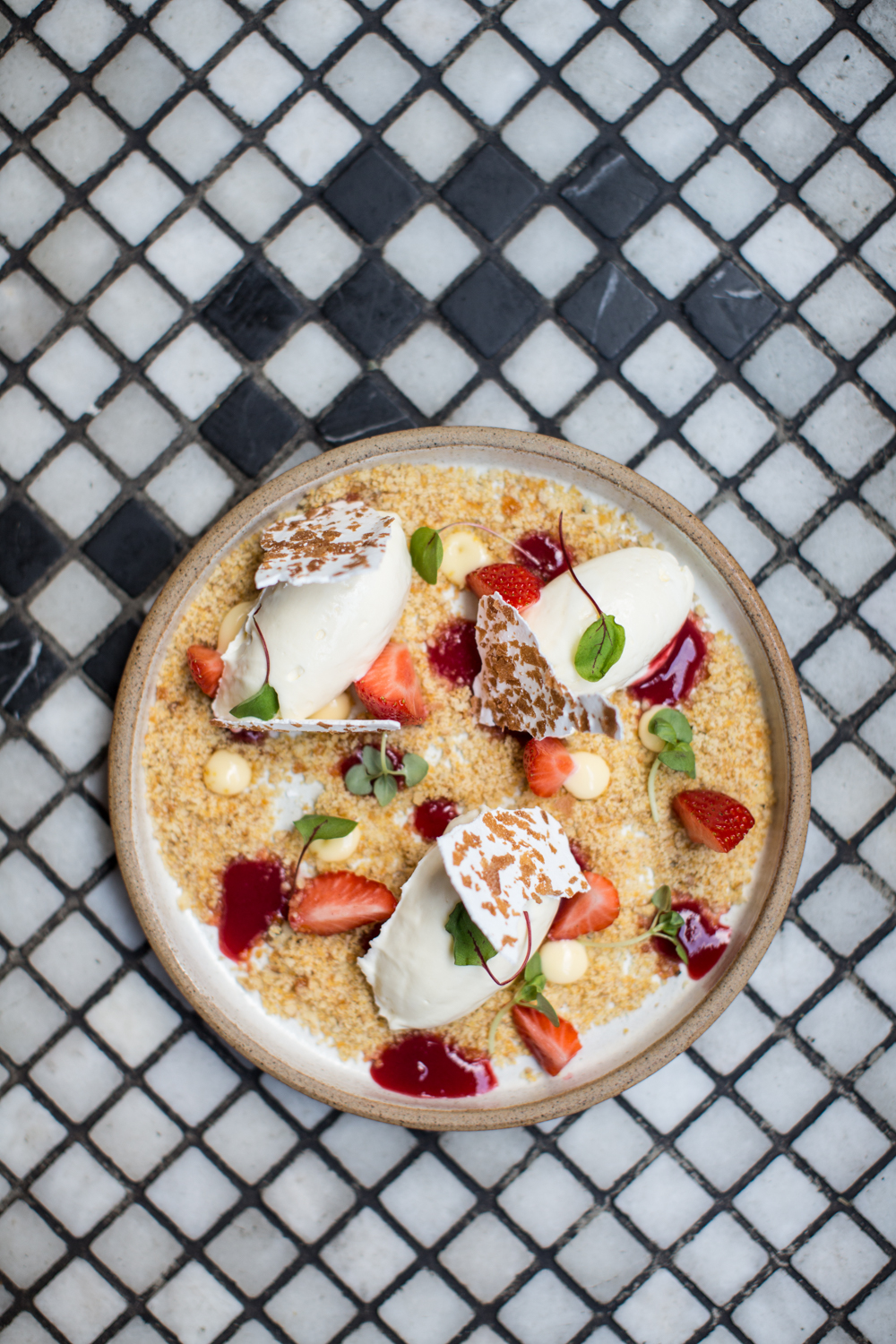 Food lovers have been going nuts for this innovative restaurant, which celebrates eclectic Israeli fare in a slick, tiled space that has brought the atmosphere of modern Tel Aviv to Soho. The kitchen runs along the length of the space, with visitors propped up on emerald bar stools overlooking cooks at work in a clamour of steaming copper pots.
They produce signature dishes like Yiddish style chopped liver pate with challah and pickles, octopus with chickpea puree and burnt aubergine and polenta with mushroom ragout and truffle oil. Along with these colourful sharing plates, don't miss the cocktails, which range from refreshing gin and honey infused with lemon juice and orange bitters to creamy Arak, almond milk and mint. All the more reason to sit at the bar.
Peckham Bazaar
Located on the corner of a nondescript south London street, Peckham Bazaar glows from the outside in. The tiled kitchen looks out over the simple dining room, which is made up of a scattering of tables and chair over wooden floorboards. The menu marries the rich, punchy flavours of the Balkans, with Greek, Turkish, Iranian and Albanian dishes like charred octopus with new potatoes and capers, quail with almonds and labneh and grilled cuttlefish over squid ink orzo with a zesty fennel and orange salad.
All of their produce is picked up at local markets, including their meat, fish and seasonal vegetables. The majority of their dishes are cooked old-style over charcoal, giving everything a deep, barbecued edge offset by bolts of citrus and handfuls of pomegranate seeds.
Hill & Szrok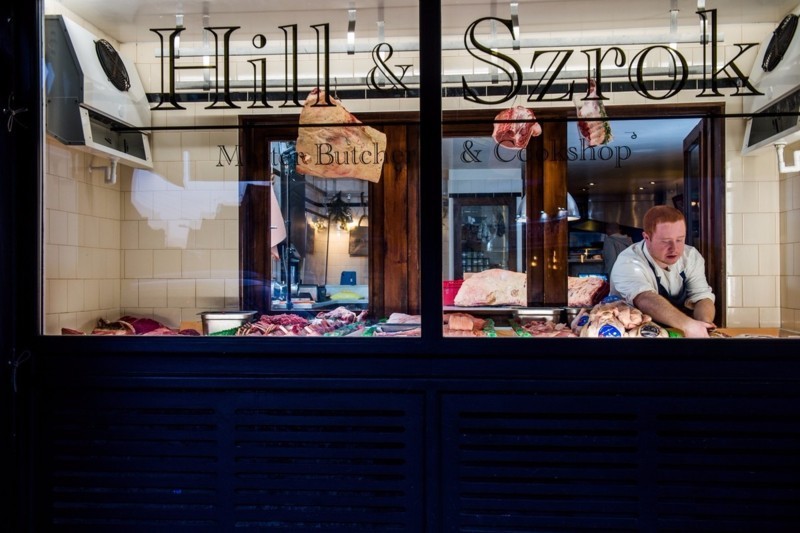 Though the three friends behind Hill & Szrok have opened a successful pub in Old Street, most fans will say that the original site on Broadway Market will always be a cut above its successor. By day, it's a master butchers selling the finest pork, chicken, game and beef to well-to-do East London locals. By night, the boys transform it into a cookshop, wiping down the butcher's block to make way for stools, candles, and affordable bottles of red to go with some of the best carnivorous food in London.
The day's menu is scribbled on a chalkboard, with just a few sides and a couple of desserts to follow. Think chicken supreme with a gently crisped skin and a thin, salty jus, tender lamb with mint yogurt, soft pig's liver pate with toast or juicy, plump pork chops. Sides usually look something like this – blood orange with chicory and fried capers, cabbage with anchovies, the perfect fried egg, lettuce and pears or crunchy new potatoes with mint. Along with great cheeses and classic puddings, there is a certain 'Nige's vanilla cheesecake' that gets us going every time. Get there early to bag a seat at the main sharing table.
Gunpowder
Just around the corner from Brick Lane, where every Indian restaurant claims to be 'London's Best', yet serves up the same sludgy orange curries, Gunpowder is reminding London what proper Indian cooking looks and tastes like. All of their bright, sizzling dishes are inspired by old family recipes, putting a modern spin on home-style Indian cooking.
The tiny room is always full of guests, who feast on Kashmiri lamb chops, soft shell crab, spiced baby chicken and crispy okra fries. Half of the wines are selected by the great sommeliers of St John Bread & Wine, while Indian-inspired cocktails are also on offer, such as the margarita with black salt, chilli and cumin. Finish every meal with the silence-educing molten chocolate cake with spicy chai custard.
BAO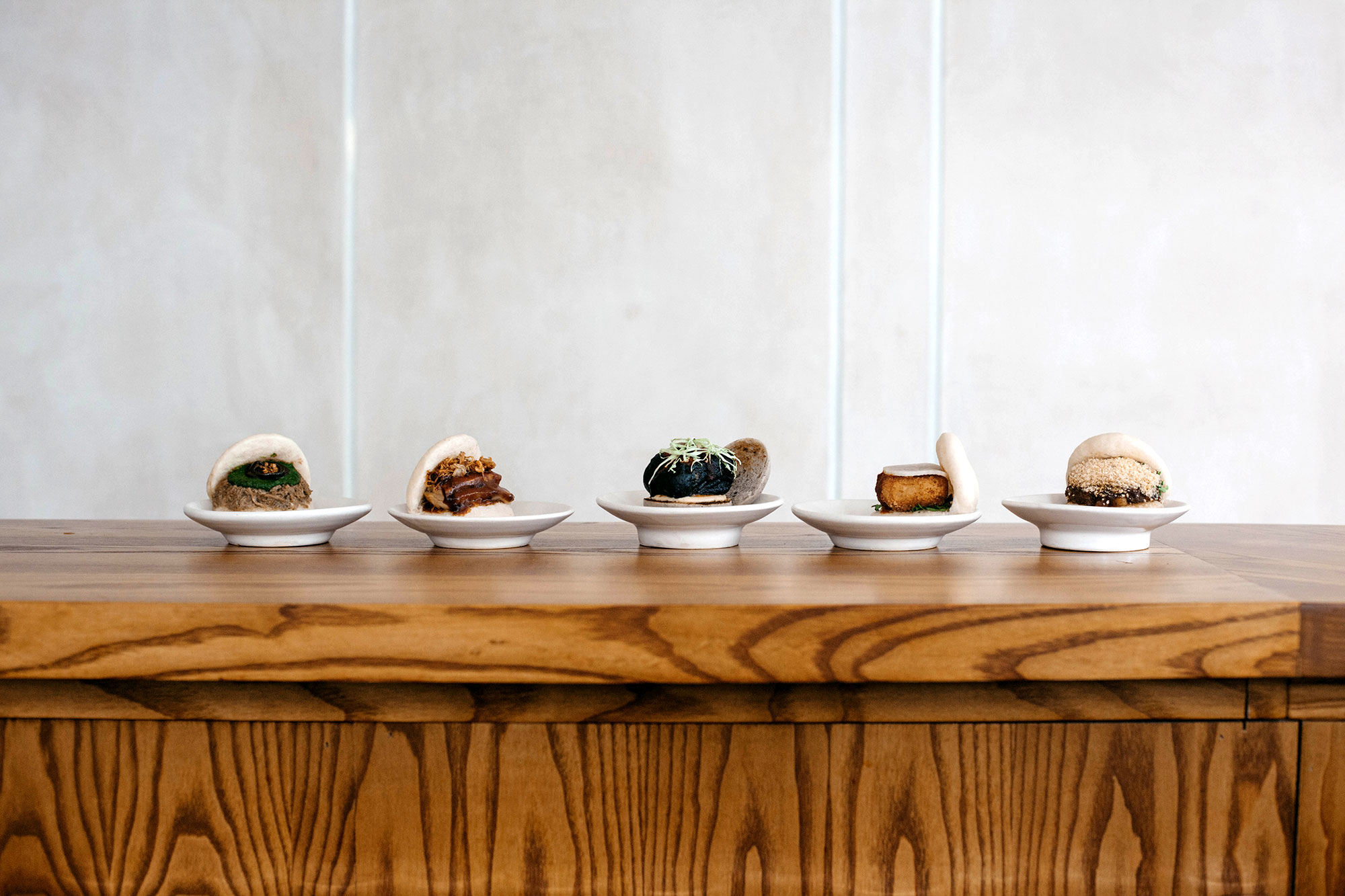 The infamous steamed bun joint – known for its queue curling around Poland Street in Soho – opened a second, somewhat more formal, outpost in Fitzrovia earlier this year. The fluffy buns come filled with pulled pork, black cod or their Mapo aubergine, and they're basically bundles of perfection.
Small plates of beef cheeks and tendon niggets or raw langoustine, dulse, aged soy and oyster leaf come in close second to the buns. With interiors designed by Shing Tat Chung in collaboration with Katy Manolescue's Article Studio, it's a space you could spend a good few hours propped up on the U-shaped wooden bar.
Sardine
This friendly North London eatery champions simple Southern French home cooking. Almost all of the dishes are cooked over a rustic wood fire, full of the simple, punchy flavours of whole garlic, handfuls of fresh herbs and plenty of pulses.
The small menu offers up comfort food like buffalo mozzarella with black figs and basil, grilled sardines with harissa, hake, samphire and aoli or pork chops with roast squash and walnuts, with sides of ratatouille and a light green salad.
Bernardi's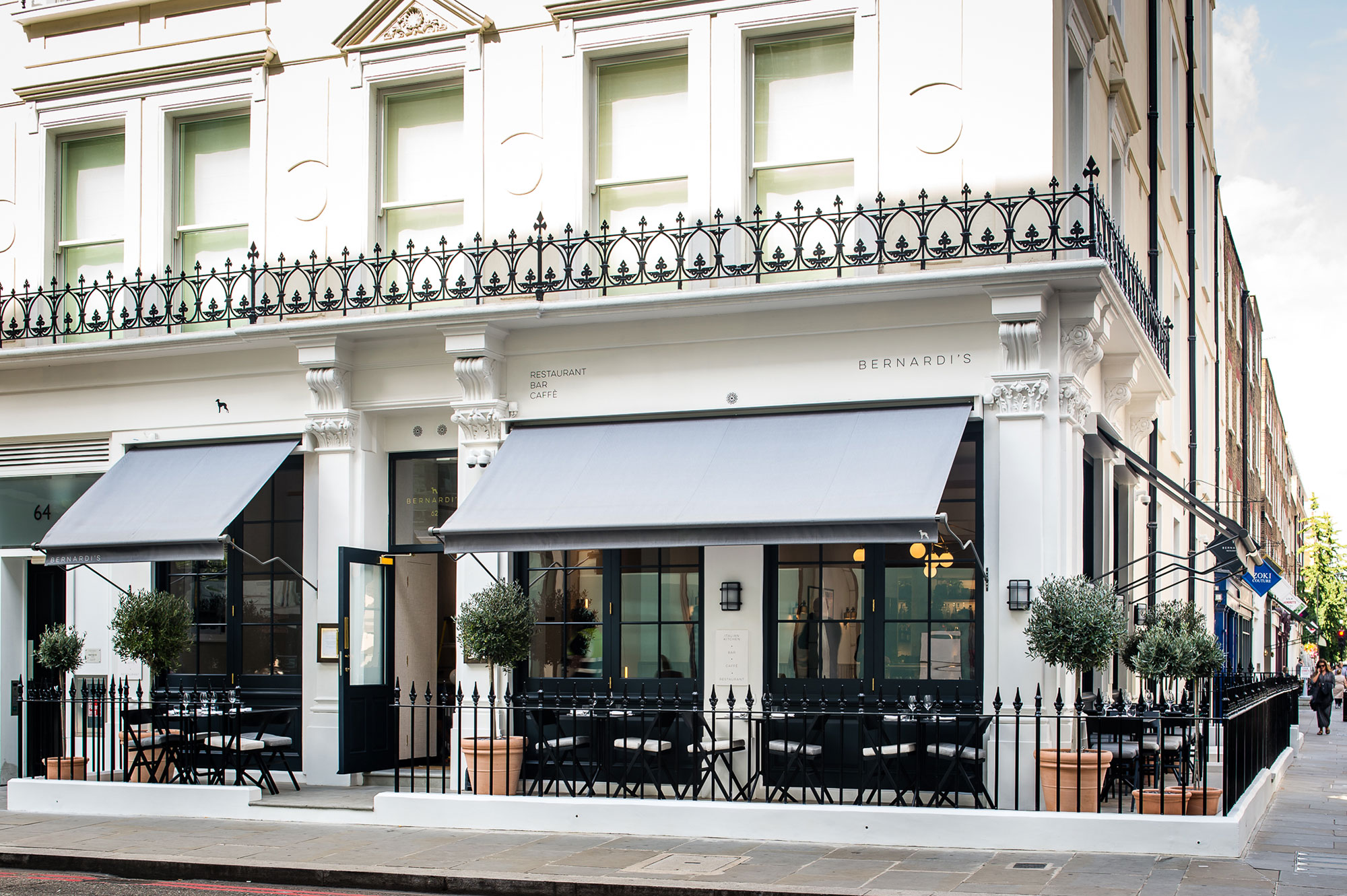 If there's one thing that cosy winters allow for, it's carb-loading. And as Italian bistros in London go, Bernardi's is the most chic place to carb load. When pasta comes in the form of light crab fettuccini with fresh chilli or sea bream served with gnocchi it's practically guilt free.
There's a feel of restaurateur extraordinaire, Angela Hartnett about the place – with understated colours, marble tabletops and a regularly changing menu. Fresh Bellini's on arrival and the bitter chocolate tart with Amaretto are a must.
My Neighbours the Dumplings
While getting a table at the weekend can take well over an hour, you can while away the time happily at the bar with a bottle of hot sake, sourced from an independent family brewery in Japan. This small Clapton dumpling house follows the rules of traditional dim sum eating, filling the tables with small dishes to share.
The room is lit by glowing lanterns and street signs and the atmosphere is casual, comforting and just a little bit hectic. Using free-range local meats and sustainably-caught fish, MND serves up handmade dumplings in a variety of styles, from flash boiled Beijing pork and cucumber to steamed shiitake and mushroom. Pair these with homemade crispy turnip cakes, green papaya salad and slow-cooked pork belly in bite sized chunks and you've pretty much got the perfect dinner.
Casita Andina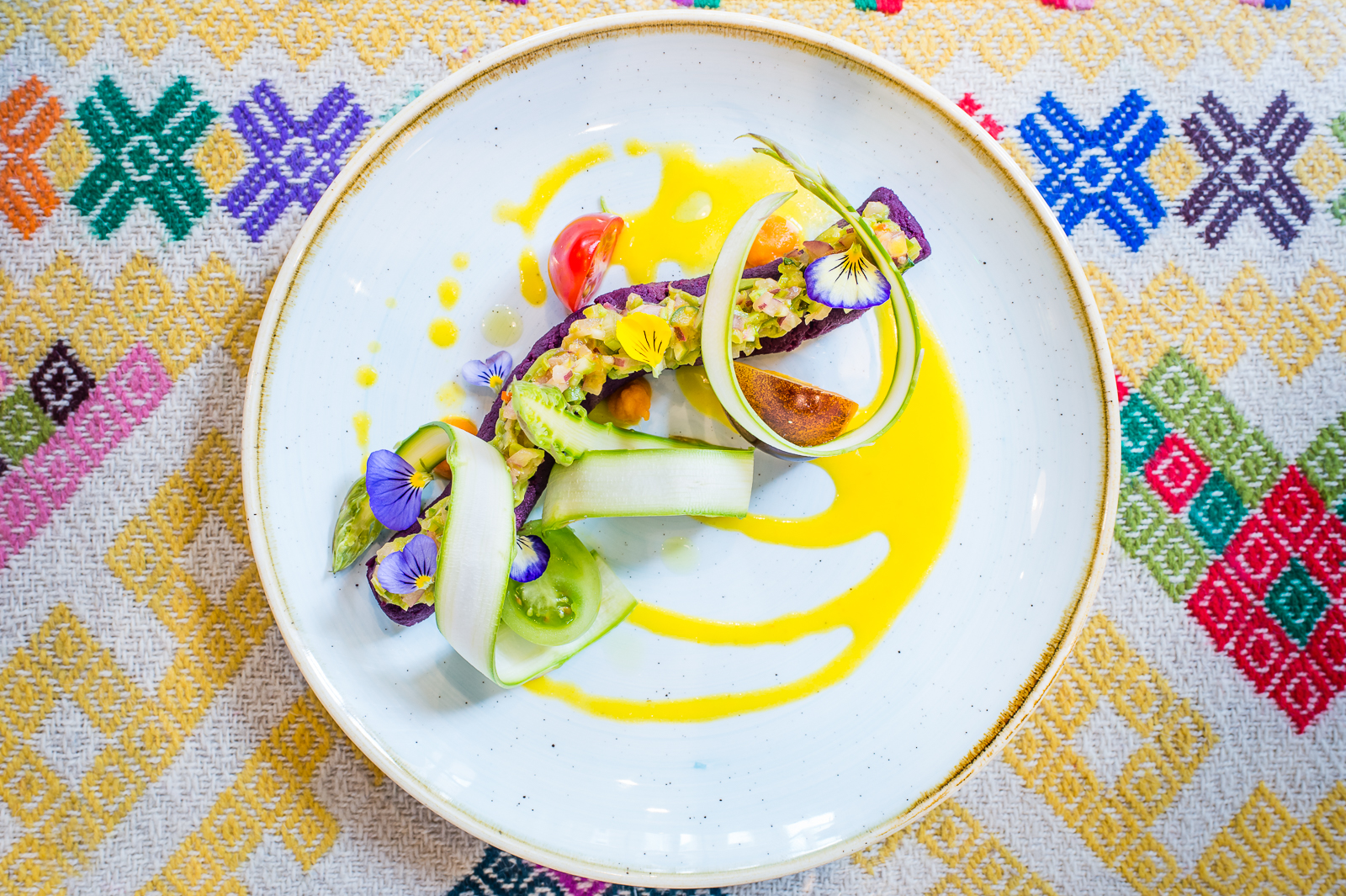 Well-known for being packed full of superfoods and light fish, Peruvian food might not be your go-to for a warming winter dinner. But Andina's new central London outpost – Casita Andina – is actually ideal. Like walking into a Peruvian mama's home, the menu is packed with hearty small plates, baked vegetables, grilled fish and mouth-watering pork.
Even the deserts sound kind of healthy, with things like blended avocado and strawberry. And unlike most binges on comfort food, you won't leave feeling you're actually the size of Peru.
Oklava
Selin Kiazim first hit the scene with her wildly successful residencies at places like Ember Yard and Carousel, where she impressed with her ridiculously flavoursome modern Turkish Cypriot cooking. No wonder her first permanent space, a casually elegant spot in the heart of Shoreditch, became a raging success almost instantly. Every meal begins with warm bread and a little mountain of Medjool date butter, which makes you want to jump over the threshold and give Selin a big old hug.
Most dishes revolve around the huge teal charcoal grill that looms over the open kitchen, with things like blistered market fish with blood orange, pomegranate lamb with yoghurt and spicy lamb kofte with sour cherries. A tingly pickled salad is the perfect side, along with cherry pearl barley and the crunchy roast cauliflower with red onion and pistachios.
The name of the restaurant translates to 'rolling pin', a hint that Selin's soft pides (a rolled Turkish pizza of sorts) are not to be missed. Try the one with octopus, ricotta, green olives and honey, washed down with a glass of cold Turkish white wine.