The mayhem of Morocco all comes together in Marrakech. On the flatlands of the Sahara desert, the city is all smells and colours, bustling and hot. It's the perfect mix of youth and tradition. Colonial hotels boast a history of the politicians, socialites and maharajas who've stayed there and street food is still the best meal you'll find. Fly with a budget airline and blow the rest of your budget on some old-school charm and local tip-offs. Here's our guide to spending the perfect 48 hours…
Spend a day and a night at El Fenn
El Fenn is an oasis of calm in the Medina. Its seven traditional courtyard houses were transformed into one riad of sprawling marble walkways and colonnades that reveal not one, but three swimming pools.
It's also the epicentre for contemporary art in Marrakech. The walls host rotating exhibitions, and will hold an 11-week program of talks and events in conjunction with the 2016 Marrakech Biennale, which opens next week.
Make sure you come back for afternoon Moroccan mint tea in the courtyard, order chocolate mousse via room service and eat it while bathing in the massive marble bathtub in your room.
Get an "east meets west" Hammam
There's nothing like having four layers of skin scrubbed off and buckets of water thrown over you to feel clean and ready to relax. Luckily, Marrakech doesn't care about your tax return or the three conflicting Facebook events you can't decide between, so you're going to chill. Follow it up with a massage for the ultimate "east meets west" experience – you'll leave starry eyed and unsure what day of the week it is. Ideal.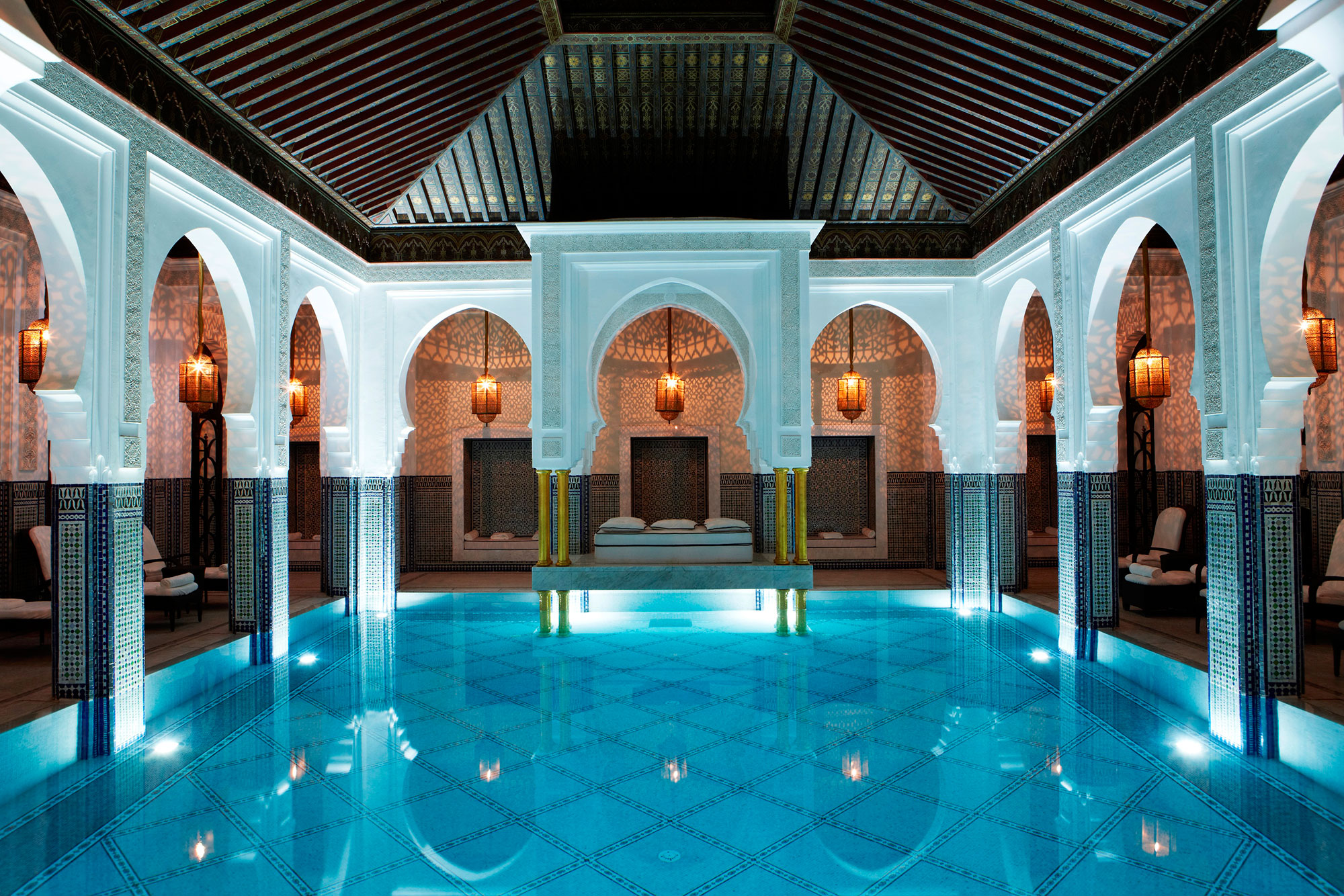 Eat the local street food
Jemaa El Fna Square comes alive after 6pm with street food vendors, belly dancers and snake charmers that won't let you cross from one side to the other without wrapping a python around your shoulders.
And you can eat like a king for less than a fiver. Eat lamb-filled b'stilla, meat filled pastries originating from Fes, deep fried balls of potato called ma'qooda and spicy harira soup washed down fresh orange juice. If you're adventurous then try a sheep's head—a delicacy on Marrakech's street, not for the faint hearted—it comes with teeth in tact.
Wander around Jardin Marjorelle
The enchanting Jardin Marjorelle was the result of forty-years of impassioned gardening by French painter Jacques Marjorelle. Left to disrepair and near-demolition, Yves Saint Laurent and Pierre Bergé bought and restored the house and gardens in 1980, after a lasting impression left from a visit to the city in 1966.
After the death of the inimitable Yves in 2008, his partner Pierre opened the gardens to the public and last month the Foundation Pierre Bergé announced it would be opening a new museum dedicated to the designer. Next year between the new space near the Jardin Marjorelle, and the one on Paris' 5 Avenue Marceau, the museums will house 5,000 haute couture garments, 15,000 accessories and more than 50,000 drawings made by the designer over his career.
Go to La Mamounia for a drink
La Mamounia is the grand old lady of Marrakech – a palatial hotel with hand-carved marble interiors and gardens that go on for miles. Unless you have a limitless budget, then at least go for a drink at the Churchill Bar, which has been there since 1923. As its name suggests, it was where the man himself would prop himself up at the brass bar. Frank Sinatra and George Orwell have also sipped on Royal Salute whisky and listened to the live jazz pianists that play there every evening.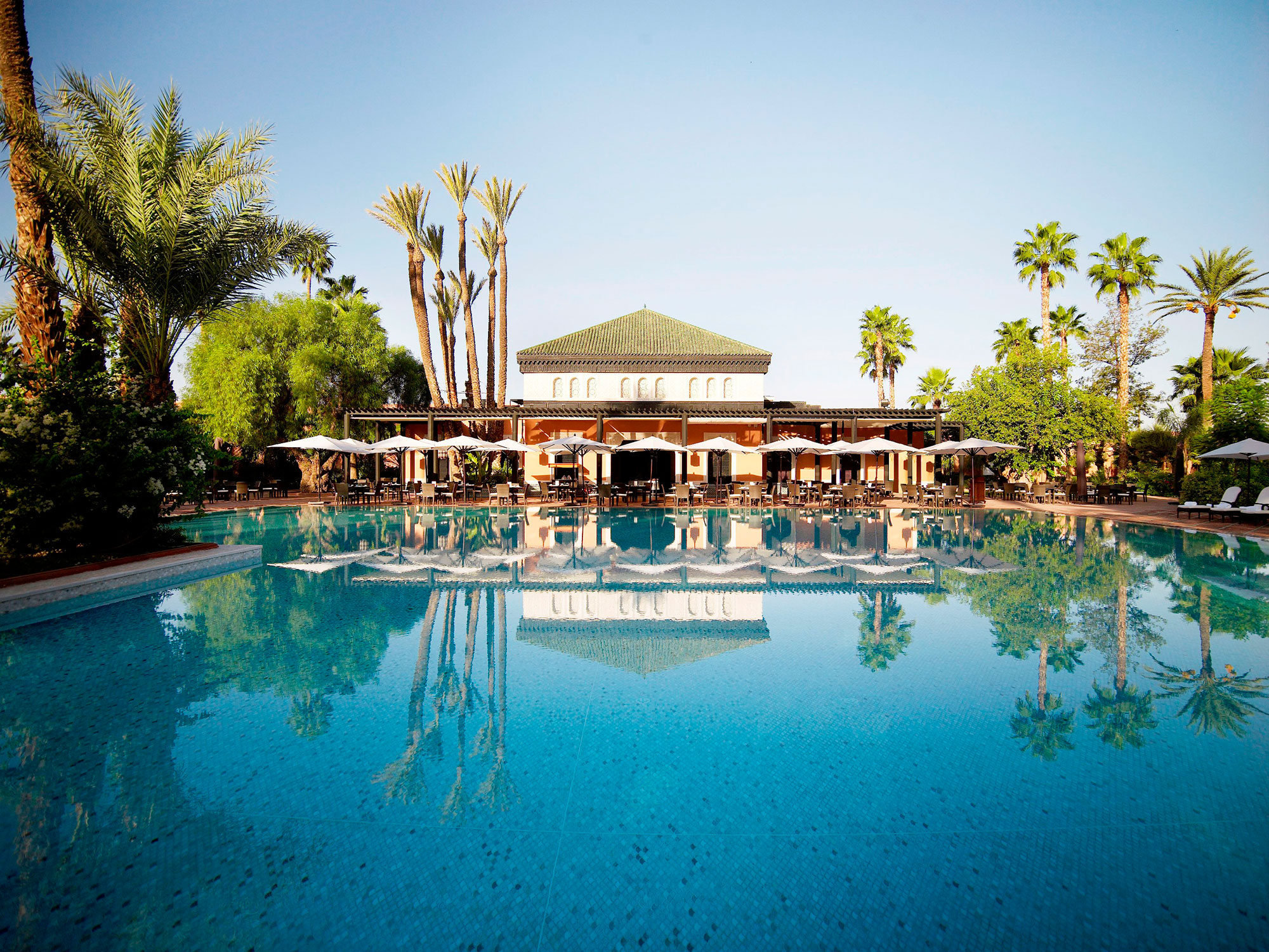 Don't arrive wearing your pool sliders – they will not let you in. The irony of wearing "toilet shoes", as they're known in Morocco, does not translate even if it's a Westerner wearing them.
Watch: 'INSIDER: 48 Hours in Athens'
Read: 'Driving Around São Paolo with Brazil's Next Superstar'
Watch: 'Second Gen: Petra Collins' Budapest'
Credits:
Jardin Marjorelle opening photo by Sasa Stucin