Sydney is a city that seems permanently on holiday. Whether people are piling out of vegan cafés or onto the beach, it's a city full of young, beautiful people who seemingly have it all: great weather, delicious food, good nightlife and an ever expanding scene of artists and designers relocating to this beachside-city and calling it home.
Hamish Tame is the 31-year-old designer behind Le Specs, the Australian sunglass brand loved by the likes of Zayn Malik and Sofia Richie. After taking over as Creative Director of the iconic 80s brand when he was just 21, Tame quickly transformed the company into the must-have accessory brand.
Vintage eyewear is a constant source of inspiration for Tame, which he picks up whilst travelling the world for work, but when he's not on the go he's living the beachside dream in the Sydney-suburb of Bondi.
Where to eat
North Bondi Fish boasts the iconic view of Bondi Beach. It's the perfect thing to compliment Sunday afternoon drinks as the sun's going down. Make sure you order the sliders with a cucumber spritz. The Butler serves amazing French-inspired food with a breath-taking view of the city skyline. The cocktail list at The Butler is extensive, and being an espresso martini lover I love that there are three on offer here: vodka coconut, maple rum or cinnamon and cognac.
Everyone's got a local and Porch & Parlour on Bondi has got to be mine… They do great breakfast and coffee, and it's just a few meters from the water's edge (perfect for anyone who needs a 7am pre-swim coffee). On the other side of town, Chiswick is a hybrid of old and new; a country garden merged seamlessly with a pavilion and lavished with the latest décor and decidedly retro nods. Perfect for a romantic date or with a group of friends – the lamb here is a must.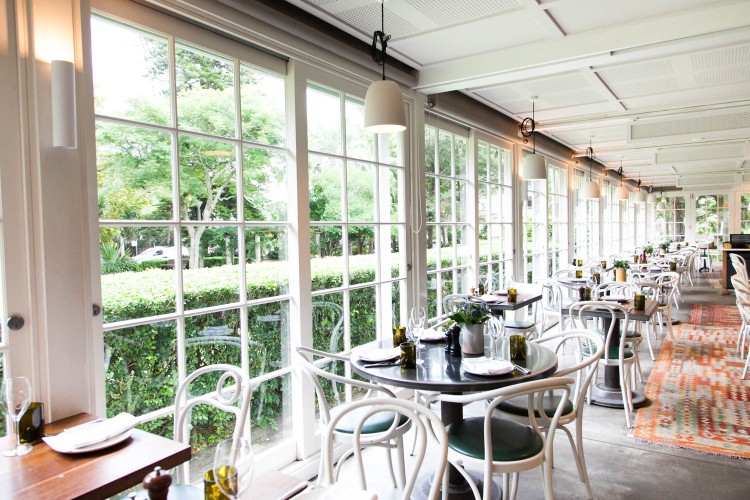 Where to drink
With locals usually spilling out onto the pavement, Neighbourhood is a great local dive bar that serves up a bit of everything, from mac n' cheese to popcorn Cajun prawns, this place does everything a local bar should. You'll probably find me at ARTBAR on the last Friday of each month, where artists gather together at the renowned Museum of Contemporary Arts in The Rocks. It's always a sure way to start the weekend off right.
Perfect for afterhours drinks, Henrietta Supper Club is a dimly lit bar, full of low-lit lamps and tall oak tables. With warming dishes like their snapper and scampi pie and signature Club Cocktails it's perfect for a nightcap.
Where to dance
Cliff Dive is the place to go for a late night of fun and dancing. There are DJs most nights of the week. The Beresford Hotel is another late night classic and in summer, heading out to the cobblestoned, lantern-clad beer garden with a jug of Pimms is a great way to kick off a Friday afternoon or Saturday night. 
Where to sleep
For a luxurious weekend away with arguably the best views of Sydney Harbour, Park Hyatt is directly across the water from the sails of the Sydney Opera House. It's ideal for a real Sydney experience, not to mention their rooftop pool set up.
It may not be the most obvious location for a hotel, but Old Clare Hotel's gritty inner-city hotel sets the hotel apart from the majority of Sydney's hotels. The restaurant is also a destination for foodies so book ahead if you want a seat. Though it sounds cliché as hell, another option is glamping, which in Sydney means waking up on Cockatoo Island with incredible views over the harbour (but without the Park Hyatt price tag). 
What to do
If there's one morning walk you do here, this would be it. On the Bondi to Bronte coastal walk you'll see dolphins out at see and the annual Sculptures By The Sea exhibition on land. It's a favourite for locals and tourists alike.
There's no BYO paddleboard prerequisite at Rose Bay, although that would be one way to look like a local. You can hire your own on the beach and paddle around Sydney Harbour. The views of Harbour Bridge are amazing.