The sixth edition of Marrakech biennale has the bar set high. Curated by the Guggenheim's Reem Fadda, the biennale is a harmonious cross-pollination of contemporary and street art in a city renowned for it's rich history of arts and craftsmanship.
You can't turn a corner in Marrakech without finding a carpenter hand-carving a table or a silversmith intricately working a patterned detail onto a sheet of metal. Art is intrinsically part of everyday culture in Morocco.
The biennale serves as a way of bringing art to the people, from opening day and over its 11-week run, the biennale is for the public.
Unlike the Venice Biennale, Marrakech's installations aren't housed in 16th Century palazzos, instead they're scattered in underground catacombs of the city's 12th Century Koutoubia Mosque and the ruins of El Badi Palace.
Finding the pieces is an adventure in itself, with many small galleries nestled somewhere deep in the souk. Though near impossible to find with data roaming off, they prove to be worth the hunt – behind some unassuming door you'll find poetry by writer and visual artist Naeem Mohaiemen.
An hour from Europe and only six from America, Marrakech is the perfect long-weekend trip. Drink mint tea, eat fresh pomegranates and blood oranges and check out some of Africa, Europe and America's best contemporary art. We've rounded up six of our favourite installations to check out.
Djibril Diop Mambéty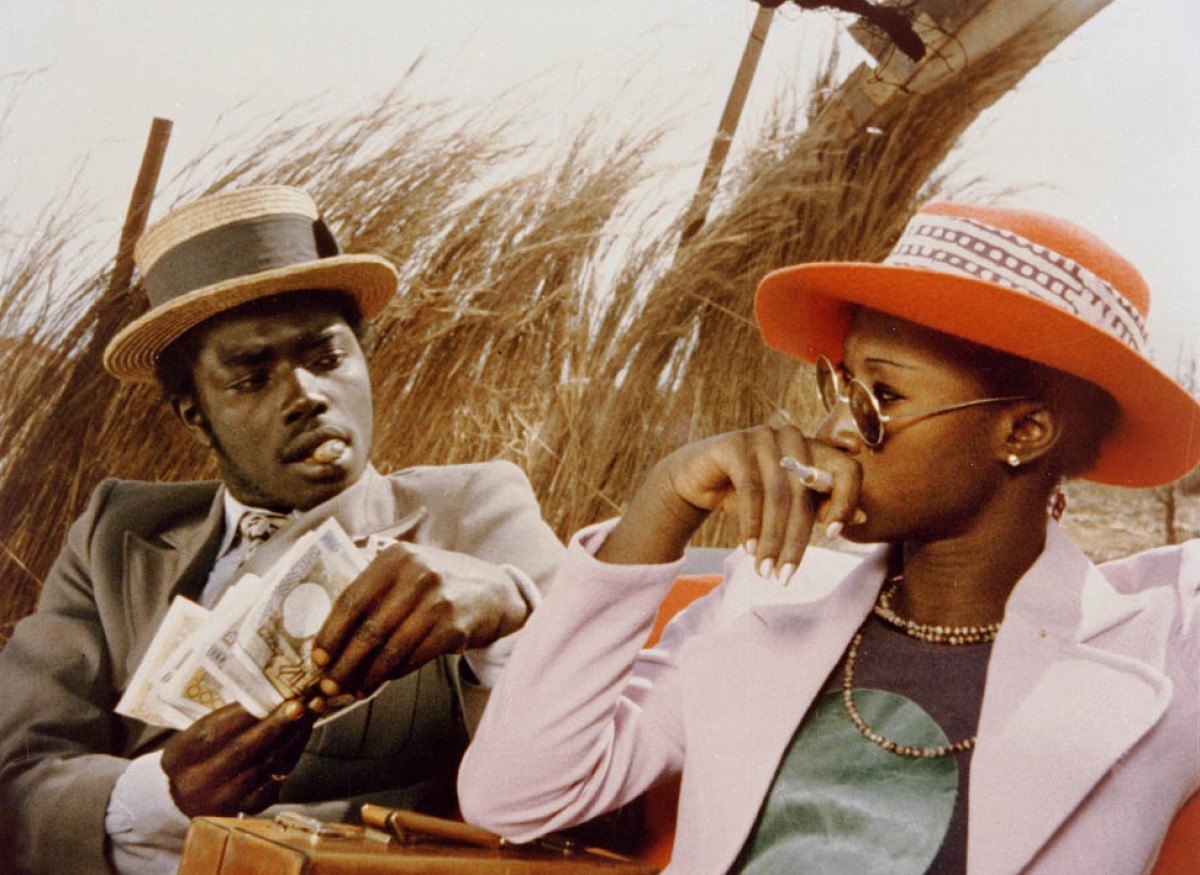 Senegalese filmmaker Djibril Diop Mambéty's films are an exploration into neo-colonialism through consumerism. He's a filmmaker who's produced a few highly acclaimed and charged films dating back to the early 70s. Three of which are on display at Palais El Bahia, from the beautifully shot Badou Boy, Cannes Golden Palm nominee Hyénes and International Critics Prize winner Touki Bouki.
Oscar Murillo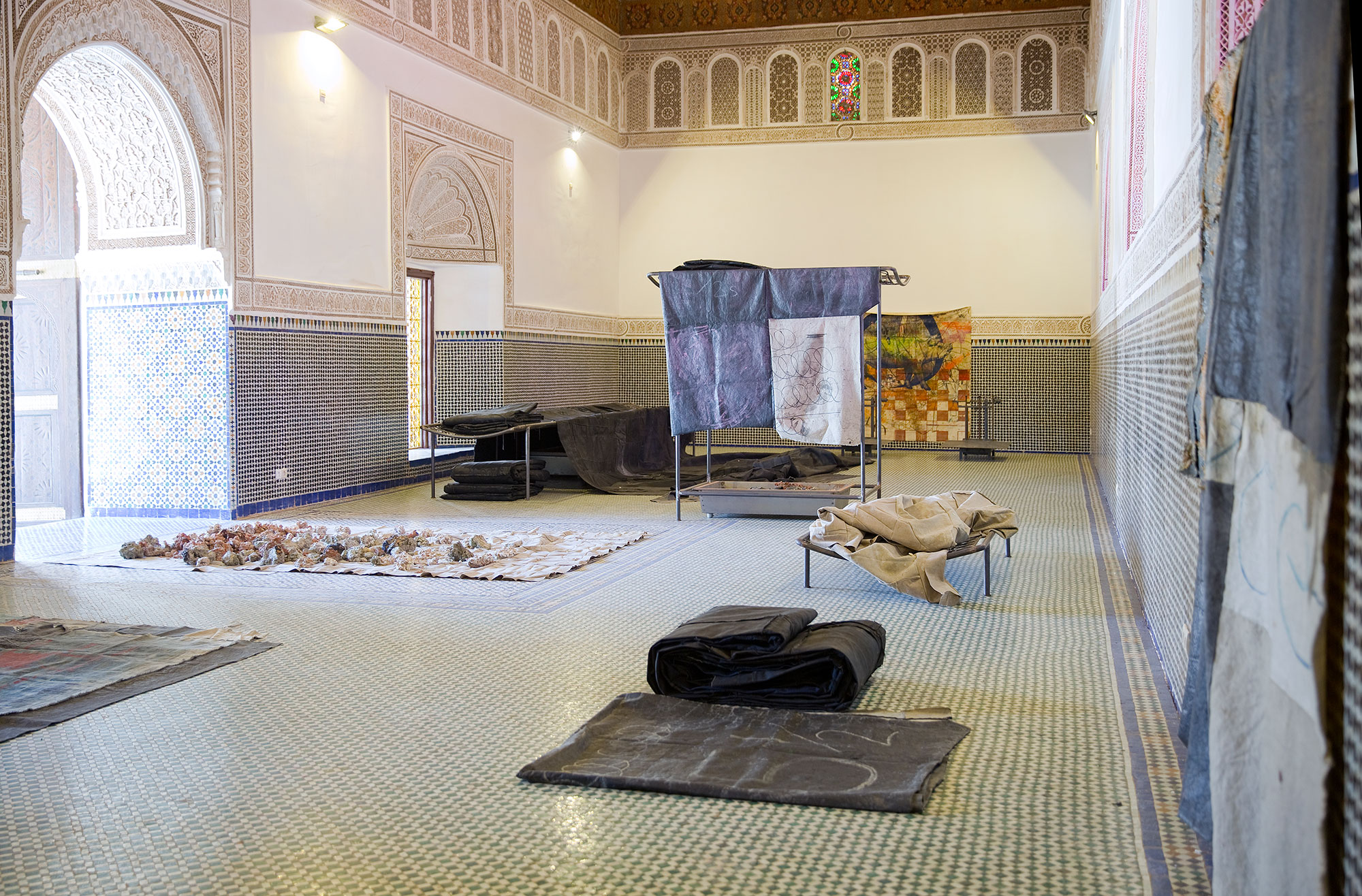 Columbian-born London-based artist Oscar Murillo's work has long addressed issues of geopolitics, labour, migration and consumption on a global scale. An entire body of work spanning draped canvas paintings, floor sculpture and interactive installation fill an entire mosaicked room within the beautiful Palais El Bahia.
Superflex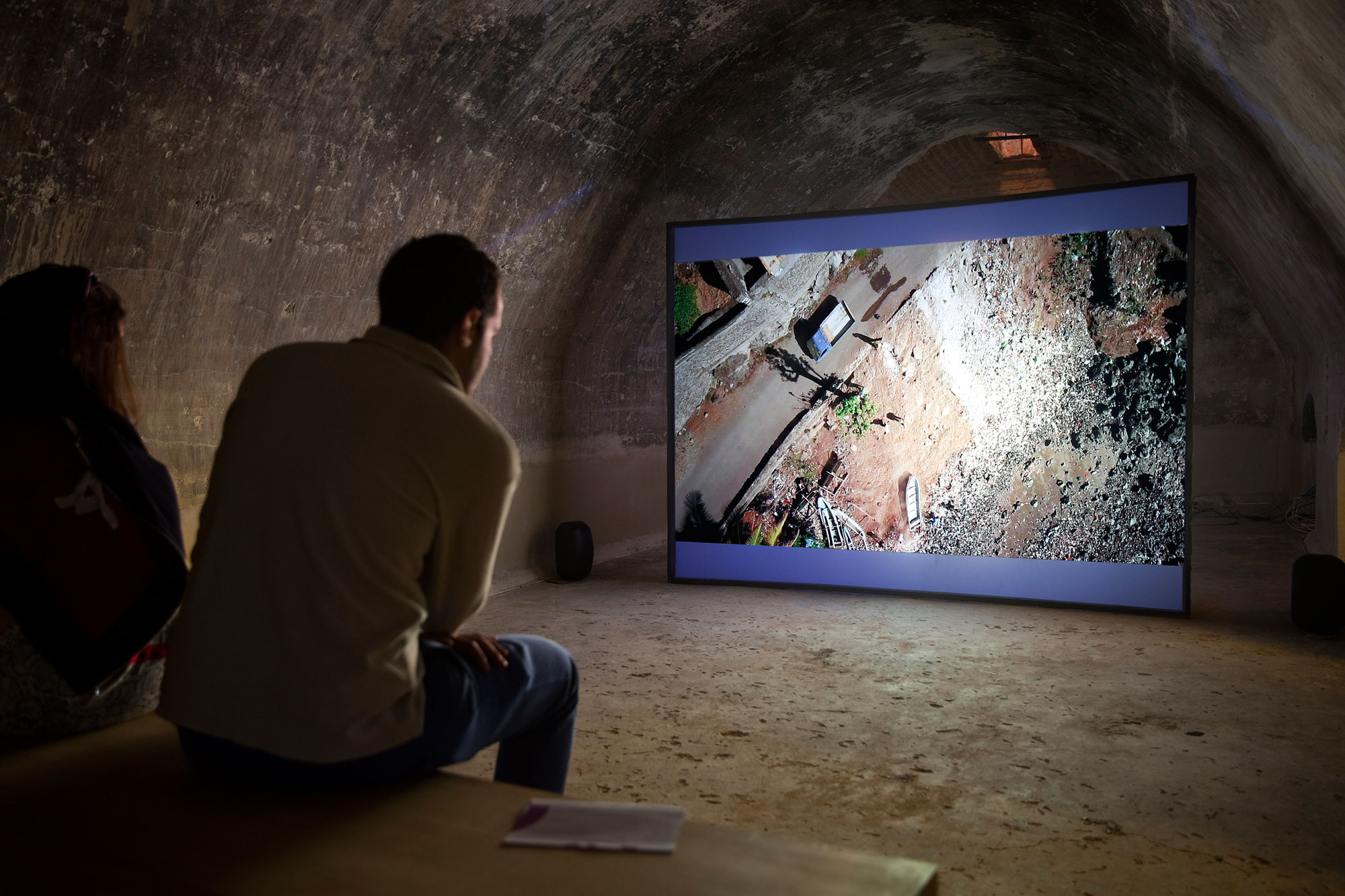 Deep in the underbelly of the Khoutoubia Mosque, in a dark, cool, cavernous room stands Copenhagen based artist collective Superflex's visual masterpiece Kwassa Kwassa. The group have long delved into the issues surrounding economic production and political disparities and this piece is no different. The video focuses on the decolonization of the outermost region of the EU, Mayotte, the island off the east coast of Africa. An island where migrants arrive on white, locally produced fiberglass boats.
Mohammed Melehi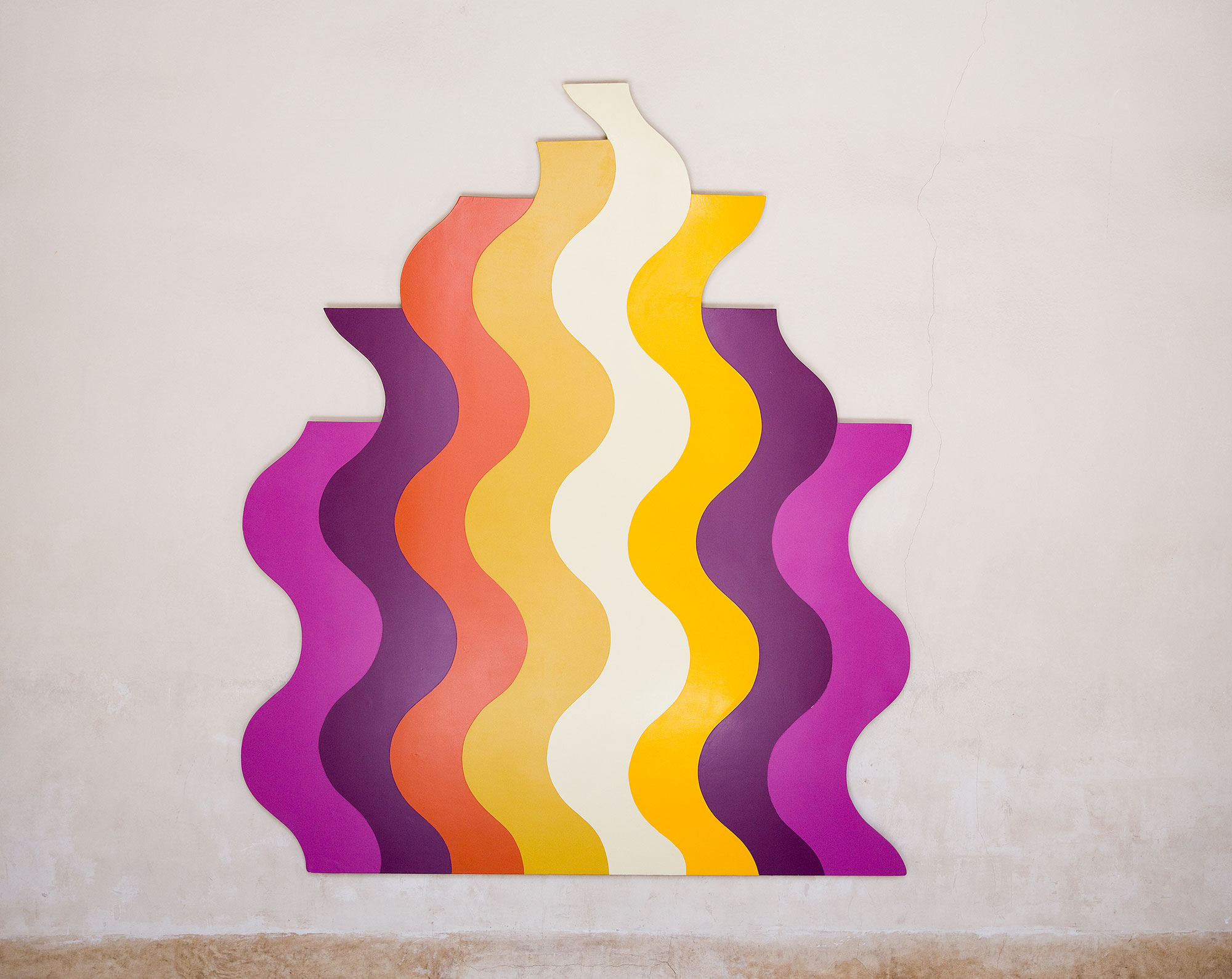 Iconic Moroccan modernist painter Mohammed Melehi's work lights up one of the rooms housed within Bahia Palace. As a leading pioneer of Arab art, Mohammed has been creating a body of work that focuses on rooting modernism in local visual culture since the early 1960s. Large canvases of hard-edged optic abstractions in clean colours, where no matter where you stand – the paintbrush strokes are invisible. The waves seen throughout his work are inspired by the movement of Arabic calligraphy and are attributed to the beaches of his hometown of Asilah.
Fatiha Zemmouri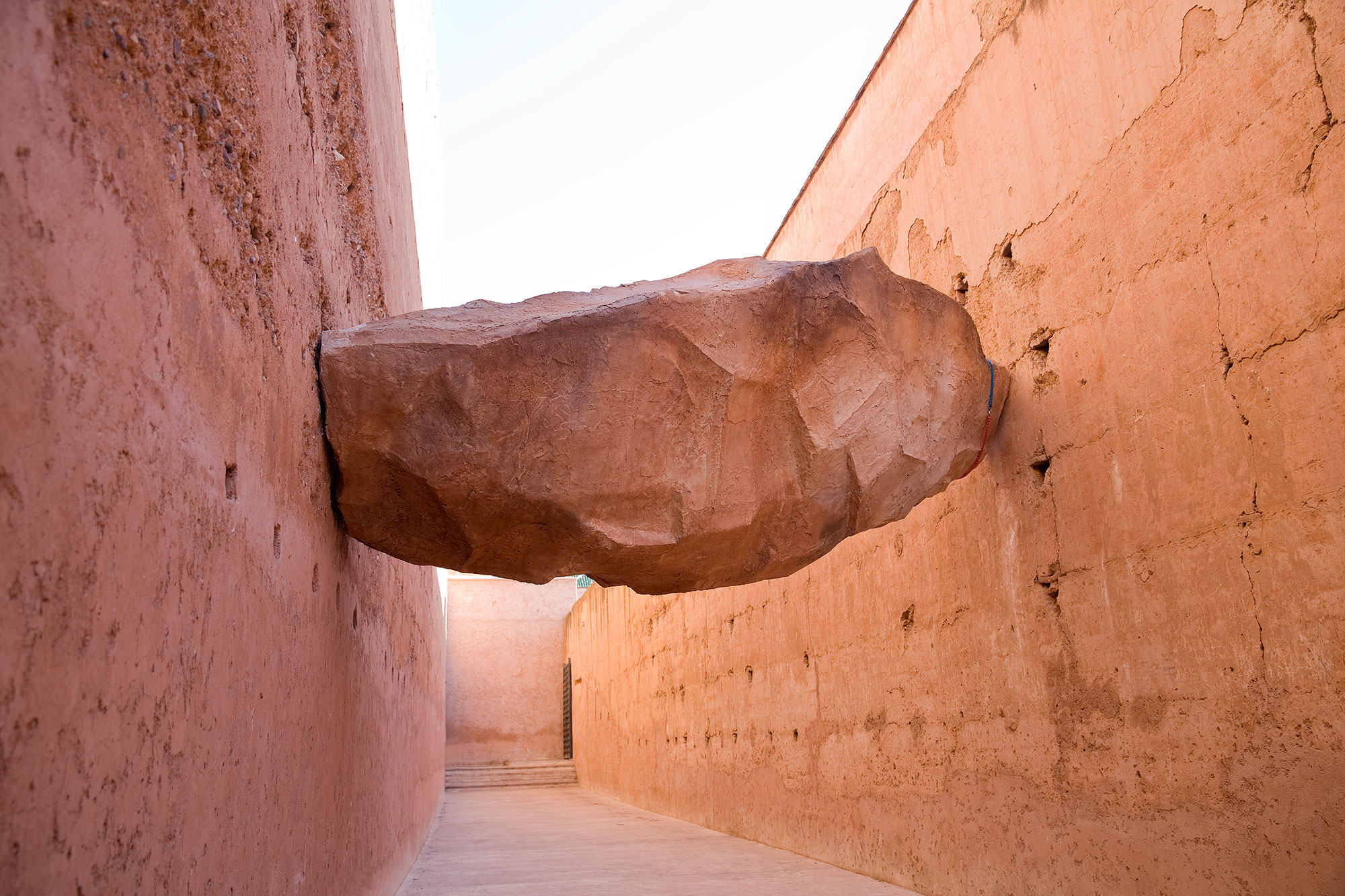 As you walk down into the dark ruins of the 14th century El Badi Palace, you emerge on the bright flatbeds and are confronted by a narrow minimalist alley with Fatiha Zemmouri's megalith installation clinging to the walls. The Moroccan visual artist's work continually integrates raw materials such as coal, charred wood and ceramic.
Al Loving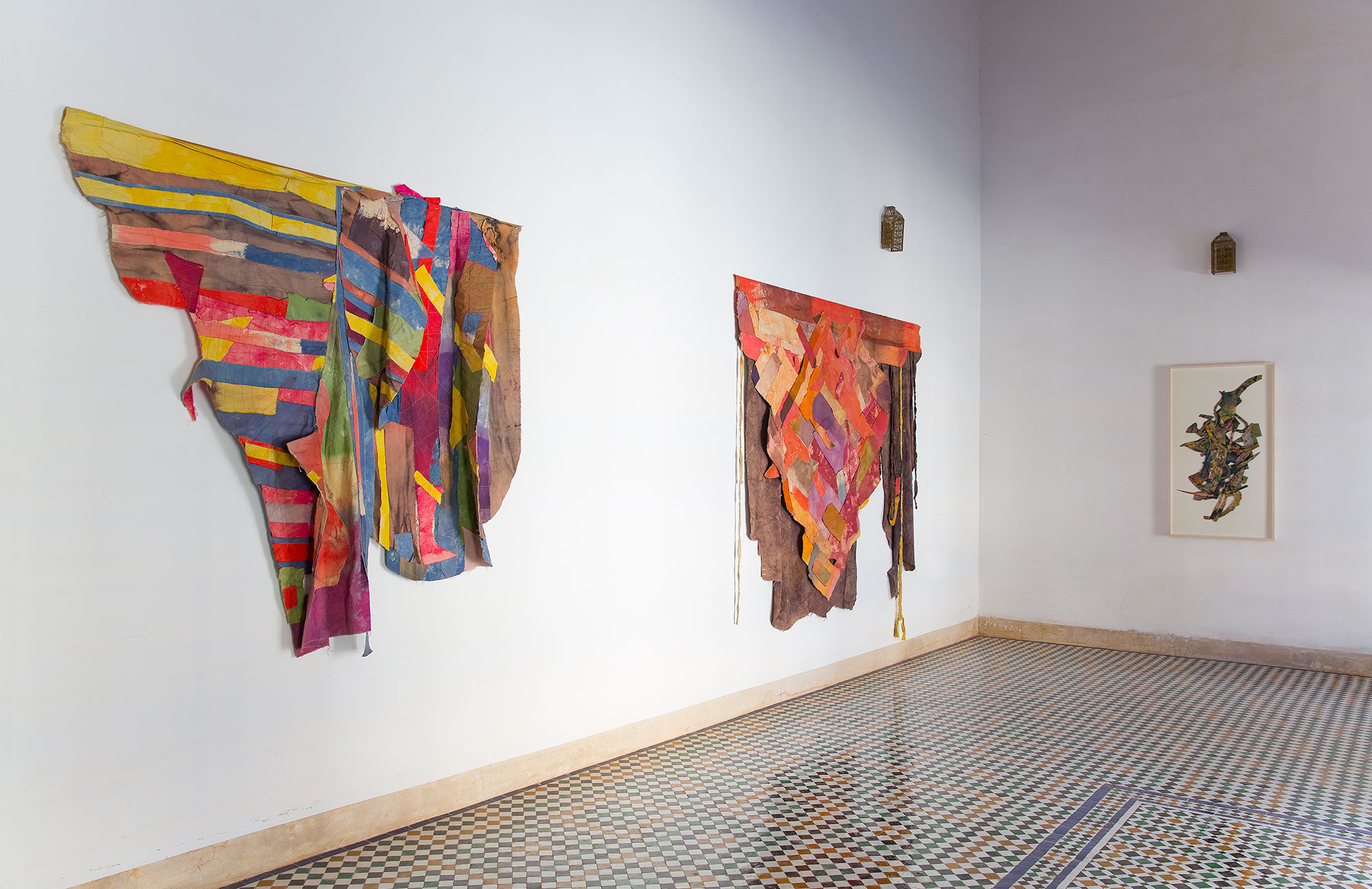 American artist Al Loving rose to fame in the 1960s, during which time he gained a solo show at the Whitney Museum of American Art and was the first African American to do so. Shortly after, he discarded his abstract illusionistic work he had become famed for and moved into a new folk-infused aesthetic, utilising textiles on a monumental scale. The torn canvases shown at Palais El Bahia are reflective of the key moment when Al re-positioned his work into the realm of addressing issues such as poverty, war and consumption.