The fifth edition of Frieze New York opens tomorrow and runs until Sunday at Randall's Island Park in the East River. Bringing over 200 galleries from 31 countries displaying some of today's most significant artists, including Paul McCarthy, Cornelia Park and Isa Genzken.
Established in London by Amanda Sharp and Matthew Slotover in 2003—twelve years after its equally influential magazine—Frieze is now directed by art veteran, Victoria Siddall. Its New York edition has gone from strength to strength since 2012, arguably stealing the spotlight from its long-established counterpart the Armory Show.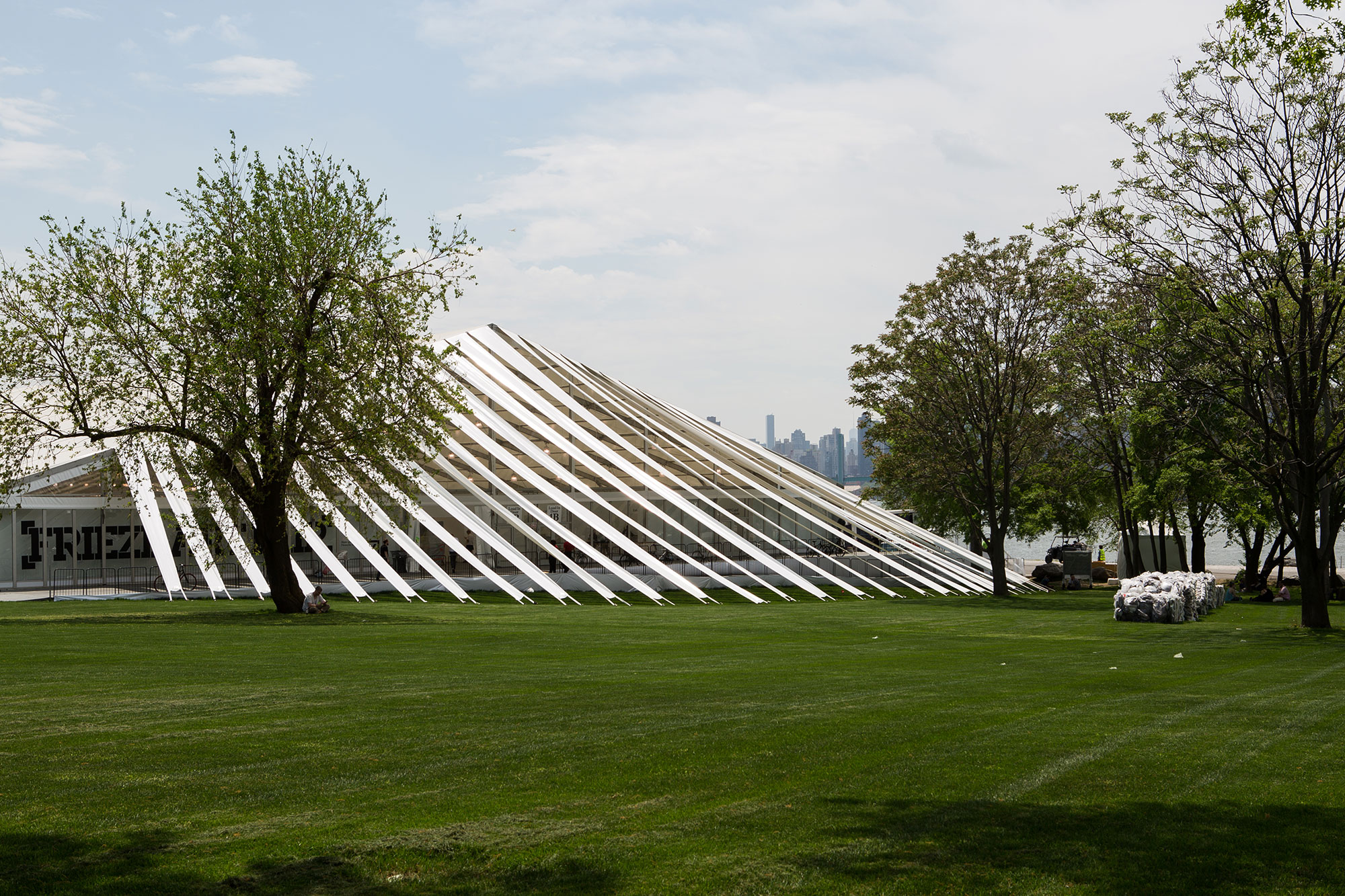 This year, Frieze New York returns with three specially curated sections and a strong focus on female artists. As the international art world converges to the Big Apple, Amuse finds a few of the works and presentations you don't want to miss.
John Giorno, Philppe Decrauzat & Julia Wachtel at Elizabeth Dee Gallery
Poet, visual artist, activist and former lover of Andy Warhol, John Giorno emerged in the New York art scene in the 1950s and has since become one of America's most prolific artists. Elizabeth Dee, who is also a co-founder of Independent art fairs, presents a selection of new works by Giorno, just one year after his acclaimed retrospective at the Palais de Tokyo in Paris. Works by Swiss artist Philippe Decrauzat and American artist Julia Wachtel will also be displayed at the gallery's booth. In addition, the Elizabeth Dee Gallery is having a private presentation of selected works at their brand new space in Harlem, including pieces by Belgian collective Leo Gabin.
Tracey Emin, Celia Hempton, Hanna Liden and Rachel Whiteread at Galleria Lorcan O'Neill
In the main section, the Italian gallery brings together some of today's best-known female artists for a group presentation exploring the concepts of privacy and intimacy. Works on paper by YBA artist Tracey Emin, are shown alongside sculptures by Rachel Whiteread, paintings by Celia Hampton and photographs by Hanna Liden.
Philip Guston, Roni Horn and Paul McCarthy at Hauser & Wirth
Hauser & Wirth highlights the achievements of three incredibly influential American artists with a group presentation. Philip Guston's iconic painting 'Black Coast' (1977) will be on view, along with two ink on paper drawings from the mid-1970s. Roni Horn has a selection of glass works that link the relationship of time to space and light, while Paul McCarthy has a sculpture with a series of drawings inspired by the classic film 'Stagecoach', a 1939 American Western. The exhibition Philip Guston: Painter, 1957 – 1967 is concurrently on view at Hauser & Wirth's 18th Street location, featuring 36 paintings and 53 drawings, alongside a Pop-Up Bookshop which features over 30 publications, including new catalogues on Philip Guston and Fausto Melotti.
Marina Pinsky at C L E A R I N G
Founded in 2011 in New York by French artist Olivier Babin, C L E A R I N G now also has a space in Brussels. The emerging gallery will be showing new works by young Russian artist Marina Pinsky, alongside a print by Eduardo Paolozzi from his seminal series General Dynamic F.U.N. Pinsky, who is based in the Belgian capital, primarily works with photography, sculpture and installations and has exhibited at LACMA in LA and White Columns in New York. The presentation is part of the Focus section, which features a selection of solo or curated presentations by young galleries founded after 2004.
Anthea Hamilton, KAR-A-SUTRA
For Frieze Projects, London-based artist Anthea Hamilton celebrates Italian architect and designer Mario Bellini with a performance exploring the 'Kar-A-Sutra' – a prototype for a utopian vehicle meant to foster human creativity. Taking place four times each day, the performances feature a cast of mime artists who aim to demonstrate the variety of possible positions in this form of 'transportation'. Hamilton's work was recently shown at Sculpture Center in New York, The Tanks at Tate Modern in London and at the 13th Lyon Biennale. 'Kar-A-Sutra' is one of nine site-specific artist commissions and interventions taking place at Frieze New York 2016, including works by Giorgio Andreotta Calò, Maurizio Cattelan and Liz Magic Laser.
'Kar-A-Sutra' runs daily at the fair at 12pm, 2pm, 4pm and 6pm. antheahamilton.com
Alex Da Corte
Philadelphia-based artist Alex Da Corte's sculptural work explores 21stcentury consumer culture, and often involves bright colours and advertising imagery. For Frieze Projects, curated by Cecilia Alemani (High Line Art, New York), the American artist has conceived a gigantic inflatable baby that is floating outside the North entrance above the fair and alongside New York's skyline. Da Corte's work was recently shown at Museum Boijmans Van Beuningen in Rotterdam, the Institute of Contemporary Art, Philadelphia and the 13th Lyon Biennale.
Nancy Holt at Parafin
Showing in the Spotlight section, which features solo artist presentations by young galleries and is curated by Clara M Kim from Tate Modern, London-based gallery Parafin presents a single major photographic work by Nancy Holt. Made in 1968, and showing for the first time in the USA, 'Western Graveyards' is a quasi-anthropological inventory of burial grounds in Virginia City, Nevada and Lone Pine, California. Holt (who died in 2014) was an American artist whose career reflects a strong interest in geographical specificity and human interventions in the landscape.
Frieze New York runs from 5 to 8 May at Randall's Island Park.
frieze.com