Austrian designer Helmut Lang defined fashion in the '90s, paving the way for Raf Simons, Hedi Slimane and Vêtements. His bondage straps, utility-driven designs and minimalist silhouettes – now the subject of countless nostalgic fashion tumblrs – captured the zeitgeist of lo-fi luxury of the time.
He challenged the mainstream with his art-meets-fashion collaborations with Jenny Holzer and the Robert Mapplethorpe estate and was one of the first designers to present co-ed shows, launch a collection entirely via the Internet and shake up the fashion circuit with an off-schedule show.
But after an 18-year tenure at the helm of his brand, Lang abruptly retired from fashion to pursue his love of art in 2004.
Now a major collection of Lang's most iconic designs is set to go on sale as part of Resurrection Vintage's HELMUT LANG: ARTIFACTS project, Amuse remembers Lang's defining fashion moments.
Spring/Summer '92
While the photographer for Lang's SS92 campaign remains unknown, this image of multiple pairs of knickers hanging from gymnasium-style bars found in an issue of The Face in 1992 was an early indicator of the designer's bound-by-no-rules approach to fashion.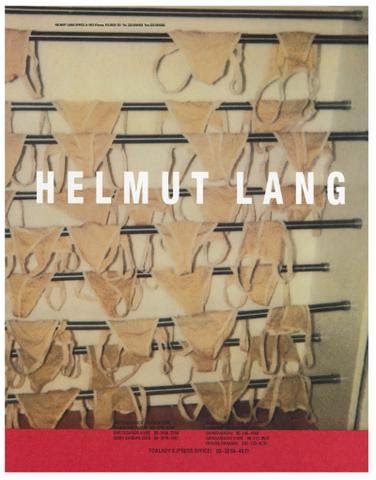 In contrast to other campaigns seen at the time that were all about the hard-sell, Lang treated his campaigns as works of art in a sea of commerce.
Spring/Summer '97
1997 saw Lang use a self-portrait of the late Robert Mapplethorpe from 1975 as the brand's main campaign visual, alongside the photographer's 1982 image, aptly titled Heart and Dagger. While clothes were often an after-thought in many of Lang's campaigns, in this they are entirely absent, further reinforcing the importance of concept over commerciality for Lang.
Autumn/Winter '98
Originally scheduled to be shown on the catwalk in Paris, Lang decided to shake things up for AW98 by remaining in New York and launching his collection in an entirely different way. Rejecting the traditional format, Lang uploaded a lookbook of the collection to the Internet before issuing members of the press with a CD-ROM – something no designer of his stature had dared do until then.
Spring/Summer '99
Lang's SS99 show – closed by Amber Valetta and Kristen Owen – was a lesson in the designer's signature sartorial codes: simple minimalist silhouettes, flat-fronted tailoring, precision-cut Crombie coats and leather panelled trousers.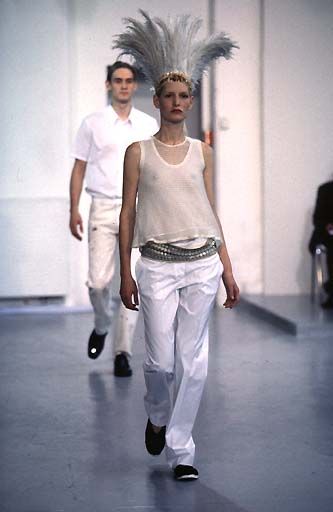 From the outside it was sleek and civilised, but as ever Lang's references – acid-house pink organza and bondage harness-style inners – stemmed from the underground and his ever-evident love of romanticism, sex and science.
2000
Having first united in 1996 to create an installation for the Florence Biennale called I Smell You On My Clothes, Lang and artist Jenny Holzer challenged the fashion status quo with their multi-discipline installations and guerrilla-style graphics that set out to reject convention.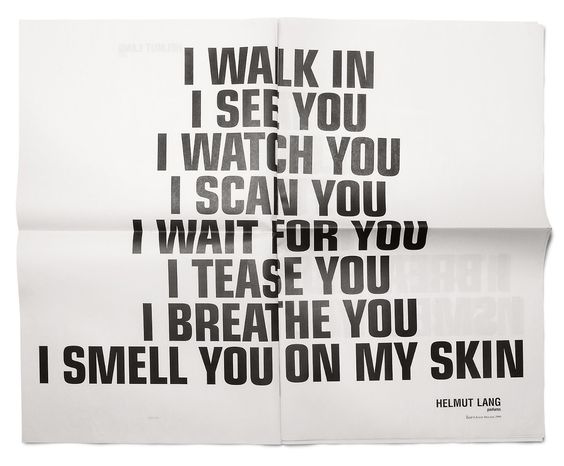 In 2000 the pair joined forces again to create the iconic "I TALK, I SMILE, I BITE…" advert that launched Lang's debut fragrance.
Spring/Summer '01
Lang's SS01 campaign features a close-up shot of one of his all white bandage-style dresses, showing his interest in flesh-baring cut-outs and bondage harness structures.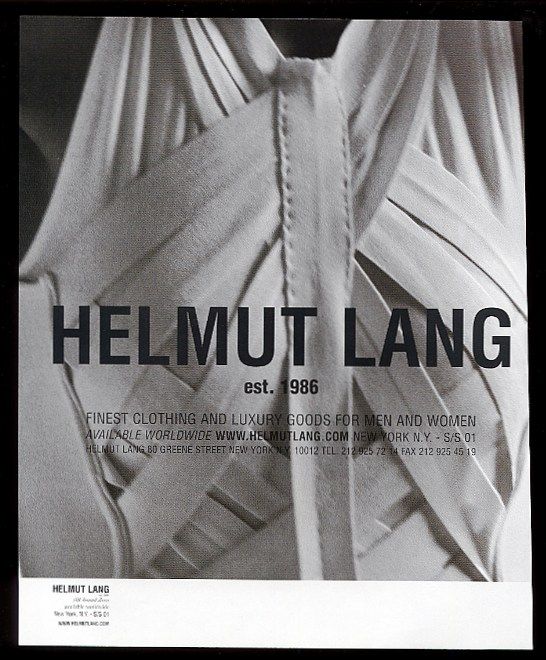 A significant example of his raw, stripped-down, architectural style, it's Lang's bandage style that has influenced the likes of Rick Owens, Alexander Wang and Kanye's Yeezy alike. 
Spring/Summer '04
From the black and white fragrance campaigns that often featured a close-up crop of the model's bare flesh, to SS04's campaign that saw a man's nipple peep through a cut-out knitted tank top photographed by regular collaborator Juergen Teller, it's safe to say Lang was in tune with the notion of #freethenipple far before it came into our consciousness.