I asked my new lover to go with me to Big Sur, as I grew up on the West Coast, and wanted to shoot at the Esalen Hot Springs. He was totally into it. It's the kind of place you go with a new partner-in-crime to unite your bodies under the stars – it's an epic way of getting to know each other; finding one another's skin under the waters in the hot springs.
Big Sur is just over a five-hour drive from Los Angeles on Highway 1. It's filled with honeymooners, retired wanderers, hippies, bikers, locals tearing down the Highway in their beaten down 4×4's, San Francisco REI-style hikers, and Silicon valley millionaires in their roadsters going to their private ranches.
It has this atmosphere of all of "what California used to be"—and these memories are part of California's new renaissance—because this is where it all started, and you can still kind of feel it, even though so much has changed.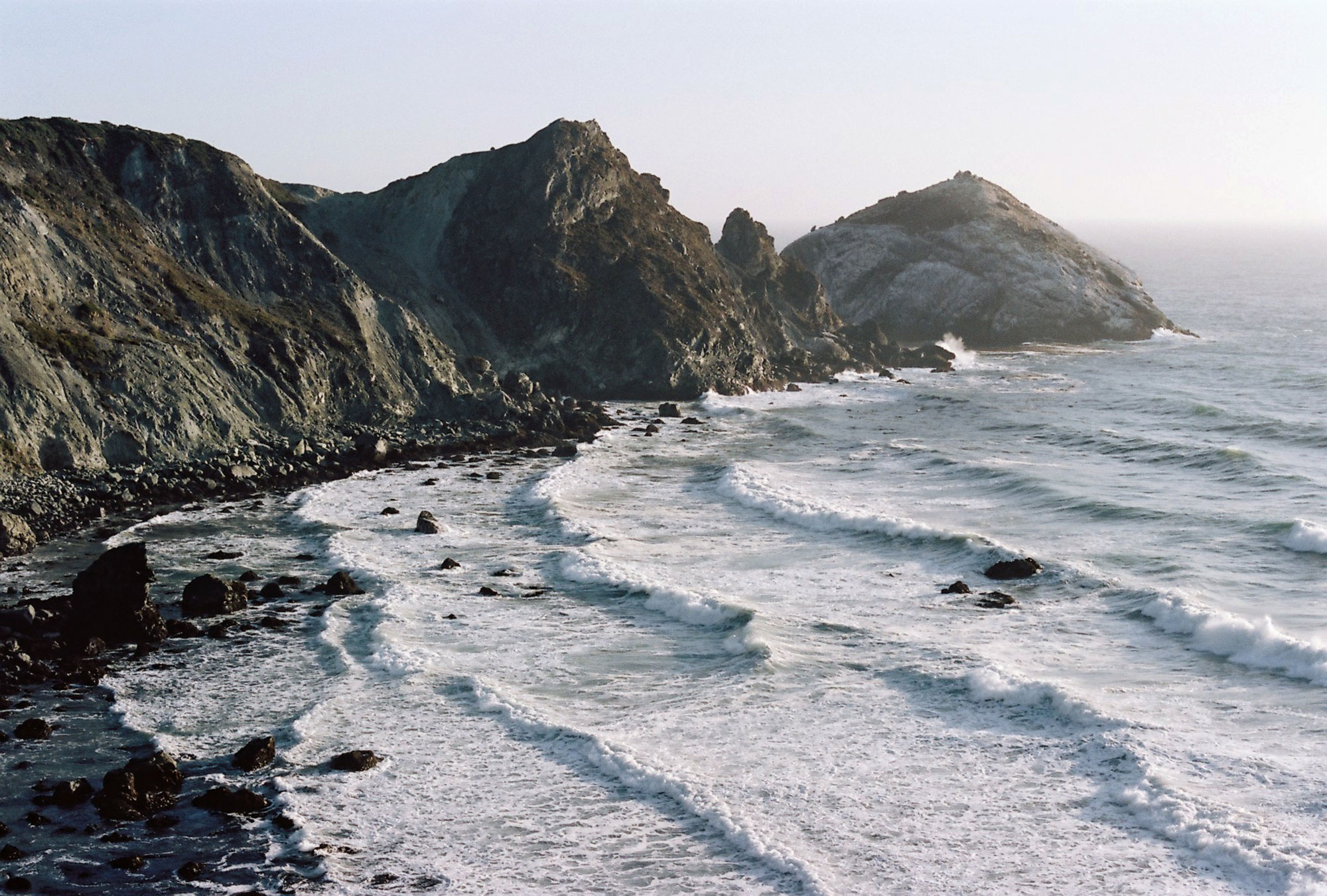 I love to leave LA before dawn breaks so that you get through the morning rush-hour traffic and high tail it through Ventura, Santa Barbara and San Luis Obispo before you finally take the anticipated left turn and snake your way towards Highway 1. There, the road becomes more and more winding, and gradually the highway starts to rise from the ocean.
And then there are the turnouts – dozens of them. Everytime you turn a curve there's another one, and everyone is jumping out of their cars and climbing up on the cliffs to see the views. I loved to watch the excitement in my boy's eyes – the view is so majestic, something very childlike comes out.
For me, it's all part of the journey, and we piled up some rocks at Pfeiffer Beach at the end of our voyage to leave as a memory that we were there. I love places like this, where you go as a sort of pilgrimage. Below are a few of my favourite places in Big Sur, arranged in chronological order as we made our way up the coast.
Ragged Point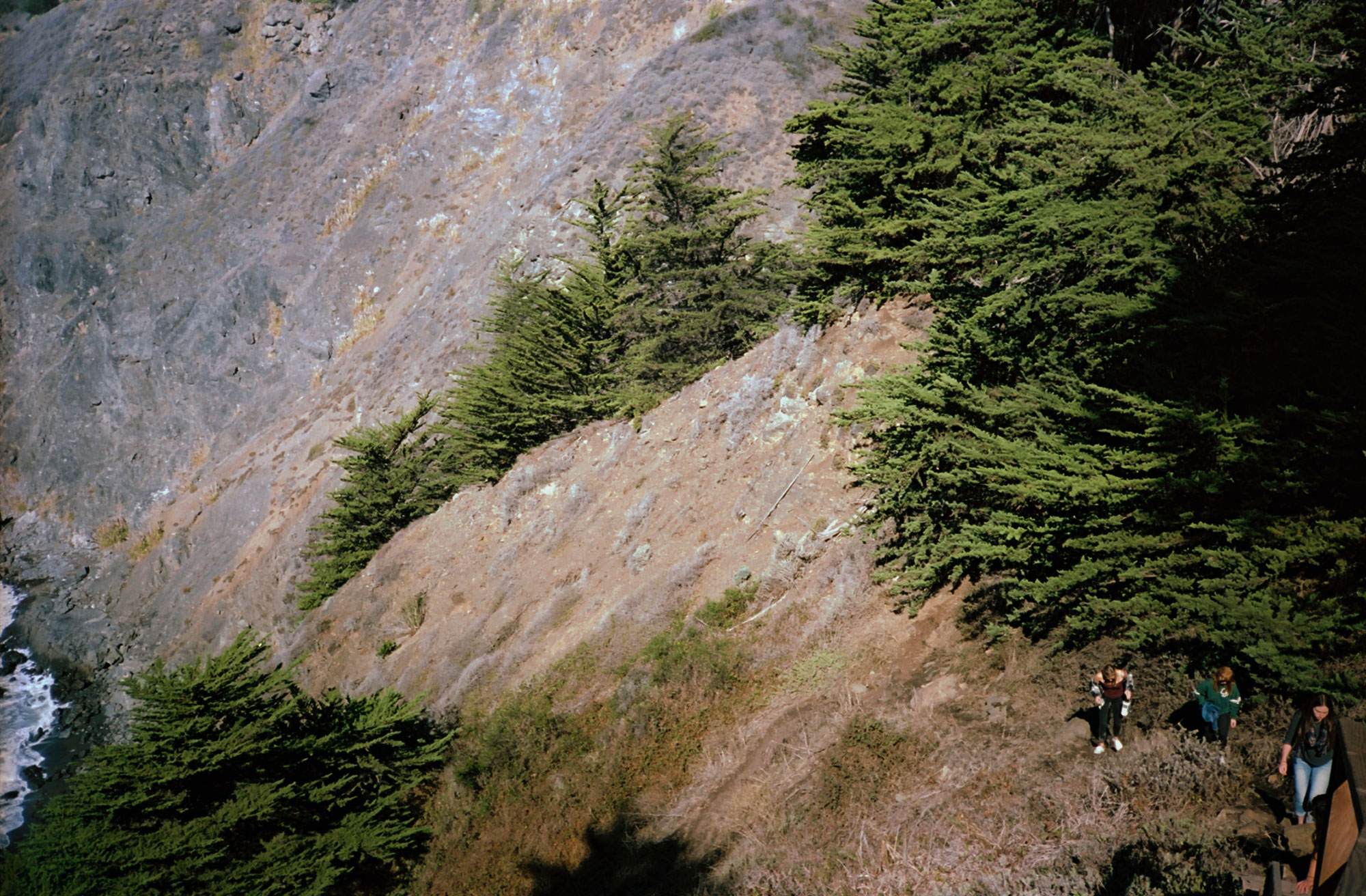 The first stop off for me in Big Sur is always Ragged Point. Behind the gas station and the café you'll find an incredible view through this round sculpture called the Big Sur Portal, which was a collaboration between Abe Toke and Aaron Appel. For me it's always that first moment where you get to glimpse the staggering height you've achieved in such a short time, and a hawks eye view over this awesome coastline.
raggedpointinn.com
The Esalen Institute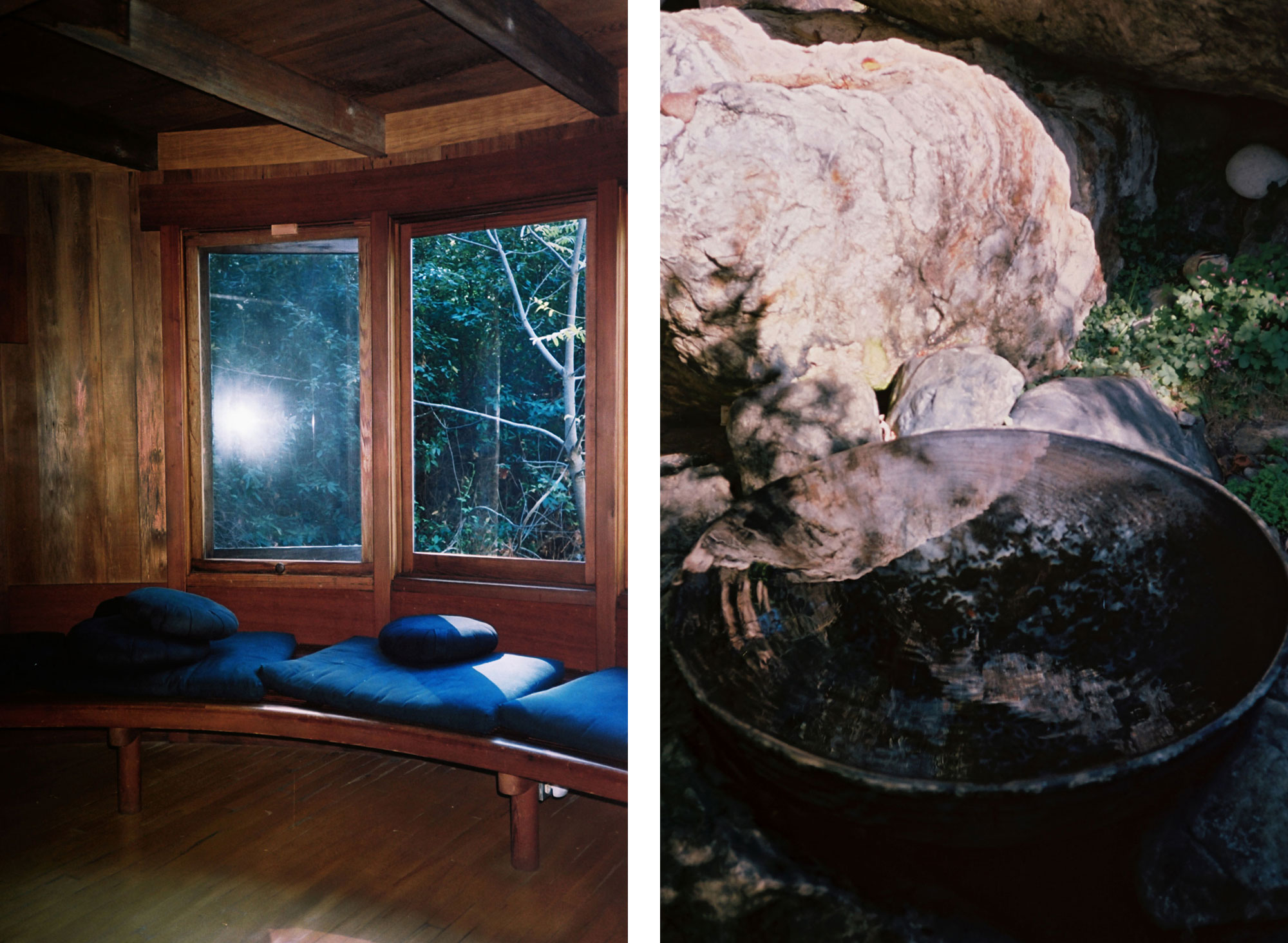 The Esalen Institute was a really important centre in the 1960's for Ken Kesey, the Acid Tests, Richard Alpert (AKA Ram Dass) and the counter-culture Human Potential Movement that grew around the hot springs. It was really free and open back in the day—if you look it up on Google, you'll find photographs of everyone naked in the baths—but the administration has changed.
In order to come to the baths you have to call the Night Baths reservations line at 831-667-3047 between 9am and 12noon daily with a credit card payment of $30 per person. If you are lucky you will get through on that line and be able to come that same evening. When there, you're walked through the Institute in the middle of the night down to the baths. It's all nude and clothing optional and there are two levels of baths and outdoor showers overlooking the cliffs – one of the most epic showers I've ever taken in my life.
I tried to get permission to photograph the baths, which are this architectural project by Mickey Muennig, who recently just put out a book on his work. But the press person wouldn't even allow me to photograph them in the day, even when there was no-one there – so this is an experience I'll leave to your imagination.
esalen.org
An Airstream Trailer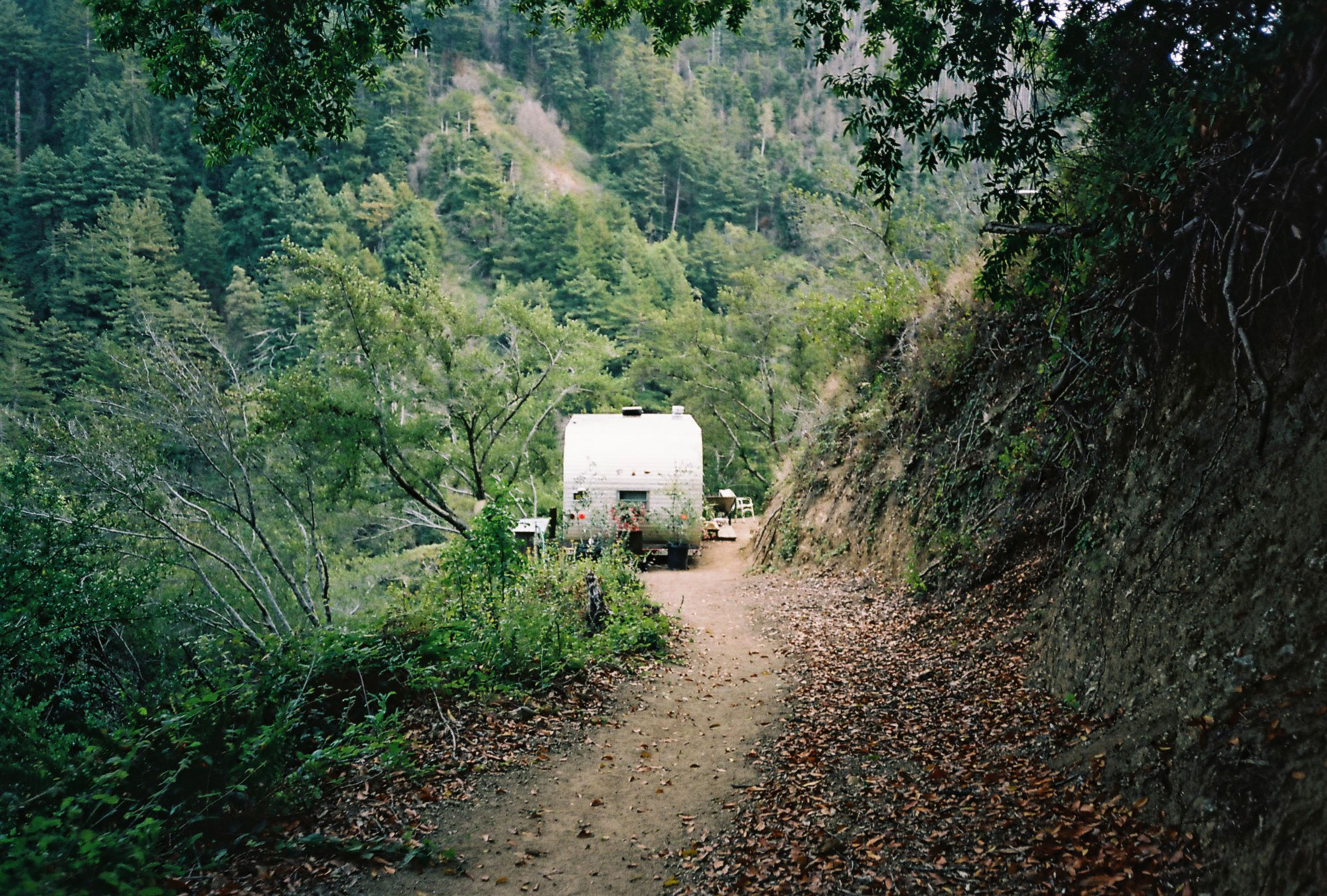 Last year I came to Big Sur and stayed in this Airstream trailer up on the ridge overlooking Esalen. It's up an insanely rugged road: the owner has to come down and take you up to the trailer in his 4×4, and you leave your car at the base of the road. He also owns all the land above Esalen – he's a very interesting old school Big Sur character. It's a beautiful little airstream trailer with an outdoor shower and tub in a little handmade shack. Here's a link to rent the Airstream.
Julia Pfeiffer Burns State Park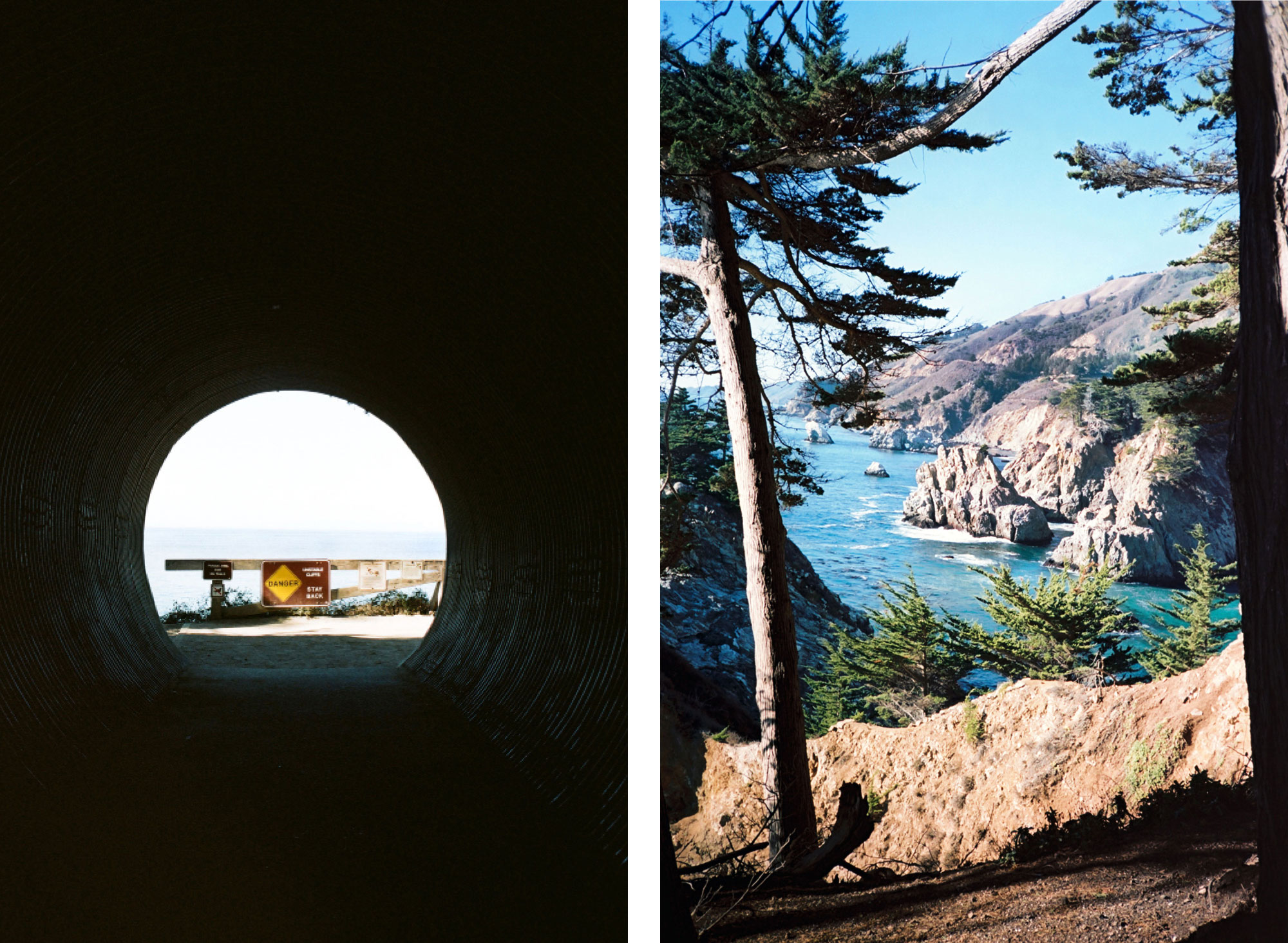 The Julia Pfeiffer Burns State Park is an obligatory stop for a first-timer to the coast. There is a trail on the right that leads to a view of the McWay Falls, and to the ruins of the old Waterfall House built by Lathrop and Helen Brown. On the left another trail leads to a point above the waterfall, and a campsite that you have to reserve six months in advance that has an epic view.
Nepenthe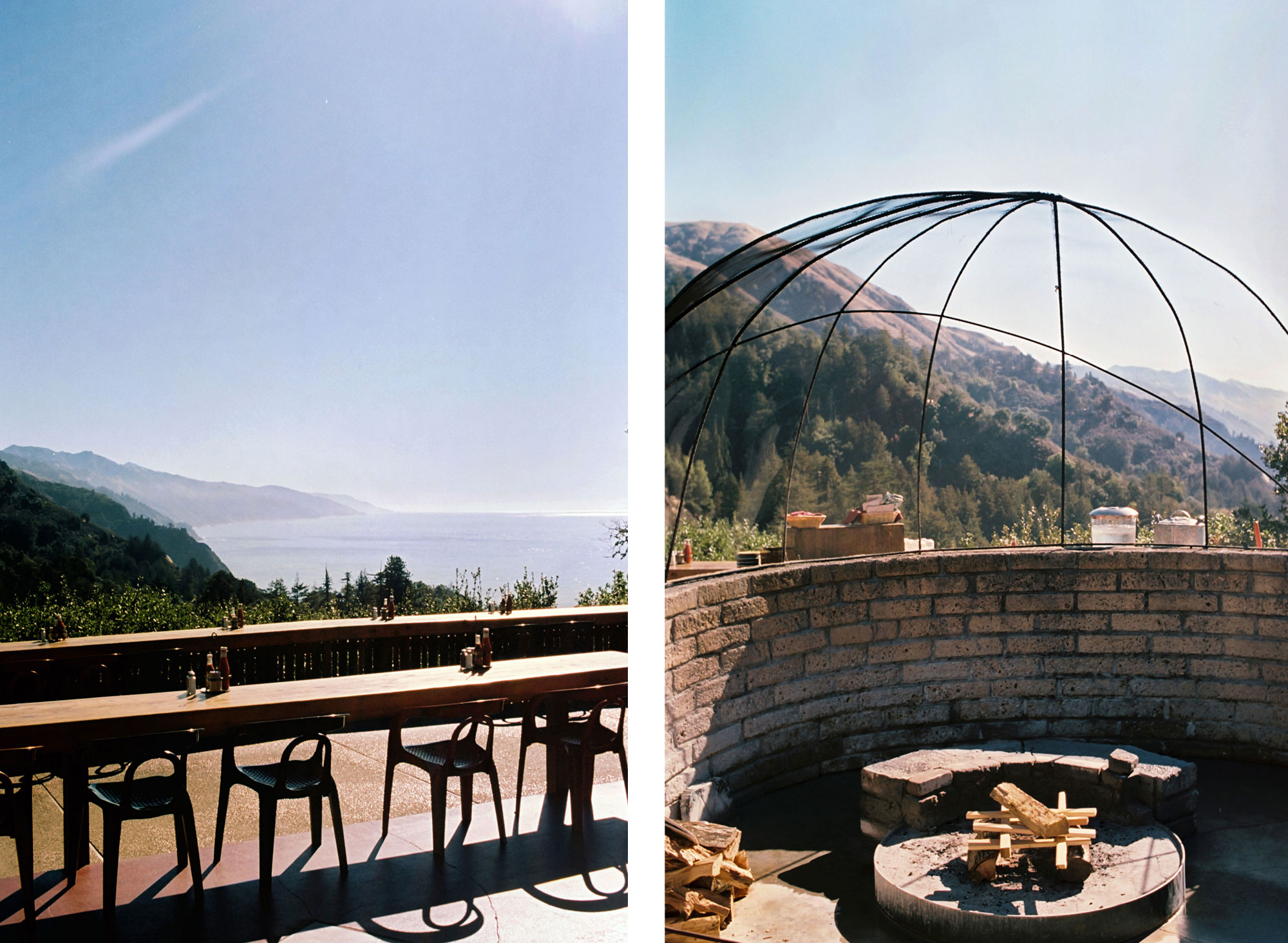 Nepenthe is a restaurant that sits atop a cliff and has this great view up the coast. There's a cafe, a bookstore and a restaurant. With a fire always going in the middle of it, the restaurant feels more like a lodge – there's a sense of history here. I can imagine all of the Beat poets and artists sitting on these large wooden tables holding their salons and drinking and riffing late into the night.
There's a book about Nepenthe written recently by one of the granddaughters of the owners, Romney 'Nani' Steele. "Nepenthe was at the center of Big Sur – if not was Big Sur to many people," Nani said. "Nepenthe acted as a stage bringing writers, poets and musicians to speak and perform. Growing up there, the world came to us."
nepenthebigsur.com
The Henry Miller Library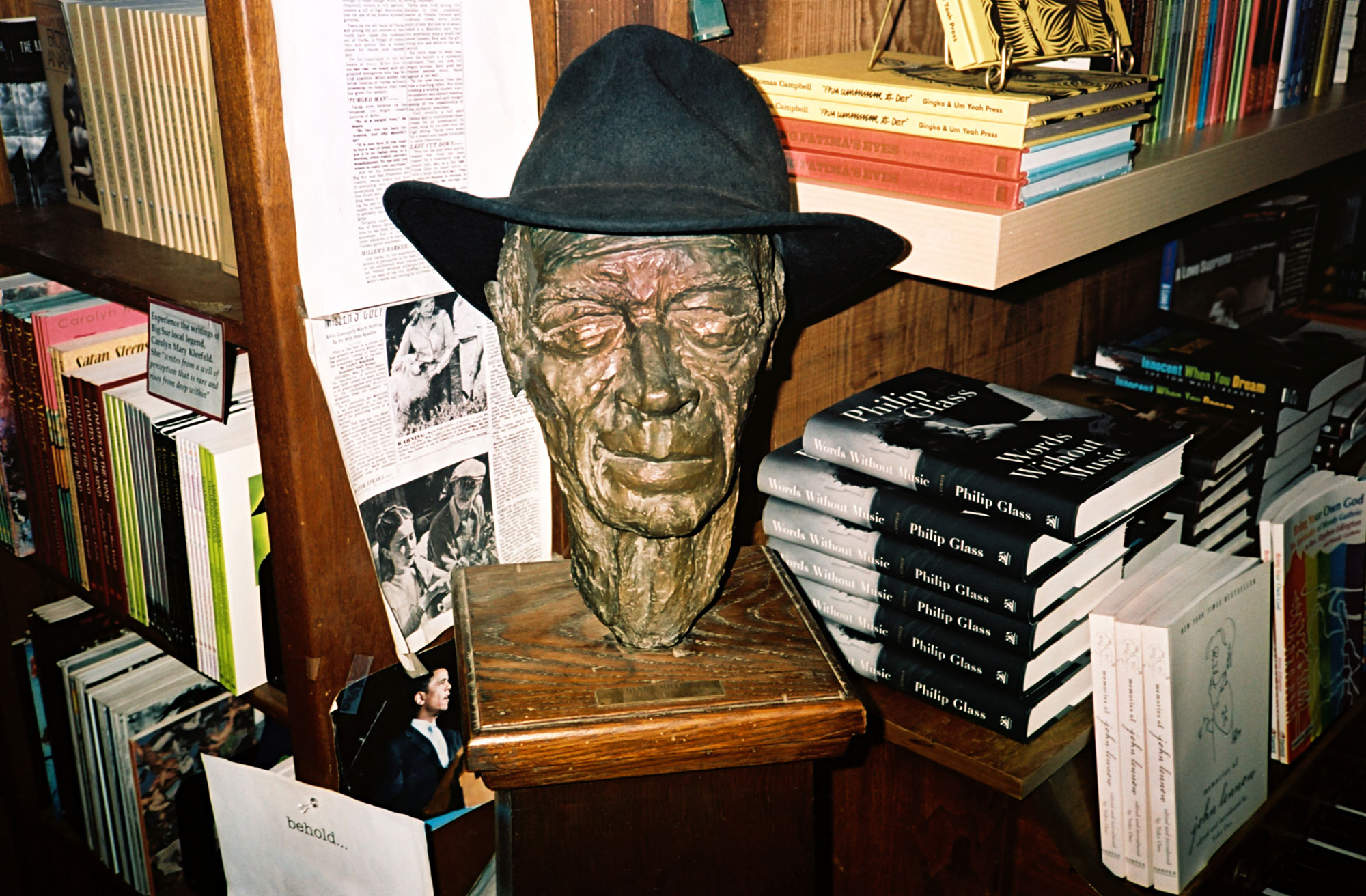 The Henry Miller Library lies in a grove of redwood trees which you reach soon after Nepenthe – and it's undisputedly the best library of Beat poetry in the West Coast second only to City Lights Bookstore in San Francisco. So many artists from all California's époques of Folk and Beat culture have either played here at the outdoors concert venue, or passed through these walls. And to this day there's a regular series of concerts, Henry Miller's entire library, and a few guitars lying around for you to play. When I'm here, I always grab a guitar, a book, and sit under the trees playing music and reading.
Pfeiffer Beach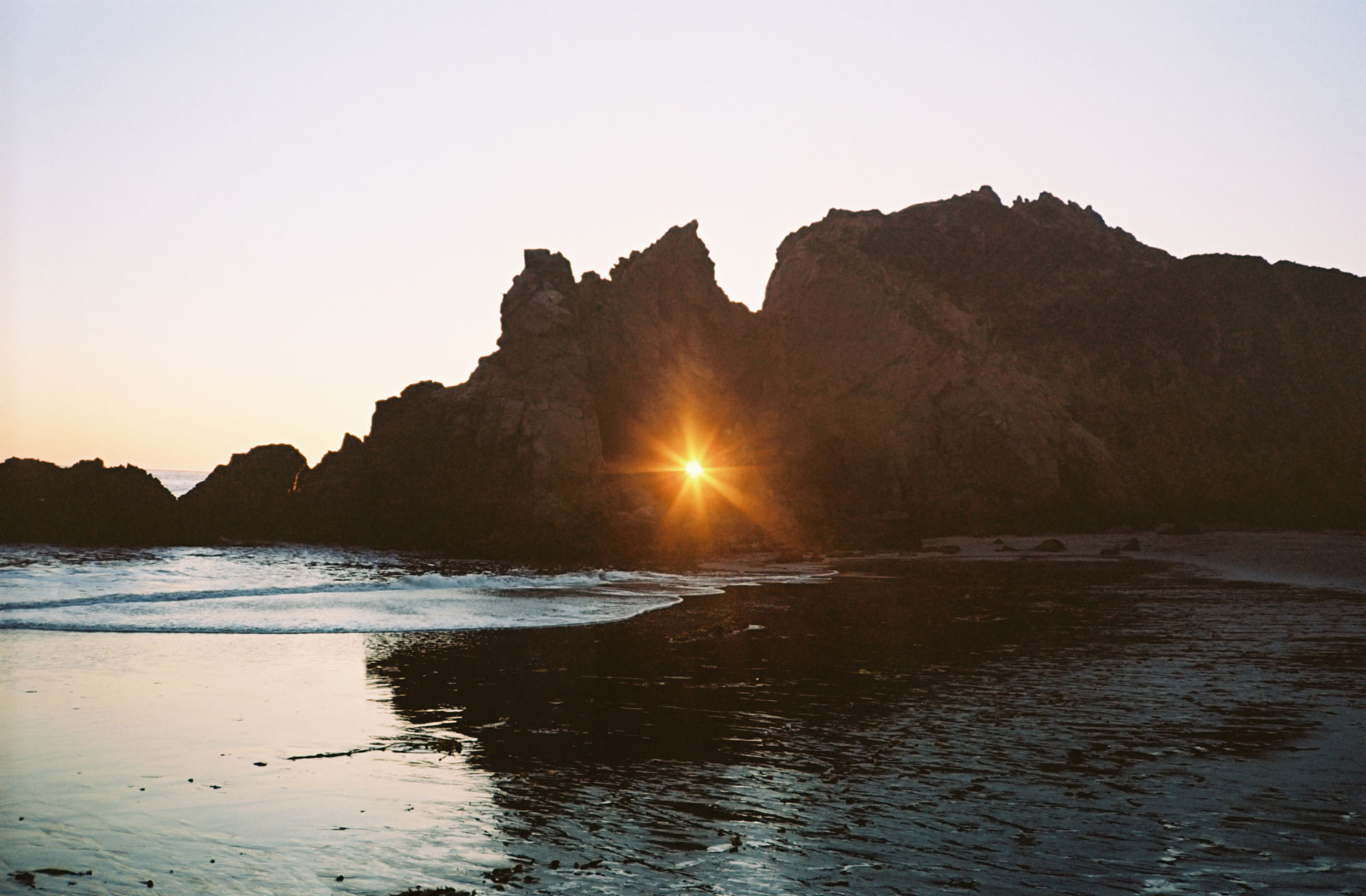 At the very end of a very quiet residential road called Sycamore Canyon Road lies
Pfeiffer Beach
. It's beautiful to watch the sunset after a day on the road. Make your way down to the very far right end of the beach, where you'll find piles of rocks and the entrance to a very beautiful grove of trees – it's my favourite pilgrimage.
Read: '10 Tips for Travelling with a New Lover'
Read: 'Love, Lust and Skinny-Dipping in Corsica'
Watch: 'INSIDER: 48 Hours in Athens'