Sean Anderson aka Big Sean, is the Detroit-raised rapper whose braggadocious lyrics, and smooth-as-caramel bars have kept him quietly and comfortably at the forefront of hip-hop since 2007, when he signed to Kanye's label, G.O.O.D. music.
Sean's chance meeting with Kanye back in 2005, in Detroit, could've been simple universal synchronicity, or else a consequence of a lifetime of creative visualisation. The latter is something Sean inherently believes in: "Hell yeah! I've seen things manifest in front of me," he says. "I've seen dreams go from a thought to being in front of me." That's not to discount the amount of hard work that's gone into carving out his close-to ten-year career.
At only 28-years of age, he set up the Sean Anderson foundation with his mother, Myra Anderson to give back to the community that's so heavily supported him. This kind of giving back is something that's usually saved for artists over 50, but with lines like "My grandma just died, I'm the man of the house. So every morning I'm up 'cause I can't let them down" (expertly weaved into the trap heavy self-reflective banger Blessings) are emblematic of Sean's undoubted growth as an artist and evolving consciousness as a being.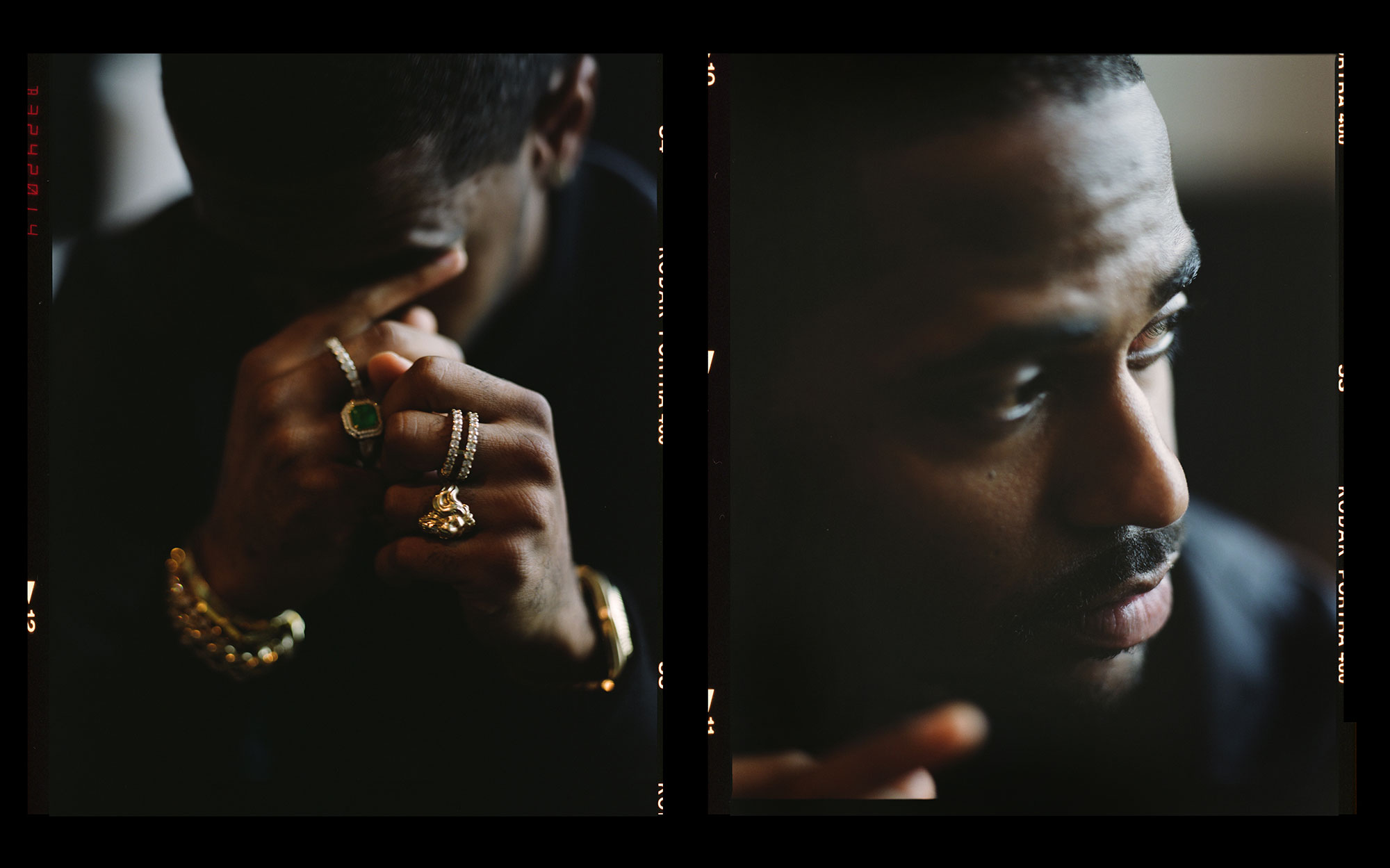 Three studio albums into his career and a few days away from his show with Rihanna at Wembley Stadium, the dulcet-toned rapper sits down with Amuse in London to discuss the necessity of bossing up, giving back and safe sex.
What was your upbringing like in Detroit?
I grew up on a street called Northlawn on the Westside. It was definitely hood. You know, neighbours getting in trouble with the law, selling this, selling that, real dangers. My mom never used to let me go off the block. I could only ever go like one block over and this was before little kids had cellphones. I would have to wait for her to call out the window, like "Seaaaaan!" But then at the same time I went to a private school, so even though I lived in a somewhat rough neighbourhood, I went to this private school where I had a lot of rich best friends. All different races, it was real mixed and cultural. So I appreciated growing up with both sides of that, I would go to school and then have all these ghetto ass best friends. But it gave me insight on the world and seeing different sides of people, and taught me not to be so closed-minded.
And your grandmother had a lot to do with that?
She was the reason why we were even able to afford private school. My grandma and granddad saved up their whole life – she was like the person who made it from nothing to something in our family. She was phenomenal. She came from West Virginia and bossed up. She was living on the same street as Marvin Gaye, this street called Outer Drive. So you know, she built her life, she saved up her whole life and was one of the first female black captains in World War 2 and one of the first female cops on the streets of Detroit. Then she was a teacher and then a counsellor.
So she was a massive inspiration for you?
Yeah for sure, but I didn't know when I was young that she was so bossed up, even though people would always come and tell me how great she was. She used to make home cooked meals everyday after school.
Did I see somewhere that your mom was really turned onto organic food and supplements and stuff from when you were a kid?
Yeah, it's because of that, that I take so many vitamins and supplements now. I also take chlorophyll, acidophilus, oh and I take iodine- that reduces the radiation intake from phones and wifi.
Wow, I need to try that Iodine ASAP. Do you have any siblings?
Yeah my older brother, Brett. We're kinda like opposites. He works with me sometimes, like when I go on tour, he's done like merch and stuff. When my grandma was ill he was really taking care of her and spending time with the family. He was in school, he didn't get his degree yet. I'm pretty sure he could get it in one semester.
Is he one of the first people you play your new tracks to?
Yeah lately I get him to listen before I put it out, I always want him to hear first, he's just got a really good ear, I don't know if he knows how good his ear is.
You're super close to your family?
Yeah, even though I didn't grow up with my dad, he was around as much as he could be. He would take me to school all the time. So every time he took me to school he would do a word of the day and have me learn a new word.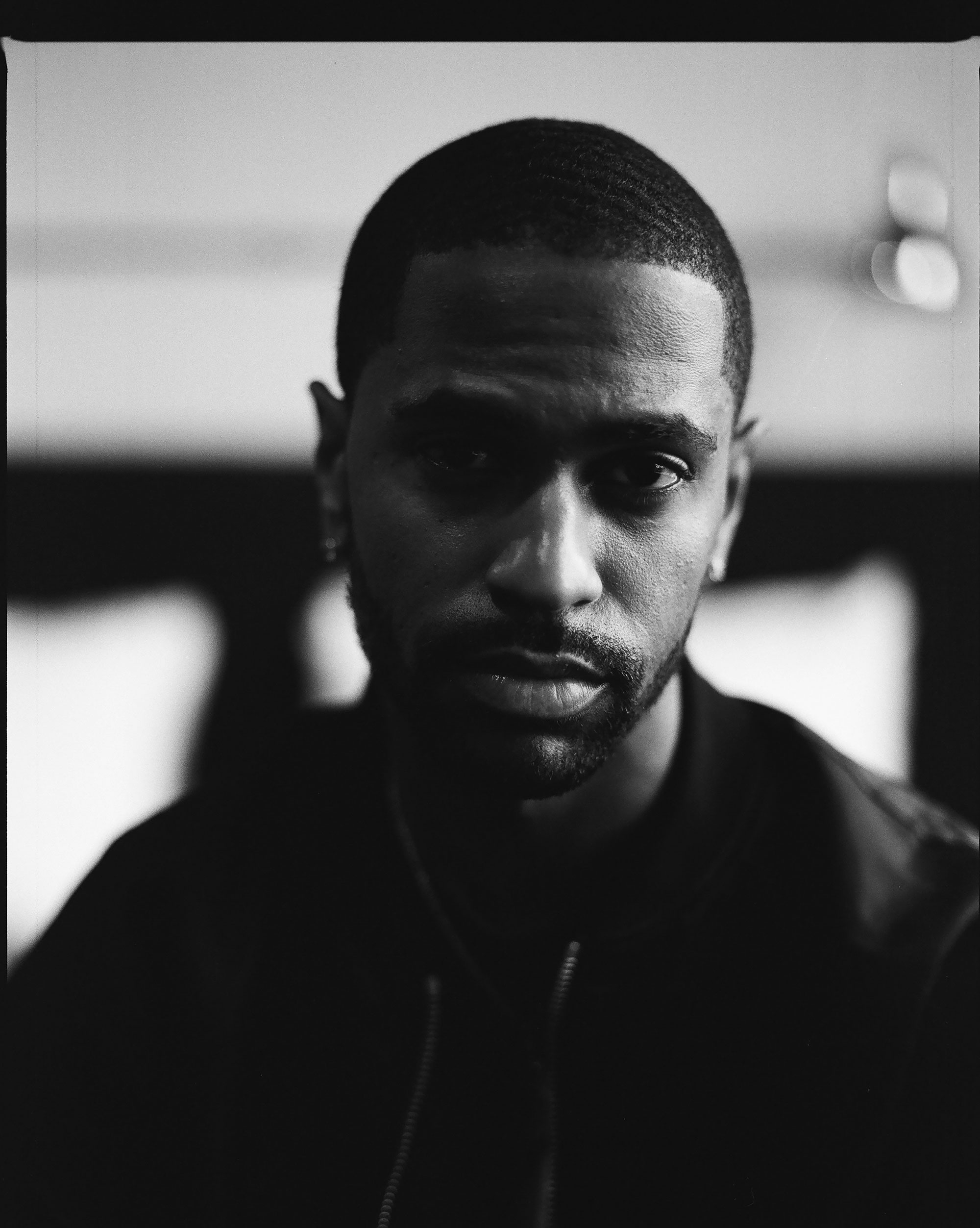 That's so cute.
And he taught me about sex and shit while we were driving to school.
That was like the early morning talk?
Yeah, we would talk about everything from definitions of words to sex and everything in-between. I think that's what you're supposed to do with your son. You've got to introduce him to that before you get caught in the wrong situation.
Yeah or they learn about sex through their friends.
That's definitely not the right way! He taught me to always wear a rubber.
The important stuff.
He taught me that you could die from sex, that you could get killed out here from sex.
So now you're like hyper-safe?
Yeah I'm as safe as I can be…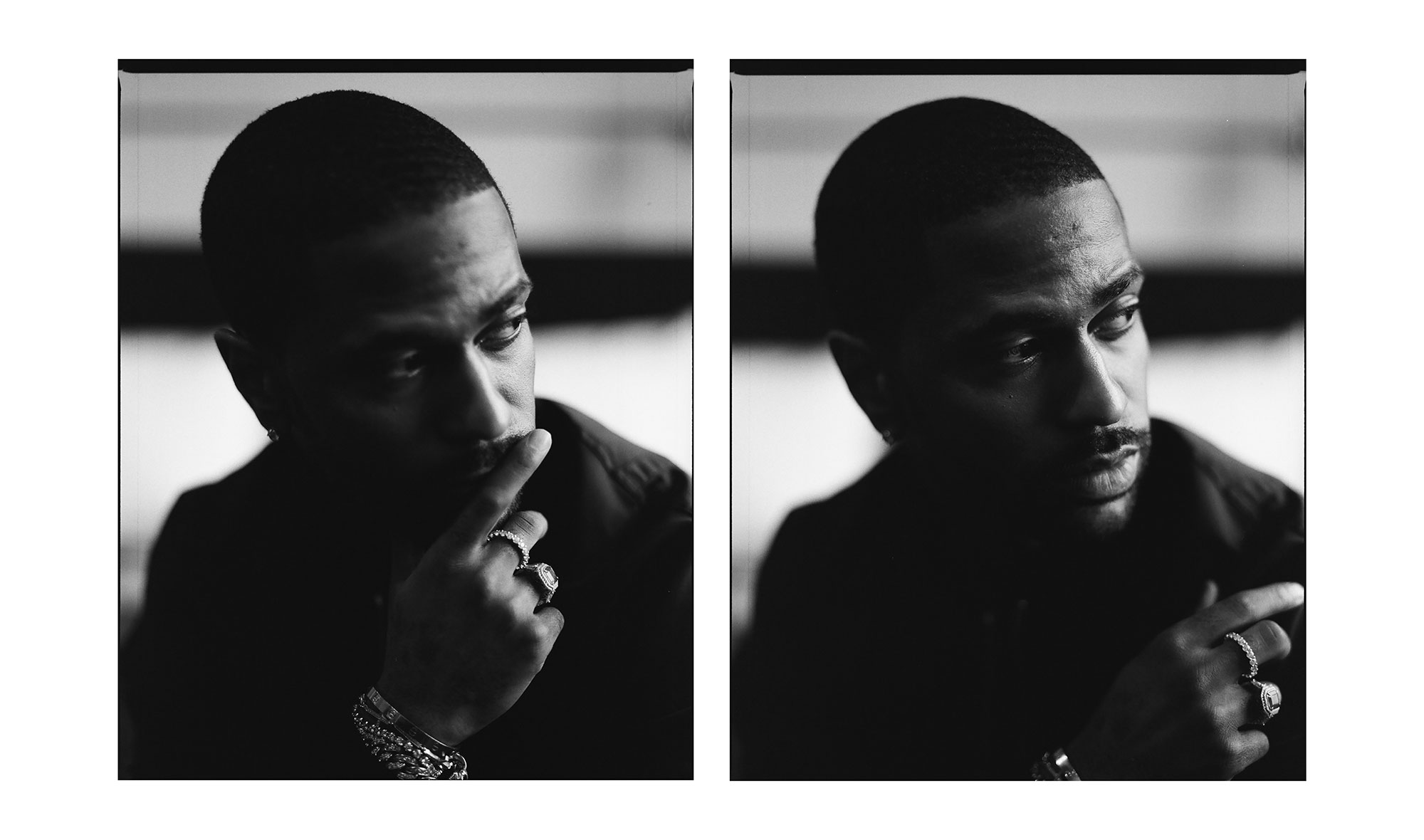 Let's talk about your foundation, the Sean Anderson Foundation. It's amazing.
Yeah we're doing a lot for Detroit. We've been giving back to the city in a lot of different ways, from school uniforms for kids that can't afford it, because in Detroit public schools, the only reason they wear uniforms is so that they don't get made fun of. After we did things like that and backpack giveaways, I saw the impact it had on people. And seeing their faces, it just really inspired me to make sure that I make that a part of my career.
To give back?
Yeah, I hold as much importance to giving back as making a good album. To show people how to give back. I know there's a lot of people from my city looking at me, even as a role model. It's like I want to be a boss and show them that you gotta give back. I believe in karma too. One of the things we did, which I'm super excited about is this thing we did called Mogul Prep.
What's that?
Basically we got a bunch of high school kids together from all over the city, and I brought in my publicist, my music publisher, my booking agent, my managers, my creative directors, all these different positions and got them to the tell kids what they do. Because a lot of kids don't know what a music publisher is, they don't know what a publicist does. A lot of those kids were connecting like crazy, like, "Damn I love music so much, but I'm not musical, I'm not a musician" and then realising they could be a booking agent for shows. I didn't know about these jobs when I was younger. I mean, obviously I wanted to be a rapper but maybe if I would've known more, maybe I would have done more. Or done something else. They were so thankful.
You've also been helping with the Flint Water Crisis too?
Yeah, the last concert I did there, I donated all the proceeds to my foundation. Eminem came out, that was the only time he came out that whole year on stage.
It's just cool to stand up for my city. And boss up and give back.
Yeah, you're giving back like your grandma did.
Yeah, it's so crazy because even though my grandma's gone, I still feel her presence.
I lost someone close to me recently, and I'm with you, it's kind of crazy. When someone's not here physically, it's like you feel their presence even more than before.
Yeah that's so real. I really believe that. It's their consciousness you can feel.
Also, you were doing these inspirational videos before. What happened to those?
I haven't done them lately but only because I've touched on a lot of the things that my fans should be looking at already. If I get inspired to do some more I might.
You're not about to have a weekly segment?
Haha, yeah yeah, not yet. That's so tight that you recognise that though. I loved doing that.
So you're living in LA now. Do you ever go back to Detroit?
I still have a house back home with my mom and my brother but I haven't been there lately though. I need to go back. I just been on the road trying to get my album together. I don't like recording in Detroit that much. Maybe because I recorded all my early mixtapes there so I feel like I got all the creativity that I could get out of it, out of it. And when I go there I don't like to be in the studio, I like to go there and have fun and be with my friends or see my mom.
Yeah you just wanna go home and kick it?
Yeah totally. But I did work there with Eminem though, and I did a super tight verse on his song there so maybe there's more inspiration for me to get from the city, I do want to record not my next album, but the one after, in Detroit.
The homecoming. Have a Detroit year?
Yeah and just see what I can make there with a different vibe, a different perspective, when I recorded in Detroit last, I was recording in debt. My family were super poor, and my dreams were only dreams then, ya know. So I wanna record in Detroit from a perspective of "I managed to conquer some dreams and I want to do more now."
Your songs and your overall vibe is very grateful and positive. Why do you think it's so important to put that out?
Music used to always be so positive. I remember, I was eating at some restaurant and Marvin Gaye came on and I was thinking, "Damn this was probably a crazy massive song and it was just about love, man." It was just so positive and that's the way the world should be. It's so easy to hate but it feels so much better to love, if you know what I mean?
Yeah, I feel you.
So I just feel like that's what you've got to show people. You've got to show them who you are when you've got the microphone and you've got the light on you. And that's just who I am. If I had a whole bunch of hate in my heart it might be different, but I just don't.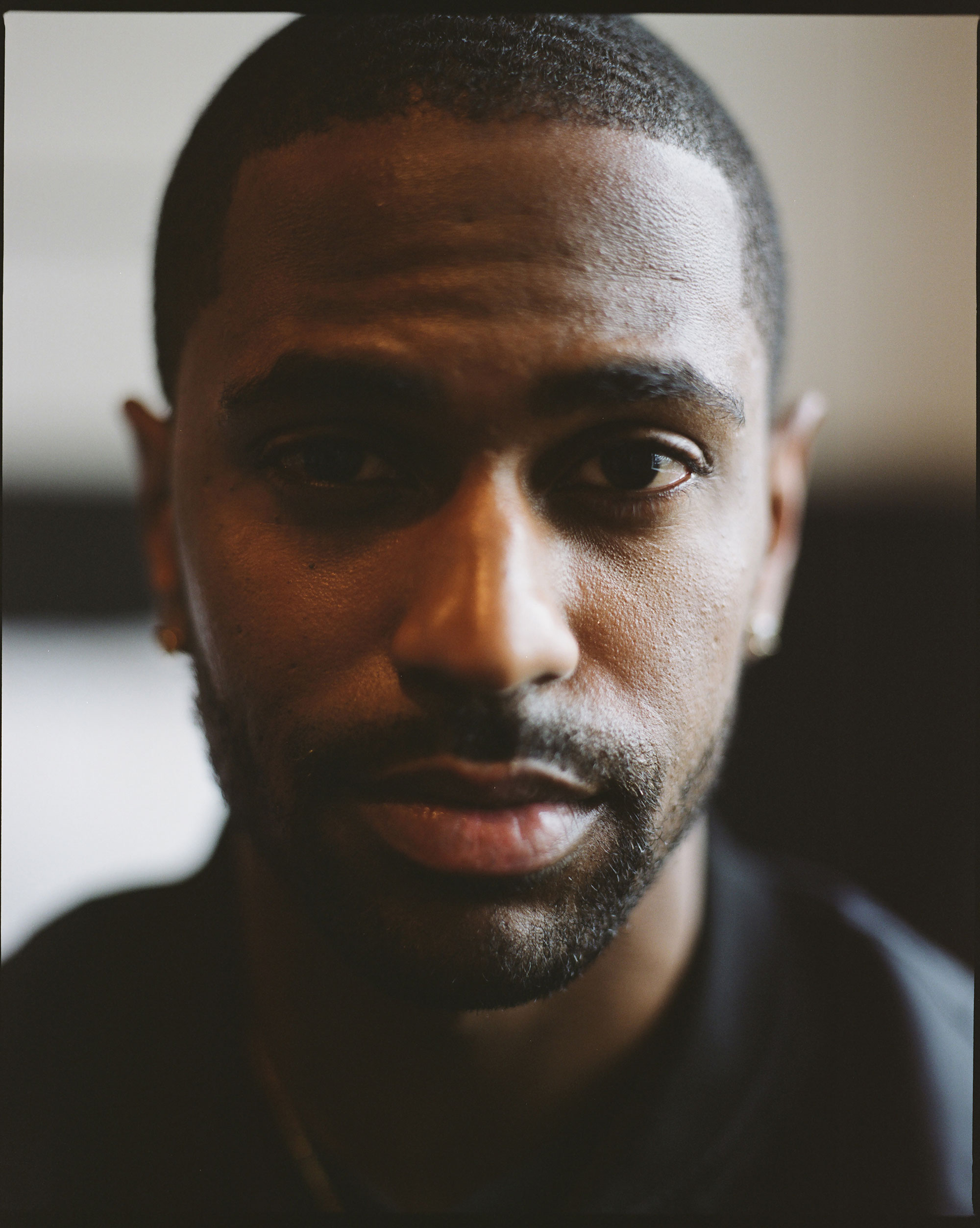 You just got a lot of love?
I got a lot of love. A lot of positivity. I've seen things manifest in front of me. I've seen dreams go from a thought to being in front of me, you know what I mean? And when you see that, you just want to pursue happiness. How can you be anything but happy? You get new goals, new dreams, new ambitions and now you're on the path to that.
Did you visualise what you have now when you were younger?
Yep. So now I'm visualising even more.
What's next?
Haha, man, more things. On the music side, I think I could keep growing as an artist. With every album I've gotten better. Maybe it's just down to me getting better as a person. But you know that doesn't always happen to people, and that's not just me saying that. Even Ye said, "Man, it seems like you're getting better and that's a cool thing to see." He said to me, "It goes to show you're not at the end of your career at all, you're still developing." So, I wanna keep pushing through music, I want to start a label too, I want to give people the same opportunity Ye gave me. Also, me and one of my best friends, we get together and write film scripts.
For fun?!
Yeah! Because he's a director and a writer, he did my I Don't Fuck With You and I Know video, and he did like all the visuals for mine and Jhene Aiko's project, Twenty88.
I really liked the visuals for that.
Thank you! He's super creative. So we're working on our first feature film. We did the script for that and we'll be shooting it soon. I mean it's not set in stone, but I know it's gonna get shot and it's gonna be big.
Catch Big Sean at Wireless Festival on Sunday 10th July.