Soulja Boy calls himself the "king of the internet" – and could argue it's justified. The 25-year-old rapper finessed his million-dollar empire a decade ago on Limewire, Myspace, Soundclick and YouTube; long before Chief Keef, Lil B or the words "social media marketing" had been uttered. While flipping burgers at Burger King when he was sixteen and still went by the name DeAndre Cortez Way, Soulja Boy re-invented the rules of music marketing by connecting with his fans like no artist had done before, in the place where they all were: online.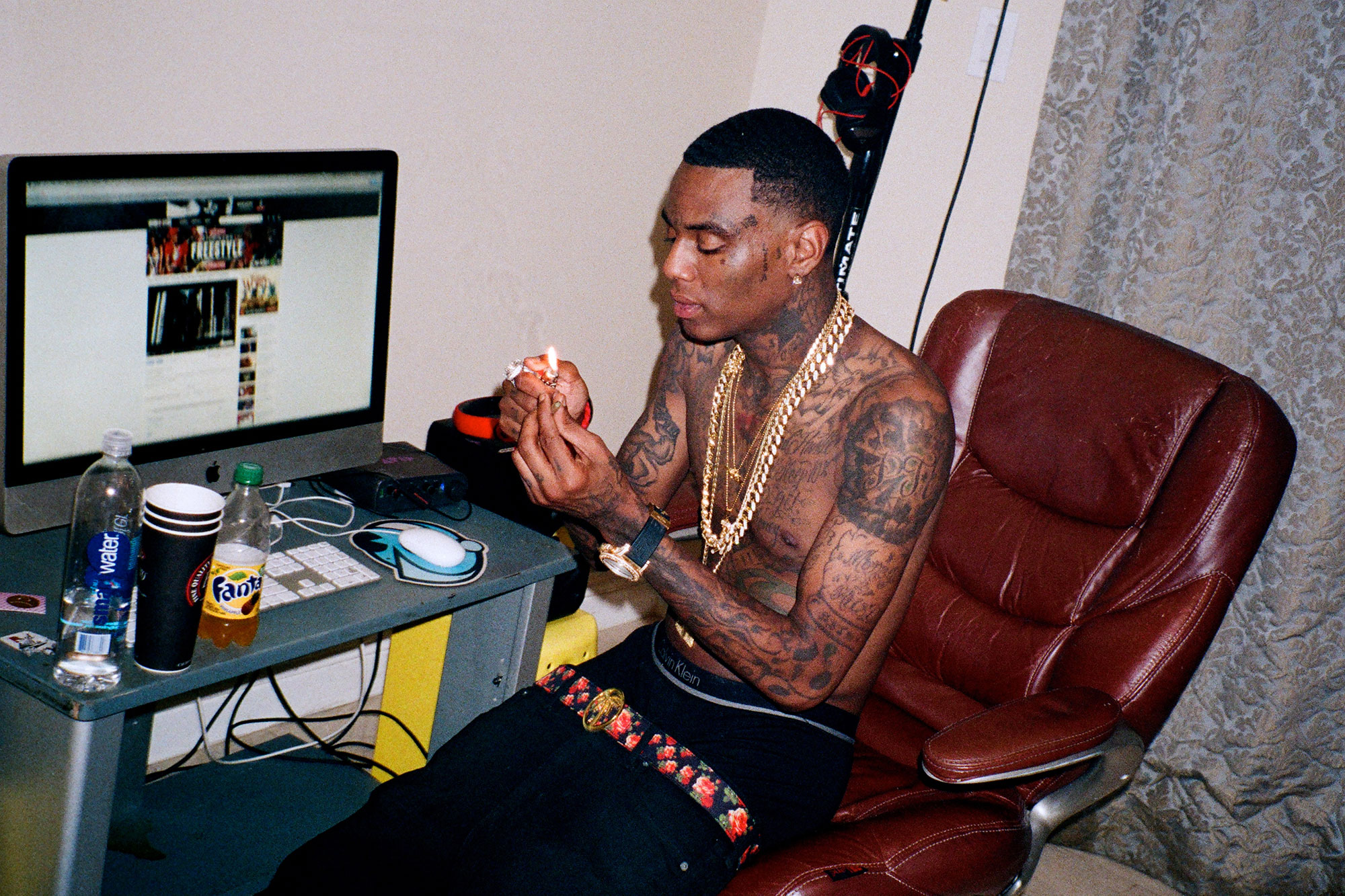 He was an internet troll before the term was even properly established. By posting tracks on Limewire and tagging them with household name artists like 50 Cent, Lil Wayne, and Michael Jackson, his songs were unknowingly downloaded by hundreds of thousands of listeners. It gave Souja Boy mass-exposure to a market that was previously out of reach.
Following his mass-baiting of Limewire, Soulja then launched the 'Crank Dat (Soulja Boy)' video on Youtube, when the video platform was only two years old. He then launched an instructional video explaining how to do his signature dance. Both went viral.
At time of writing, both videos have accumulated over a half a billion views. The song remained number one in Billboard's Hot 100 for seven weeks averaging 19,000 downloads and $9,500 per day, making him the youngest solo artist to have written and performed a Billboard No.1 while still being an unsigned artist.
The Mississippi teenager paved the way for Insta-stars, Vine-rappers and all the micro dance trends that flood our feeds everyday. Videos like 'Whip/ Nae Nae' or Drake's 'Hotline Bling' would never exist without Soulja Boy. He may polarize, but you can't help but be impressed by his meteoric rise to fame. Amuse caught up with social media's renaissance man at his LA home to chat swag, investments, and interviewing Barack Obama.
How would you describe your home?
It's my sanctuary ya know – it's my palace. My place of peace and calm. I've got an arcade, video games, a pool… It's got everything I need.
If there was a fire, what five items would you save first and why?
Damn. I dunno man. My money. Haha. Wait, no, it depends if there were people in the house. If there were then I'd save the people first, then I'd jump in and save my money, my gold, my toys – anything I can grab.
Your career took off whilst you were working at Burger King, how did it inspire your music?
Yeah man, it was the most humbling experience of my life. I was making music while I was working there and when I first started to blow up, I remember I was getting called up for radio interviews and shit. I couldn't do them, my boss was an asshole you know, and he wouldn't let me answer the phone during my shift. So I'd be getting blown up hard and I wouldn't be able to tell them it's because I was working at Burger King. Then when my songs went viral on YouTube and I started making real money, I dipped outta there real quick haha. But I don't regret it for a minute. It was a great learning experience.
Have you ever gone back?
Once, way back and just through the drive-thru.
What are your favourite pair of sneakers?
Oh man I love sneakers. I collect them. I love Jordans. Especially 4's – Retro 4's.
What's your biggest regret in terms of things you wish you'd bought?
When I was 18, I had a lot of money, A LOT. And I really wanted to buy a Bugatti so bad. I called my dad and I'm like, "Dad I really want this Bugatti, it's a million dollars." He's like, "Nigga you crazy. You ain't buying no million dollar car." And I mean, it's not all tragic, I have Lambos and they're, you know, a good $500,000. But still, I want that car! I think about it all the time even to this day.
You built your career online – is there a difference between your online and offline persona?
It's thanks to YouTube, Myspace and the internet that I'm where I am today. The thing is, the fans love to communicate with me whether it's through Twitter or Facebook or see my photos on Instagram, and I'm reactive to that, I see what people like and what they don't. My fans love when I post photos with my cars and the cash. They don't wanna see me chilling at home playing video games, which is what I actually do.
Do you like art?
In terms of art, I collect anything BAPE or Kaws, but I really love toys, I'm into things I can fuck with.
What toy out of your collection is your most prized?
I love Bearbricks, especially Kaws ones and Kid Robot.
You're on a private jet and you can take one person and one object. Who and what would you take?
I'd take president Obama and an iPhone; I'd interview the president and find out what life is like in The White House. Me and Obama on a jet – swaggin' and chillin'.
What's been your best investment?
Definitely setting up my own business, my clothing line BLVD Supply. Being able to create any clothes I want – that's a real luxury, and it's doing super well.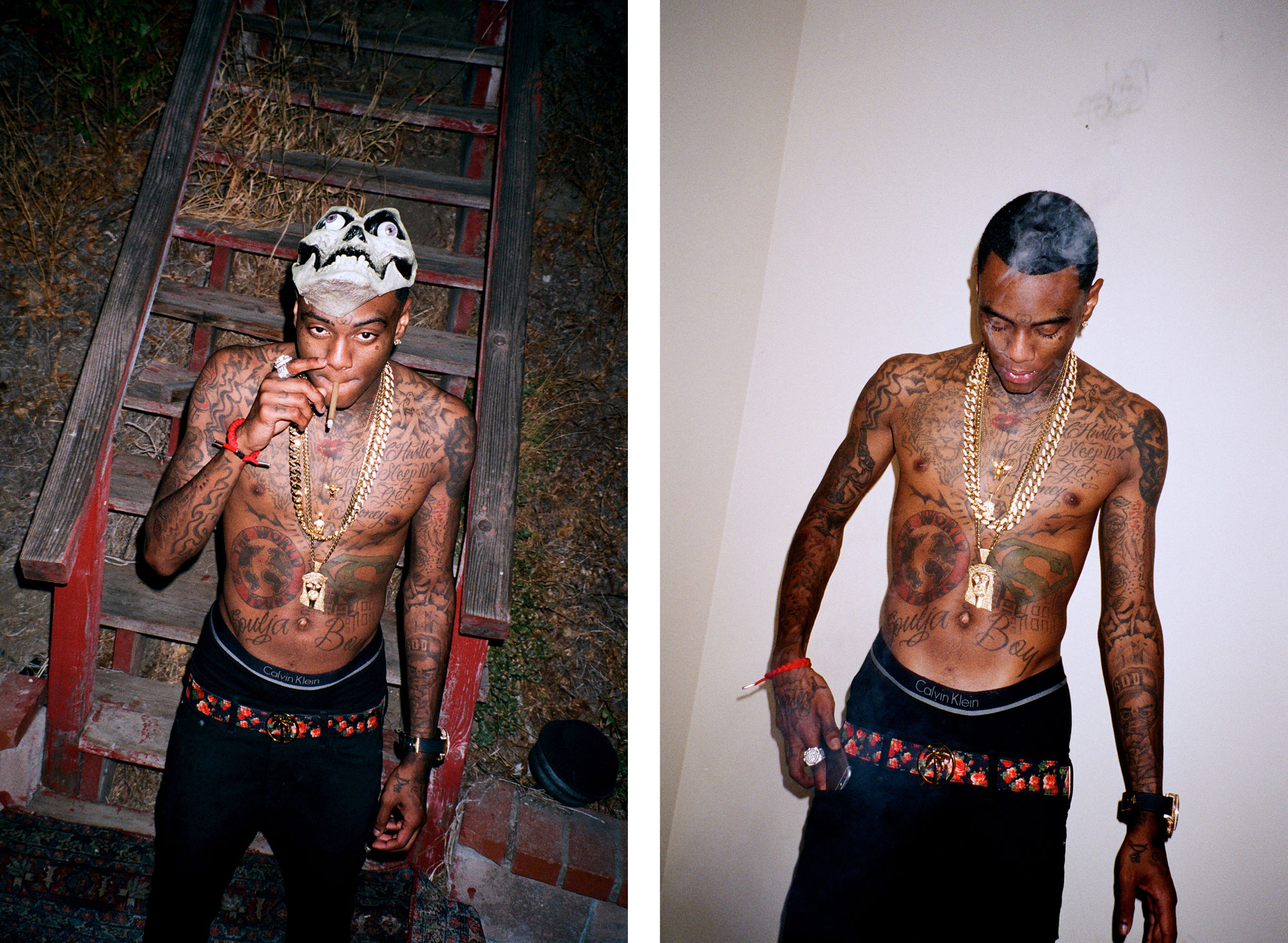 You also created the SouljaBoard segway, which become a viral phenomenon?
Yeah man, I made the SouljaBoard and I pulled it out once during a show in front of 20,000 people and then I passed it on to Bow Wow, 2chainz then one to my boy Future and now it's blown up everywhere.
When you made your first million what was the first thing you ran out and bought?
I think I went out and bought a house first, then all the fun shit.
Wildest party you've ever been to?
Man, me and Kanye had the wildest party in Vegas at the pre-party for the VMA's. We got this crazy penthouse, there was a swimming pool, models, a food fight, popcorn, candy. You name it, we had everything. That's still the wildest night of my life.
What's the biggest luxury to you?
Honestly, travelling the world: being able to fly to Poland then to Paris, to Brazil, Canada and seeing all these different cultures, and be able to absorb so much culture. Playing to thousands of people across the world and even if they don't speak your language, being able to connect with so many people at one time across the world. That's a real luxury to me – to come home with all that knowledge and culture.
How do you unwind?
My house here has an amazing view, I usually just go and sit outside and look at the view. Sit by the fire, read a book. I travel a lot so when I'm flying I like to read all the time. I just read The Secret. That shit's so tight. It's like a totally practical book for life.
Ever tried yoga or meditation?
Oh hell nah. I mean, I'm not against it but it's not for me. Russell Simons is a friend of mine, he's all into that and I was talking to him about it recently and I don't know, it just seems too much for me. I like to hike Runyon but that's about it, I should probably work out more but I'm not about to start balancing on my head and shit.
Here at Amuse, we believe that luxury isn't about excess anymore, it's about quality over quantity – how do you feel about that?
Totally agree, why would I want to have 100 okay things when I could have 10 gold things? That's real luxury – it's about having the choice.
As you've made huge amounts of money, have you started to be more conscious of the impact that luxury has on the planet?
To be honest, not really. Here in Beverly Hills, you go down to Rodeo Drive; you go to the Gucci store or the Louis Vuitton store, and there's a whole different mind-set there. Different people all over the world are conscious of whatever's in their sphere, and here it's not really something I think about.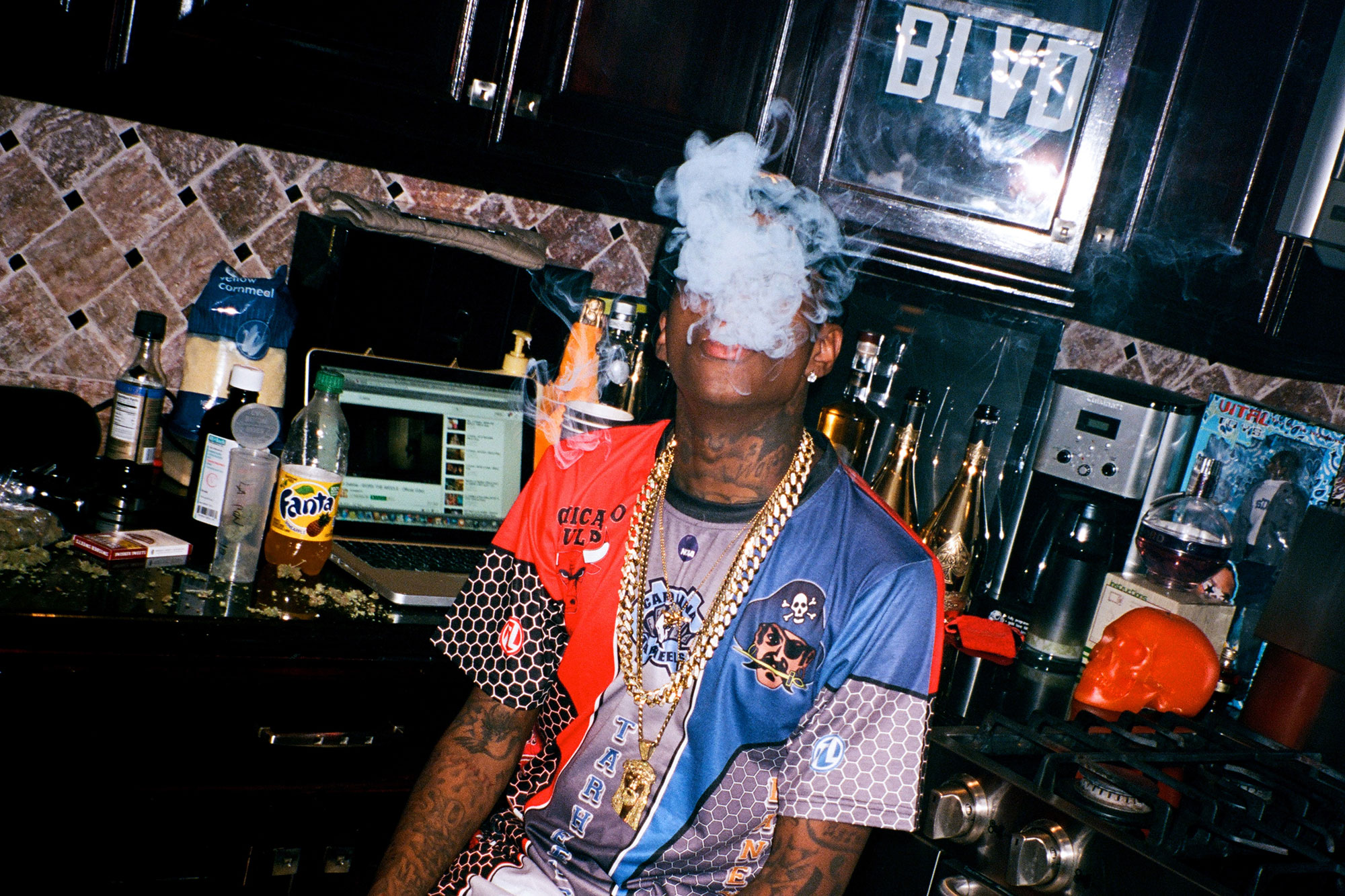 Soulja Boy's new song Diddy Bop is available on iTunes.  
souljaboy.com