Founded in 2012 by a Cypriot-American, Nikos Mouyiaris, MAKE is an independent beauty brand based in New York. After 35 years as a manufacturer of beauty products, he wanted to start a brand that gave back. And so, MAKE now donates one third of online sales and 10 percent of retail sales, to We See Beauty  – a charity that supports women led, worker-owned cooperatives across the Americas.
Ariana, Niko's daughter, is an "industry outsider." But her former career in branding and design has informed a different approach to her role as Creative Director of MAKE. "I believe beauty is personal that's why we collaborate with photographers, stylists and designers from outside the industry," she says. "So that our aesthetic is inspiring and appeals to both men and women."
Amuse caught up with Ariana to find out about their latest product, Moonlight Primer: the first skin cream to protect your skin from HEV light rays which penetrate deeper into your skin than UV light from the sun.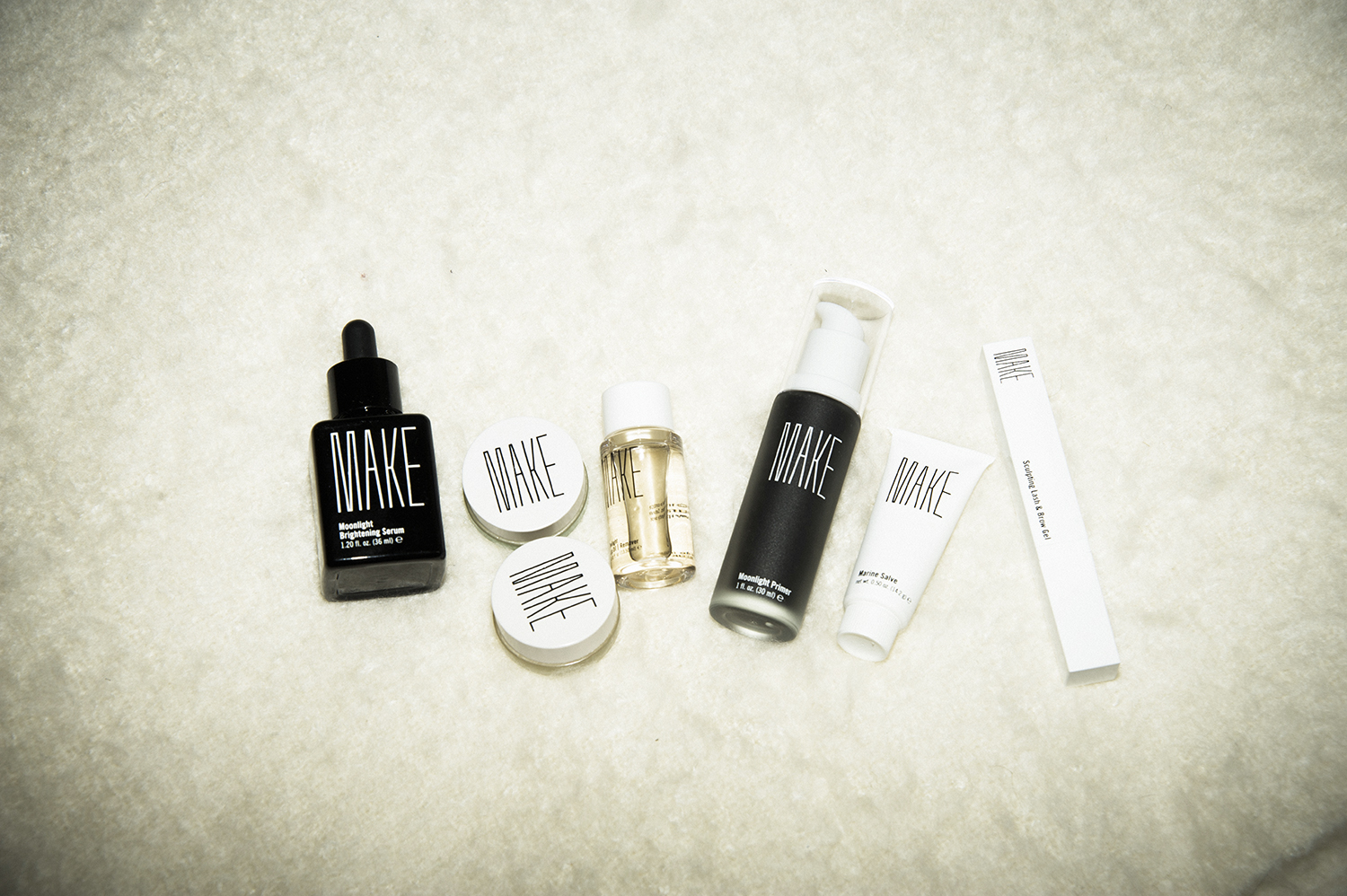 So, what are HEV rays?
HEV is high-energy visible light—or blue-violet light—omitted from electronic devices. All these things, like laptops, iPhones and tablets, that are so integrated into our everyday lives omit HEV light.
How come we don't hear more about them?
MAKE has a range of beauty products, but I wanted to create something multifunctional and easy to use, like a primer. We work with some of the most experienced scientists in the industry and, while I was carrying out research, I came across a number of papers about the harmful effects of both HEV and IR (infrared) light. It made sense to integrate a new science into this product which is part of our Naxos range.
I wanted to create something unisex and versatile that could be used throughout the day; a product that helped you harness the positive aspects of light. I spend half my time in London and regularly used a cream with SPF protection up until I found out that SPF blocks the sun entirely and as a result, after six months in the UK, I was diagnosed with a vitamin D deficiency. That's not to say you can bake in the sun wearing the Moonlight Primer, but ingredients like marine algae and chicory root are biological. They protect you against free radicals, pollution and heavy metals.
You're not from the beauty industry, how has that effected your approach?
It's important for me to find what I do interesting, inspiring and artful. We like to work to people who have a genuinely unique perspective and can create something different.
What's also been interesting is the growth of social media, and to see individuals inspiring each other. Ideas about what is on trend are not top down anymore. We listen to our customers in a way the large beauty conglomerates don't, or can't. We want to give people the scope of that in our collection, and as a result people have responded really positively to our range.
With that insight, have you avoided the traditional marketing avenues of billboards and celebrity driven TV ads?
Absolutely. We've tried to cultivate relationships with people we admire and push our product in that way. Feedback from people who actually use products every day was important. We're an independent brand. We don't have massive ads or budget to spend thousands of dollars on marketing. Everything we do is measured and we rely on honest feedback.
I've always believed that less is more. What I felt was missing was a versatile, protective product that you could continue to use forever. I like to think of all my products as building blocks for the everyday.
Moonlight Primer, part of the Naxos Collection by MAKE is available from 15th September (US $55)makebeauty.com