California-based artist Doug Aitken has often used public space for his artwork: he's projected video art onto a block of Manhattan buildings, created a theatre piece on a barge floating in the middle of the Mediterranean and turned a moving train into a work of sculpture.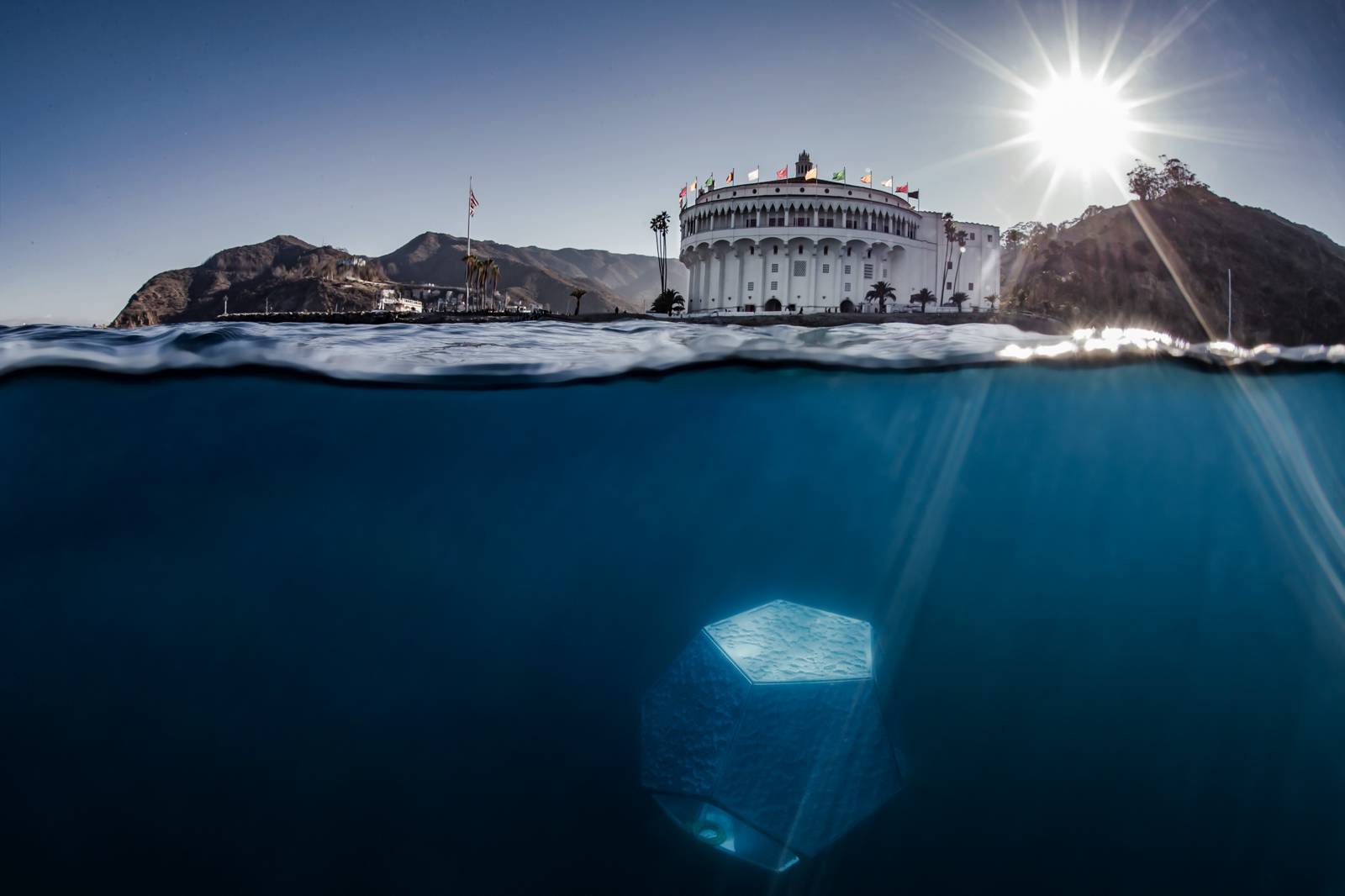 Now he's taken his adventurous spirit to the next level – his latest exhibition is beneath the ocean. Underwater Pavilions, an exhibition off the coast of Catalina Island in California, coincides with Aitken's 20 year retrospective at the Los Angeles Museum of Contemporary Art. Deep below the Pacific Ocean, the artist has anchored three geometric sculptures 30 miles off the coast.
Created in partnership with Parley, an organisation which works to raise awareness around plastic pollution, overfishing and deep sea exploration, the exhibition can only be experienced underwater. Those who want to see his cluster of mirrored pavilions will have to strap on some snorkelling gear and dive down. Aitken tells Amuse how this project came together, his thoughts on land art and collaborating with microbiologists over the phone from his studio in Venice, California.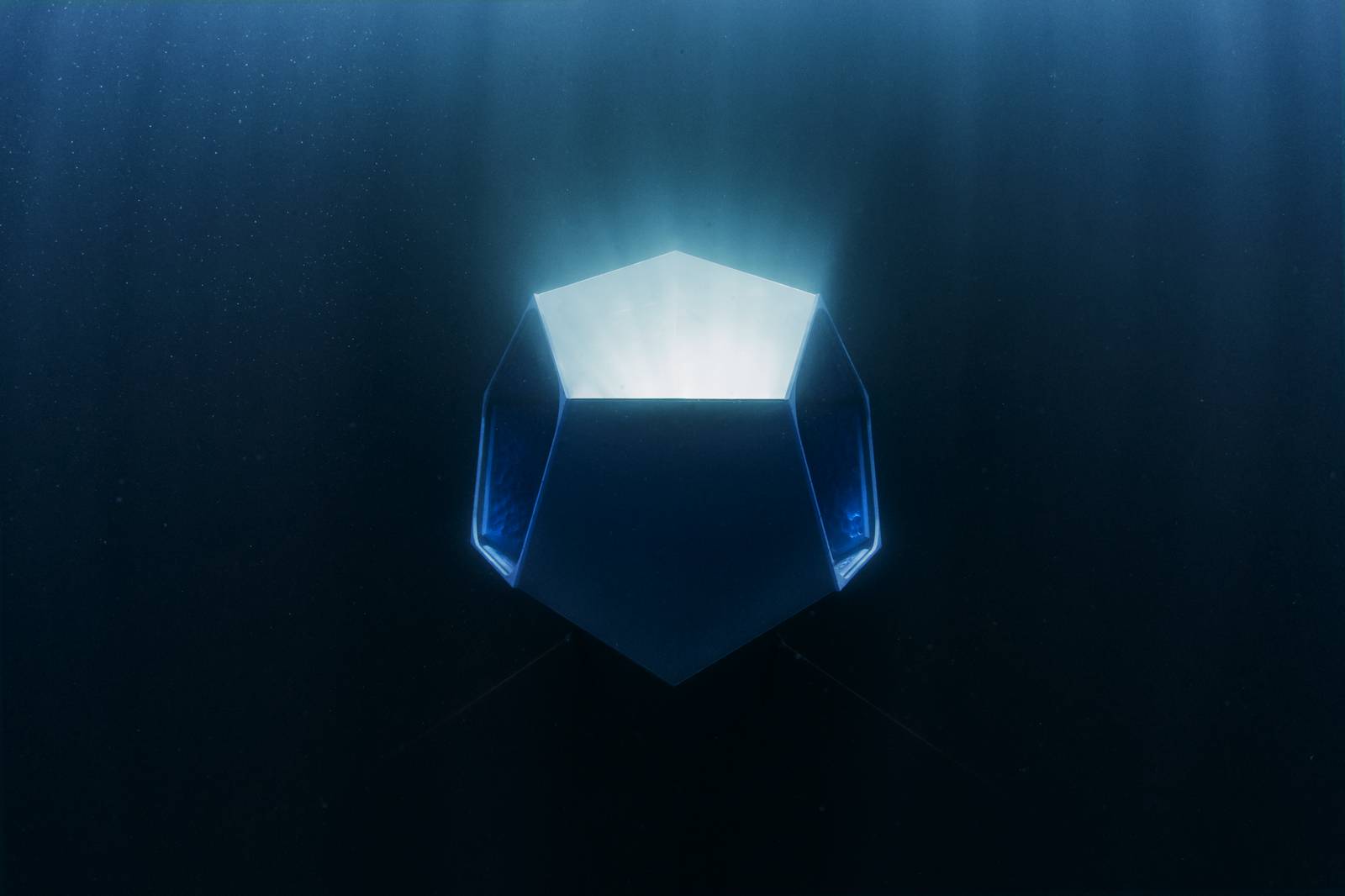 Why an underwater art exhibit?
It's a really a living sculpture, a living artwork that lives its own life completely independent of us. It's art outside of architecture. It is meant to evolve and change in its environment over time.
Do you see the artwork interacting with the ecosystem?
Yes, only a few days ago I received images from a few divers who found a fish species they haven't found in 20 or 30 years in this island chain. They found them attached to the sculptures. It's strange because things like this happen.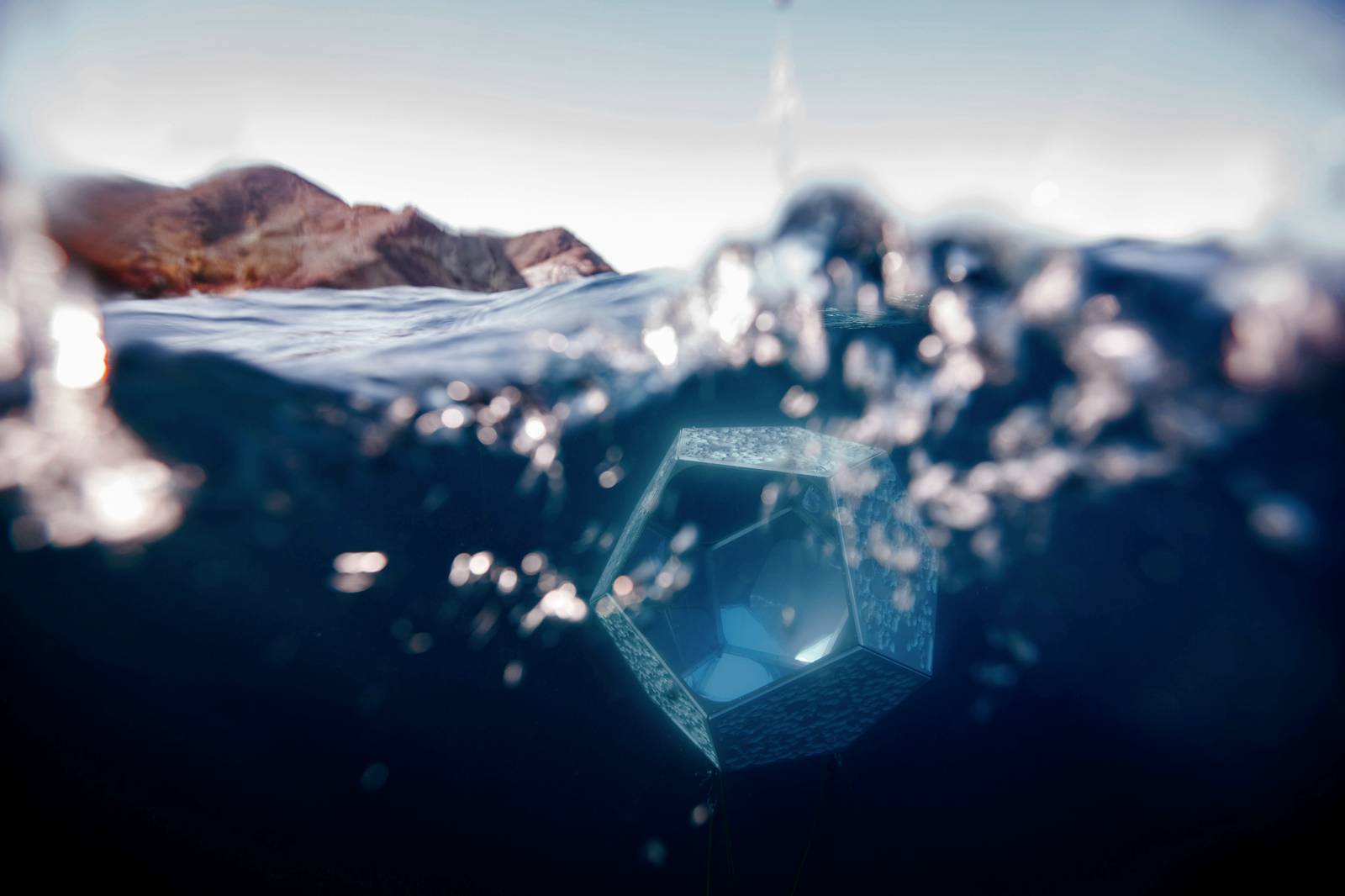 Why did you want to do this type of exhibition?
For culture, in a wider sense, we need to continually challenge ourselves. For me, this project was a way to move outside of the rigidity of the gallery regime system. In particular, the idea rolled off the earth and fell into the water. When we think of the ocean, we think of a straight horizon line. The foreground is a monochrome sea and we really have no idea what's underneath it. In this environment, you find yourself suddenly stepping under the surface of the ocean, which is intensely live. 70% of earth is underwater. Suddenly you're accessing this space which is really akin to outer space. You're floating not only with the work but in the underwater landscape—you're weightless, you're moving in slow motion and your perception changes.
How did you come to meet Parley founder Cyrill Gutsch?
I was developing this project and he heard about it, got in touch and a few days later we were meeting at my studio. It was fascinating to have incredible access to marine biologists and ethnographers, people who work with a distinct focus in their field and see a crossover into art. With this project, they worked on something that isn't data driven, it's more experiential. The dialogue moves in new directions.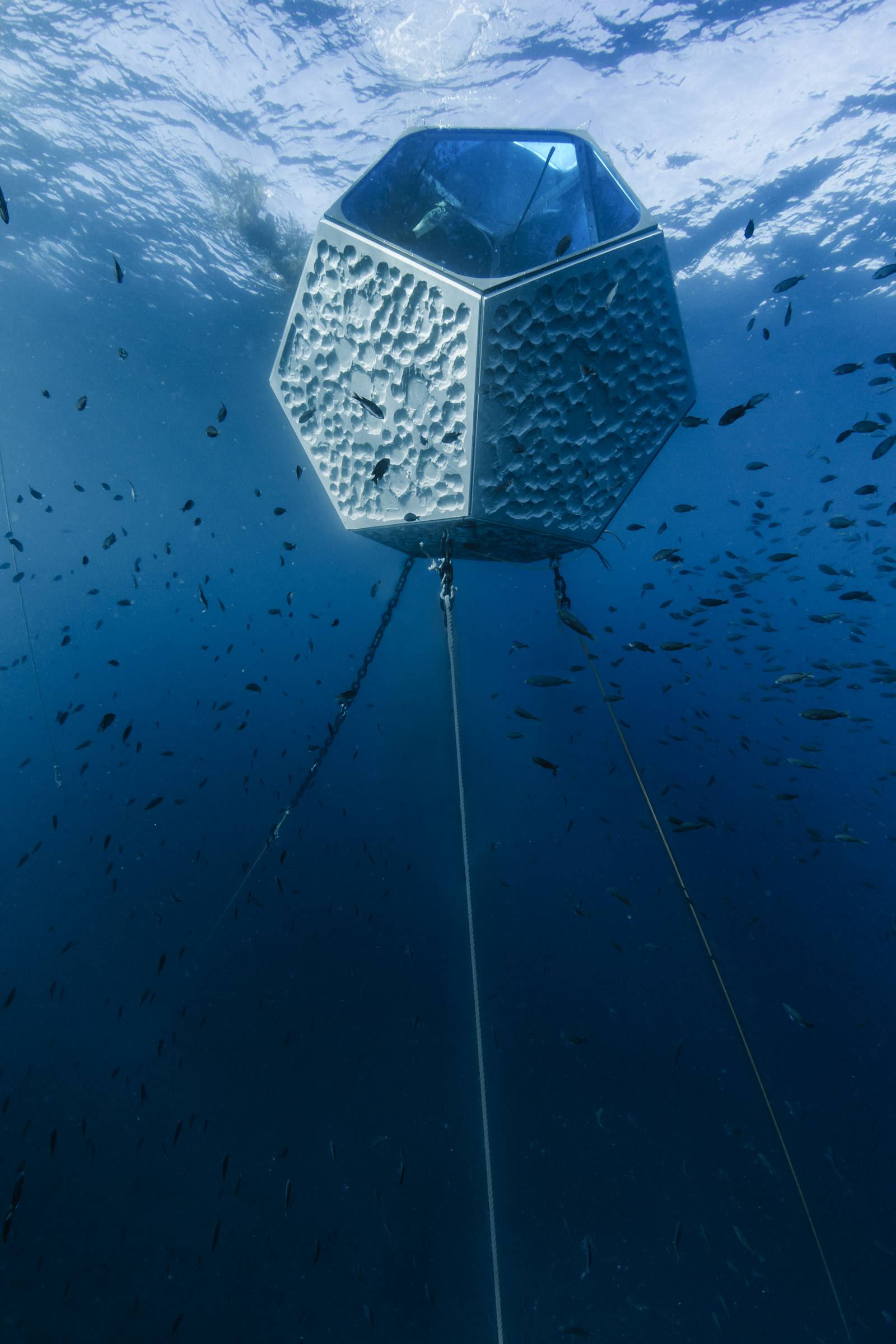 Is there a reason why you chose this shape for the sculptures?
They are dodecahedrons and I wanted something very minimal but cave-like. The water moves through and around the pavilions, a school of fish can swim through these pieces. Half of the surfaces are made with mirror and the other half are made with a surface that's almost like a lava rock, which we carved at the studio. I wanted to do that so you have the chance to see how sea life clings and grows, attach themselves to the structures.
What is it like seeing the artwork underwater?
When you're swimming around them, you see these huge swaths of light at different angles. It pulls in the light from the ocean surface and reflects them through the sculptures; they're essentially enormous kaleidoscopes or large optical devices. You can see yourself reflected but you can also see everything around you reflected into infinity. The mirrors angle in on themselves.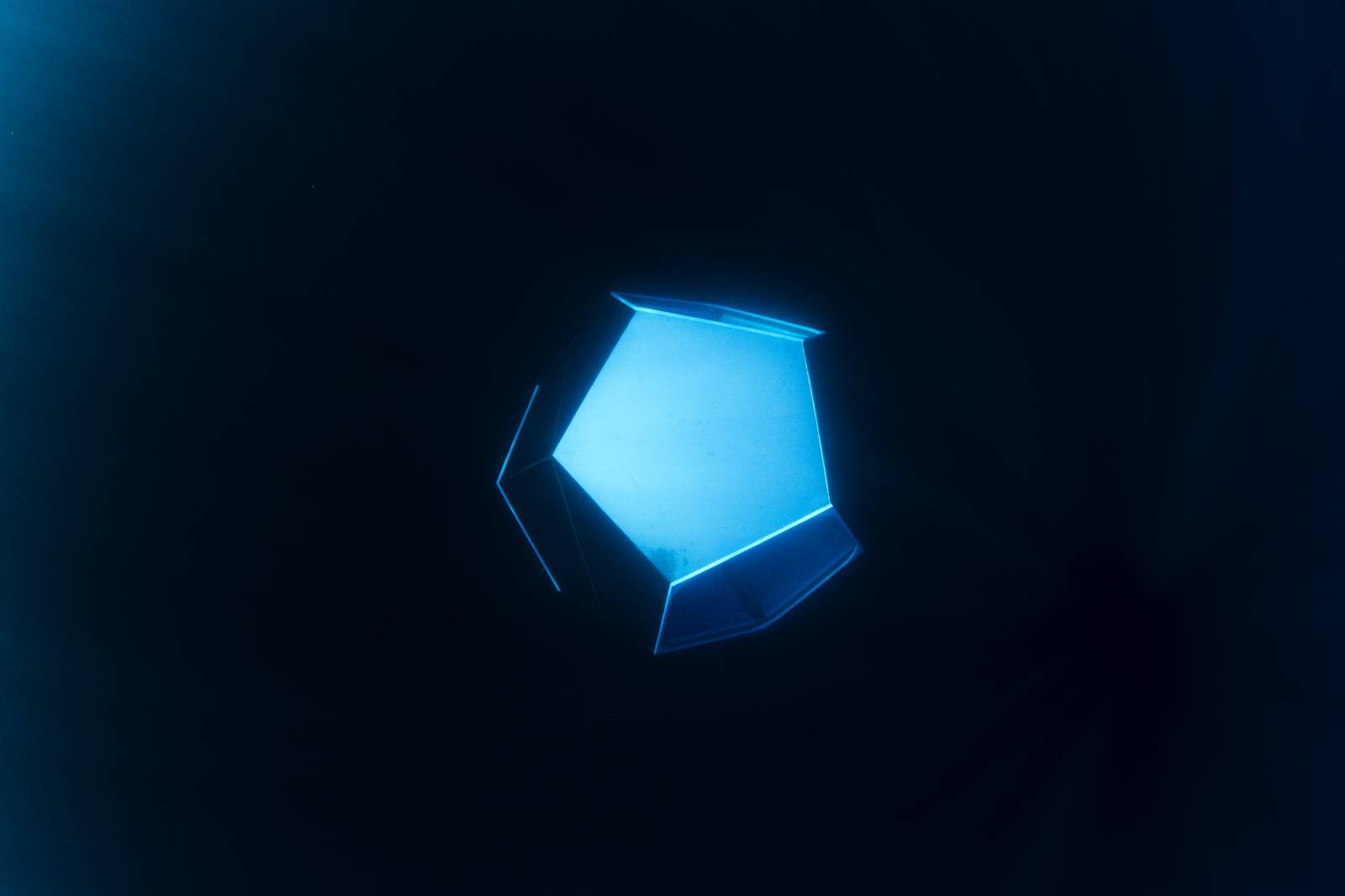 How many people have you brought there since the show opened?
That's a good question because unlike the museum where there might be people counting numbers at the door or buying tickets, this artwork has no opening hours, it has no fee. Anyone at any time can experience it. It's interesting when we think of contemporary art, we think of something that is finished, this sense of stasis with the frozen artwork. In some ways, the pavilions are a statement in a different direction. I see this project as absolutely embracing change and transforming continuously.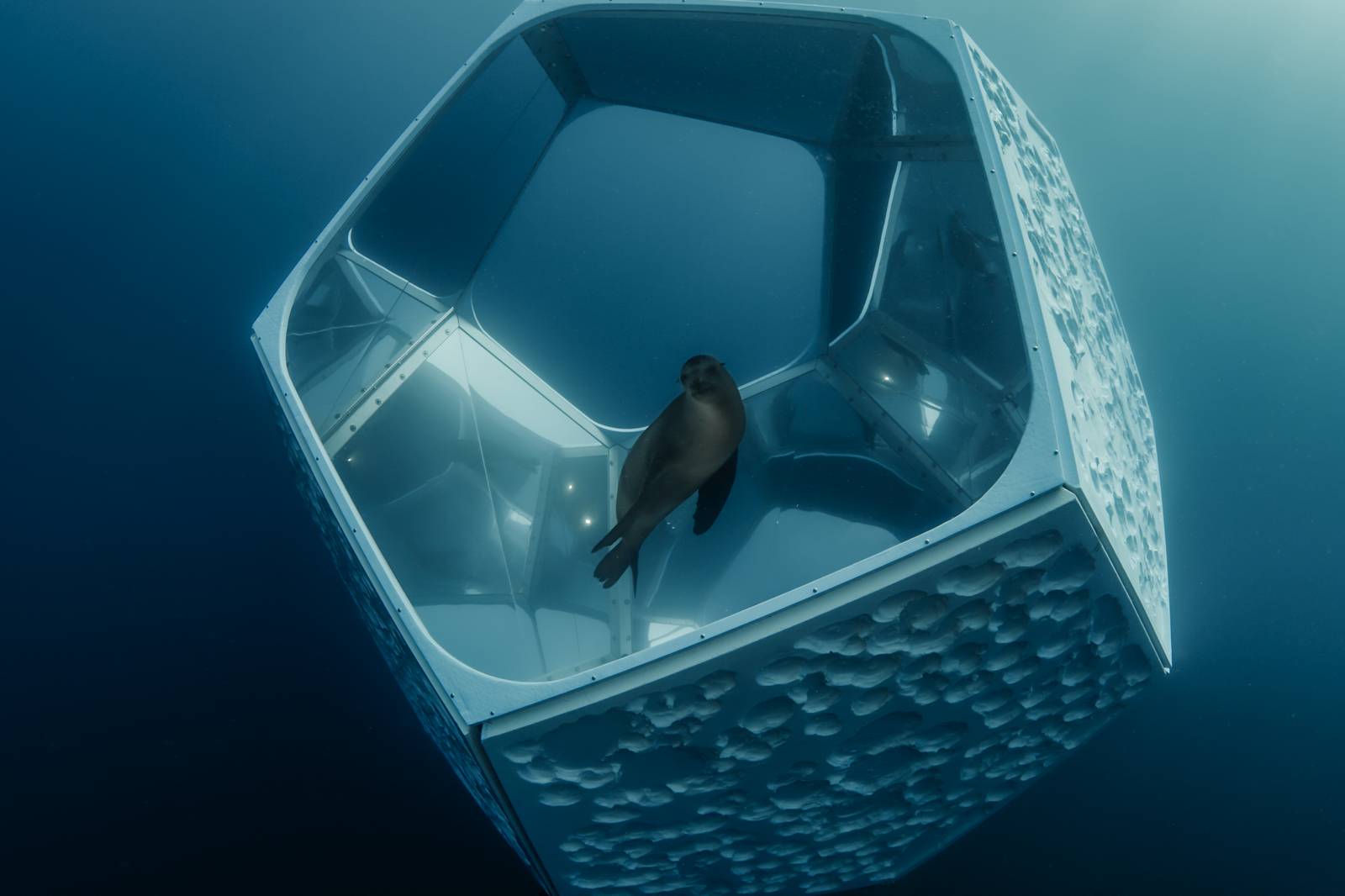 In 1970, artists like Robert Smithson created public artworks like Spiral Jetty. Do you make any connection to land art?
Smithson was an artist living in New York City who became disgruntled with the restrictions of the urban space. But it's no longer the urban versus the natural environment – it's more of the natural space versus the synthetic space. Being underwater is like floating, almost flying, kind of like out-of-body. Virtual reality and augmented reality is creating a fictional world, a synthetic world. But this is right at our doorsteps, the ocean of the world.
Underwater Pavilions is currently on view off the coast of Avalon, Catalina Island in California, until further notice. underwaterpavilions.com
Credits:
All images: Shawn Heinrichs/Patrick Fallon Underwater Pavilions, 2016, installation view, Avalon, California. Courtesy of the Artist, Parley for the Oceans and The Museum of Contemporary Art, Los Angeles
Topics: