Ayqa Khan's work deals with culture, alienation and womanhood. Incorporating elements of both her Pakistani and American background, Khan's colourful illustrations depict carefree women dancing, hanging out at home, or indulging in some self-grooming. She describes her work as projecting "a reality of celebration and acceptance." Looking at her images is akin to scrolling through your favourite Instagram account.
Oh, and they all include noticeable body hair and it's this aspect of her images that the 21-year-old artist is most well-known for. By showing unbothered women with body hair, she's normalising what should be inherently normal, but what traditional beauty standards have warped into something shameful.
Ayqa Khan's work is being exhibited as part of SUBMERGING, a group show created to showcase the work of QTIBIPoC (queer/trans/intersex black and indigenous people of colour) visual artists and performers and it's also raising funds for F2L, a NYC based project fighting prison and police violence. We caught up with her before the exhibition opens to talk about breaking into the art world, Islam, and vulnerability.
Your images include cultural references from South Asia and America. How has your first generation Pakistani-American upbringing influenced your work?
My upbringing has created a space for me that I like to describe as a "permanent state of exile." Growing up with two cultures has led me towards and away from each other simultaneously. Feeling like I've never been enough of either has showed me that I can only exist between the two – and that's okay. This in-between space is what I like to explore in my work at this moment.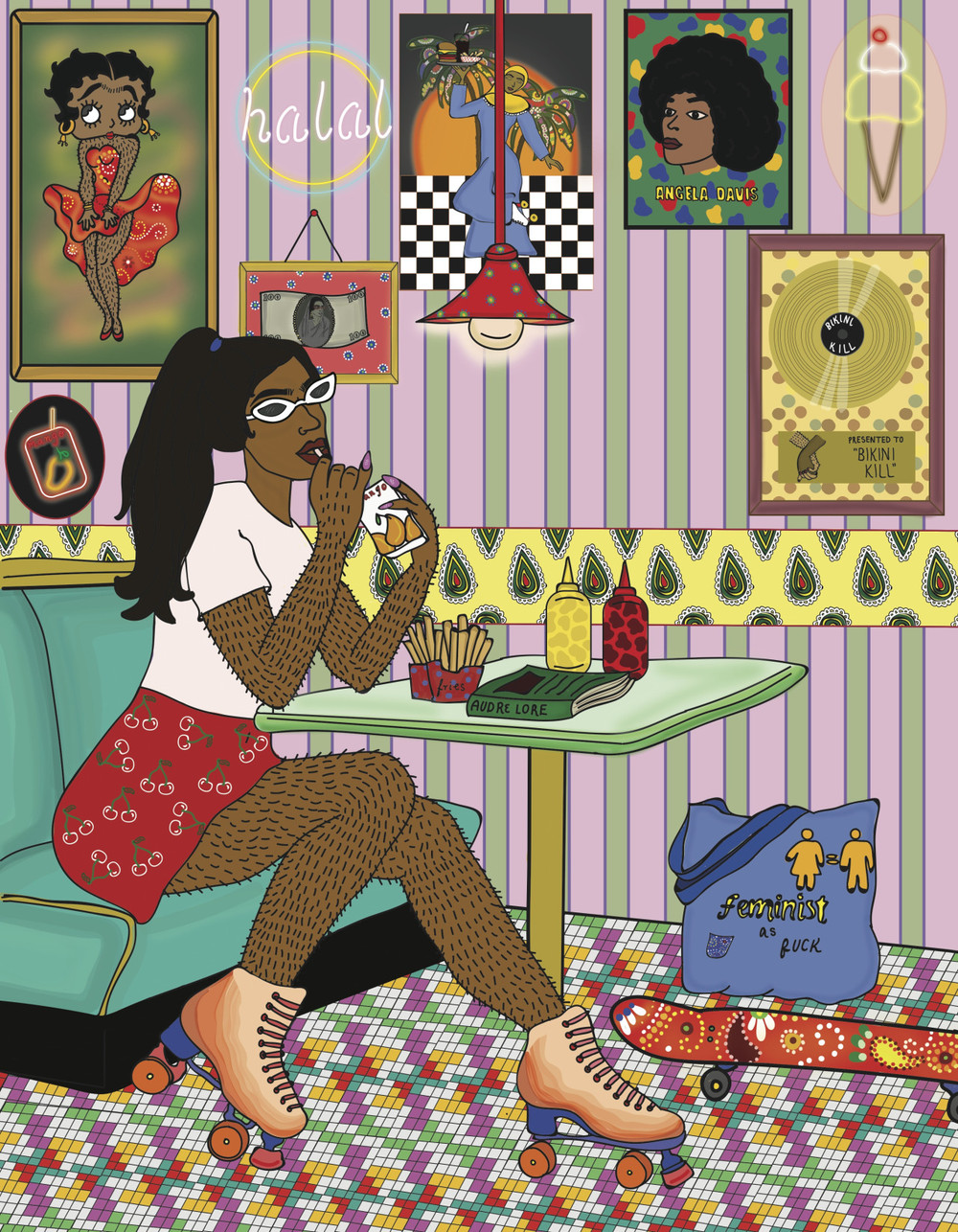 What work are you exhibiting at SUBMERGING?
I'm working on a mural installation. I've never painted or done an installation before, so working on this has had a deep impact on my intentions and perspective in a very sensual way. This piece is a projection of my motives in exploring and extracting my subconscious – questioning how I research and practise Islam in real life and online, and how both intertwine or repel.
Mainstream media often showcases muslims associated with terrorism, or muslims defending their religion. I find these spaces too far apart. There is no in-between that is portrayed really. Islam isn't easily viewed as fluid or individual – and that is what it is for me. So this notion of taking initiative in exploring Islam in our own way and terms is being questioned too.
Steps have been made in the normalisation of body hair but it's rare to see it depicted so dark, or in places like the chest or chin. What drew you to featuring body hair so prominently in your illustrations?
Depicting body hair on places that are "unconventional" is normal for me. Maybe we should question why it's so rare for hair to be depicted in general. It's a reality for so many of us. It's important for me to create safe spaces within drawings. I want people to be able to see themselves because I know what it feels like be alone and uncomfortable in my skin. To feel misunderstood and mistreated. Norms and media make us feel like our identities need to succumb and fit a certain role, and that's too inaccurate. We need to be able to freely mould ourselves without such societal pressures and it's not easy. I want a safe space where we all can breathe freely.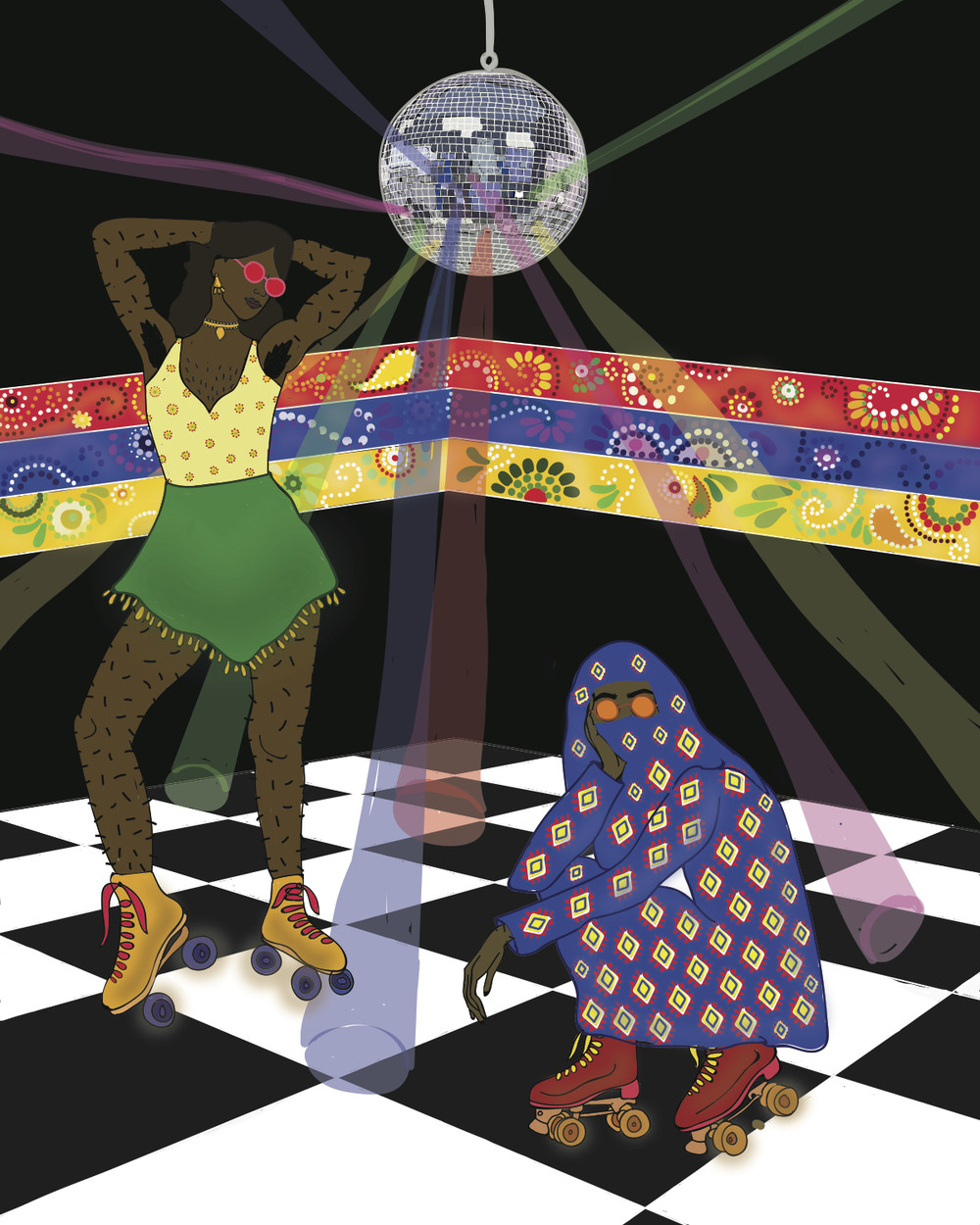 You also take photographs. Are these exploring the same themes as your illustrations?
Not entirely. My illustrations project a reality of celebration and acceptance. I'd like for my photos to serve as a space of conversation. It's where I can express my vulnerability.
I read that you're self-taught and have never been to art school. What has the process of learning and breaking into the art world been like for you?
Breaking into the art world without a formal education has been enlightening. I'm being shown that not everything is what it truly seems to be. I initially started off and still do project my work online and in doing so, have been able to connect to the art world physically.
This whole process has felt unconventional because I always saw art as being something formulaic. Studying technique, having critiques, being in school for art etc. And I only really felt this way specifically regarding art because of how highly valued it seems to be in our culture.
I work on building my own community and creating a safe space where I can share work and have conversations. The internet is too big to feel safe. Being and sharing work in physical spaces has really allowed me to understand more about my intentions and human connection. I feel that I'm being guided to trust myself and explore myself through this process – and it's both scary and exhilarating.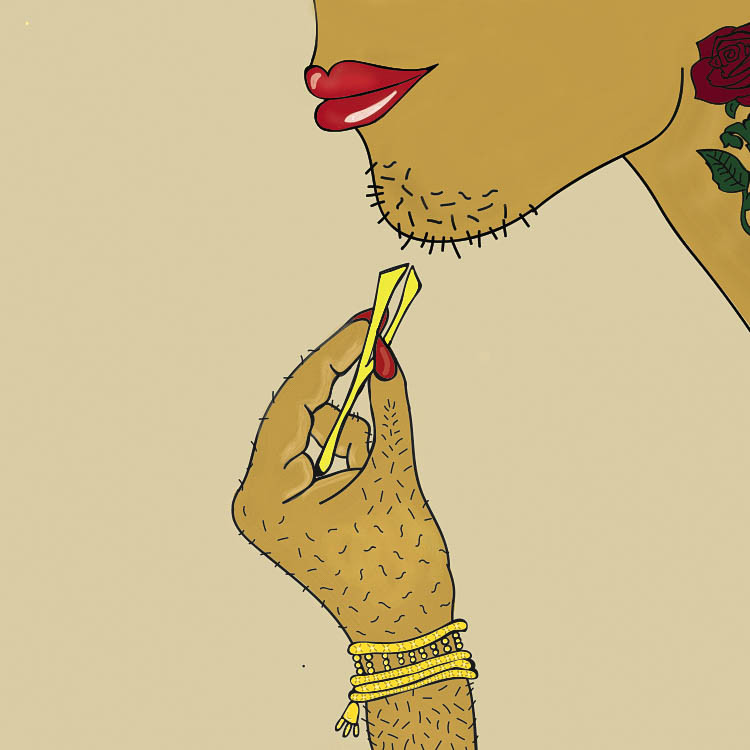 SUBMERGING Presented by FringeART is open 8 to 25 August at 41 Cooper Gallery, Manhattan NY.
submerging.info