Grace Miceli just got back from curating a show at Pon Ding in Taipei called Why Didn't You Like My Pic? which is a sequel to her 2015 group show Girls At Night On The Internet held at the now-closed Alt Space Brooklyn gallery in NYC. The group show was a big moment for Miceli — the show not only featured her work but that of Petra Collins, Arvida Bystöm, Molly Soda and Maggie Dunlap, but the show was also her first IRL experience as a curator. Until recently, Miceli's gallery has existed entirely online. Mainly due to the ever increasing rent prices in Manhattan, and now Brooklyn.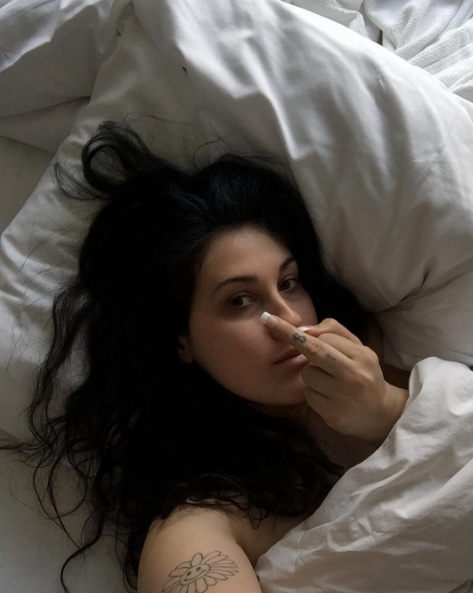 After a stopover in Tokyo, where Miceli is hoping to go return and curate another show, she's back in Bushwick where she talked to Amuse about her dream of being a hacker, making art for Mac Miller and Anderson .Paak, and why she's keeping Art Baby Gallery digital (for now).
When you were a kid, what did you see yourself doing as a career?
I was really focused on academics so I planned to work in museums. It felt like the most professional way to be involved in the arts at the time. I honestly never had confidence that I would be a working artist. It was never a realistic option to me because it didn't seem like a stable source of income. The way our government values arts and the role of the artist in society doesn't portray it as a viable career option unless you come from a wealthy background.
You told me you were into the TV series Mr. Robot right now. What is it that draws you to that show?
Well I stopped in the second season. I think it got too slow and boring. But the first season and the show in general really appeals to me because I feel like during the past year I've been in a perpetual state of slowly waking up. I've totally become a conspiracy theorist and it's also my dream to be a hacker, so yeah all of that.
How did you end up doing art for Mac Miller and Anderson .Paak's recent single "Dang!"
I've known Mac's brother for years and I've worked with him before so he brought me on to help do illustrations for the new album. It's exciting for me to have a new audience made up of mostly young men – it's a group I'm excited to communicate with through my work.
You have a quote on Instagram by Audre Lorde and Angela Davis. Which other badass women inspire you?
There are so many people I'm inspired by! Right now it's Rihanna, Chimamanda Ngozi Adichie and Gregg Araki who are really important to me.
Are there plans for Art Baby Gallery to have a physical location, even in pop-up form?
Yeah, definitely. That was the plan for this fall but I'm sort of putting it on hold while I explore other opportunities. Right now my focus has shifted from being so concerned with the economy of art to working on bringing Art Baby to places outside of NYC as well as my responsibility for more socio-political issues. I'm adamant about continuing to educate myself on the effects of gentrification in Brooklyn and I'm not sure I'm ready or able to introduce Art Baby responsibly as a new space here right now. But I consider any exhibition I curate to be Art Baby Gallery in pop-up form.