Vogue have called him "Gucci's New Guy", but as well as being a firm favourite of Creative Director Alessandro Michele, model Alton Mason Jr. counts Kanye, P Diddy and Pharrell as fans too (he modelled in Yeezy Season 3, danced for Bad Boy and appeared alongside Pharrell in his American Vogue portfolio). And it's easy to see his appeal: with his big smile and back flips, he's brought the fun and theatrics back to modelling.
If you look back at catwalk shows from the '60s to the '80s, you'll see models dancing and beaming – something that's since been supplanted by detached hauteur and cool boredom. So welcome back good, healthy, happy vibes in the form of the beautiful Alton Mason Jr – arguably the only known person who's truly pulled off being a slashie. The model-dancer was captured in LA by Ashton Sanders' stylist Jessie Jamz and photographers Jason Barbagelott and Van Van Alonso (check out the behind the scenes moves below too) and we found out how AMJr. gets that gorgeous beatific glow.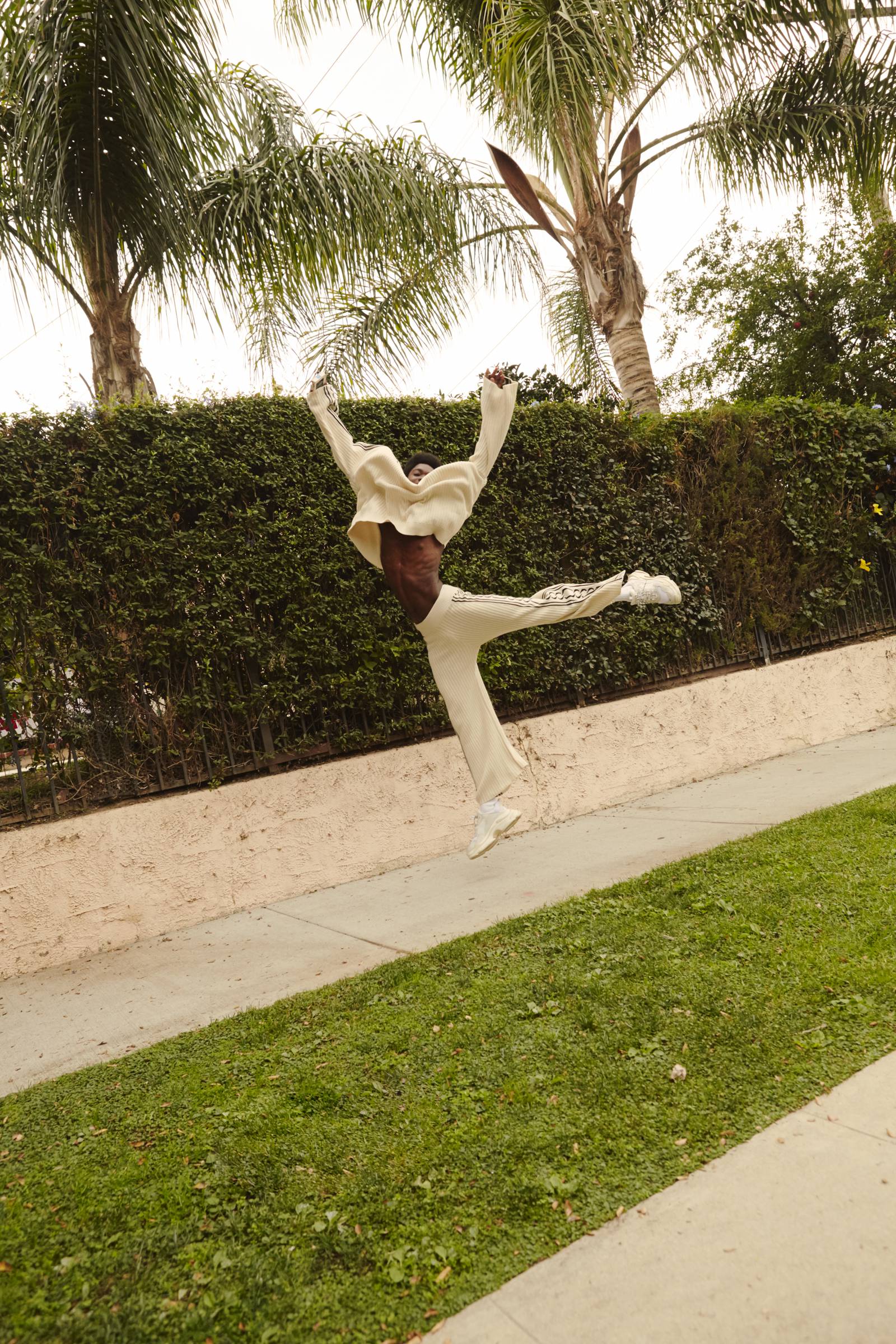 How come you're such a good gymnast, doing all these backflips and splits?
From age two to thirteen, I trained in gymnastics. My dad taught me how to do a backflip at the age of four in our living room. I still vividly remember the first time he showed me he could tumble: we were outside of our house in Arizona and he just started flipping in the street and I was like, "I wanna do that!" After that we just went in the living room and I practised on my backflip non-stop. I always loved training at the gym – rings were my favourite.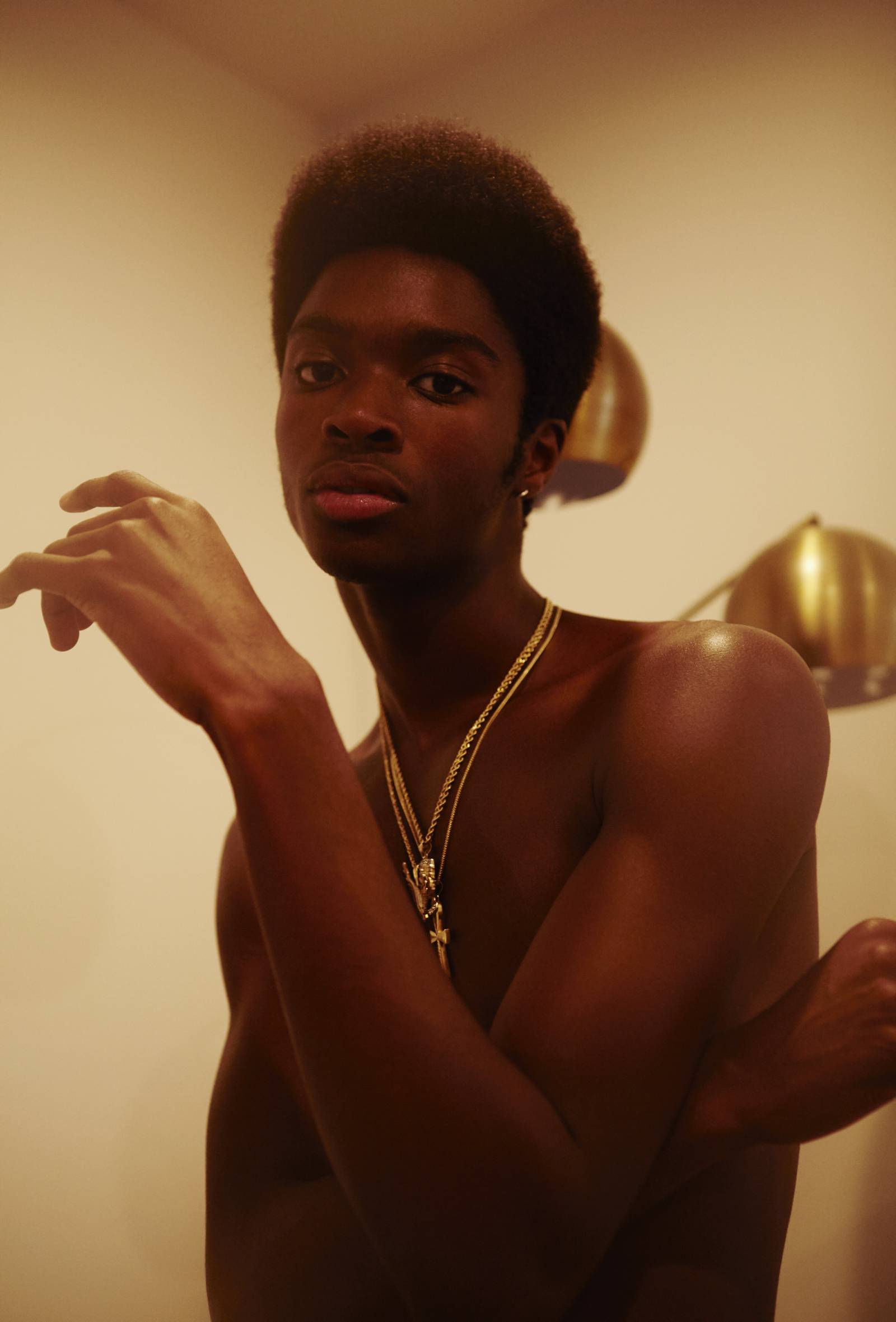 Tell us your workout regime. What do you love to do most, how often do you do it and who do you do it with?
I always start with a two mile jog just to get my body warmed up and my blood moving. Then, I begin stretching my legs, shoulders, and chest; the butterfly is my favourite stretch and stretching my hamstrings always feels the best too. When I'm in the gym I like to focus on cutting and getting toned rather than gaining muscle mass. Push-ups and and pulls are the key to chest, arms and shoulders. And a variation of sit-ups and crunches help me keep my abs lookin' right. I try my best to do 200 a day of each so I can stay on my Bruce Lee. Dancing and basketball has always been the best way to keep in shape and the easiest way to keep my stamina on point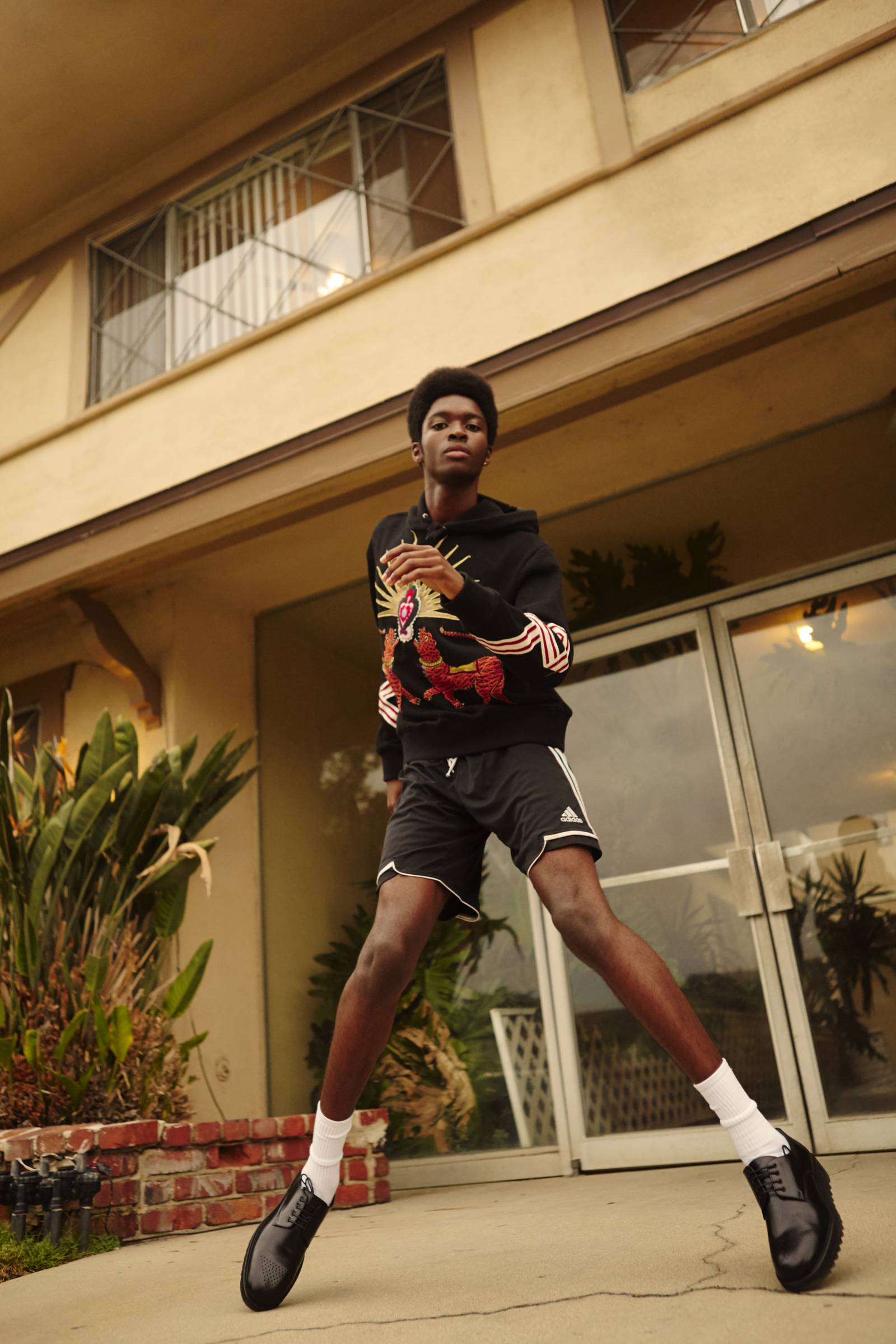 Do you work on being so lean, or is it all natural?
I've been active all my life so I have good muscle memory, but in order stay healthy on the inside I must work for it and stay in the gym.
Models used to dance and sashay more on the catwalks back in the '60s, '70s and '80s, but it feels like you're the first known dancing model we've had in ages. How come you brought that to the table? Did a photographer ask you to, or did you just happen to dance on set and get captured doing it?
Whenever I'm on set, music is always playing, anyone who knows me knows that I can't help myself whenever I hear music playing, I MUST dance. Dancing is a contagious energy, a vibration you can't deny, so sometimes I look up and I see the team in the zone too! Feelin' it! That's when it never feels like work and the greatest moments are captured.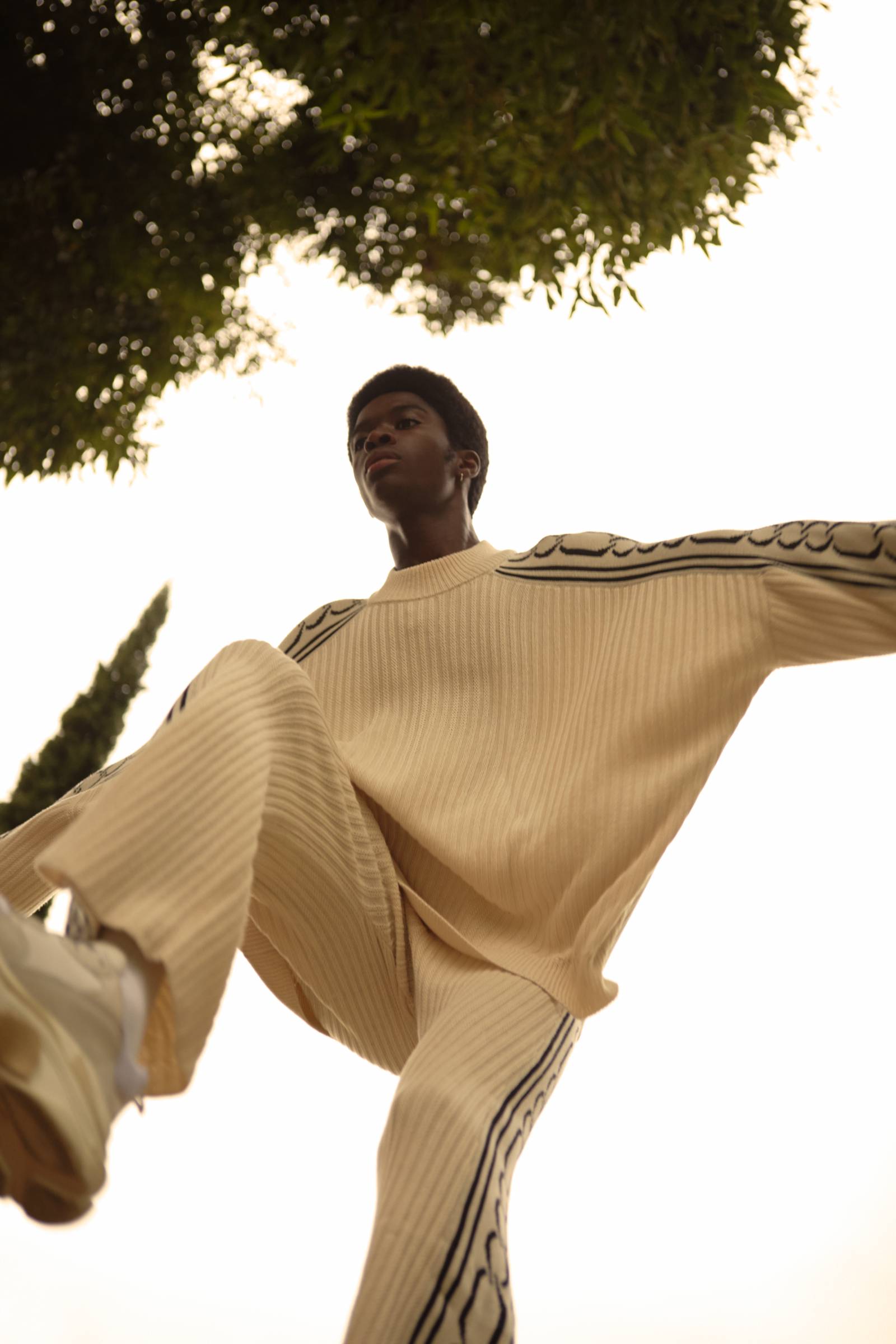 What's the Alton Mason Jr. diet? Talk us through the good and the bad!
The Alton Mason Jr. diet is chicken and waffles for breakfast, lunch, or dinner, hot wings at least three times a week with cheese fries on the side, and a bacon, egg, and cheese whenever I'm on the go in New York. And A LOT OF WATER. Lol I'm being so serious.
What's your skincare regime?
I drink A LOT of water and I use African Black Soap to wash my face. I moisturise with aloe vera because it's light and evens my skin tone. I always tell the homies to never shave with a razor, always use clippers so you won't get razor bumps. And drink A LOT of water.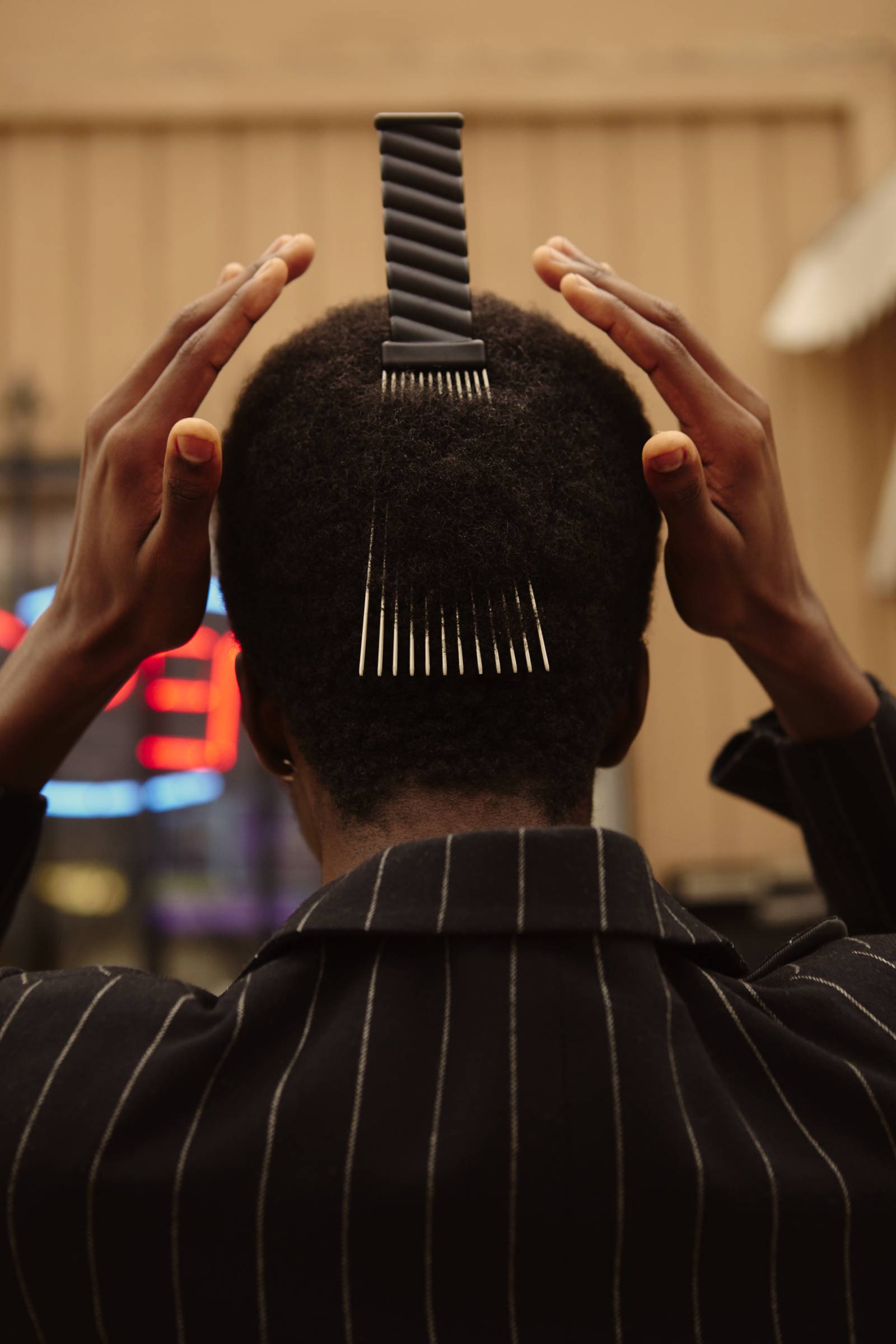 What's your haircare regime?
I use Shea Moisture Coconut and Hibiscus Shampoo and Conditioner. Whenever I pick my hair out I keep it classic and use Murray's Beeswax – it's the orange can with the afros on it. Your grandpa has probably used it.
How do you keep fit and healthy when you're travelling so much, taking flights and coping with jetlag?
I try my best to get sleep on flights. I find myself having some of the flyest dreams whenever I'm in air. If I'm in the airport for a long amount of time or whenever I'm in a hotel away from home I try to hit my sets of push-up and sit-ups. Your mental health is just as important as your physical health so I make sure I travel with a good book or two. The two books I'm reading now are The Four Agreements by Don Miguel Ruiz and The Power of Now by Eckhart Tolle.