With badlands are framed with distant rosy mountains, dunes, cacti and dried out lakes, America's desert landscapes are far from boring. North American deserts occupy more than 95 thousands square miles, and an important place in the American psyche. Saturated with ancient mystical legends and Hollywood myths, the desert rules subconscious fears and promises endless freedom, so no American road trip is complete without it.
There are dozens of possible routes to take, strange unknown paths which could lead you to all kinds of adventures. But if you're in for the celebrated US destinations—Los Angeles and Las Vegas, Yosemite, Grand Canyon—there's a ton of picturesque desert driving you could do in between. Nested in the meteoric landscapes there are roadside motels and palm readers, small towns and, more recently, design hotels and spas to explore. Go old school with a map, forget phone signal, and hit the road.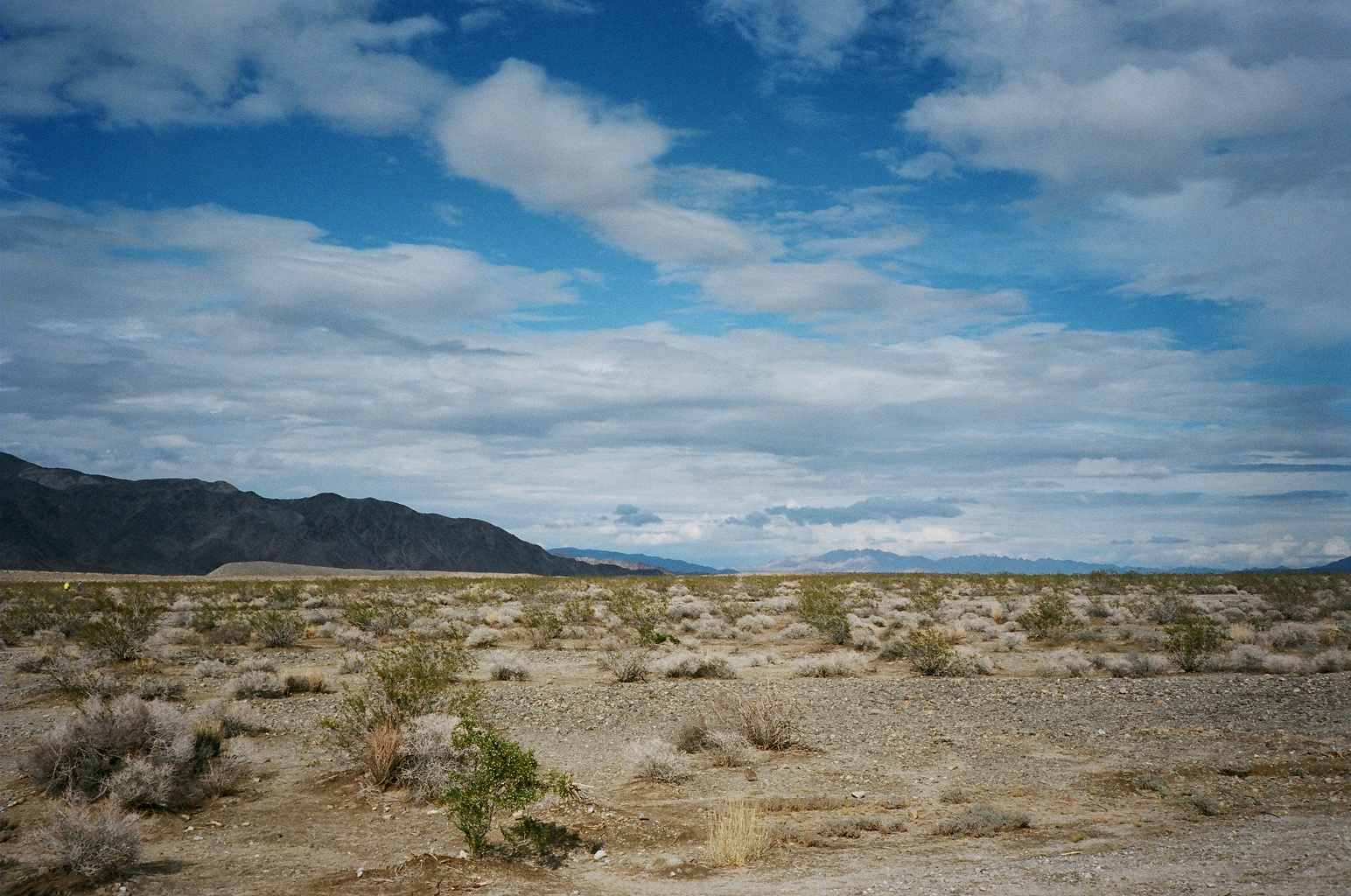 Into Death Valley: Trona
Whether you're driving down from the mountains of Sequoia or Yosemite, or from the coast via Fresno, you're leaving behind inland California and its fragrant orange groves. The real desert drive starts long before you actually enter the country's most famous desert destination – Death Valley. The narrow two-way road cuts into the landscape: high blue-sky, pale yellow ground covered in grey brush, and pink and purple mountains sit on the horizon.
Of the handful of small towns on the way, the most haunting is probably Trona. Founded in 1913, the town sits on the edge of a dried out lake and was built to house employees of the salt mining company who's job it was extracting borax and salt from the lake bed. Stop by Esparza Family Restaurant for lunch, a local favourite serving a blend of Mexican dishes and classic American comfort food. Don't miss one of the most bizarre geological landmarks of the area – the Trona pinnacles formed underwater before Lake Searles dried out. It's also where they filmed Star Trek and Planet of the Apes.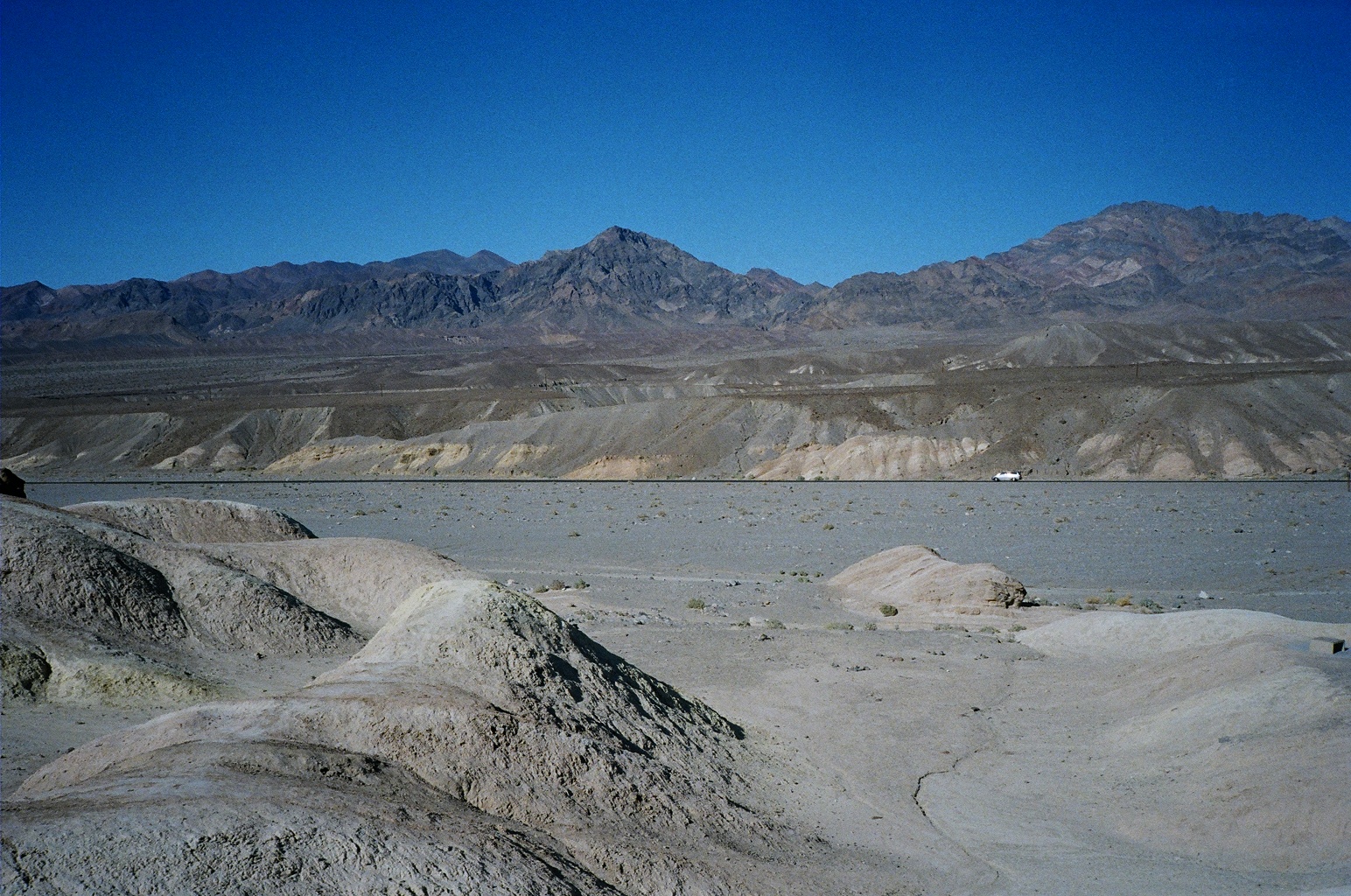 Death Valley: Zabriskie Point
Death Valley holds many treasures: golden sand dunes, vast salt flats and, at the heart of it, Zabriskie Point which provided setting for the eponymous cult film by Michelangelo Antonioni. The mountainous landscape is the result of thousands years of violent shifts and erosions, only disturbed by tourists with selfie sticks.
There are few amenities so make sure you have a full tank of gas, water, food and warm clothing for after dark. Most of the accommodation in and around the park is quite basic, with the exception of Furnance Creek Resort – a perfect barricaded oasis to observe desert from the comfort of the dining hall or swimming pool. If you're looking for something more authentic, try The Atomic Inn or Amargosa Opera House and Hotel.
Around Las Vegas
Zabriskie Point is a four hour drive from Las Vegas. After leaving Death Valley, the road into the city becomes a massive highway filled with people dying to make it to the casinos before lunch or by sunset. It's hard to leave Las Vegas early in the morning—it can take 30 minutes just to find the casino exit—there's a lot to see on the road. Giant mars-like red rocks with ghostly silhouettes of transmission towers surround the city. One of which is Hoover Dam; a massive construction in the Black Canyon of the Colorado River and a must see monument to the heroism and madness that transformed Nevada.
From Vegas to the Grand Canyon
The road to the Grand Canyon gets you out of Nevada and into Arizona, the wasteland home of classic Westerns. Hence faded posters with John Wayne and tacky Native American souvenirs. Don't put Grand Canyon into Google unless you want to reach it via dodgy dirt road with no other cars in sight. The Grand Canyon itself deserves enough time to explore and trace how the rocks change colour in the shifting sunlight. Joshua trees and cacti grow on rocky grounds, and the traces of mining history are scattered around mountains in blue haze of heat.
Back to California via Route 66
Route 66, one of America's original highways, doesn't actually exist anymore. It was taken off the highway system in 1985, but the world brought to life by the road is still there: motels, swimming pools no one ever uses, diners, and sleepy remains of roadside towns. If you're in search of a motel then head to Needles Highway where there are five located a stone's throw from each other (Knights Inn has particularly strange architecture, and River Valley Inn has a Hockney-esque blue swimming pool). Slightly further away there's 66 Motel, a tiny six-room motel that opened in 1946. The former Route 66 is largely just a poetic wasteland with gas stations charging tourists a lot for fuel. Make sure you stop by Roy's Motel and Café in Amboy to get a glimpse of some original 50s American design and architecture.
Finish off in Joshua Tree
In Joshua Tree you can relax and embrace the presence of the desert on your doorstep. Loved for sunsets and starry night skies, the road snakes past cacti gardens and giant prehistoric rocks. The rocks are great for climbing but be careful of hiking off trails – disused mine shafts are regularly discovered throughout the park.
Staying at campsites inside the park is the best way to immerse yourself in the atmosphere (although only one campsite—Black Rock Canyon Ground—has running water). In Joshua Tree town, the spread of California's health food obsession is like a landmark in itself: Natural Sisters Café serves incredible vegan and vegetarian food, smoothies, and kombucha on tap. Round off your road trip with a night at Sacred Sands for spacious rooms with sweeping desert views and outdoor spas.