"I'm an artist'!" declares war-dazed surfer-soldier Lance in the midst of all the madness of one of most memorable scenes from Apocalypse Now (1979). As coloured smoke wafts over the burning carnage on the beach, the young Californian surf-pro refuses to enter the smoke-blown, exploding water, in defiance of the orders of the maniacal, surf-obsessed Lt. Colonel Kilgore –  not because of the danger, or rampant absurdity of the situation, but on artistic grounds. Like a piece of marble rejected by a sculptor, the waves just weren't good enough to carve. 
So it's an interesting coincidence that many of today's most innovative contemporary artists  – and their gallerists – have become enamoured by the thrill-seeking, zen-enhancing practice of surfing. From coast to coast and across continents, if you want to find some of today's key art-world figures, you are just as likely to see them paddling out from a cold, empty beach on their board in the morning as at a busy opening in the evening. It is an arduous yet exhilarating activity that gets under their skin and into their very psyche, leads them on travels around the world, and gives them the peace of mind to undertake diverse kinds of work.
Amuse asks how, where and why surf became the favourite complement to contemporary art.
Gallerist and surfer Bill Powers has seen the now-thriving East Coast art-surf scene develop and branch out over the past decades. "I'm not sure there's a direct connection between surfing and art, but certainly there's overlap," says Powers. "I surf every summer in Montauk, where Julian Schnabel is known to grace the waves as well as Jules de Balincourt, David Zwirner and Lucien Smith."
Power's own Half Gallery is currently showing Oregon-based artist Dan Attoe's Recent Landscapes, other-worldly paintings, some of which draw upon the artist's own experiences surfing the wild, dark beaches of the Pacific Northwest. He also notes that a visual obsession with surfing can take hold on the artist's spirit without taking to the waves themselves: "Someone like Raymond Pettibon is famous for his paintings of surfers without being an avid participant." This was readily apparent when Adam Lindemann's Venus Over Manhattan gallery staged a retrospective of Pettibon's surfing works from the 1980s onwards in 2014, unfurling the extensive breadth of the artist's exploration of surf culture and language.
And after a show at Montauk's The Surf Lodge in summer 2015, Lucien Smith is showing his new painting work at Moran Bondaroff in LA. Titled Allergic to Morning, the exhibition is a series of poetic seascapes, with an explanatory text which makes reference to "Dawn Patrol", a military code that surfers also use to describe their crack-of-dawn awakening to catch the best waves and empty beaches. Apocalypse Now's Lt Colonel Kilgore would certainly approve.
The Journal Gallery co-director Michael Nevin  has been known to lead troupes of art-world notaries on surf-expeditions to the most secret spots. He started young: "I think I was 11 or 12 when I first went surfing. Peter Pan, this legendary surfer from Rhode Island, was friends with my cousin and took me out at Narraganssett town beach." So where do we now find Nevin suiting up? "Probably Lincoln at Long Beach on Long Island. It's what you get when you live in Brooklyn and a nice place to escape to for a few hours."
Painter and sculptor Theodore Boyer currently has a major show up at Shulamit Nazarian Gallery, adjacent to the iconic surf-spot of Venice Beach.  Boyer's practice is inspired by the terrain of the desert and distant planets; I come upon him working in his studio where he is attempting to match the colour of two painted grout pieces to the exact tone of the mustard hills of Death Valley. Boyer has been living in New York but recently returned to his native West Coast. "For me, I grew up here in L.A., so coming back has been a very exciting thing. Being gone for so long, and getting back into it, has given me a different perspective. It's a very special thing to be able to be in a place where you can make art, and go surfing."
Boyer surfs anywhere from El Porto to Malibu. "I like to leave before traffic, then come back around 10.30-11am and start working," he says. You can find him further afield, too: "I've surfed the Channel Islands, which you can only get to by boat. That was one of the wildest places; you don't know what kind of animals are in the water there. But I'm not the kind of guy who is scared of sharks." Boyer then points out something quite startling: "The likelihood of getting eaten by a shark is statistically less than being struck by lightning, or dying from a selfie." And why does the artist make the journey to the surf, morning after morning? "The main purpose is for meditation, solitude. To reconnect with nature. Somehow humanity has lost touch with that for various ways. For me, surfing, just like art, gives that back to me; it just goes hand in hand."
After a long career including a recent show at Marlborough Chelsea video artist Stanya Kahn is represented by Susanne Vielmatter Projects in Los Angeles,  where she lives, making the drive from the east side to get to the ocean. "I surf all over LA and Southern California, but my regular spot is in Venice. I learned how to surf about eight years ago when I was going through a really hard divorce. As a mom with a young kid I was facing a lot of terrifying stuff and paddling out into the ocean can be super scary, so here was this thing that was mirroring my life situation and also taught me to be really strong, brave and also exuberant."
Kahn's deep passion for the sport of surfing proves that this is no Boys' Only club. "Intense physicality helps me think straight, opens up my mind, keeps my instincts flowing. So in that way I guess surfing affects my art practice—it's a physical, psycho-emotional engagement that enlivens all my senses. You develop a relationship with the ocean, this massive natural body of organic life on earth. I'm sure there's something in there about power and flow that impact how I make work. Speed, adaptability, humility."
Florian Morlat  meets me at his studio in East Los Angeles, where his colourful textured works are progressing alongside his collection of surfboards, which take up much of the back section of his large working space. Originally from Munich, (where the only surf action is on the Eisbach River) Morlat is now totally at home on the SoCal coast. "I surf mostly at Palos Verdes and Ventura. Palos Verdes is about 45 minutes south, there is a cove where I like to surf, there is a reef break, and you have to hike down."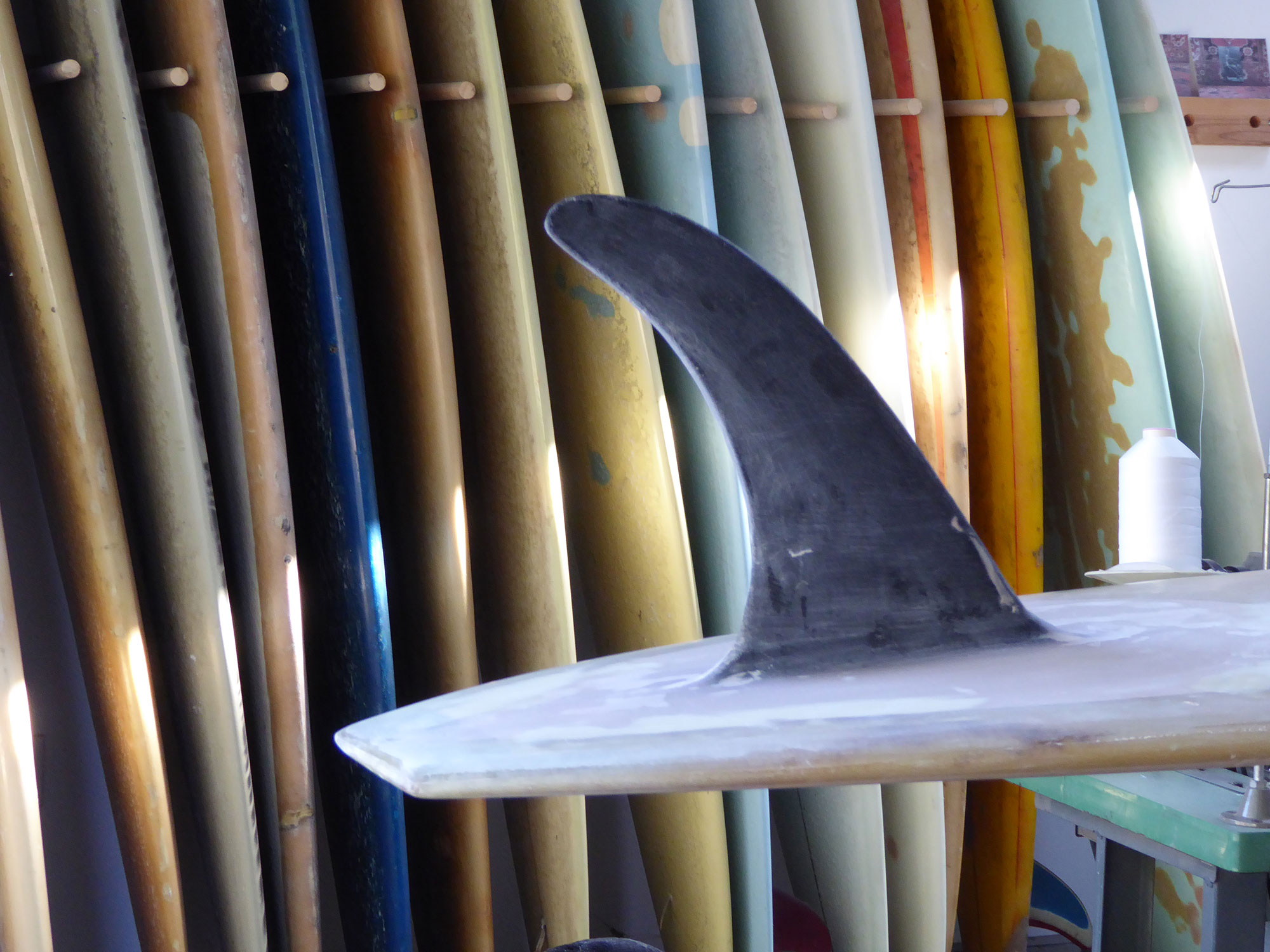 Do his own sculptures have any thing in common with his board shaping, or the craft-like activity of waxing the board? "Surf board shaping is very meticulous and you have to really understand masses, aerodynamics, and how the board interacts with the water … whereas making sculpture, there are no rules, there is no logic to it." Morlat sees the connection between art and surf as a conceptual one: "I don't like 'surf art' a lot. I think John McCraken is a good example of someone who is transcending that thing. He is using polished surfaces (McCraken used the fibreglass and plywood used in surfboards to create stark, modern monotone 'plank' sculptures from the '60s. But it's rectangular, so it doesn't get so literal."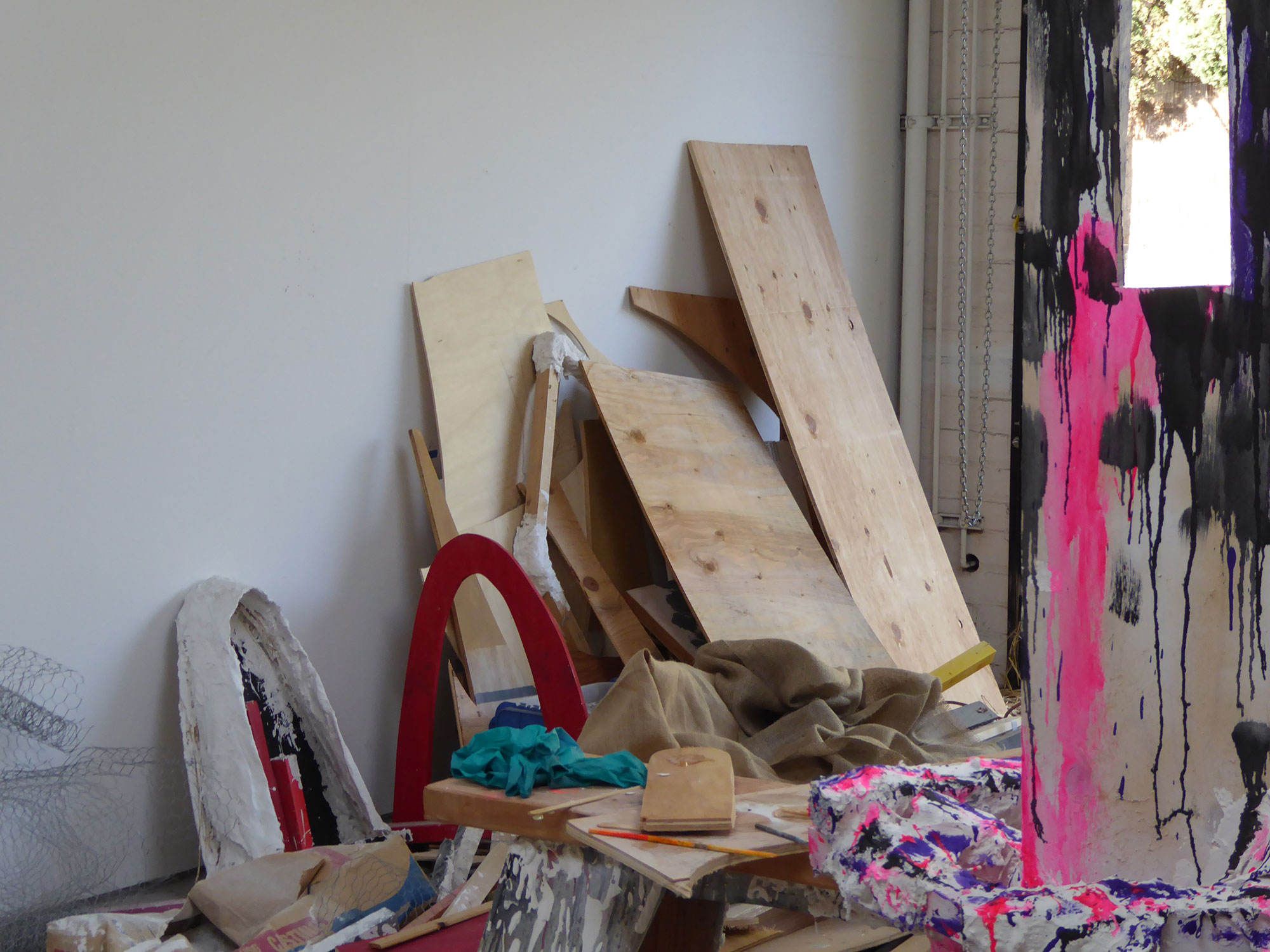 Morlat continues: "I'm not sure if there is a direct influence [of surfing on art], but the one thing I want to say is that I think both surfing and art are ultimately completely purposeless, and that's what I really like about them: that there is really no purpose to it. A lot of sports you have to shoot goals, it's about how fast you go, and all this. Surfing is such an ultimately personal experience, and in that way, I would compare to art."
I catch British artist Oliver Clegg now resident in Brooklyn, while he's watching some waves that are very personal to him. "I'm looking, as we talk, out at sea, in Cornwall. Seven years ago, I made a decision to leave London and come down to Cornwall and actually learn to surf. So for me, my favourite place to surf is not necessarily where the best waves are. It's the waves that you have on your doorstep and waves that belong to the place in which you feel most comfortable that could be your favourite waves to surf, because you are surfing with your friends, running onto the beach out of your house."
Clegg's output ranges from painting and sculpture to installation and performance, all imbued with a dark humour and inherent critique of popular culture. How does he relate his surf pursuits to his multi-disciplinary artistic practice? "I feel that surfing is one of those things, the same with painting – it takes important preparation, it takes dedication, it takes the love of doing it, and all these things, to create an end product which is genuine, that is borne out of integrity."
So what would Clegg conclude about today's generation of artists, who seem so susceptible to the siren-like seduction of the sea? "Everyone needs some kind of single-minded pursuit, which will draw all of their focus, in order to remove all of the other distractions, the trivia." Surfing is "is a very 'non-finite' experience, and for that reason, it's a constant addiction because you are trying to realise a goal which is potentially not possible." But in the end, Clegg says that it's not all that complicated. "The whole point is 'ride and glide.'"