They've worked with Givenchy's Riccardo Tisci and Balmain's Olivier Rousteing, and NikeLab's love affair with the Paris fashion world continues apace with their latest collaboration with Louis Vuitton's menswear designer, Kim Jones. "I've always wanted to work with Nike," says Jones, whose earliest menswear collections were heavily sports influenced and pre-dated the high-end athleisure or sports luxe movements of recent times.
Jones has been an obsessive Nike fan since he was nine years old and has hundreds of pairs in his sneaker collection. So when working with one of his dream apparel brands on this Rio-Olympics-ready collection, he says, "It was really key that it was very authentically Nike. I wanted it to be everything they do the best."
The NikeLab x Kim Jones: Packable Sport Style collection includes reworked Windrunners and NikeLab Air Zoom LWPs, all of which pack into one bag, ideal for perma-travellers like Jones and the athletes he's designed this for.
We caught up with Kim Jones and Kurt Parker (Vice President of Design for Nike Apparel) to talk about their mutual love of design, technology and diving into the archive.
What are the benefits of Nike choosing to work with designers like Kim on NikeLab?
Kurt: It gives us a little bit of an insight into some things we might not solve on our own and that's what is always interesting with NikeLab. Nike can offer to Kim our material research, our performance insights to athletes, and then Kim brings a completely different point of view to something like the Windrunner, which is one of the most iconic pieces of Nike apparel. Kim's is a perfect metaphor for what this collection was designed for.
Kim: It's that thing about being successful: you've got no choice about travelling anymore so I was thinking about how athletes travel and how to make that really stressful time of going to the Olympics easier. So giving them a set of clothing that's lightweight, comfortable, easy, that they can wear when they're not training and relax and feel good. That was the key aspect to it.
What's the difference working with Nike compared to Vuitton?
Kim: We do quite a lot of technical stuff at Vuitton but we can't do it to this level because the technology isn't there. Our technology is somewhere else. But this is a dream come true: to design and be able to do Vuitton and Nike. My background was the streetwear thing as well and it was really the idea of working with their technology. Whenever I work with a brand, it's about the brand first and then what I can do to add to it.
What are the key elements to this collection?
Kim: The Windrunner, which is something I used to wear as a kid on my BMX so it has a sentimental attachment. It's a brilliant design. I updated it using one piece of fabric folded in an origami way, then heat seamed and sealed using all the latest technology that Nike had. It's very simple and just packs away. The other thing I'm really proud of is the trainer. This was based on something called an LWP, which was pre-Huarache. It's a shoe that not many people know about, but it was one of my favourites from the '90s. I think it was '94, '95. We just wanted to update it.
Why did you love this shoe so much?
Kim: It took me so long to actually find my pair. I found them in a bargain bin in Miami on holiday about four years after they came out. I'd seen them in a Japanese magazine and I was obsessed by them and then I've managed to find a pair.
How have you updated it?
Kim: By taking all the new technology that Nike have and super light, easy and cool. And one of my favourite things about it of course is it my name on it!
Kim Jones!
Kim: I mean that's any guy's dream, isn't it? To have their name on a sneaker they've designed as Nike. That's the first time anyone's ever used the Nike font for their name too! That's quite an amazing deal.
Kurt: It was really interesting that you chose this model because this is kind of a bit of a kind of a cult shoe. It's not like the Air Max. It was the first signal about our pursuit of lightweight performance. What I think is so key about this collection is just how ultimately packable, lightweight and perfect it is. We spend a lot of time talking about transformative design as one of our ethos.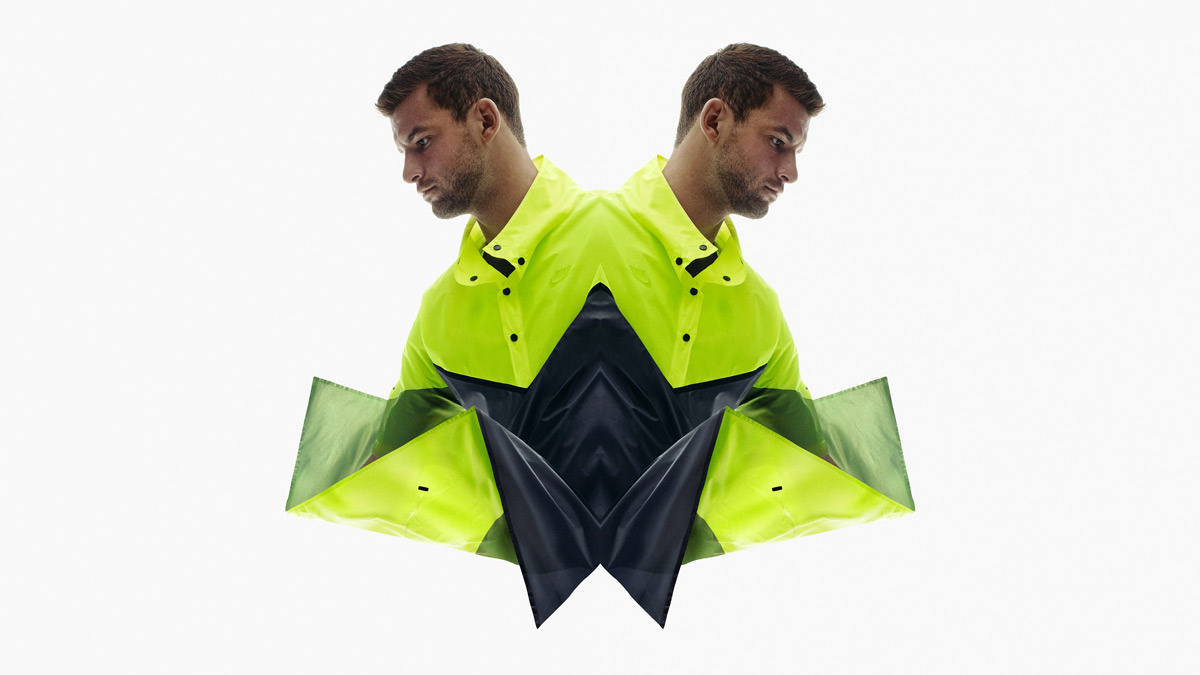 Were many of the original LWP produced? It's quite rare to find Nikes that people don't know about.
Kim: It was a kind of a concept into itself: the ultimate lightweight shoe. And it just became the LWP, which a lot of people didn't know stood for lightweight. It came in when we launched some of our first apparel advertising around running. It's when we first started noticing people wearing the Windrunner on the streets of New York because people started realising, "Hey, it's waterproof, it's lightweight, it's packable." It started the whole sports style innovation idea.
It's impressive how innovative Nike has always been.
Kim: Just think, 20 years ago there was the Huarache, the Air Max 95, the Jordan 11. They were all key, iconic sneakers being designed.
What do you make of the Nike HQ? Is it like being a kid in a candy shop?
Kim: I've been a couple of times now. I'd worked with the person before that, so that was just like a dream because it's someone I really love working with. And the guys were super great. I met everyone like Mark Parker and everyone and it was very sort of organic and natural.
What's your own Nike archive like?
Kim: I've got about 600 pairs of Nikes. I've got a little shoe room in my house in London. I've shown a few people some of the other things that I'm interested in looking at. They're always like "Oh where did you get that from? How did you know about that?" I've been fanatical since I was a kid, from about 1990. Sportswear, especially Nike, has been something that I always look at and always love.
The NikeLab x Kim Jones: Packable Sport Style collection is available 23 July here and select NikeLab stores.