As the young granddaughter of one of Hollywood's earliest and most influential studio executives, Liz Goldwyn was born into a life most would consider supremely glamorous. Growing up in L.A., everyone she knew was a world-renown musician, artist or movie star but Liz found research more glamorous than Hollywood, and has since built a career out of making history pop. Her writing and film-work merge the focused dedication of intellectual study with the brilliant and subversive storytelling tradition she grew up around.
She recently published Sporting Guide: Los Angeles 1897, a book filled with stories of vice set in pre-Hollywood L.A. Written in first-person it follows the fictional tales of men and women affiliated with the sex industry – madams, prostitutes, landlords, and johns. The year is 1897, and prostitution, booze, and opium are rife on L.A.'s East side.
Amuse met Liz at the Sunset Tower Hotel—a landmark almost as old as Hollywood itself—to talk about sex, Los Angeles and unclear delineations of past and present, fact and fiction.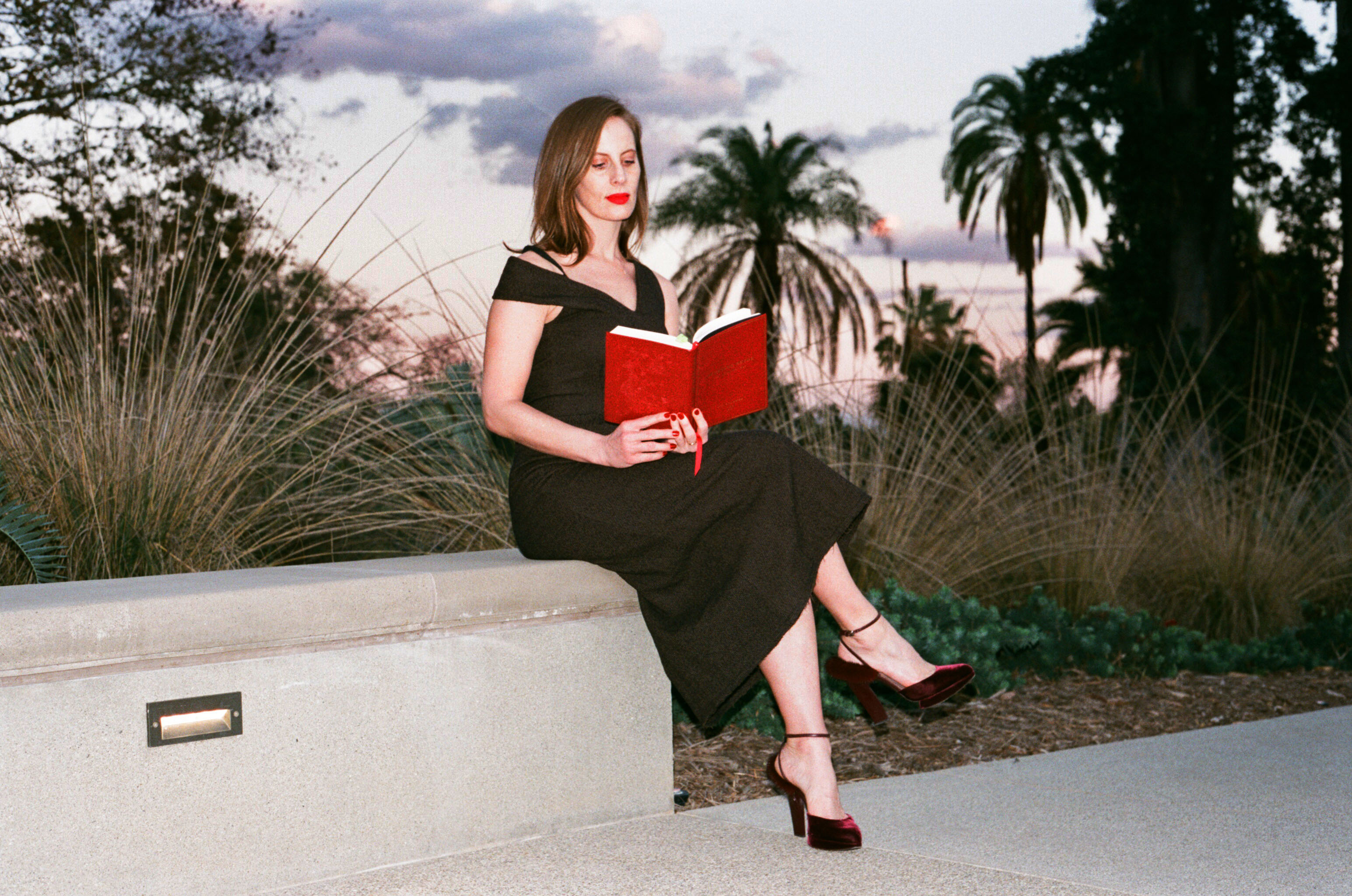 What is a 'sporting guide'?
Sporting guides are a city's guidebook to its best brothels. They've existed in every time period, culture, and language. There were sporting guides in Ancient Rome, in Paris during the Belle Époque and in Hong Kong in the 1950s. In London, there was a famous sporting guide called Harris's List of Covent Garden Ladies that was published from the 15th century all the way up until the late 19th century.
What kind of information can you find in a sporting guide?
They were like Zagat guides to the city's best brothels, with listings of all their services. They included notes about what women were known for what, and told men about any special services particular brothels offered, such as a great shoe shine or a wine cellar that was available for customer use. This book is my sporting guide to Los Angeles.
Did the information in your sporting guide come from fact or fiction?
The book is a time travel document and a diary. It's fiction – I made most of it up. I spent many years on the historical research, but it's as much about 1897 as it is today. A lot of the dialogue and situations are taken from my own contemporary experience over the last eight years. If someone wants to take it as nonfiction, they can.
Books are about the reader's own experience of them. A lot of people have told me they find the book very sad and it's filled with my own personal sadness. But now, that sadness isn't mine anymore.
Has sex changed tremendously since 1897?
Nothing changes. There's only like seven human storylines ever told. The story used to be boy meets girl, and now there are multiple variations of that. The larger experiences of love, sex, intimacy, and connection don't change. The technology, the clothes, and the slang are what changes, and yet everyone's individual experiences of sex are always different. That's what makes it so exciting to study.
This book is largely about madams and prostitutes. Your last book and documentary were about burlesque queens. What draws you to these women of vice?
I'm really interested in women who have been forgotten by history and society. At the time, these women were really shunned by their peers and looked down upon. But they were just making a living. What's the difference between their work and any other trade? For some women, these kinds of jobs were the only type of work available to them.
Are the stories of prostitution in the book unique to their late-Victorian time period?
Again, people's universal experience of love and sex doesn't change. The stories of prostitution and the archetypes I play with in the book can be found across many different time periods and countries. There's the young girl seduced into a life of vice, the hardened madame that's been used by the system, the drug-addicted madame, and the man who can't feel. You see those same types of characters over and over again throughout all of history.
One of the chapters in the book is told from the perspective of an old L.A. landowner named Bartolo Ballerino. Did he really exist?
Yes. He was a real person and mafioso, but I've made up certain details about him in the book. According to the census, Ballerino was from Chile, but he was actually from Italy. Back then, he owned all of Los Angeles' Red-light District, Alameda Street and Chinatown. He wasn't a pimp per se, but the women of the brothels paid him rent. He also owned all of the saloons that worked with the women to sell alcohol to the johns. Clearly, he was making a ton of money.
He also had loads of kids, but he kept his family away from his business. He kept them West, far away from the vice.
Why set a story in L.A. during this time?
People don't think there was an L.A. before the movie business. My grandfather made the first feature film here in 1914, called "The Squaw Man," and this story is set in 1897, almost 20 years before that. Even in 1914, the movie business was still primarily happening on the east coast. But by 1898, L.A. had the fifth symphony in the country. We had paved streets downtown, and there were electric streetlights and fancy department stores.
Also, there was more technological advancement and change between 1900 and 2000 than in the two thousand years before that. These stories are set at the dawn of all that change, in a society that's still very much repressed and Victorian in terms of sexuality. But you have things like the beginning of the vibrator are going on. I loved the idea of setting a story during such a tipping point and in my hometown before people thought there was something here.
Are you proud to be from L.A.?
I'm such a California girl, and that's not just about Hollywood. It's about surf culture, skating, and all of L.A.'s diversity and eccentricity. Like, as the US tipped west, the whole New Age movement began in L.A. I read the Census records from 1840 to 1910 and saw that as we got closer to the turn of the century, there were tons of mentalists, palmists, magnetic healers, and clairvoyants coming to the West.
Sporting Guide, published by Regan Arts, is now available. £19.99 ($29.99)