Italian electronic musician and composer Lorenzo Senni spent his adolescence straddling an unusual divide. "When I was a teenager I was exposed to a certain kind of music: techno, trance and gabber were all the rage in the clubs I was going to," he tells me. "But I was actively part of the local straight-edge scene. More often than not I'd be the only sober person out of six thousand in a nightclub. I was a rave voyeur, and it's only now that I'm really beginning to understand what that means."
Before the Teutonic thump of techno's mechanistic 4/4 thud took hold, the discotheques of Senni's hometown of Rimini shook to the sound of Italo, that high-energy, high-camp, super-synthetic take on disco's overblown melodrama. For many music lovers, the place and the sound are entwined. While you're now more likely to hear deep house than Daniele Baldelli, something of that sweat-soaked hedonism of the heyday of the Italo disco scene hangs in the air. Well, according to Senni at least: "Semi-naked foreign people walking in the streets have always been part of my life."
"Semi-naked foreign people walking in the streets have always been part of my life."
"Pointillist trance" is a term of Senni's own devising and one he hasn't been able to shake off. Until now. It is also an alarmingly accurate description of the music you'll hear on albums like 2014's superlative Superimpositions, and its predecessor, 2012's Quantum Jelly—records that shudder under the weight of glistening arpeggios, comprised of tracks that build and build like the most sugar-rotten big-room trance going. Except they build to nothing. There is no release, no drop, no big bang. There is constant, disorientating elevation.
Senni's latest project, following on from last year's bigger-than-Jesus "The Shape of Trance to Come" 12", sees the producer changing tack. His recently-released-on-Warp but first composed in 2016 score for Italian director Yuri Ancarani's The Challenge, an elegiac, languid, arthouse film about falconry might come as a shock for anyone expecting another dose of club-ready hyperactive hypnosis.
The Italian's brand of voyeurism goes beyond the club; you can see it in his collaborative film work, with its intensity of focus. It is there, too, outside of the studio. Photography, he tells me, is a major passion, and has been ever since he toured Italy with hardcore bands as a younger man. "When I was twenty I had the privilege of spending two years with Guido Guidi—the most important living Italian photographer."
Guidi didn't just teach Senni the technical aspects of photography. "He gave me an understanding of the entire history of image and representation, from hieroglyphics to sacred paintings, Lee Friedlander to Stephen Shore."
There's a tightness to Senni's music that is redolent of this interest in image and affect; his super close-up soundscapes can feel like watching landscapes flash by under a ceaseless wave of strobes. Things hover into view and fade immediately, remerging when you least expect them. It is music that tends toward the synaesthetic—a sensorial overload.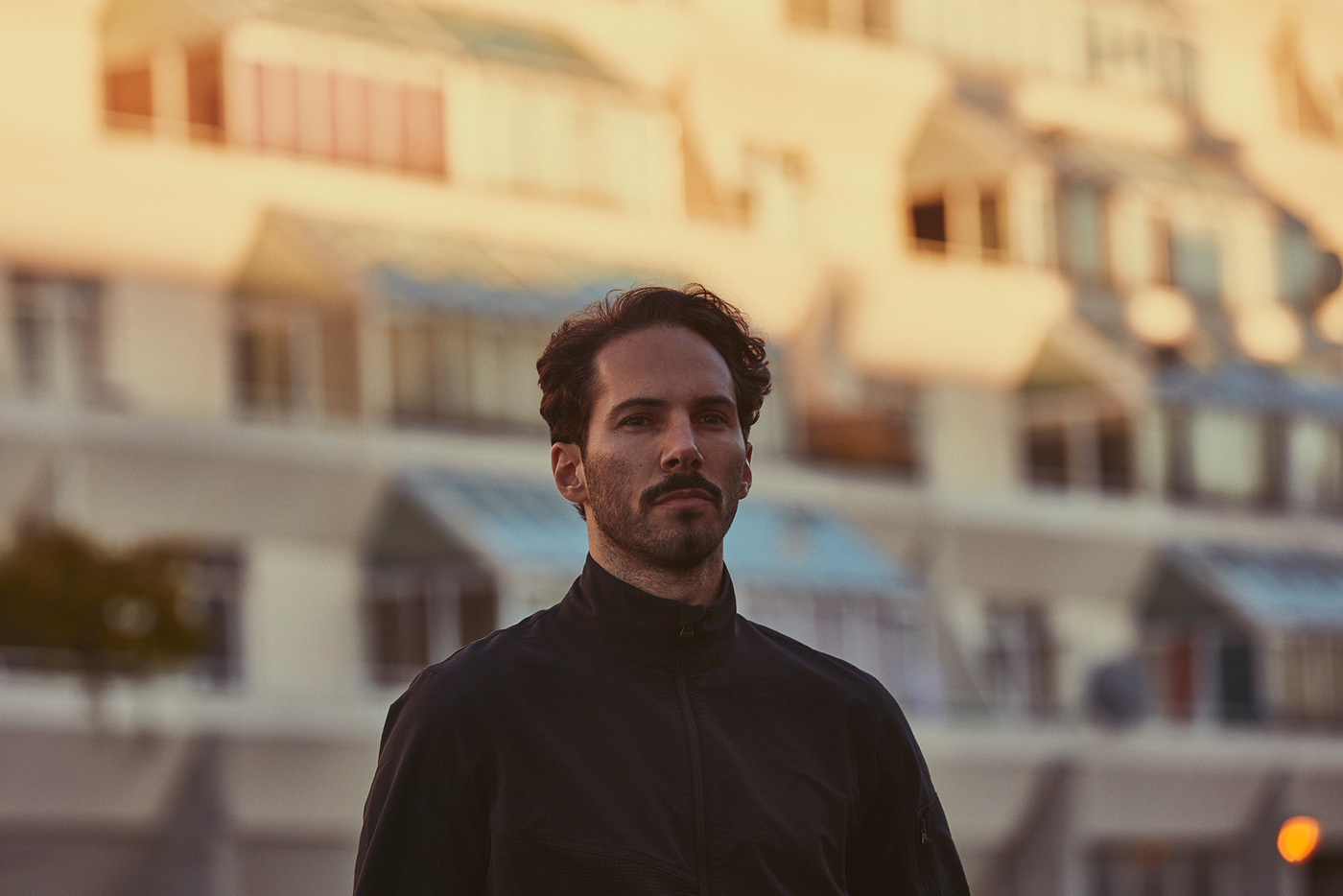 "Years ago Yuri mentioned to me that he was working on a new longer movie about sheikhs and falconry but he never asked me to work on the music," Senni says of the anthropologically-rooted documentary that observes the curious hobbies of the super-rich in the desert. "Initially he wanted to explore something close to the hip-hop world for the soundtrack, and then, luckily, he realised this wasn't the case."
The result of a friendship strengthened by a mutual obsession with Magic: the Gathering, a collaboration with a sixty-piece orchestra, and a determination to radically remodel and reshape the past, Senni's work on The Challenge is an organic take on the propulsively electronic sound he's made his own. With Ancarani's footage ranging from bidding for birds to Sunday-driving with exotic cats in SUVs around the desert, Senni's fluttering, effervescent score acts as the perfect accompaniment to one of the year's most intriguing and unusual releases to date.
How he'll parlay The Challenge's big-band sound into his live show remains to be seen. That aforementioned feeling of overload is part of what makes Senni's gigs so exciting. They churn and churn, working themselves up into an unresolved frenzy. They demand total commitment and concentration from his audience. This summer, he'll be bringing his abrasive, melodic, and confrontational experience to Barcelona's Sonar festival and the Lowlands event over in Amsterdam.
"I really love playing live. I've always been in bands and I feel comfortable on stage."
"I have to admit that I really love playing live. I've always been in bands and I feel comfortable on stage," he says. "I love festivals because I get to see the bands and artists I like and if I'm lucky I can meet them, too. I'm still a fan boy, and that's what keeps me enthusiastic about music. I'm always excited about it."
He cites getting a "very rare" Plastikman t-shirt at C2C in Turin, and meeting shoegaze legends Slowdive at Rewire in the Hauge as prime examples of what makes the turmoil of travel worth it. He's also keen to tell me that Helsinki's Flow festival (which this year features acts as diverse as Patti Smith, Young Marco, and Terry Riley) is the one he'd visit out of a choice as a punter.
The other thing that gets him through the late nights and early mornings, the stale croissants and bad coffee at airports across the globe? Fennesz's seminal 2001 LP Endless Summer.
That's a tip that you can have for free. Just thank Lorenzo Senni next time you're sat slumped in Terminal 5, wondering just how a cheese and ham sandwich can taste of absolutely nothing.
Lorenzo Senni's soundtrack to The Challenge is out now.