Few non-New Yorkers realise that there is a thriving beach scene just a subway ride away. For those who don't have the time to escape the summer heat in the Hamptons or Fire Island, these local beaches offer great range, from surf spots to MoMA PS1 collaborations and pop-up food to Buddhist meditation. Here's the local Rockaway Summer zine/site's pick of the best.
Riis Park
Dubbed the "People's Beach," this stretch of sand has experienced a post-Sandy resurgence thanks to an array of unique pop-up vendors at
Riis Park Beach Bazaar
. With its pristine and accessible waterfront and laid-back vibe – which, believe it or not, rivals that of neighbouring Rockaway Beach – Riis Park offers everything from wood fired neapolitan pizza (Slice of Whit) to artisanal popsicle treats (Trop Pops). If you follow the smell of smoked hickory, you'll find Brooklyn mainstay Fletcher's BBQ and would be remiss not to try their brisket sandwich. Rally at the end of a long day in the sun with local live music and DJs at the Bazaar.
Fort Tilden
There's a reason Fort Tilden draws both naturalists and artists alike – its stunning coastline, dotted with grassy knolls and sandy dunes, feels like the perfect escape from the manic buzz of the city. NYC's best kept secret is short on amenities so BYOB and make the trek down to the beach with some friends to hang brain and soak up rays.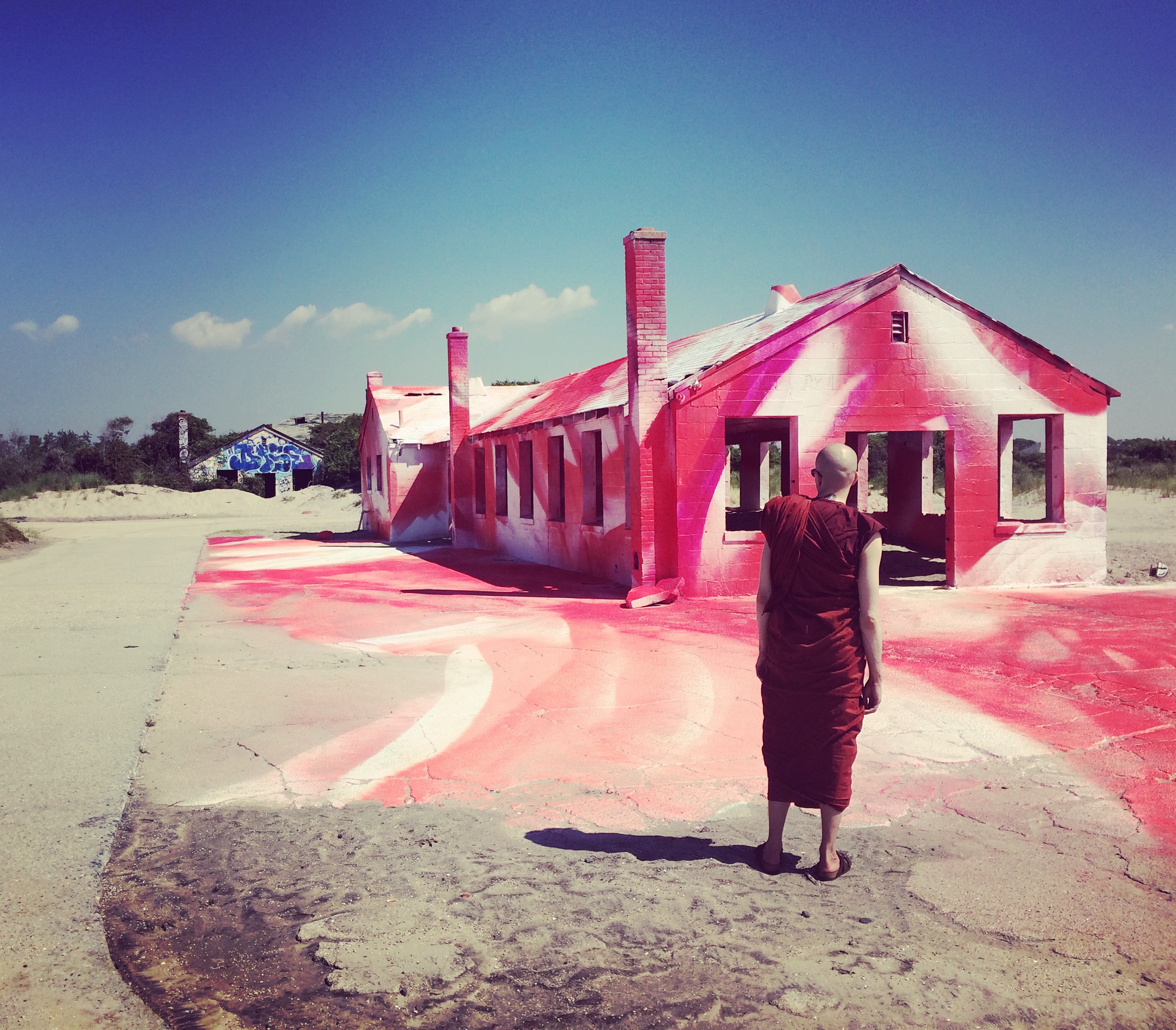 Part of Fort Tilden's charm is the outdoor art installations that line the beach. This summer, the Rockaway Artists Alliance and MoMa PS1 transformed the dilapidated aquatics building into a vibrant work of art. A place so unusual that it will double as a meditative set-up when Tibetan Buddhist nun Khenmo Drolma will come to lead a meditation retreat amidst the artwork on July 31st. It's the kind of thing you could only find in a place as strangely cool as Fort Tilden.
Rockaway Beach
For those in search of tasty waves and a cool buzz, Rockaway Beach covers all bases. Stepping off the A train at Beach 90th, it feels like you've entered an alternate reality where brash NYC attitudes are replaced by more mellow vibrations. Home to the city's only surfable beach, Rockaway is a special place unlike any beach town you've probably experienced. Get there early to start your day with free insight meditation on the beach, as led by local Buddhist monk Bhante Suddhaso from
Buddhist Insights
.
Afterwards grab a board and catch some waves. Since centring mind, body and spirit and hanging ten all morning can work up an appetite, you'll want to make your way over to the Rockaway Beach Surf Club on 87th where you can find the most choice fish tacos NYC has to offer. If you're looking to stay by the beach, Ripper's at Beach 86th is the go to for burgers and booze. And there's no better way to end your day than a frozen treat from Connolly's Irish bar – the piña coladas are a local favourite.
Manhattan Beach
Cleaner than gritty neighbouring Coney Island and smaller crowds than nearby Brighton Beach, Manhattan Beach is a chill spot to hang out and find refuge from the brutal NYC summer humidity. Originally conceived as an exclusive vacation spot for New York elites, getting to the shore from the nearest public transportation is enough of a walk to keep the Coney Island crowd out, but close enough to make for a simple weekend outing. You'll find hot dog carts scattered about the five blocks of shoreline, but if that's not your thing skip the concessions and pack a picnic basket. The overall experience feels quintessentially New York.
Brighton Beach
Those seeking escapism and solitude may want to find a beach elsewhere but the payoff of snagging a spot on the sand here is that the neighbourhood can seem like another world – the Old World. Known as Little Odessa, Brighton Beach feels as much like Brooklyn as it does Mother Russia. An ethnic enclave made up of mostly Russian immigrants, this beach spot eschews the traditional boardwalk fare of corndogs and cotton candy for black bread, dumplings and vodka.
For a time Brighton Beach was known as a flash point for Russian mob activity. These days you're more likely to find families looking to escape the heat and enjoy a day at the beach. To get the full Brighton Beach experience, dine on the boardwalk at Tatiana Restaurant. The flavour is completely foreign and the people-watching does not disappoint.