For three months every other year international artists and curators descend on Morocco's cultural capital for the Marrakesh Biennale. Launched by Vanessa Branson in 2004, this year's edition, titled Not New Now explores modernism and our material culture – and runs until mid-May.
And with the Guggenheim Abu Dhabi's Reem Fadda on board as curator, there will be an added emphasis on introducing works by emerging female artists to Morocco, she told Amuse over the phone earlier this week. This also extends to the parallel projects, like the MB6: Street Art program, which takes place in Marrakech and Essaouira on Morocco's Atlantic coast, and is curated by the founder and director of Attollo Art, Vestalia Chilton.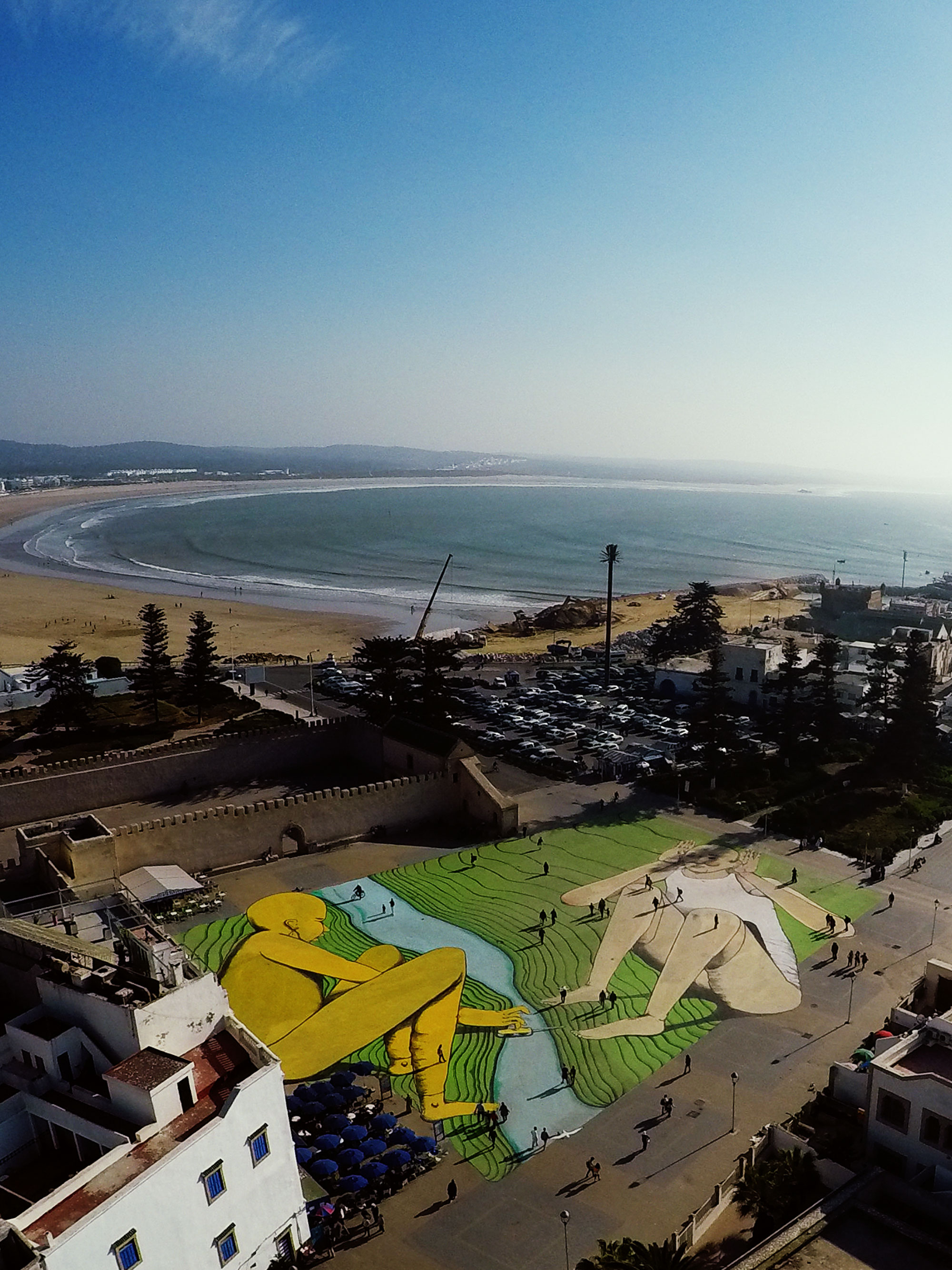 To kick off this year's biennale, the organisers have unveiled the biggest piece of public art in North Africa, in Essaouira's Moulay Hassan Square. Completed yesterday by street artist Giacomo Bufarini, aka RUN, who's work has appeared on walls in L.A., China, Senegal and his native London, the mural reflects the town's musical heritage; famous for its Jazz festival and frequent visits from Jimi Hendrix—the town's urban legend is that he wrote 'Castles Made of Sand' while staying at the Riad Al Madina—it shows two figures communicating with musical instruments across a blue stream.
As well as being a platform for contemporary art in Africa and the Middle East, the biennale will be hosting works from international artists like Oscar Murillo, London-based collective The Otolith Group, and the South African artist Dineo Seshee Bopape—who held his first solo UK show at the Southbank Centre last August—across Marrakech, and adds another layer to exploring the city beyond the souk.
The 6th Edition of the Marrakesh Biennale runs from 24th February – 8th May.
marrakechbiennale.org
Read: 'How a Surrealist Architect Saved Lanzarote'
Read: 'Could Jamaica Become Contemporary Art's Hotspot'
Read: 'A Digital Archive of Peace in the Middle East'