For the adidas ambassador and former #BEENTRILL DJ, Florencia Galarza, getting into the game was inevitable. After flirting with tennis, swimming and even water polo, she settled on soccer. "I actually have more tennis trophies and awards than I do soccer! But my family are from Argentina so we always had a soccer game playing on TV. I just loved the idea of being on a team and scoring a ton of goals." says Galarza.
Staying true to her roots, Galarza quickly became one of the fiercest players her age. She's the founder and captain of KITH FC – who've been going for two years – where she's led the tight crew through winning (and losing) some national championships, such as the super-competitive Bowery Premier League in Chinatown. "Sometimes I can be a bit soccer mom-ish and bring the guys orange slices and Gatorade," she says. "But it's an awesome mix of creatives, pro-soccer players and everything in between."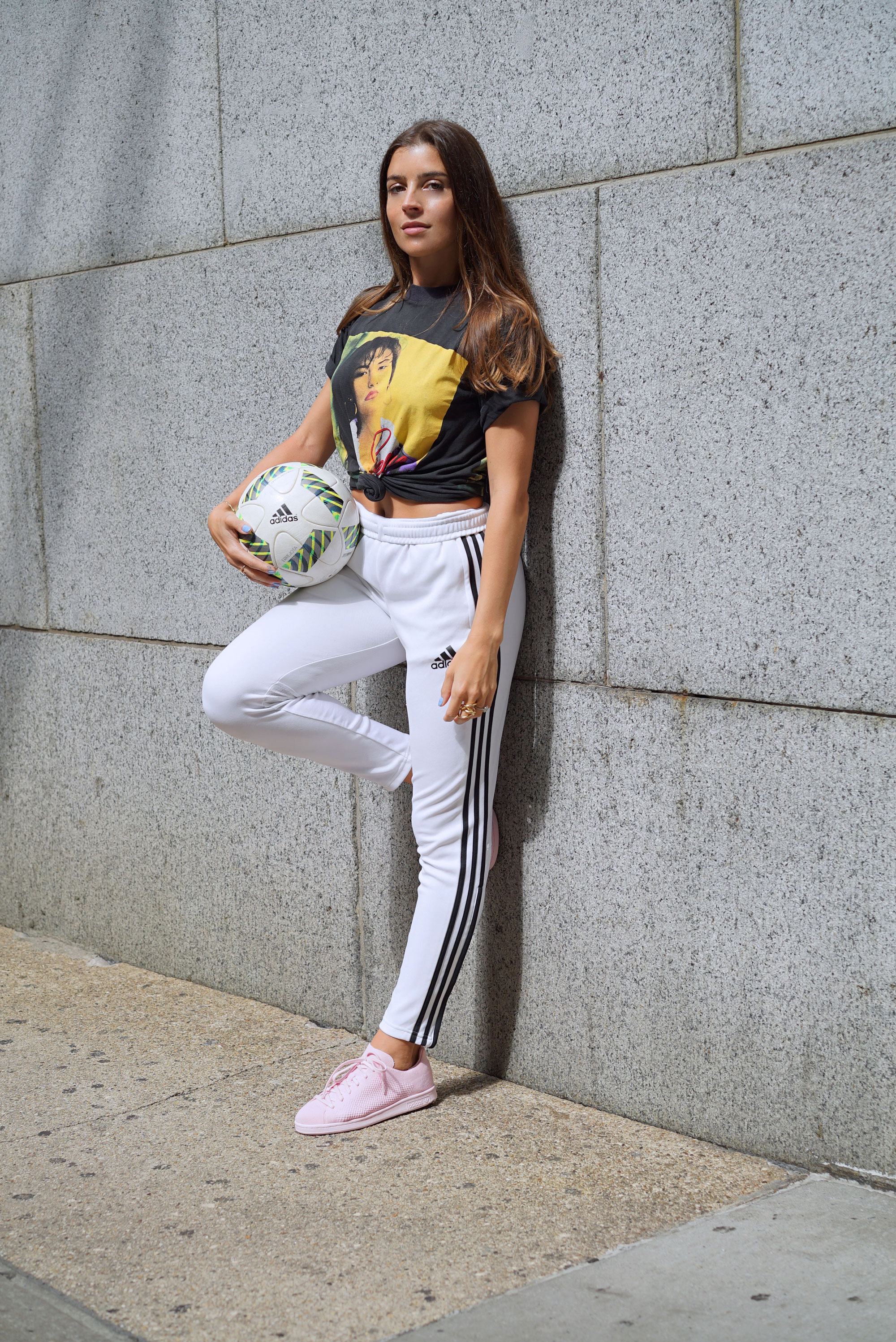 She just featured alongside A$AP Ferg and Snoop Dogg in the latest adidas campaign. But for 31-year-old Galarza the future is about getting onto Argentina's Women's National Team. Amuse caught up with her to find out her pro-workout tips and how she stays in shape.
Cardio is key
Get in a few miles whether it's on a bike, a treadmill, outdoors or anything that will get your heart pumping. This is where you will see a difference in your body, as well as building endurance, speed or both, depending on what you choose to focus on.
Core core core
Your core is SO important. It helps with just about everything from running to upper body strength. Plank, Pilates, sit-ups. Not only is a flat stomach cute, but it helps facilitate other exercises!
Use proper kit
A proper running shoe will make your cardio smoother as well as prevent injuries. I'm a plantar fasciitis survivor; I wore the wrong running shoe forever until I found the Adidas Ultra Boosts.
Nothing happens overnight
If you're just starting, be ok with the fact that results don't happen overnight and it's a process. Be realistic, give yourself time and do not give up! Make it part of your life – like breathing – you need it to survive. I'm pretty extra about it!
You want a booty?
Then you better squat. That's all.
Find what makes you happy
This will help keep you motivated and positive. It's a mental game on and off the pitch. Staying in shape shouldn't be a daily burden.
Eat clean
But don't put yourself on a strict diet. Just be aware of what you're putting in your body and how it makes you feel (both physically and emotionally).
Sleep and water are key
I know sleep can vary, so drink mad amounts of water!