They say one out of every seven Americans can trace their roots back to Brooklyn. That's exactly the kind of factoid that a Brooklyn girl is told as a kid, and proudly spews as an adult.
Spike Lee, Michael Jordan, Jay Z, Barbara Streisand, Bernie Sanders! The innovators, the disruptors, all these game-changers were born in Brooklyn and I'm pretty sure their parents didn't move there for perfect handlebar moustache grooming. Before Brooklyn-culture annoyingly became a catchall phrase for Williamsburg, there was and continues to be a thriving creative scene and cultural melting pot outside of this one neighbourhood. Crown Heights, is one such place, as it undergoes a cultural Renaissance, mixing the new wave and the old guard.
Home to a large community of West Indian immigrant families (like my grandparents who bought a home there in the 80s) and Hasidic Orthodox Jews, Crown Heights is a neighbourhood that was occasionally fraught with tension (see the Crown Heights riots), but also encouraged amazing fusion (see Jewish reggae singer Matisyahu who was affiliated with the Chabad-Lubavitch Hasidic Community in Crown Heights).
Looking for a taste of the real Brooklyn? Look no further than Crown Heights.
Morning Coffee:
You know that stereotype of a coffee shop full of freelancers? Crown Heights has plenty. And even on the blocks where there are literally three, they are all, always full. Every day. If you had come to Crown Heights a few years back, you might have spotted a pre-Oscar Lupita Nyong'o here. Check out Breukelen Coffee, a perennial favourite.
To Eat:
If you like food, you've definitely come to the right neighbourhood. From South Korean to Jamaican and Senegalese food, you can find a spot for whatever you're craving.
Silver Krust
One of the OG's of the neighbourhood, this West Indian cuisine eatery has all the Jamaican classics: curry goat and escovitch fish at great prices. They're not taking foodie pics on Instagram, they're too busy serving good eats to their loyal customers daily. My uncle is a West Indian food caterer and one of the best chefs I know, so when he tells me, I can eat from a place, you know it's good.
747 Nostrand Ave
Cafe Rue Dix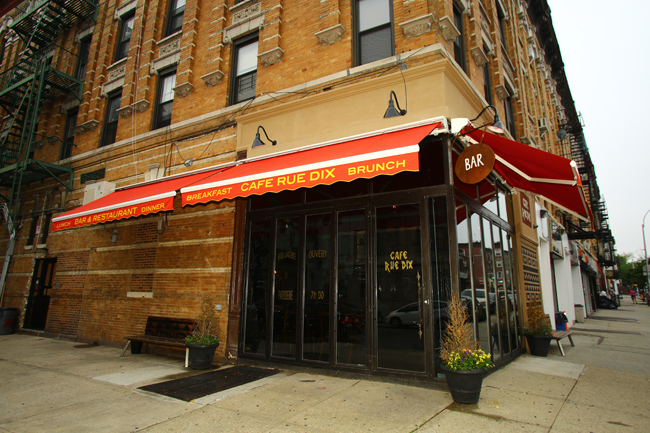 On the other end of the spectrum is Café Rue Dix, a delicious French Senegalese restaurant that's becoming a destination after being written up in places like the New York Times. Don't worry though, fame hasn't changed them, they're still Rue Dix from the block. Go there anytime of day and you'll see locals lounging and chatting with the owner over a delicious green juice or one of their amazing prawn spring rolls. And they have an amazing tea selection too.
1451 Bedford Ave @ Park Place
Abigail's Bakeshop
Newcomer to Crown Height's food scene, Abigail's Bakeshop is essential for those with a sweet tooth and is fast attracting devotees.
1413 Bedford Ave
To Drink:
The neighbourhood is a great blend of families, couples and singles, so it's got pretty bustling nightlife but just so that you stick around on the weekend and not so much that you feel like you living in a dormitory.
Crown Inn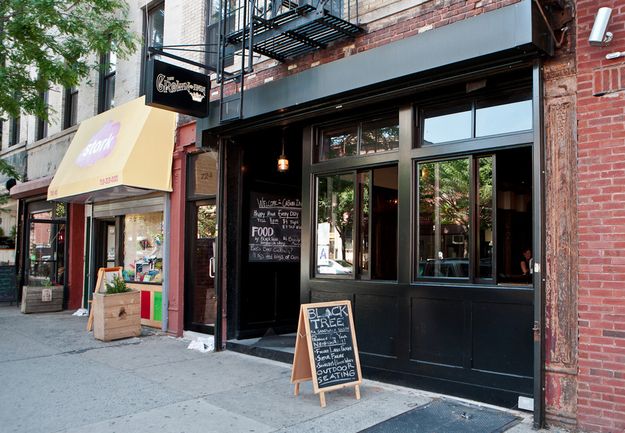 There's never a bad night to visit the Crown Inn, but definitely the best night to get that Crown Heights flavour is a Monday or Tuesday. There's definitely a Cheers vibe to this bar with a phenomenal bourbon selection. With wooden interiors and craft beers it'd definitely be easy to lump CI into another hipster bar (but with friendly prices.) You're as likely to see the girl that just moved into the neighbourhood from California as you are to see the guy who was around when Franklin Ave. was no man's land, having a drink together.
724 Franklin Ave
Friends and Lovers
You know sometimes you just wanna whine and ga' down? From dancehall to Prince tributes, Friends and Lovers is a good place to work up a sweat on a Saturday night. A revolving door of top DJs make this a spot you'll keep coming back to.
641 Classon Ave @ Bergen
Franklin Park
If you're looking for something in between, try Franklin Park. A great date spot with a nice outdoors area, there's always a game on, but even better, there are arcade games and ski ball because why limit the games to just your relationship?
618 St. Johns Place off of Franklin
Stoop chill…
If you have an in, i.e. know someone with a stoop, experience a stoop chill. Crown Heights is one of the most beautiful neighbourhoods in Brooklyn, there are so many gorgeous stoops to chill on, but no loitering!
Shopping:
Marché
Right next to Cafe Rue Dix, this store is so well curated with such an airy vibe, I was shocked when I realized the clothing was all vintage. Beautiful high design with a great selection of jewellery, accessories, teas, candles. Visit after a great brunch at Cafe Rue Dix.
1453 Bedford Ave @ Park Place
Unnameable Books
In the age of Amazon, it's actually a pretty great feeling and special to spend time in a bookstore. I love discovering new books on topics that I might not otherwise have read up on.
600 Vanderbilt Ave
Calabar-Imports 
This is a fun shop to pop in as they usually have some pretty unique jewellery items that are great statement pieces. The woman who owns it is so well travelled; she lived in Nigeria for many years. Most of the pieces are imported from different African countries, so you can find things you won't find anywhere else.
708 Franklin Ave
Beauty:
Elements Spa 
Definitely a welcome addition to the neighbourhood, Elements Spa is a great place to go when you want to step it up from the $10 manicure places that always are trying to get you to wear tips. Treat yourself to the Milk & Honey Pedicure – it's a milk bath, natural honey mask, organic coffee scrub and organic shea butter; it leaves your skin feeling baby soft.
764 St. Johns Place
Things to see and do:
Brooklyn Museum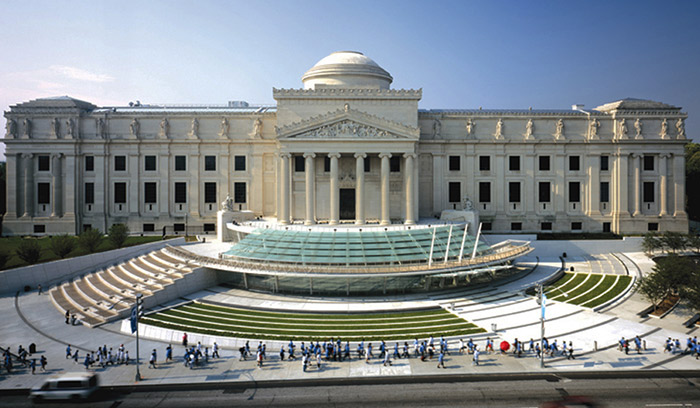 For decades, the Brooklyn Museum has been a centre of culture in the area, not only having the most thought provoking exhibitions but really fostering community growth with regular events like free first Saturdays, where entrance is free, there are added activities, live music and free-flowing wine.
Brooklyn Botanical Gardens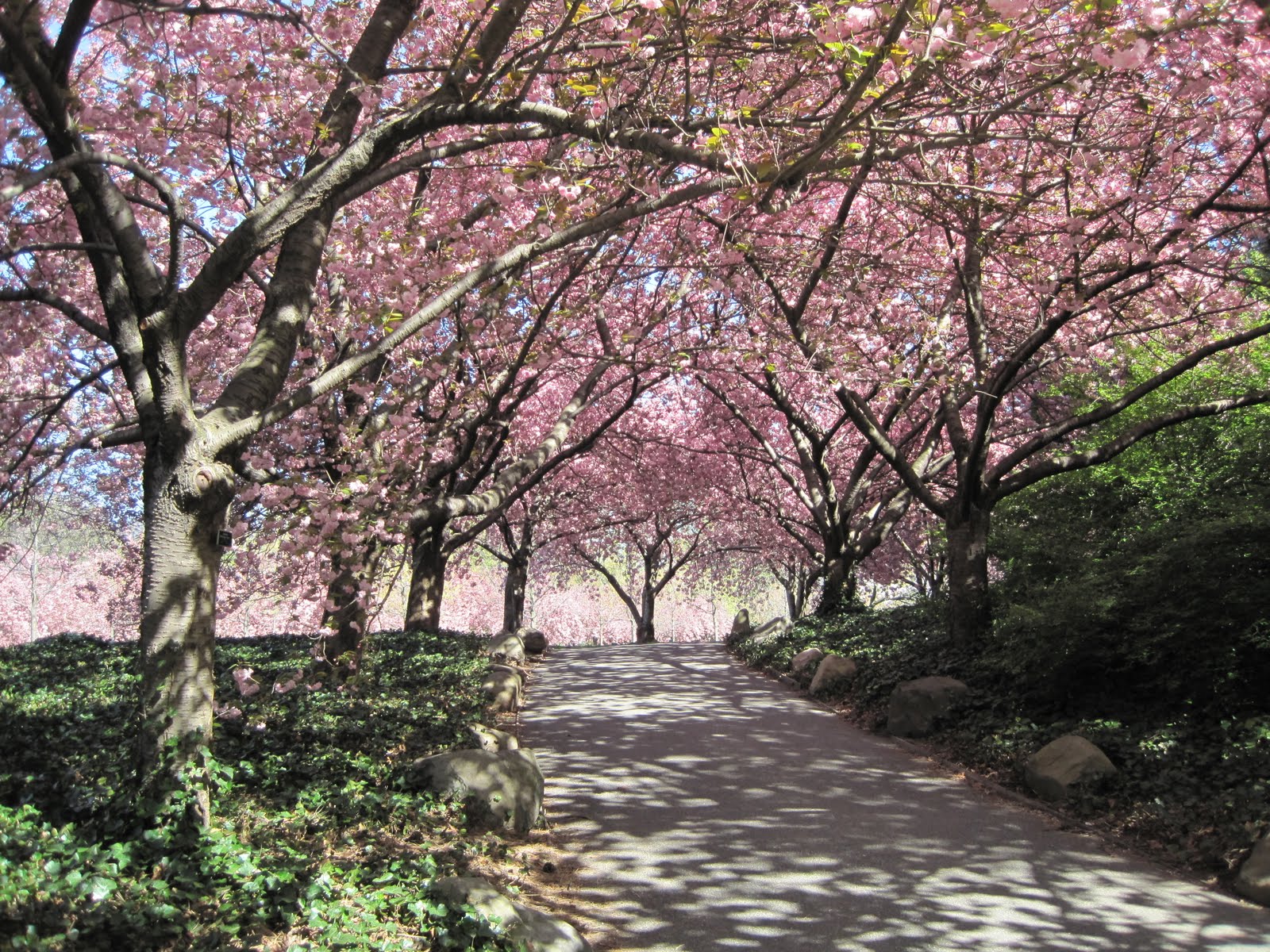 Tourists come in by the busloads to see the cherry blossoms bloom at the Brooklyn Botanical Gardens. The gardens are pretty amazing with a huge variety of flora and fauna. It's a great place to go for a breather and to meditate. There's even an English Rose Garden!
Prospect Park
Take in a quinceañera (on a Saturday in the Spring and Summer there are always at least 10 happening in Long Meadow, the main field of the Park), go on a bike ride lakeside, lie in the grass and smoke a spliff. There are so many ways to spend the day in Prospect Park that it will leave you pleasantly exhausted and in need of a disco nap.