For over ten thousand years, humans used skis to travel across the frozen parts of our planet. It's an ancient tradition, and indeed the Finnish word for skis—suksi—dates back to the Mesolithic era, making it one of the oldest known words in the world. But then in the late 70s snowboarding got invented and suddenly skiing was 'out'. All the cool kids traded their poles for baggy trousers, and the new sport surged from novelty to Olympic status in just over twenty years. It might have been the end of a long story, except that some people never ditched skiing – and the unique advantages it brings.
"For me skiing is not a sport, but a tool of liberty," says Camille Jaccoux, one of the founders of the skiwear company Black Crows. "The purpose of skiing is to discover the other side. With a pair of skis, touring skins and a backpack, you can go to places that make you feel totally different. There is real beauty in that simplicity."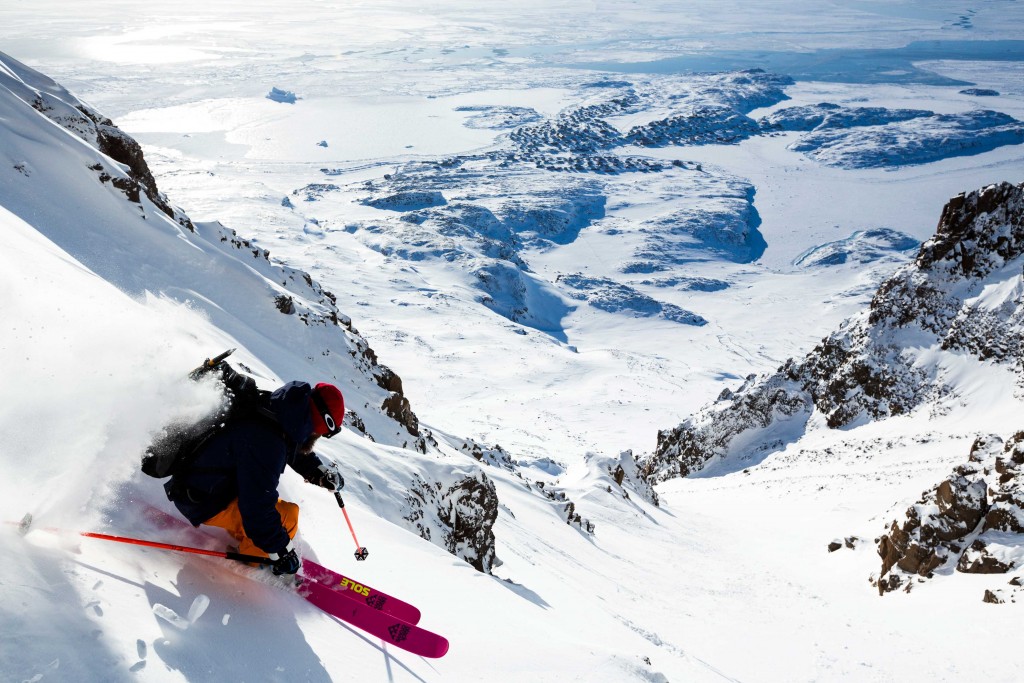 A quick look at the company's Journal shows exactly what he's is talking about – with slick photography and videos of Camille, co-founder Compagnet, their friends and sponsored skiers (the 'Crows') climbing steep hills on skis, effortlessly traversing rugged peaks and then descending impossibly beautiful and remote mountainsides. More than just skiing, it's about travel, discovery and exploration.
"Skiing gives me an enormous sense of freedom," says Compagnet. "Through skiing I am able to do what I want and what pleases me. The thing that makes skiing different from all else is that when you are a skier and it snows, all you can think about is getting out there and going skiing."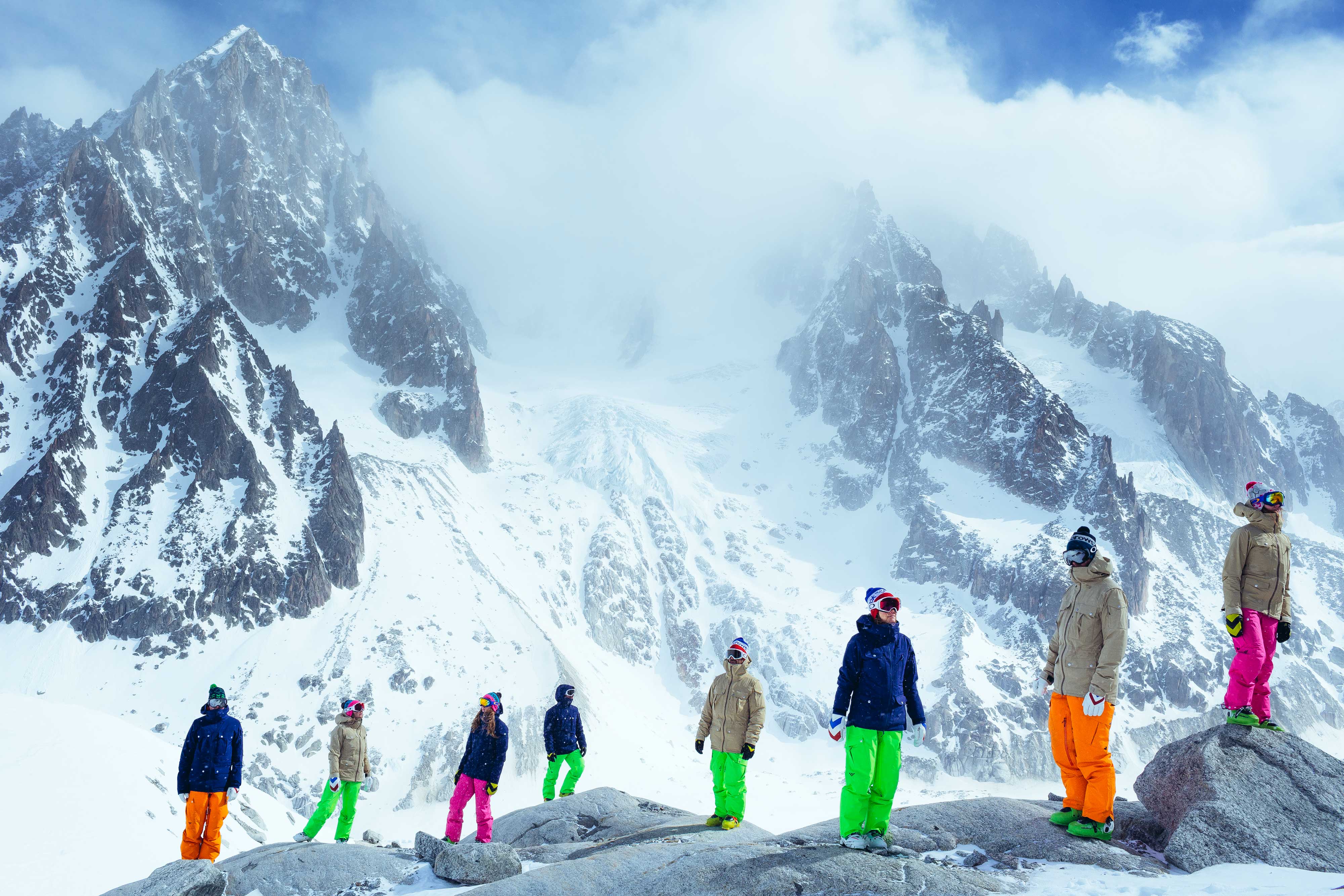 Founded just over a decade ago, Black Crows' early skies were specifically designed for 'big mountain' or 'free' skiing – essentially leaving the planned trails behind and literally heading off-piste. Well placed to know what's needed out there, Compagnet pioneered the sport and Camille is a former pro who skied as James Bond in Tomorrow Never Dies. As he explains, the brand was born as a response to a specific location: their home base of Chamonix.
"We felt that no matter what skis we used, there was nothing that performed well in the variable conditions of Chamonix, where you can ski from 13,000ft to 3,000ft in a single run," he explains. "Sure there were skis that performed well when conditions were nice, but there was nothing out there that thrived when conditions were tough. So we set out to make a ski for Chamonix, and that was the start of Black Crows."
Their first model—the 'Corvus'—was big, sturdy and bold, thanks to a eye-popping pink and black colourway created by Yorgo Tloupas of cult car magazine Intersection fame. He's been onboard as creative director since the outset and designed their minimalist logo – based on a flock of Alpine choughs, a type of crow that thrives amid the highest peaks and provides welcome company for visitors to an otherwise lifeless zone.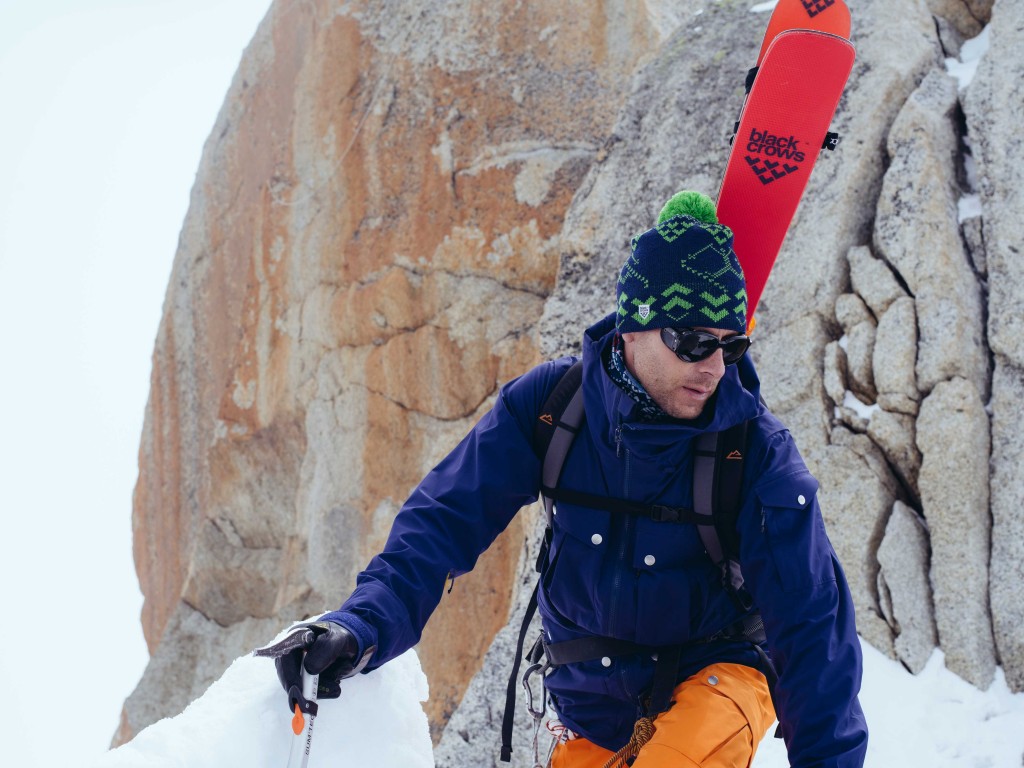 "Launching an adventure with friends has been a phenomenal experience," says Yorgo, "and we're just amazed to see what it has become in ten years. The fact that we literally were part of the adventure since the inception of the brand, in charge of every visual aspect from day one, allowed us to have an unique all-encompassing level of control over the graphics, the identity and the images. It's fantastic to spot a pair of skis proudly attached to a stranger's feet."
Those skis could today be one of the 83 different models they've now produced, diversifying into more traditional skies for those of us looking for something a little tamer than being chased by avalanches down an unmarked slope. But as Camille explains, Black Crows has also always been about more than the technical side of skiing, with parties de rigeur from the get go. Indeed, the project to build a ski for the Mont Blanc massif "soon became a project to restore ski culture. I suppose that's what is key about the brand: well-designed products with a strong identity made for free and contemporary skiing, for all skiers, and a mission to restore skiing from a Club Med holiday to a noble way to spend your time."
Nurturing this nascent renaissance is clearly something they're passionate about. Black Crows skis and apparel (developed with Gore-Tex®) is stocked in all the right places, ranging from POOL aoyama in Japan, to Galeries Lafayette and Colette in Paris. Since 2008 they've been collaborating with the latter and now do an annual 'Ski Club' together, complete with limited-edition apparel, VIP invite-only events and even a retro sew-on badge. And while snowboarding seems forever stuck with a 'gnarly' 90s image, the new ski set can draw on the sport's rich style heritage: chic slim-fitting attire, 60s glitz, 70s chintz, 80s neon, exclusive resorts and celebrity royalty, Aperol Spritz and aprés-ski.
"Above all," concludes Camille, "it is a marvellous excuse to travel and discover countries and people. That's both what I love most about freeskiing and what makes it different."