To discover what it takes to succeed in the city that never sleeps, Amuse.co is collaborating with Kit and Ace to bring you eight inspiring conversations between New York's finest. Here, skateboarder Brian Anderson and SKY TING Yoga's Chloe Kernaghan chat about mindfulness, inspiration, and getting over the fear of falling.
In the eyes of professional skateboarder Brian Anderson, yoga and skating are equally demanding. Both sports challenge you to recognise your fears and push your limits – whether that's trying a new trick or deepening an intense hip opener.
More than that, both yoga and skating ask you to find peace with any shortcomings, always being mindful of your body – pushing it to perform, but never bullying it. And, for that, yoga guru and co-founder of one of New York's most in-demand studios, Sky Ting Yoga, Chloe Kernaghan believes that the two practices are about the same thing at the core – putting out great vibes.

For Brian and Chloe, their active lifestyles aren't only a means of personal escape and focus, but also an opportunity to give back, create communities, and connect with people. Brian does this by showing people the world, remaining open and approachable – even if he is god-like in the skating world. And, Chloe does so through teaching yoga at the bright and open Chinatown Sky Ting Yoga studio. The pair met recently to talk about the generosity and compassion of their respective sports.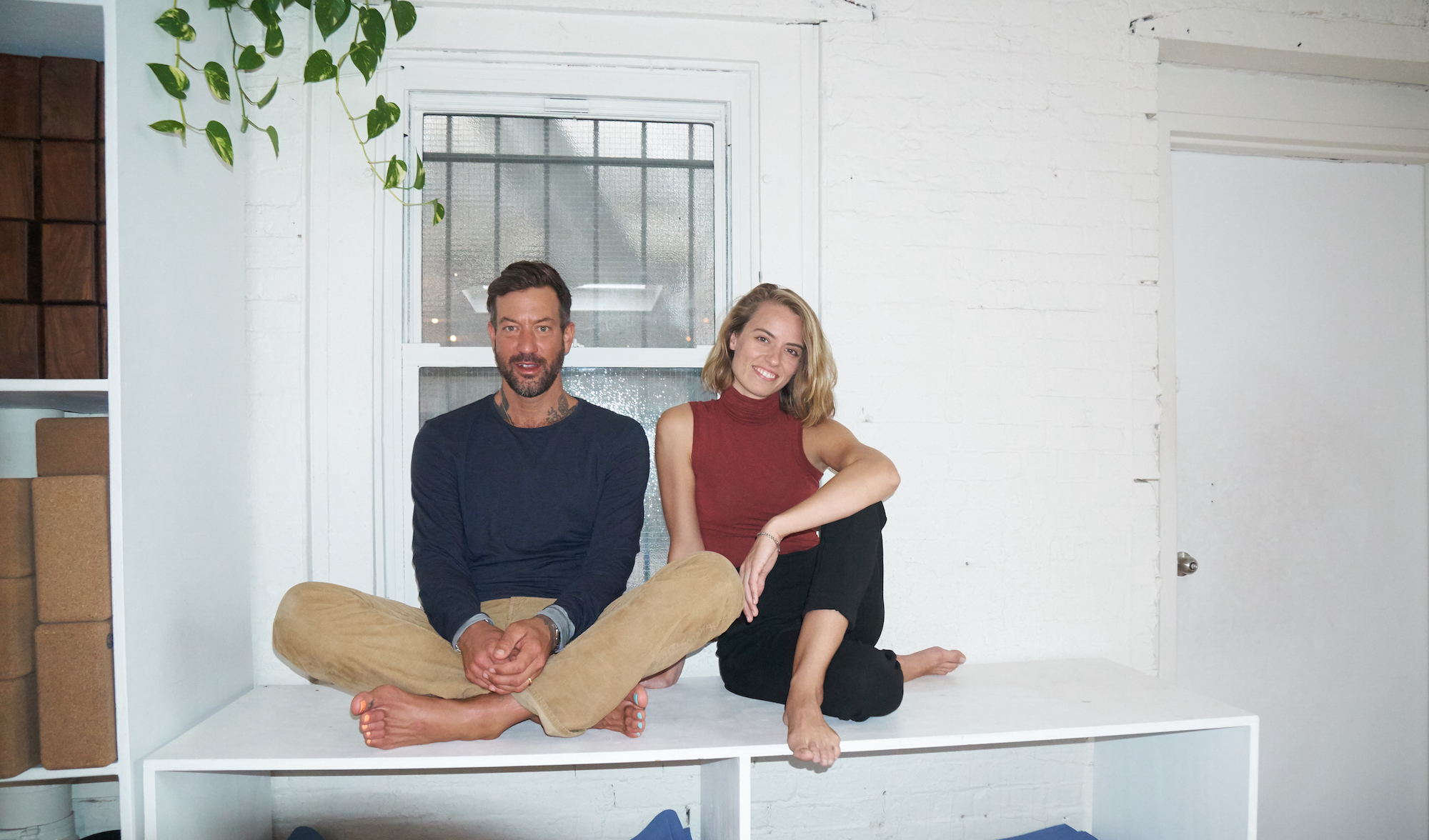 How did you get started in your passions?
Brian: I started skateboarding, because my neighbour had a skateboard and I was fascinated by it. I also used to go to the roller skating rink a lot. I was enticed by doing things with my legs as opposed to football or another team sport. I think the greatest thing about skateboarding is that you are your own coach. After I first started rolling down hills, I just kept going.
Chloe: I've been a dancer since age two. I was a really energetic kid. Growing up dancing, I developed a sense of discipline for the practice. I went to NYU for theatre and ended up doing a lot of dancing. We would do yoga as a warm-up in acting and dance classes. My school was down the street from a yoga studio so I started practising there and I stuck with the practice throughout college. When I got out of school, that's when yoga became a really strong point of influence in my life, more than just a physical practice. It helped me deal emotionally and mentally with the madness of living in New York. I did a teacher training and loved it. I've always loved teaching stuff, so teaching yoga just came naturally to me. From there it's been a bit of a whirlwind. I moved from teaching classes to teaching trainings to leading retreats, really quickly. And, now I own my own studio.
Brian: I remember when I was working in the kitchen, before I became a professional skateboarder, and I thought cooking was a great way to give back. I think what Chloe is doing with yoga as a really noble thing. She helps people relax, stretch out their bodies and be more mindful and healthy. I think it's so important to help folks become relaxed throughout the day. It must feel really good. At the end of the day, do you feel happy that you've helped people do that?
Chloe: Totally. And it's actually something that I'm constantly reminding myself of because running a studio and transitioning from being a yoga teacher to being a business owner, I feel like I'm being pulled in two directions at the same time. I have to constantly remind myself that the business is something that can really help and save people. We are lucky because we have these tools at our disposal already like techniques that we have been practising and putting into effect for many years. It's an interesting time for us, because we are figuring out how we are going to run our business in a way that maybe isn't standard business practices, but is the way we want to do things.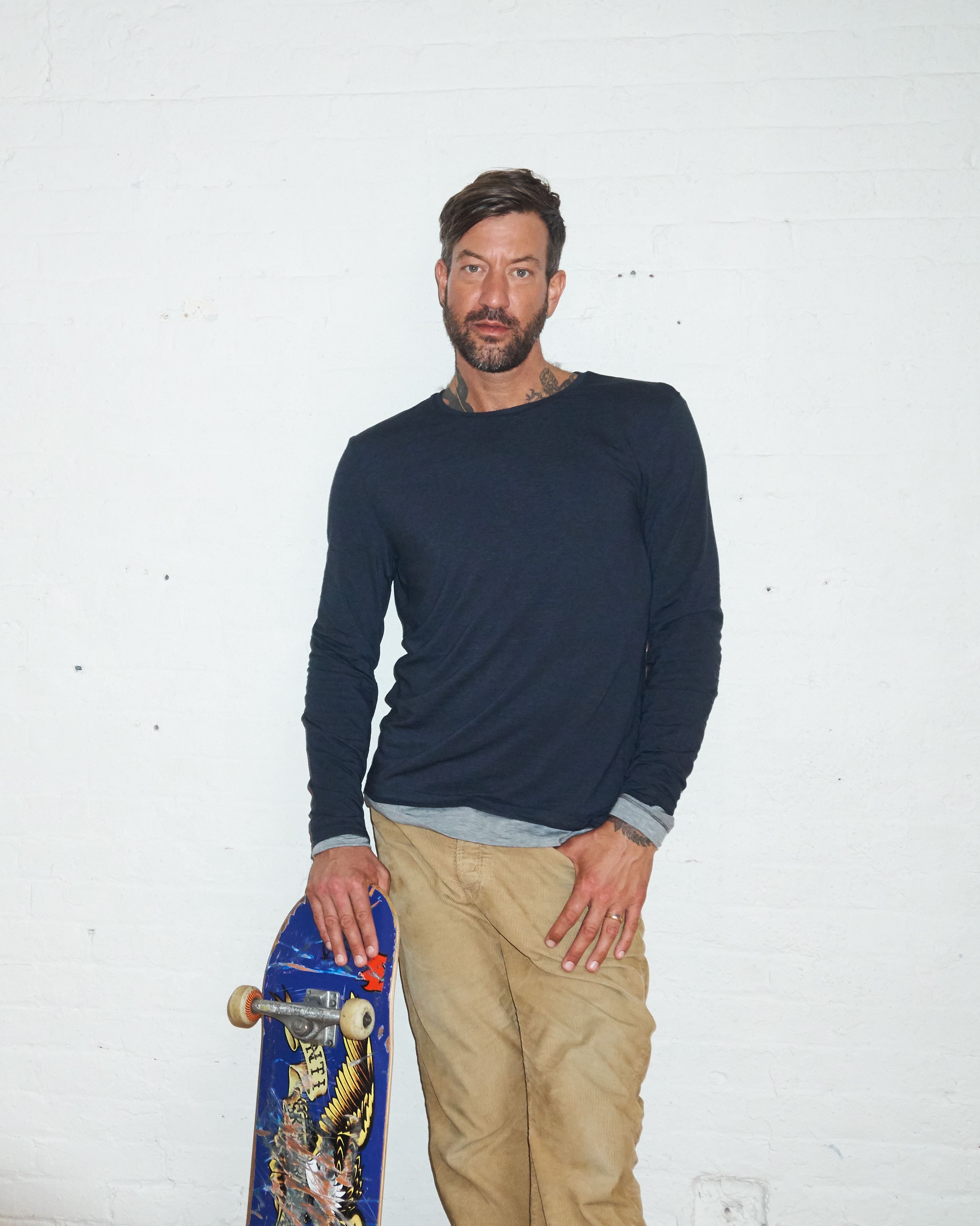 When did you realise that you could make your passion a career?
Brian: I was planning on going to culinary school, but I had a friend who told me that I was really good at skateboarding and that I should pursue it. I tried and then it happened. It exploded from there. I got on tour and was like, "Holy crap, I am kind of doing the thing that I love and it is starting to unfold as a career." I never want to rush anything. I am a tiny bit superstitious and I couldn't believe the way it unfolded. It really meant so much to me to go on tour and make a difference to kids lives. I know that it sounds cheesy, but I would just sit there and shake kids hands.
Chloe: It's so cool to see someone who is so at home in their craft and who is natural and at ease. The incredible capacity of the human form to do something is really inspiring. I'm not a skateboarder, but it's very cool to recognise what inspires you to do something the best that you can.
Brian: When I saw you stretching in the yoga studio, I was like, "That is the most organic, beautiful thing!" I mean I was really impressed, so touché!
Where do you find inspiration in yoga or skating? How do you keep it fresh and innovative?
Brian: I get inspiration skateboarding down the road, when there are people who are in traffic and stuck in their cars. I am just so thankful that I know how to ride a skateboard. I hate to always say this and it does sound cheesy, but skating equals freedom. It's just the most incredible feeling to roll down the street and feel the wind. I have been skating for so long, so it's very relaxing to me. That's how I feel about it.
Chloe: I'm very lucky that I have a mentor who has really revolutionised yoga, not just for me, but for a whole number of people. I felt like a phony, practicing a tradition from India. But, my mentor taught me how to move my practice into a modern perspective. As a teacher in New York City, I don't relate to old myths. But I learned to recognise how the myth of one culture can resonate with another culture. That moves over to yoga. It doesn't have to identify with a single culture, rather it can be applied in every culture to bring a little more ease and a little more joy. She keeps me asking questions and searching for the connections.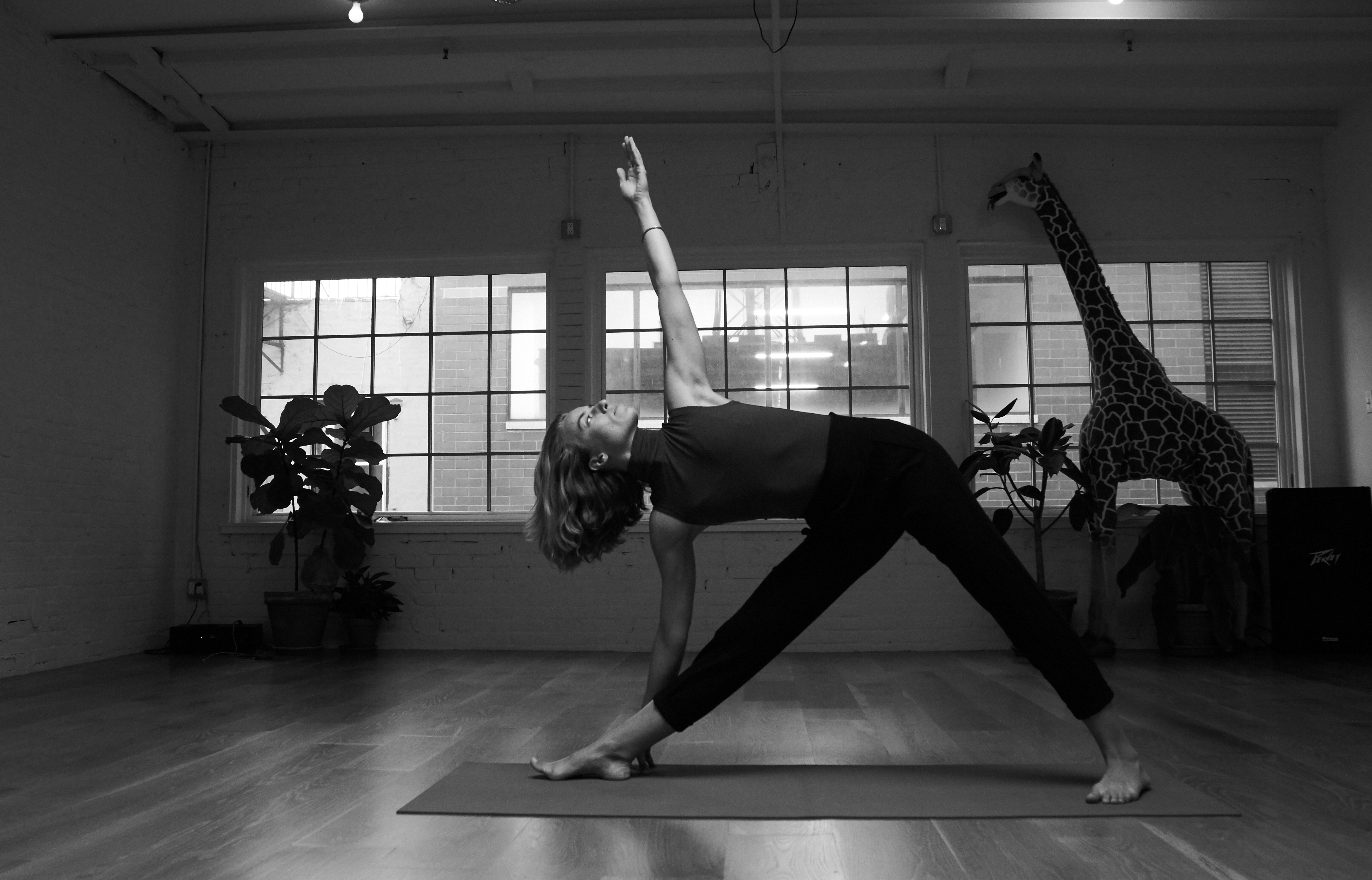 What have your learned through your sport? How do you find ways to translate that into your life?
Brian: I've learned camaraderie. I get to help kids explore the world for the first time. I am so thankful that I can be like, "Here's the world, man!" and offer tips to young skaters. With the internet, people can find out whatever they want, but I like to show people the world in an organic way.
Chloe: There is a philosophy in yoga of how to be a better human. There is a lot of information in there about how to treat others and also how to treat yourself. But, I think that the practice is leading me towards being more spherical, not having so many hard edges. When life hands you something, whether it is great or shitty, I want to have the option to bounce back. Things won't hit you so hard and you won't cut others so easily, instead you are spherical and feel radiant and buoyant. You have the ability to bounce back. In yoga, I have learned a way of referencing my own center and coming back into my own space.
In yoga and skateboarding you have to be fearless, how did you guys learn to accept the idea of failing?
Brian: Personally, I was always very cautious. There are days when I know my body isn't going to be able to do what it might have done the previous day. I wasn't overly superstitious, I would just understand my body and not push it into a scary place.
Chloe: Some yoga poses are really scary, but it isn't a handstand or anything that feels life threatening in that way. A pose that requires you to get to those deeper places in your body, when you have to sit there with yourself, is more scary than flailing your feet around in a handstand. When you are in those places and wrapped up with yourself, it almost feels like there is no escaping and that you have to deal with yourself. But there is a sense of liberation that you get when you do take that moment of going into your own unknown and conquer the mind in a way that maybe you had no idea that you could. I think it's an important part of both of our practices to push yourself into those zones of uncharted territory, because that's really where you're going to start to learn new things about yourself.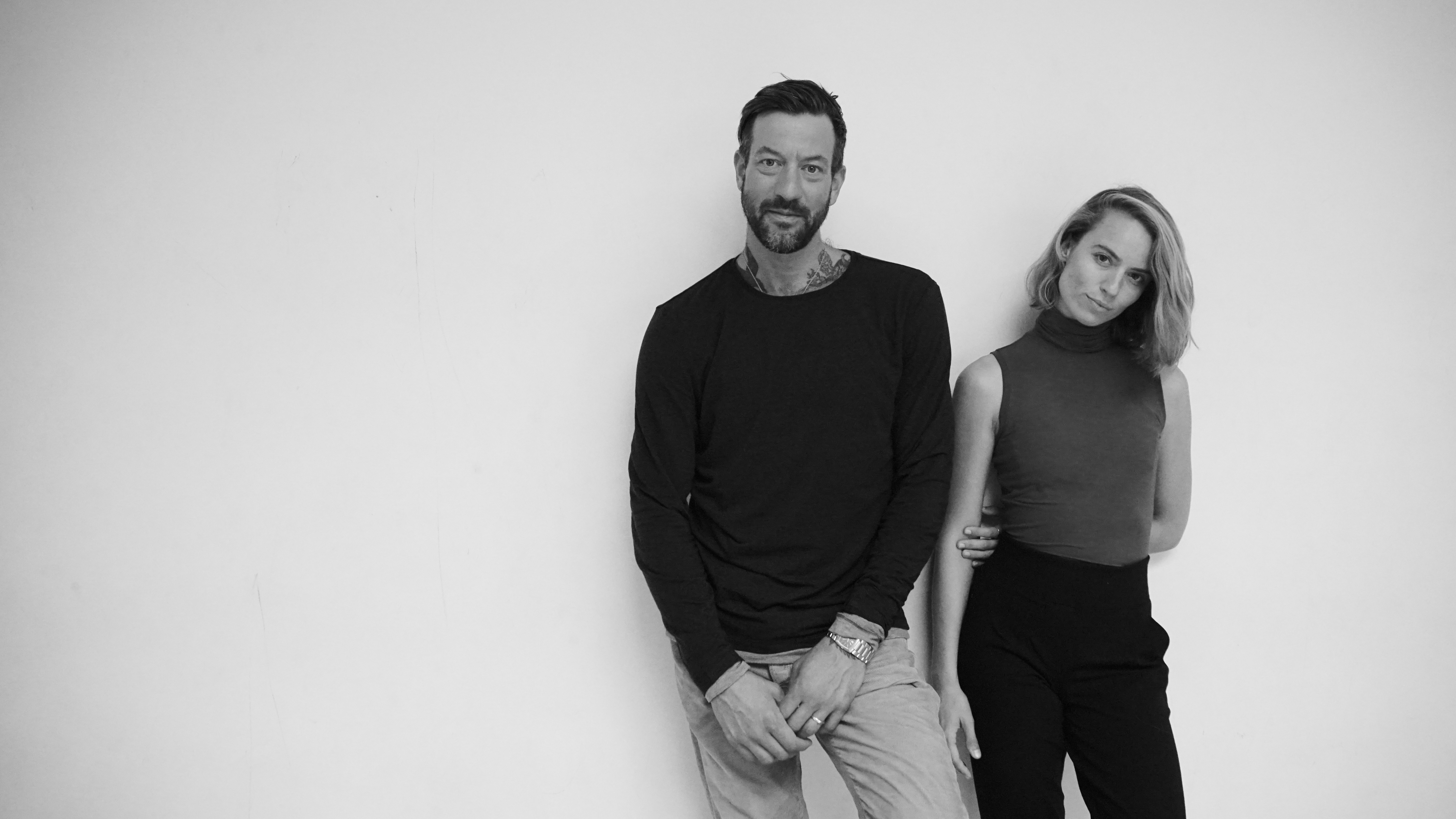 You've both made careers out of of your sport. How do you separate between your personal and business life? Or do you find that you don't have to?
Brian: I can't because I'm in magazines and videos, so if I walk down the street I might be recognised. But, I can still be a skateboarder and separate my life. I can accept all my skating achievements, but I still love to skate down the street alone. Skating is when I am in my own solace and peace, so that's a great way of separation. It that makes me feel like completely blank and I like being an open canvas.
Chloe: I feel like I am on all the time, answering emails or thinking about what the next move is. What's super important for me is to really have the tools that set a pace and rhythm. It's important to have an escape from the physical commitment and emotional commitment.
How do you both re-energise outside of yoga and skating?
Brian: I am fortunate enough to have a Vitamix. I recently learned about goji berries and flax seeds, which I grind up and mix with kale, bananas, and mixed berries. I also boil coconut milk with turmeric. So that is how I recharge every morning. I also take baths. I go to the gym and I want to do yoga, but my schedule is crazy. But, I always find time to take a bath, make a smoothie, and skateboard. I think when life quiets down, which is probably going to be never, I will try to get into more of a yoga kind of vibe.
Chloe: I recharge by attending dance class. It's really helped me to have that creative outlet. I have done a lot of choreography, but I haven't been doing it lately because of my schedule. But for me, being able to move my body in a way that doesn't feel as measured-out as yoga gives me that reset that I need.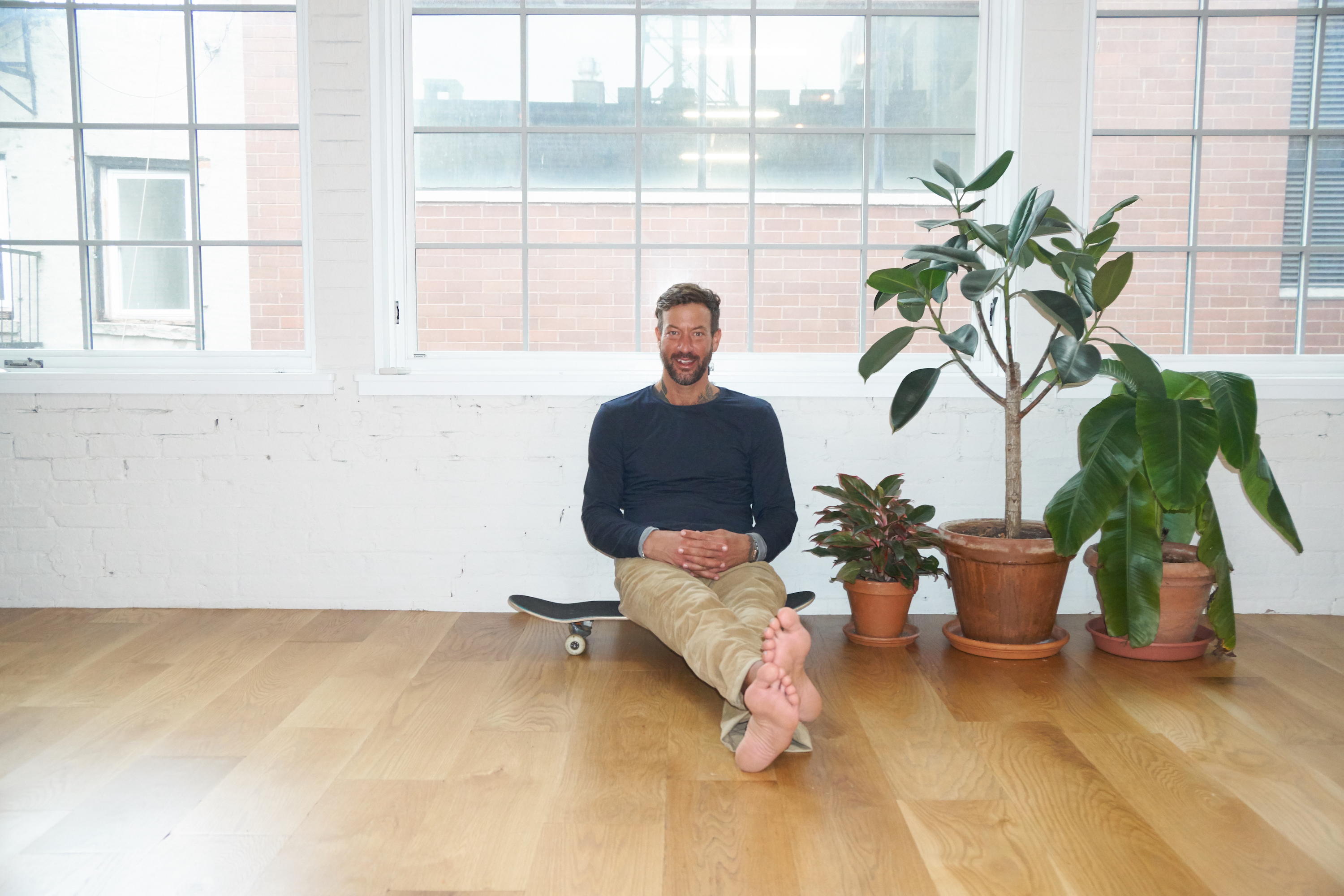 What's the biggest advantage in having a passion and career intertwined? And what's the biggest challenge?
Brian: The biggest advantage is not being stuck in some office. But honestly, the biggest advantage is helping other people. The biggest challenge for me is being 6 foot 4 inches and getting into airplanes. That's my biggest challenge.
Chloe: I tried for a short period of time in my early 20s to be in an office and I was so unhappy. I hated it and my body was screaming at me like, "What are you doing?" I think of my body as a tool. Movement has always felt like it has been my first language – it's where I express myself best. I feel very lucky that I have figured out a way to incorporate movement into my life. One of the hardest parts of it is how personally invested I am in what others are doing. It's hard figuring out my own boundaries, taking time for myself, and being able to relinquish my control over what's going on in my world. It's hard for me to allow myself to be human, to make mistakes, and to not have all the answers all the time. I think that's what I am dealing with right now: being a human being and being okay with that.
What advice would you give someone who wants to move their passion into a career?
Brian: Graduate from high school and always have a job, so you can have money to buy music. That's what I did when I was a kid. I guess, just go for it, pursue things, and research. Things will filter and things will come to the surface. You'll find out what you really want to do. Don't rush it. Have options.
Chloe: I think it's also important to really clarify what your vision is. Not just a broad scape of what you want to do. You really want to feel stable, so it's not too risky. You should be able to communicate your goal to those around you. And, really articulate it, so it's not just a dream floating in your headspace. There needs to be a sense of drive. Trust that you have something unique.
Brian: I was going to say take walks. My parents always did. Just take a walk and just look up and look at buildings and look at trees. That's really important.
Chloe: Yes! Doing that really highlights the present moment. When you're building something up it's so easy to get overwhelmed, but if you really zone in on where you are in that moment, you'll be okay. If you're in the middle of building up your dreams, give yourself the time and space to really appreciate the journey. You want to have the experience of going through the good times and the bad times, that will make whatever you are doing that much more important.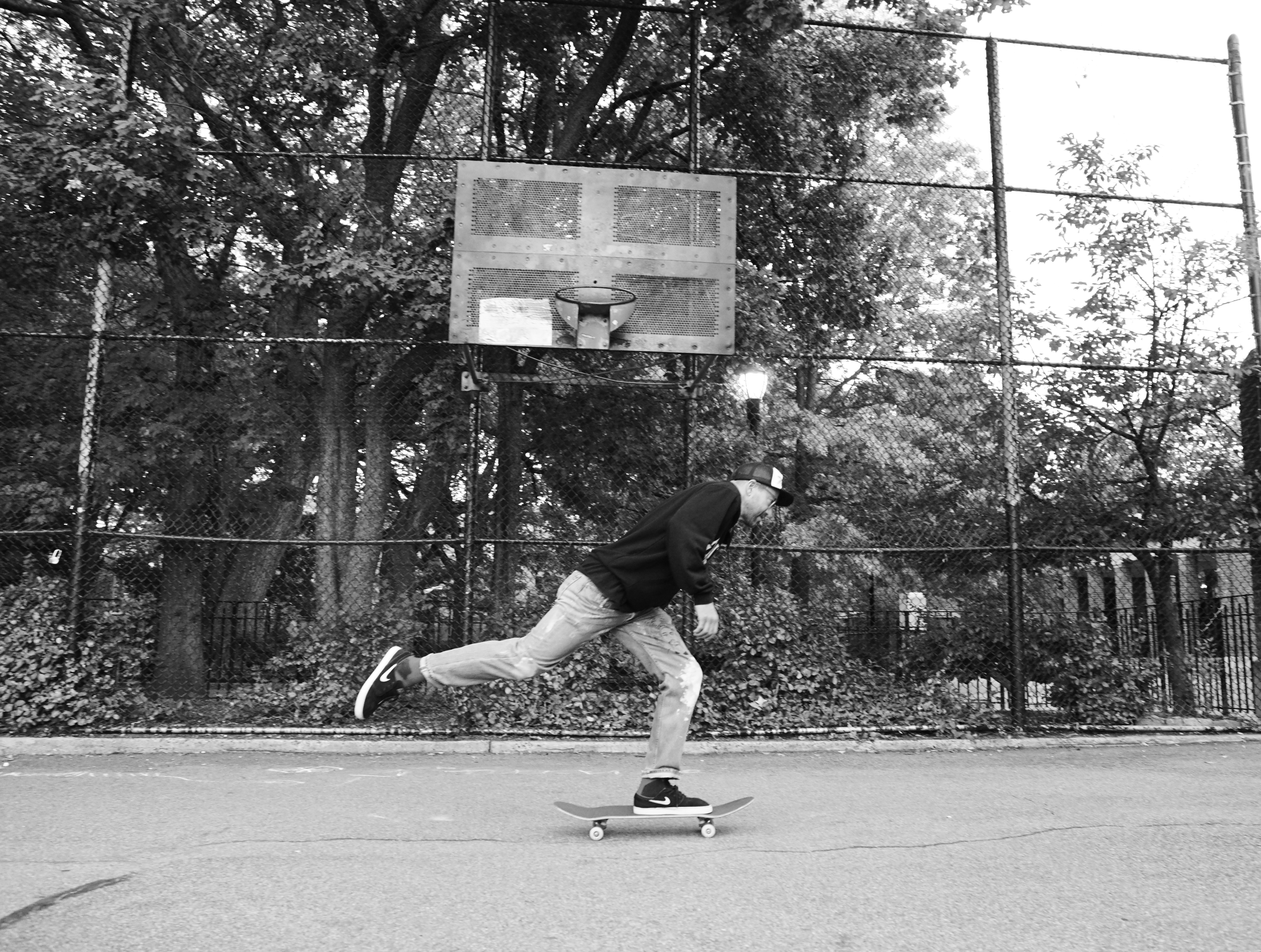 What's next?
Brian: I want to make food for people who need help. I just want to help out in the kitchen. I just want to help people have clean laundry and running water, because a lot of people are unfortunate in this world and we should help them if we can. That's the most important thing for me.
Chloe: Beyond just a yoga practice, I really want to help people figure out how to be more in their physical spaces, helping people be more comfortable. Today, a lot of our reality exists not really here on earth, but in a cyber world. It's really easy for a lot of us to get detached from our actual space. I know yoga isn't for everyone, but to figure out a way to translate some of the tools from yoga to every audience and up the physical culture for modern humans, that would be a really cool space for me to move into eventually.
Click here to shop the full Kit and Ace collection.
Check Out More From Our Conversation Series with Kit and Ace:
The Exchange: Tanisha Scott x Blaine Hoven
The Exchange: Sunnie Brook x Roy Alpert
The Exchange: Jordan Blackmore x Andi Potamkin
The Exchange: Roze Traore x Lauren Gerrie
A Dance and an Illustrator Compare Creative Energies
Two Performance Artists Share Their Creative Philosophies
Life On The Road With Photographers Magdalena Wosinska and Adri Law
Blonde On Blonde: An Artist and a Pro-Trainer On Being an Every Day Athlete
Credits:
Text: Hana Beach
Photography: Sarah Kjelleren