To discover what it takes to succeed in the city that never sleeps, Amuse is collaborating with Kit and Ace to bring you eight inspiring conversations between New York's finest. Here, restaurateurs Sabrina de Sousa and Giles Russell discuss the importance of pushing positivity.
New York has been through its dessert-mania, when milk bars and cupcake shops were opening on every corner and this nitrogen-infused ice cream shop was so much better than the one two streets over. Fortunately for us, Sabrina de Sousa and Giles Russell opened their colorful, health-conscious eateries, Dimes and Two Hands, and brought that cakeboss-lunacy to an end.
Opening in 2013, Dimes, the bright Chinatown eatery and creation of Sabrina and her partner Alissa Wagner answered something that New York seemed to be calling out for: a place where people could meet up and eat without having to silently suppress their never-satiated sweet tooths.
Sabrina and Alissa's haven offered breakfast bowls that tasted good and used mysterious healthy ingredients like wheatgrass and pitaya. New Yorkers screamed out in praise, so much so that in the three years since its debut, Dimes has expanded to a larger restaurant, a deli, and market, forming an actual health triangle between Essex and Allen.
In 2014, the new-found healthy eaters of Chinatown received another spot to munch on nutritious snacks. Taking its cue from Dimes, Two Hands, the light and open cafe, offered simple wholesome snacks for those New Yorkers who needed to fuel up on the go. The Australian expats, Giles Russell and Henry Roberts, quickly expanded their simple health mission to TriBeCa with Two Hands Restaurant and Bar, allowing all of lower Manhattan eating really, really well.
Operating successful businesses in New York is a talent in itself. But, ones that create communities that focus on building healthy lifestyles – that requires a dynamic, athlete-like leader to run them. The two New York-based restaurateurs, Sabrina de Sousa and Giles Russell, met up to talk about what it really takes to balance work and life, how to build successful collaborations and what inspires them about healthy living.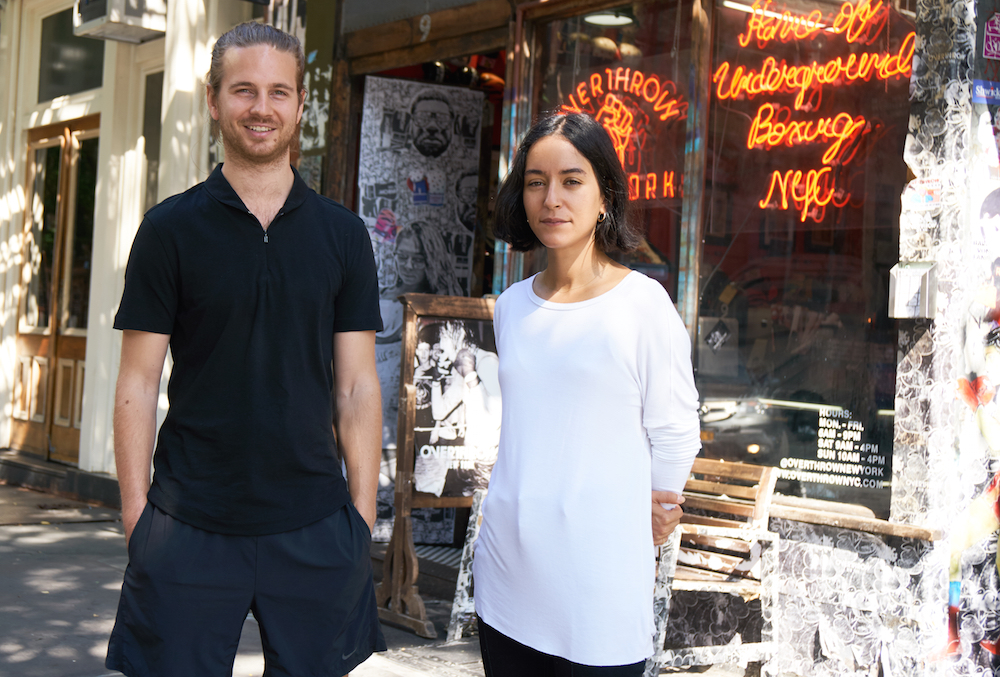 What inspires you about the connection between food and wellness?
Sabrina: Well, everything. I feel like wellness starts from within, so there's that connection. I also think it's really important for people to understand that a healthy diet is accessible and it's not that hard to incorporate it into your day-to-day life. It shouldn't be impossible for you to eat in a certain way that energises your body. I think making food that tastes good and interesting is the philosophy behind what we do.
Giles: I guess for Two Hands, the type of food we want to like create for our customers is food that energises you. I think that over the past 50 or 60 years food has become something that just satiates someone's hunger as opposed to actually filling their body with energy. When you think about wellness, or what I've always been told about wellness, is that it is 80% diet and then 20% exercise.
When you think about it, the food that you eat is way more important than going for a run or spin class. You could be exercising all you want, but if the food that you're putting into your body is not enabling you to do that well, then your body and your mind are not going to feel good. People are clueing into the fact that if you eat good food, then you feel better and are more efficient during your day at work. You are just more switched on.
Both of your restaurants have veggie-heavy menus. Do you think that there is a way to incorporate the recent food innovations into a healthy lifestyle?
Sabrina: I am pretty much a purist in the way that I eat. I don't really like to manipulate things that I eat too much. If anything, I am just using spice, which is used in Indian cuisine to help you digest the food that you're eating.  I think technological food is particularly gross. I don't know, it's just like really "anti" what we do, what we're about, and our ethos.
Giles: The world is in a tech drive. The human race is able to create some amazing things we've never seen before, but that doesn't necessarily make them better. Improvement on what we have is not necessarily better for the human race and wellness. The fact is, the human race and our society has actually taken food a long, long way away from what it used to be and it used to be a lot better. In Dan Barber's book the Third Plate he talks about going back to where we were 30-60 years ago, where food is grown well. And when food is grown well it's really good for you. A lot of the problems we are having now are because of what we've done to try to improve food. Instead of trying to create something new, we have the option of going back and farming good foods that have thousands of years of human history that prove that they're really good for you.
Both of you created more than just restaurants. Two Hands and Dimes are spaces that promote a healthy mindset. Did you intend to build spaces where food and healthy living intersect?
Sabrina: For Dimes, it was important for us to listen to what the neighbourhood needed. I think that's the secret to why we've grown. We started off as this six table restaurant and we were able to take risks and really listen to what the neighbourhood asked of us. We would always ask people what they wanted to see on the menu. We wanted to teach people that they could really eat in a healthy mindset and really consider all the elements of their diet. And, we wanted it to be accessible. We wanted to make sure that the price point was low, because we didn't want it to be this elitist kind of place.
Giles: Yeah, I mean Two Hands is really similar. Dimes was such an inspiration for us as we were planning our restaurant. I think we had just about started when Dimes opened and people were beginning to come together and celebrate healthy food. It was incredible to see the community demanding that there be a space for a restaurant where three or four people could meet up and eat.
We wanted to create a space that was really vibrant. That was the core essence of Two Hands creation. We wanted to create a community vibe, a place where people felt welcomed and at home, which is really important in New York. People come from all across the world to New York. They don't know anyone and the places that they live are small and dark, so to create a place that was open, vibrant, and live for people to come in eat well, that was a job well done for us.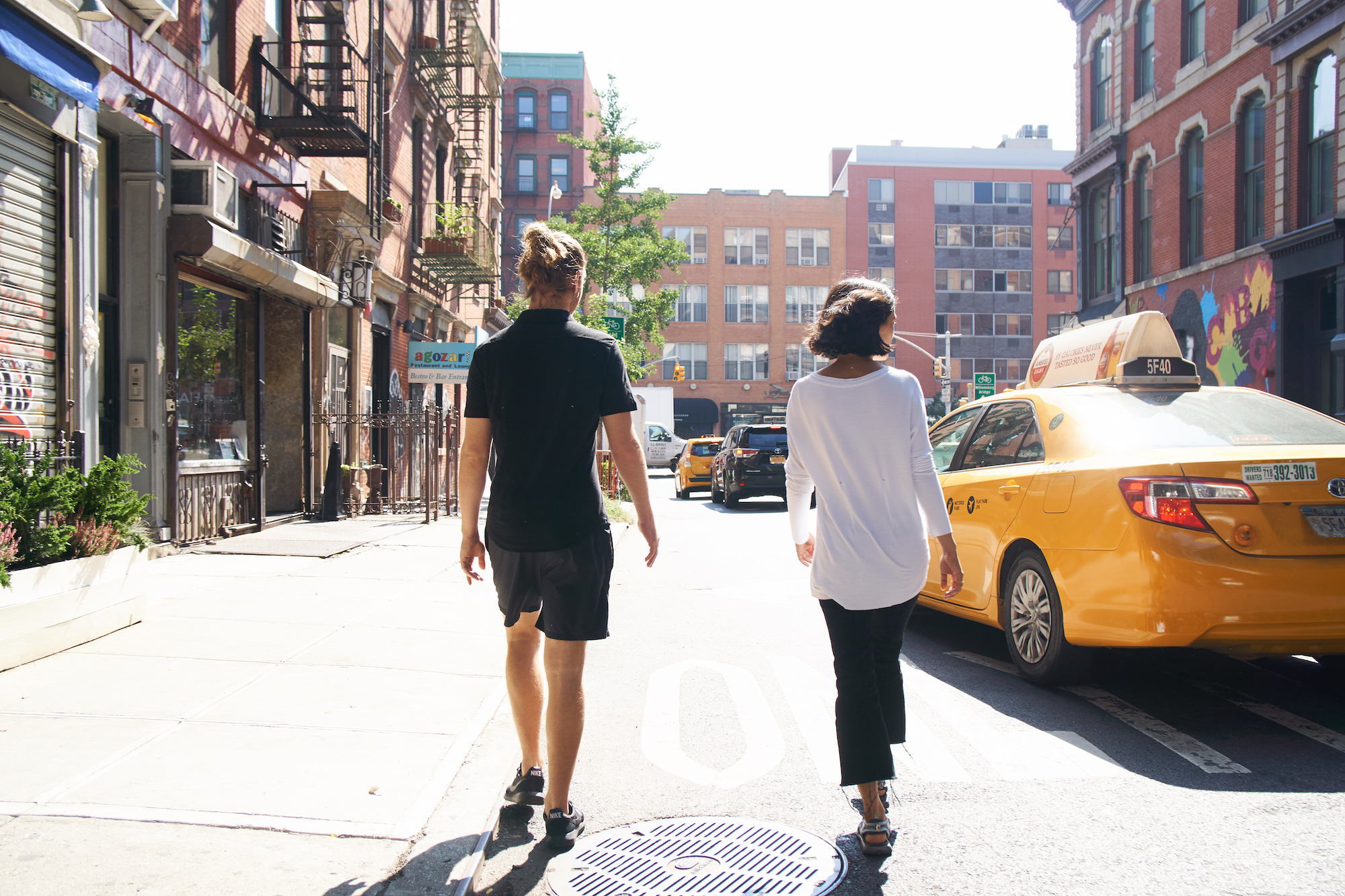 You both have business partners. How do you approach collaboration?
Sabrina: Alissa and I have been friends for about 12 years now, and it's hard to decide if it's a good idea to start a business with a friend. I knew that I needed her in order to take hold of the business. She runs and operates all things in the kitchen and I run the front of house. Our first year was just so insanely busy and such a huge learning curve for us, so we didn't have time to actually talk about the division between the business. I just kind of started picking up on things that needed to be done and she really focused on the kitchen.
It's been a really beautiful symbiotic energy between the two of us. There is no ego between the two of us, because we just have been doing it together since day one. We had this really basic idea and it kind of grew in such an amazing, organic way. It's been wonderful.
Giles: Henry and I are really similar. It's important to have partners because they are your leveler – the bouncing board for all of your ideas as well as someone who will remind you of all of the positives and negatives. We look at everything a certain way, but sometimes it takes the perspective of someone else to really make you think about it. We have different ways of doing things and different ways of getting to that goal, but at the end of the day, we are both really locked into the same vision of creating a place where people can enjoy nutritious food, good coffee, and drink responsibly. We just want to create a brand and lifestyle that encourages people to be themselves and to be happy. Henry and I very rarely have disagreements about that, because that's the common goal.
Do you have a motto that helps you maintain a healthy work-life balance?
Sabrina: I think that my motto is just to give yourself an extra five minutes for the things that you do. I think little things like that are really important. Even walking out the door and choosing to go left instead of right is really important. It's good to shake up your day a little bit. I think it helps you to deal with stress levels, because things can change just because you're approaching it from a different angle. And breathing, I'm all about breath. I'm constantly going over it in my mind. I really focus on the way that I breathe. I think the subtleties in your day are really important.
Giles: We have lots of little funny sayings that come and go as we move through this journey. One of them is pushing positivity. That's something that Henry and I really strive to do as business owners, employers, and the faces of our business. New York is a stressful place and shitty things happen, but if you're always looking on the positive sides of things it's not that bad. The other day we had this semi debacle with this oven and it got really stressful. Henry said something like "There's no use crying over spilled milk," and it's true. It's just like bad things happen, and complaining about them is not going to help anyone. Always look forward and be positive in every situation, that's going to make your life a lot more enjoyable.
I feel so lucky that we get to go to work every day and meet people. Essentially our jobs are about creating relationships and making sure that every single person that walks into our restaurant feels loved and appreciated. At the end of the day, I think that as humans, we really find our relationships with other people the most rewarding. Henry and I walk to work everyday, making it our number one goal to make people feel good and make people feel loved.
Sabrina, Dimes is more than just a restaurant. It's kind of an apothecary too. How do you prioritise and balance all aspects your three stores?
Sabrina: The apothecary is something that I was making before we opened Dimes. When we opened, I remember approaching investors about the contents of Dimes and saying things like lip balm and rose water. The contents just seemed all over the place, but it makes total sense. You eat this stuff and we're all about beauty from within. It's all tied together. Dimes grew in such an organic way. We never predicted these projects to happen, they all just kind of made sense at the time. I think that's kind of the beauty behind what Dimes is: it's a community and it really understands what the neighborhood needs.
Managing all three is like managing one, because Dimes is just an entire world for me. So it's really amazing to think about the possibilities that we can achieve and what's going to happen next. It's really just about communicating and collaborating, which is my favourite thing to do ever because you really get to see things in a different way. There are so many amazing creatives in this city who really want to be a part of what we do and I think that's really rewarding. It's kind of the best thing ever for me.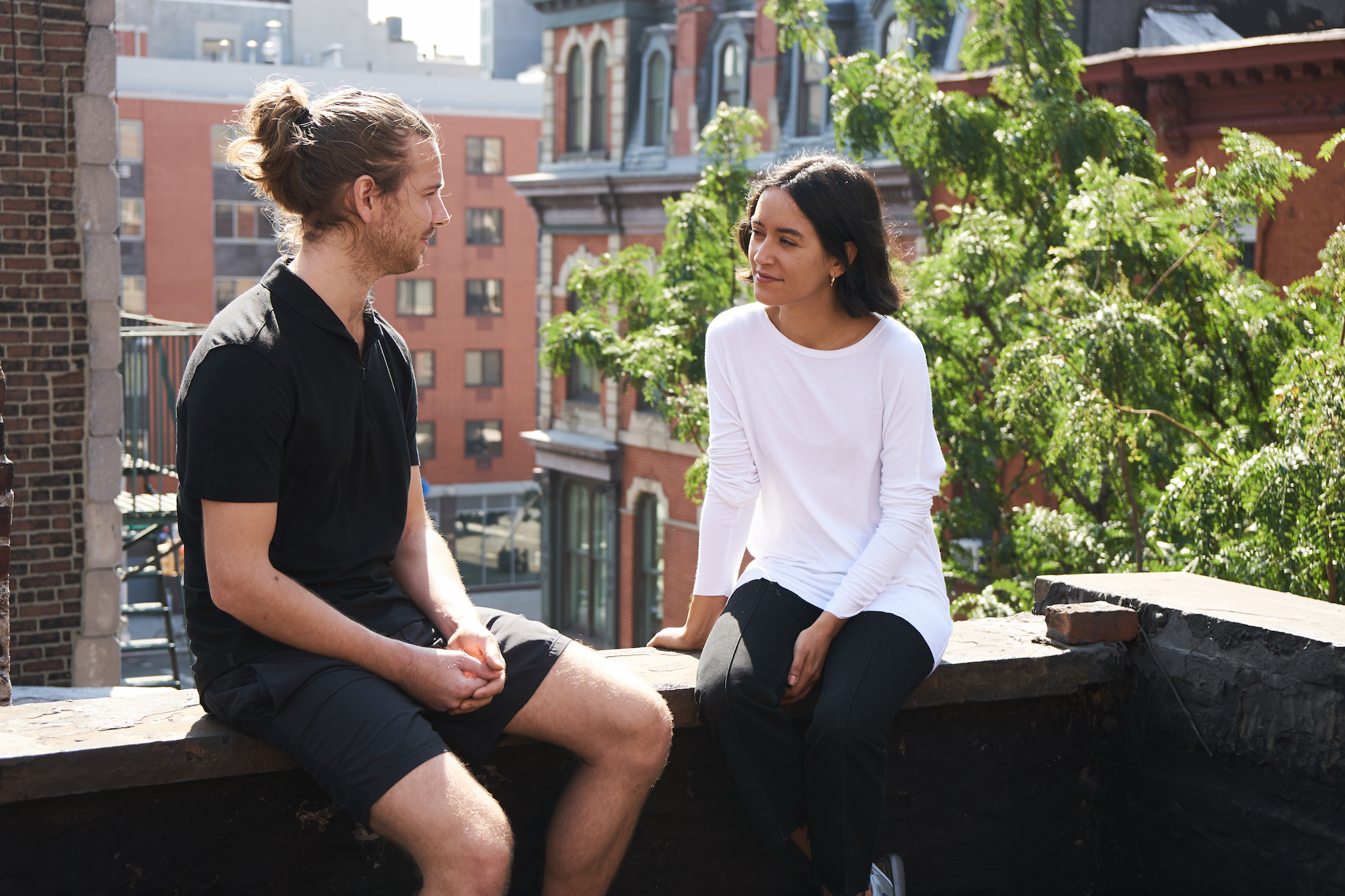 Giles, how did you approach expanding Two Hands?
Giles: Without much thought! The main reason behind us going from one to two stores was just our creative drive. Henry and I opened our store on Mott Street, just wanting to make really good coffee and some healthy Australian-style snacks, never expecting it to blow up in the way that it did. It's been an amazing ride. But once we saw that people really liked what we were doing, we wanted to show them something different, because there was a lot more in our creative backpack.
We wanted a restaurant that was a little bit bigger. Telling people that they have to wait an hour and a half to have an avocado toast is never a good feeling. We wanted to alleviate that pressure a little bit and have a bigger kitchen so we could cook more varieties of food. The menu that Henry and I wrote for our first restaurant was very simple. It's food Henry and I made at home essentially, home in Australia and home in New York. There are some of the most amazing chefs and cooks in Australia and we didn't feel like it was well represented here, which is crazy because every single culinary scene is represented here. We kind of took it upon ourselves to try to mirror what was happening in Australian food.
Do you have any tips on healthy living?
Giles: Running a restaurant is not the best thing to do if you want to be healthy. I feel so lucky that I get to go into the restaurant and eat well every day. That's the very basis of healthy living. I don't exercise as much as I want to and I don't spend as much time in the sun as I want to.
I eat a plant-focused diet, supported by healthy proteins, and I try and eat as few carbs as possible. Grains should accompany the meal – they should never be the focus of a meal. I think that's the number one thing: eating well. I think the second thing is a balance in your lifestyle, which is always a struggle. Finding a balance between work and personal life is always hard. You're going to have to push and sacrifice business things to create more room on your personal side. Even small things are important. Just going on a walk and getting fresh air is going to make you feel better and round you out.
Sabrina: To add to Giles, I think it's important to learn how to manage stress levels, especially with the day-to-day operations of managing three businesses. It's so taxing. It's like I'm constantly on, and guilt starts to peek in if I try to relax. That really spikes stress levels. You need to learn to find balance in our lives and trust to people that you can. Allowing those things to kind of help to expand and grow the business is really important as well.
Click here to shop the full Kit and Ace collection.
Check Out More From Our Conversation Series with Kit and Ace:
The Exchange: Brian Anderson x Chloe Kernaghan
The Exchange: Tanisha Scott x Blaine Hoven
The Exchange: Sunnie Brook x Roy Alpert
The Exchange: Jordan Blackmore x Andi Potamkin
The Exchange: Roze Traore x Lauren Gerrie
A Dance and an Illustrator Compare Creative Energies
Two Performance Artists Share Their Creative Philosophies
Life On The Road With Photographers Magdalena Wosinska and Adri Law
Blonde On Blonde: An Artist and a Pro-Trainer On Being an Every Day Athlete