Design lovers in Milan for Salone del Mobile are flocking to a dark 1930s Rationalist cinema for one of the week's most popular installations, New Spring. The white tree at Cinema Arti is dropping 200 heavenly-scented bubbles every minute and is proving to be a meditative, playful space away from the madness of much of the rest of the fair.
"We don't tell people to talk quietly or not to run, but everyone goes in with respect and it encourages a certain behaviour," says Azusa Murakami, one half of Studio Swine, along with Alexander Groves. "The whole piece is inspired by the cherry blossom festival of Japan. It's designed to bring people together, to create this shared experience."
As well as the visuals, there's an almost imperceptible soundtrack ("notes slide back and forth, so it's not too joyful, not too sinister," according to Groves) and the room smells of a specially-created combination of cedar, oakmoss, bergamot, jasmine, lime and bitter orange (they'd be mad not to bottle and sell it).
The plain whiteness of the sculpture, black backdrop, repeated musical notes and rhythm of the bubble drops might seem simple, but the designers remind us of New Spring's complexity. "There's a lot of technology that we developed for this," says Groves. "We had to do a lot of development with the solution, so that the bubbles bounce on fabric, but burst on your skin. And we had to go through a lot of prototyping for the technology. We 3D-printed 2000 individual moving parts for the 30 buds."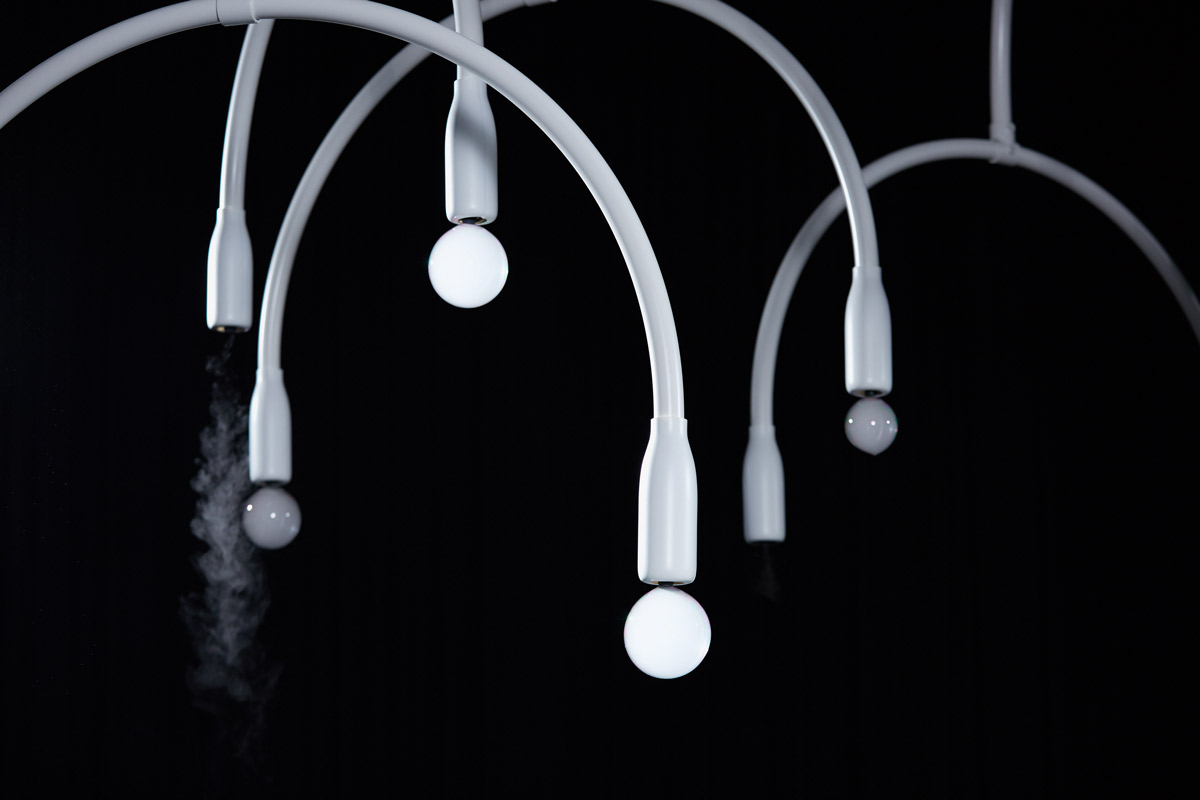 The pair have been firm favourites of COS for a while and have featured in their magazine, in conversation with Hans-Ulrich Obrist. "We admired them and have been inspired by them for a long time," says Karin Gustafsson, COS's Creative Director, adding, "We take a lot of inspiration from the worlds of art, design and architecture." It's COS's sixth year at Salone (previous collaborators including Gary Car, Snarkitecture and Sou Fujimoto) and shows their continued commitment to supporting young creatives across these fields.
New Spring is open until 9 April, Cinema Arti, Via Pietro Mascagni 8, 20122, Milan