A watch is the acceptable face of male jewellery. ("Mewellery" for the moment remains divisive, if not risible.) But for all its bells, whistles and moonphases, a timepiece is ultimately a piece of jewellery. If that sounds in any way like a trivialisation, it's not.
The jewellery element is often unacknowledged if not overlooked in all the brouhaha about watches and their "functionality" – you know, all the stuff that we feel they need to do, apart from tell the time in order to justify their existence. Maybe us men are too embarrassed to admit that we want something that looks pretty.
But time aside, that's arguably the most crucial factor in a watch. Any Tom, Dick or Huawei can make a device to conceal in your pocket or bag. But to create something you are happy to have on your body and be visible at all times, that chimes with your personality and transmits a permanent status update to the wider world? That isn't child's play. Wearable tech has to actually be wearable. Lovable.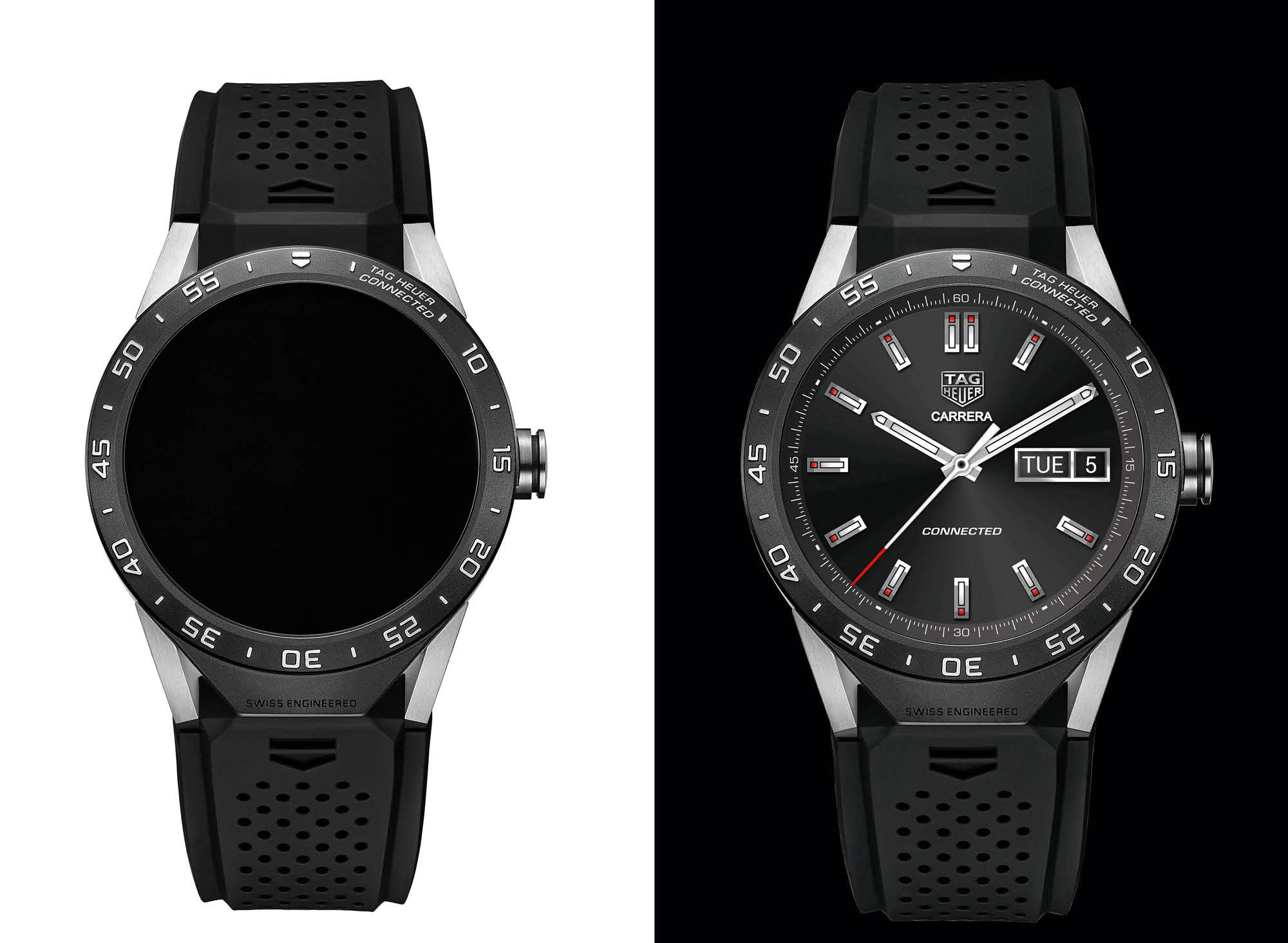 This perhaps explains why most smartwatches boast the build quality and long-term appeal of something you get in a Kinder Egg. Strap into the TAG Heuer Connected, on the other hand, and you instantly feel the benefit of 155 years of discerning wrist candy experience: the angular, gunmetal-grey titanium case, the Batsuit-like rubber strap that clings ergonomically to your wrist like it was tailored. This is no toy. It's a smartwatch for grown-ups, not some precocious Silicon Valley kidult barely out of their first start-up.
It's also by a long shot the most inherently watch-like smartwatch. Apart from the construction, the face itself is a facsimile of a traditional display, complete with matte-effect screen that's easier to read in sunlight – and easier on the battery life. This being a smartwatch, you can switch designs and colourways like matching outfits and customise the chronograph subdials to show, say, steps taken. (You can also swap the strap for an alternative in store.)
"It's an uncanny replicant of a 'proper' mechanical; the horological equivalent of Rutger Hauer in Blade Runner"
But if you saw the Connected from a distance, you probably wouldn't even clock that it was smart, which will come as a relief to anyone who still feels that smartwatches are a bit… wonky. It's an uncanny replicant of a 'proper' mechanical; the horological equivalent of Rutger Hauer in Blade Runner: "All these moments will pass, like ISO 6425-certified diving watches in rain." (NB The Connected can withstand half an hour in 1m of water.)
Perhaps the smartest thing about the Connected is that it joins the considerable, hitherto discrete, forces of TAG and Google together. Technically it's a triple threat, concealing as it does Intel's Atom processor. TAG could've tried to develop its own tech (like some other watch brands) and wasted a lot of time, effort and money to come up with something as cutting-edge as a Tamagotchi; Google could've designed its own watch and come up with something as cool as, well, Google Glass. Instead, they're playing to their disparate strengths.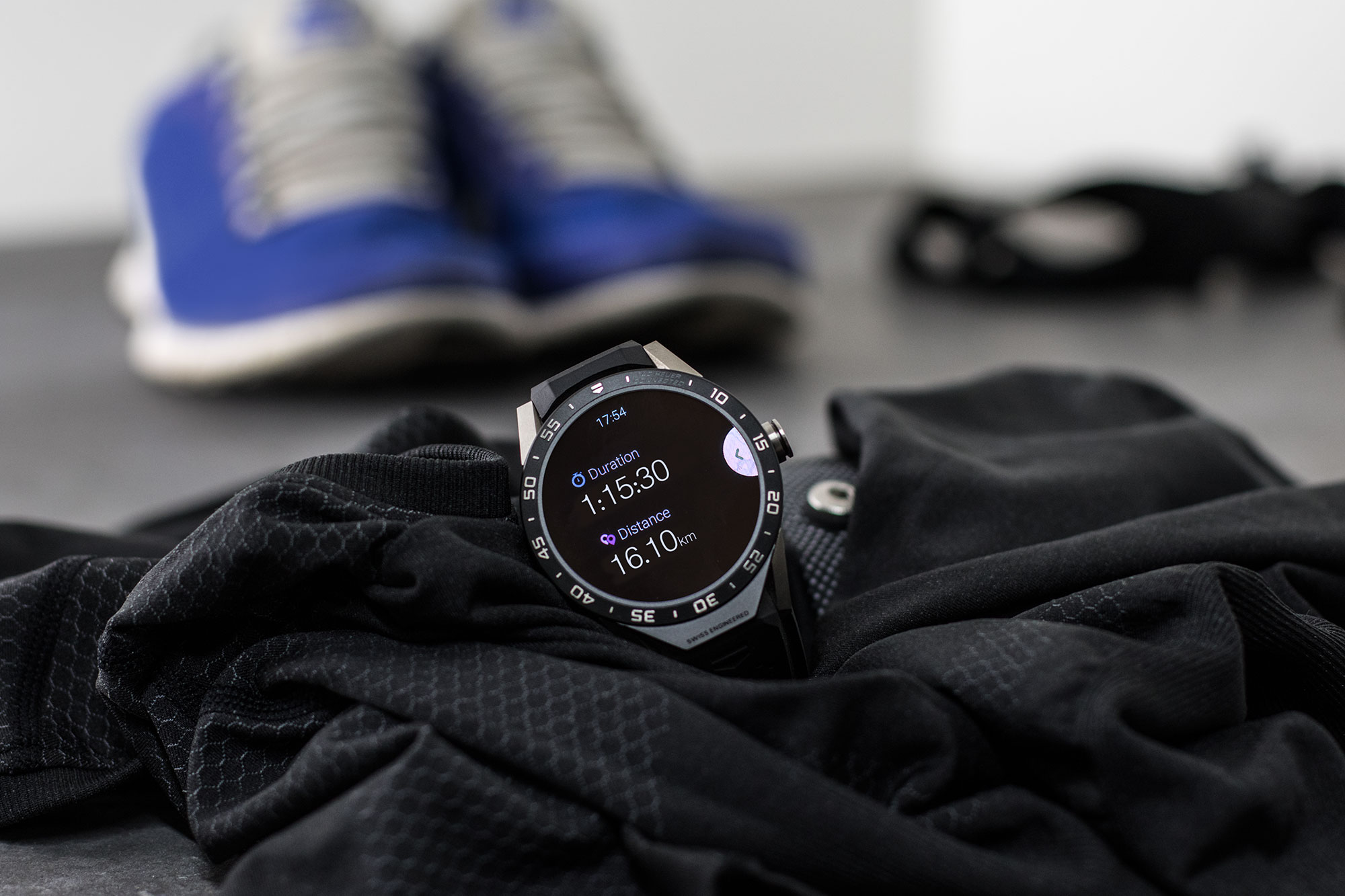 That the Connected has got serious muscle is immediately apparent. At 46mm, it requires a correspondingly hefty forearm, but the payoff is one of the largest screens around. The titanium case, though, makes it surprisingly light. And it's not just powerful in appearance either: if you're the kind of guy who likes to trade stats, that Intel Atom processor tops out at 1.6GHz, with 1GB of RAM and 4GB of storage. If the competition are Smart cars, this is a Formula E racer: fast and responsive. But roomier.
That grunt comes in handy when you're doing, you know, all the stuff that smartwatches can do: OK Google-Mapping your way around via voice control, or exploring the ever-expanding hinterland of apps. Admittedly, the Connected doesn't have a heart-rate monitor, which might be a deal-breaker for completist biohackers who like to track every available metric. But most of the heart-rate tech in smartwatches is not that much cop and besides, the Connected is way too luxurious to work out in. While affordable for a TAG, it's no Fitbit (no offense). For a smartwatch, it's punchily priced.
Indeed, it almost seems a shame to have to junk something so well-crafted after two years or so when the tech becomes obsolete. Which is why TAG provides the option to pay about the same again and upgrade—retrograde?— to an identical mechanical version, should you become attached to your Connected. Which, counter-intuitively, makes it the most future-proof smartwatch around.
The TAG Heuer Connected retails from £1100