Nick Waplington's work is as hard to pin down as the man himself. Born and raised in West Sussex, the British artist—who represented the UK at the 2001 Venice Biennale—has lived in LA, New York, Israel and London.
Having long worked across a diverse range of mediums (photography, sculpture, video and painting), Nick's work has been as varied and diverse as his personal interests. He's documented everything from the beauty of everyday life in working-class England during the Thatcher years to the birth of ecstasy and underground club culture across New York, LA, Tokyo and London in his iconic book Safety In Numbers. His work has covered environmental issues and Atlanta strip clubs.
In the late '00s, he worked on a major—now iconic—photo book with fashion designer Alexander McQueen. Working Progress sees the photographer document a rare, intimate and raw insight into the late designer's artistic process for his final Autumn/Winter collection Horn of Plenty. 
Despite being one of Britain's most celebrated conceptual photographers (he was first living British artist to have a solo photography show at the Tate), you're still more likely to find Nick at the local pub than at an industry party. "I'm a pretty calm person most of the time", he says. "I like to sit in old man pubs without music with a pint and sketch for hours I find this very therapeutic. It's getting harder to find these places now. They're turning them all into flats or Nando's."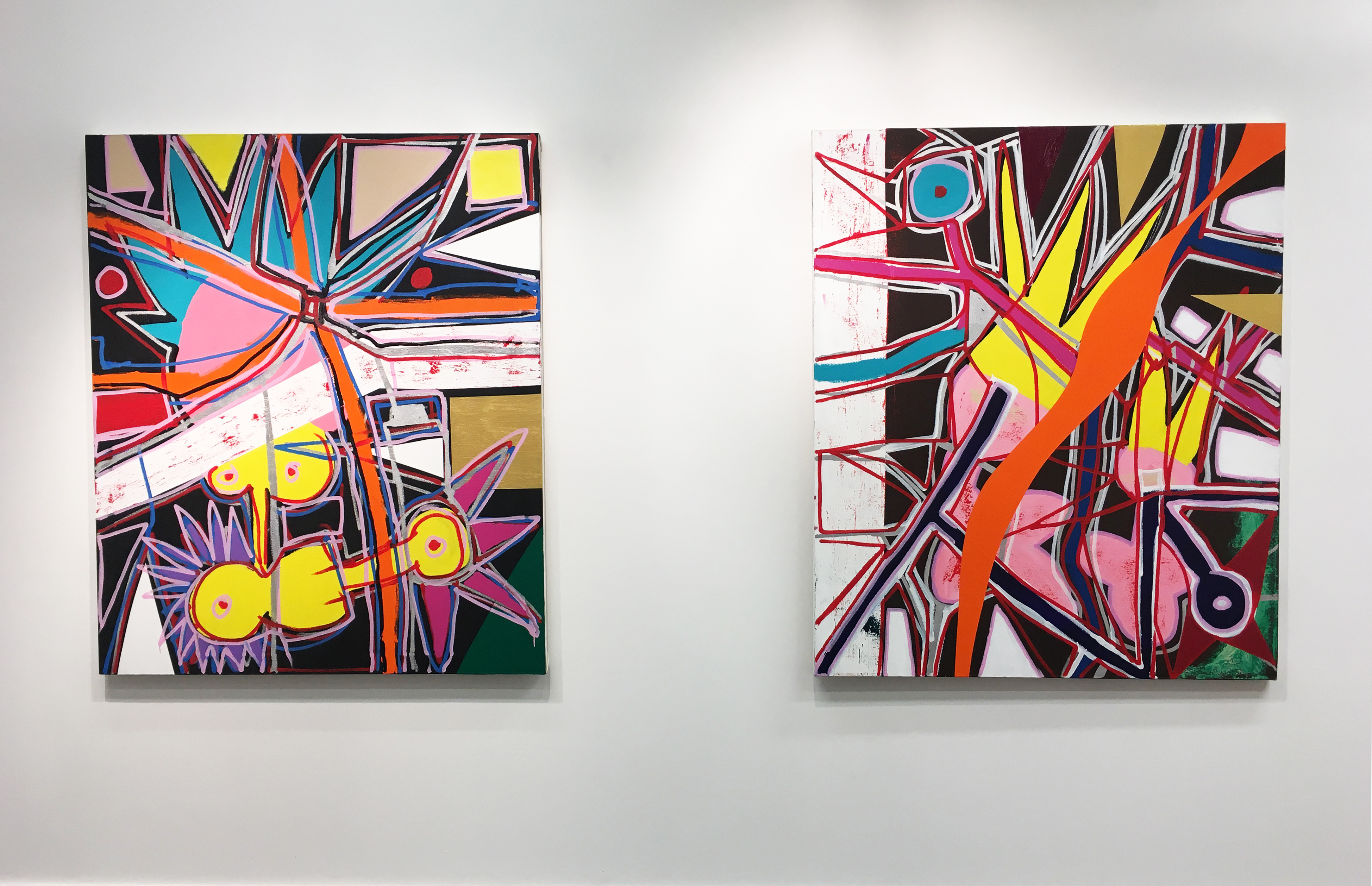 His latest exhibition The Search For A Superior Moral Justification For Selfishness shows a series of vibrant, chaotic, acrylic paintings (all completed during 2016, primarily at his outdoor studio in LA) imbued with the psycho-geography of LA: the chaos, the light and the social contrasts and conflicts. Here he tells Amuse more.
What is it about LA that inspires your work?
Los Angeles is the end of Western civilisation. Beyond is the Pacific and Asia. It inhabits a space that allows experimentation and dalliances with both cultures. The city is committed to change and is therefore the most forward-looking urban area in the Anglo world – or it was, as Anglo culture's grip on California is fast fading and being replaced by a new form of multiculturalism that even the reactionary Trumpster has no hope of stopping. Therefore it is the perfect place for my artistic experimentation and ever-evolving practice.
How does the city's energy differ to that of NY and London?
New York and London are bound by the seasons; both experience long winters and this inhibits artistic production during the winter months, at least for me as I like to work outdoors all year round. Both cities are better places for nightlife than LA, but as I get older I find I am valuing the days more so, it works better for me. Mind you I do have underfloor heating in my London studio so it's always summertime while I'm working there. I love to paint with bare feet, primeval style.
Where are some of your favourite skate spots?
I'm from the skatepark/ramp generation so I like to skate at Glendale skatepark or any private backyard ramp I can find. In the UK I like the Level in Brighton and my local spot Mile End.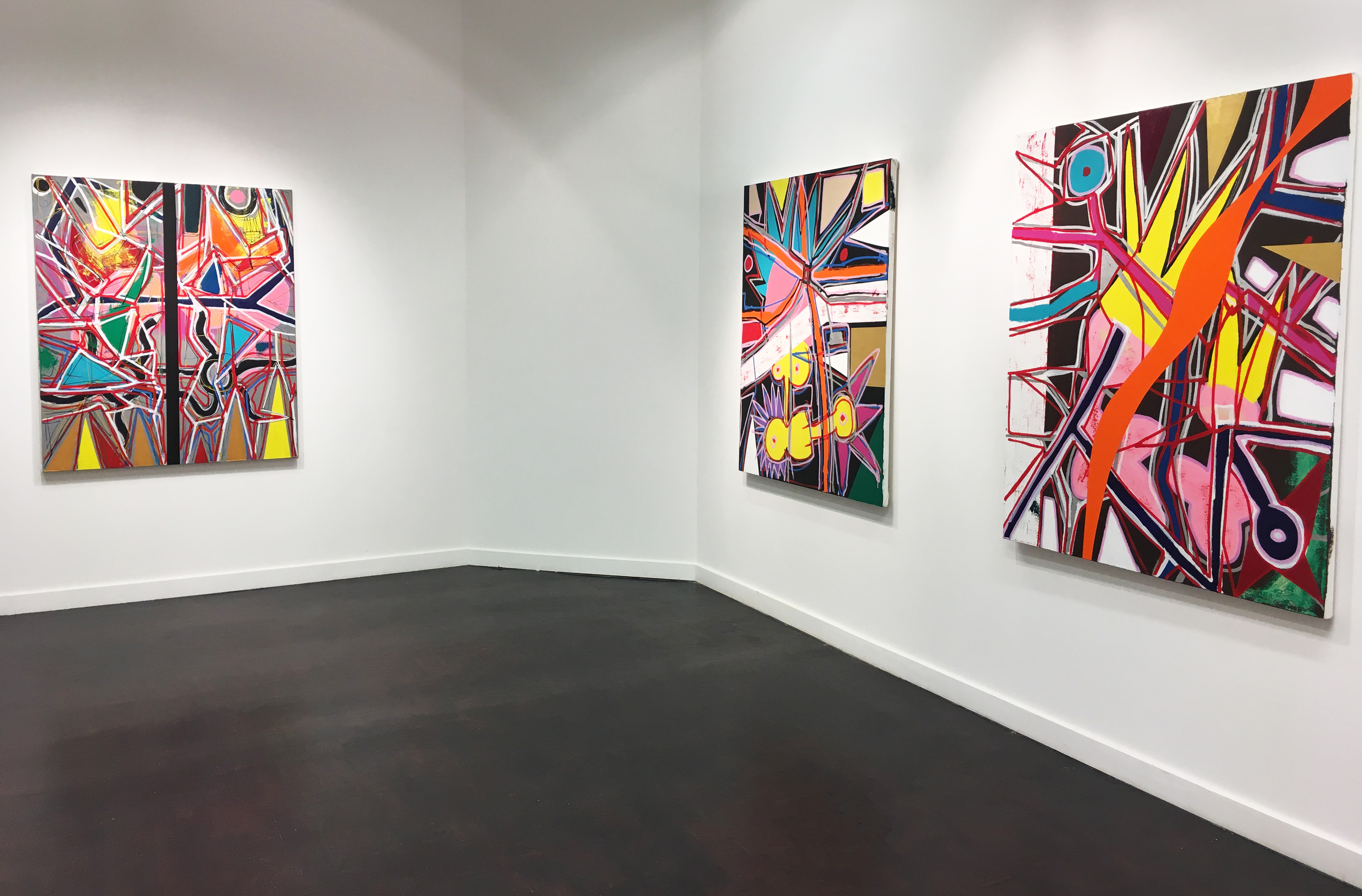 What music do you listen to in your studio?
I have technics in all my work spaces and am buying records from Discogs on a daily basis, so I play whatever has arrived, for instance today a Blackstreet album from '96 arrived along with a Bob Marley album and Natty Dread from '74, so I'm listening to those. Contemporary-wise I like Gaika and Death Grips.
Where is home to you?
As you know, I come from West Sussex so there in many ways. I also feel very at home in California and in Israel. The way the world is going I think I might be going back to Israel sooner than I anticipated. But I will put up a good fight first.
The Search For A Superior Moral Justification For Selfishness, 2 February – 4 March @ T.J Boulting, London